Eco-activist group Sea Shepherd Global has filmed two super-trawlers with their nets deployed ploughing through a megapod of more than 100 fin whales, as they fed on krill off Antarctica's South Orkney Islands on 6 March.
"The two super-trawlers made no effort to change course," reported Captain Peter Hammarstedt from Sea Shepherd's newest vessel Allankay, which had just arrived in the Southern Ocean on its latest campaign. "It even appeared as if they deliberately steered toward the spouting megapod, knowing that where there are whales, there must be krill." 
Two other super-trawlers immediately hauled their nets and departed as Allankay arrived, says Sea Shepherd. They later returned to fishing but on the other side of the island, Captain Hammarstedt told Divernet: "We are reapproaching tomorrow to see what they were so intent on us not seeing."
The Allankay's Operation Antarctica Defence mission involves monitoring and documenting the large-scale krill-trawling that Sea Shepherd says poses the greatest ecological threat to the Antarctic ecosystem. 
Keystone species
Krill is the primary food source for baleen whales and penguins, with most Antarctic marine life either directly or only one step removed from depending on it as their food source.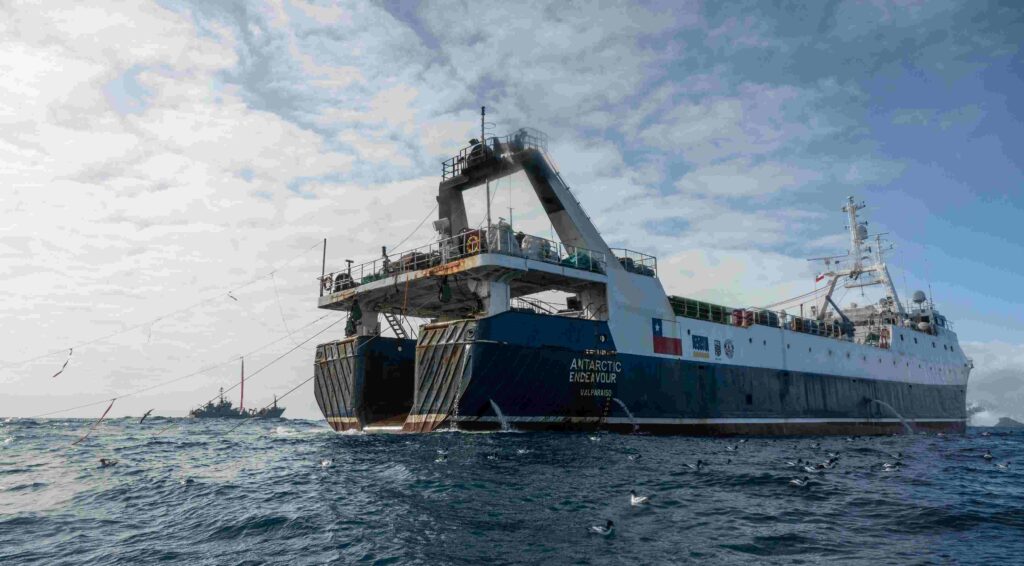 "With the international decline in whaling – including Sea Shepherd Global driving the last whalers out of the Southern Oceans in 2018 – the krill fishery has taken its place," claims the organisation. It says that up to 14 industrial trawlers are now targeting the keystone species on which the whales depend for survival. The krill is extracted to produce meal for the aquaculture industry and oil for Omega-3 supplements. 
"We are seeing sharp declines in humpback whale pregnancies, a decrease in the body-mass of fur seals and a plummeting of chinstrap penguin populations," said Captain Hammarstedt. "All while climate change has reduced both the amount and duration of the sea-ice that krill need to survive."
A recently published scientific study by Stanford University revealed four krill-trawlers cutting through a mass of more than 1,000 fin whales, concluding that such incidents would only increase in the future.
The Allankay crew will monitor and document trawler activities while mapping out the supply-chain. Sea Shepherd Global has also teamed up with Australia's Bob Brown Foundation, which is investigating krill-fishing companies in the country.
"It is an absurdity and a crime against nature that krill are being hoovered out of the remote Southern Oceans – by massive industrial vessels that have travelled halfway around the world to get there – just so that the lynchpin species, on which the health of the entire ecosystem depends, can be sucked from the gaping mouths of hungry whales and penguins in order to turn farmed salmon pink," commented Alistair Allan, Antarctic campaigner with the foundation.
"The krill fishery is legal, so all we can do is show the world what they're actually doing down there – especially if it's not what they say they're doing – with the goal of convincing CCAMLAR [the Commission for the Conservation of Antarctic Marine Living Resources] to take action and change the rules," Sea Shepherd Global told Divernet.
"No one has actually come down here to monitor the krill fishing fleet – if they're running from us, we'll find out why."
Also on Divernet: Sea Shepherd Targets Med 'Hope Spot' Poachers, We Didn't Know: Dolphin-Slaughter Ignorance Revealed, Beluga Fails To Survive Despite Rescue Bid, Sea Shepherd Captures Dolphin-Kill Evidence