DIVING NEWS
Oldest diver completes 42m wreck-dive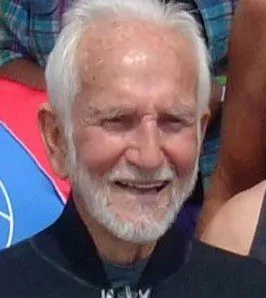 Picture: David Turner.
Ray Woolley, currently recognised by Guinness World Records (GWR) as the world's oldest scuba diver, has completed his annual birthday celebration dive. 
The 96-year-old was joined by some 60 other divers for a 48-minute dive to a maximum depth of 42m on the Zenobia ferry wreck in Larnaca Bay, Cyprus. The British diver has lived on the island for the past 20 years.
Among the accompanying divers were fellow-members of Woolley's long-time club Western Sovereign Bases Area SAC at RAF Akrotiri, which organises the annual mass dives in his honour.
Last year Woolley, who was born on 28 August, 1923, dived the same site to 41m for 44 minutes. This surpassed his 2017 dive of 38m for 41 minutes, which was the point at which he was recognised as the world's oldest male scuba-diver (no woman has applied or been recognised for the equivalent title).
Woolley now awaits official verification that his record has been updated, though an American rival has emerged in the shape of Bill Lambert, who turns 99 on 5 September and has an application pending to take over the GWR title.
Lambert took up diving only this year in Cozumel, and seems unlikely to undertake the sort of wreck-dive that has become routine for Woolley over his 59-year diving career, but the record is about age rather than achievements.
Cheshire-born Woolley served in the Royal Navy during World War Two and later worked as a radio engineer.
He joined Portland & Weymouth BSAC in 1960 and was first posted to Cyprus in 1964 while working for the Foreign Office. He joined the BSAC club there and became an advanced diving instructor.
He has worked and dived in various parts of the world but retired to Cyprus in 1999 and rejoined his former club. He says he keeps fit by swimming in his pool for two hours a day.
A locally produced documentary about Woolley called Life Begins at 90 has been shown at a number of film festivals.