Cornwall Wildlife Trust (CWT) has completed its first round of seagrass-planting trials in the River Fal. The "Seeding Change Together" project, funded to the tune of £150,000 by clothing brand Seasalt Cornwall in a three-year partnership, is using new technology to study and expand the seagrass bed at CWT's Fal-Ruan nature reserve.
Around 4,000 seeds were collected from healthy meadows in the Fal Estuary late last summer, but CWT says that the collected pods yielded only a disappointing quarter of the seeds expected.
"We experienced record-breaking heatwaves and droughts last summer, in addition to an incredibly mild start to autumn and sudden cold snaps this winter," said the trust's seagrass project officer Sophie Pipe. "These extreme conditions may have affected the seagrass meadows on site, but it's an unknown as to what those short-term and long-term impacts will be. That's why our research is so important.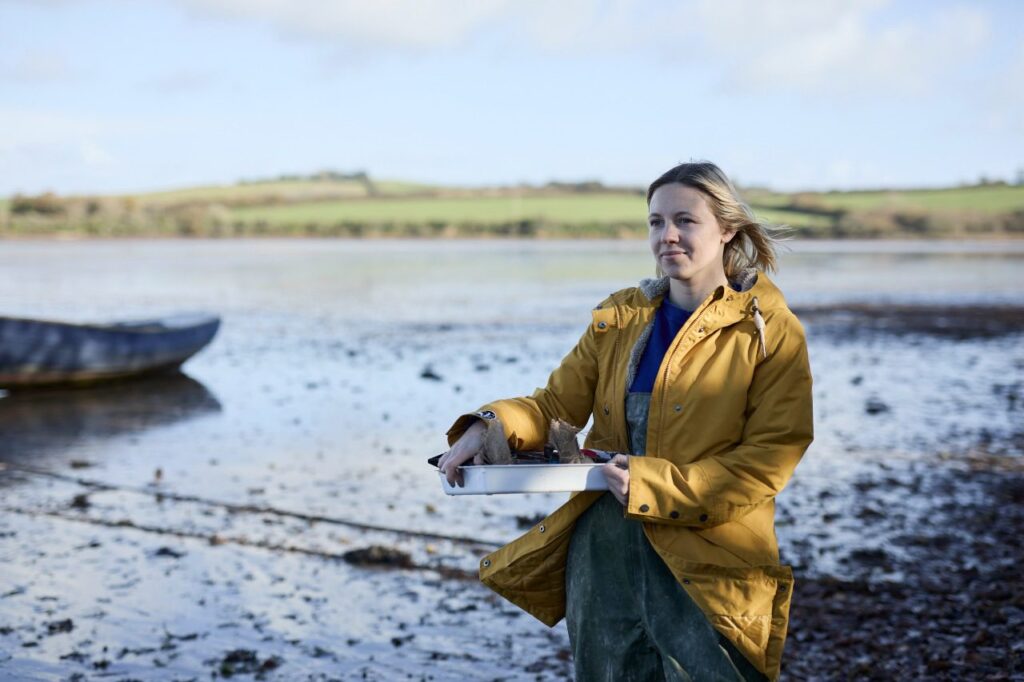 "We're hoping to know more when the seedlings sprout in late spring or early summer this year. They could stay dormant for longer than we expect if there's a temperature drop, or they could sprout early." Water quality, which might also affect seagrass bed health, will be studied at the site using newly purchased testing equipment.
Challenging task
Baseline surveys were carried out last July to assess the size and health of the meadows, and volunteers collected and planted the seeds, using bodyboards to hold their weight on the mudflats and minimise disturbance to the delicate plants.
CWT marine biologists have tested different methods of restoring and growing seagrass, including planting seed mixtures in biodegradable hessian bags, and using cuttings instead of seeds. It is hoped that the results will enable the team to upscale and plant areas 10 times the size of the initial planting.
"Seagrass restoration is an incredibly challenging task, one that experts all around the world have been working on and refining for decades now," says Pipe.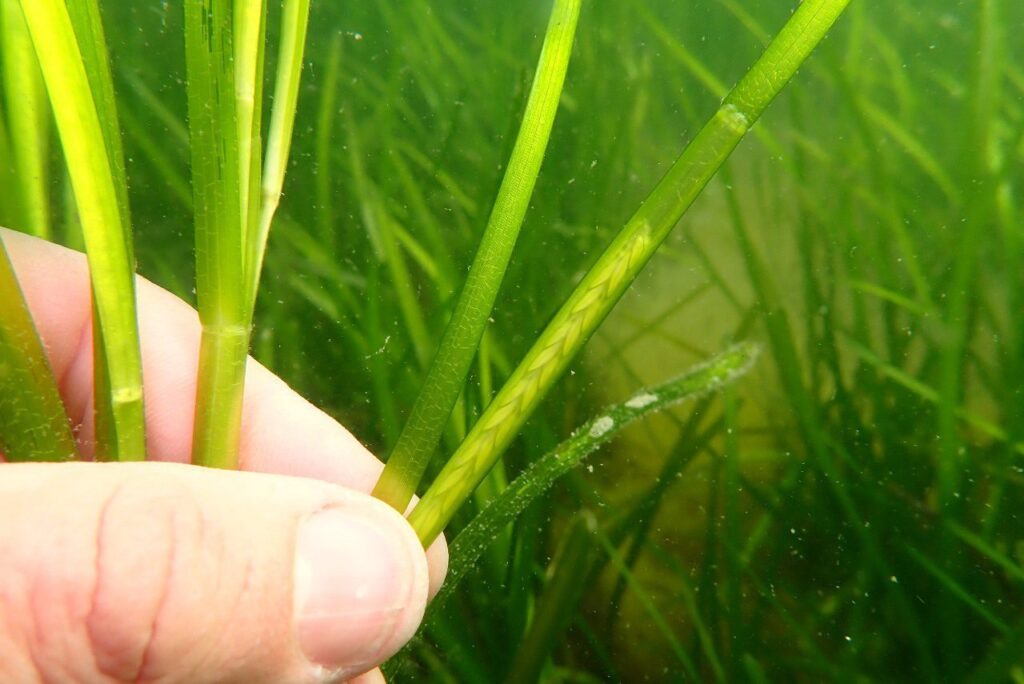 "There are still many unknowns, particularly for the species of seagrass that we're focusing on, which is only found high up estuaries. Despite our trials being small-scale and low-cost, we have big ambitions to restore many of Cornwall's lost seagrass meadows using the same methodology."
Dwarf eelgrass
Seagrass is a flowering marine plant that captures carbon from the environment up to 35 times faster than tropical rainforests, making it an important resource in the fight against climate change. It also provides a habitat for marine life such as juvenile fish and seahorses, cleans surrounding seawater and helps to stabilise the seabed to protect the coast from erosion.
The Fal-Ruan nature reserve is home to dwarf eelgrass, one of two species of seagrass found in Cornish waters. University of Exeter researchers have discovered that its beds are twice as good at storing carbon as those found in more exposed coastal locations.
In the UK, about 92% of seagrass was lost in the 20th century through pollution, disease and coastal development, with further damage inflicted by anchoring, moorings and dredging. Cornwall Wildlife Trust hopes that its project could lead to large-scale restoration and planting in Cornish estuaries.
Stronger Shores in North-east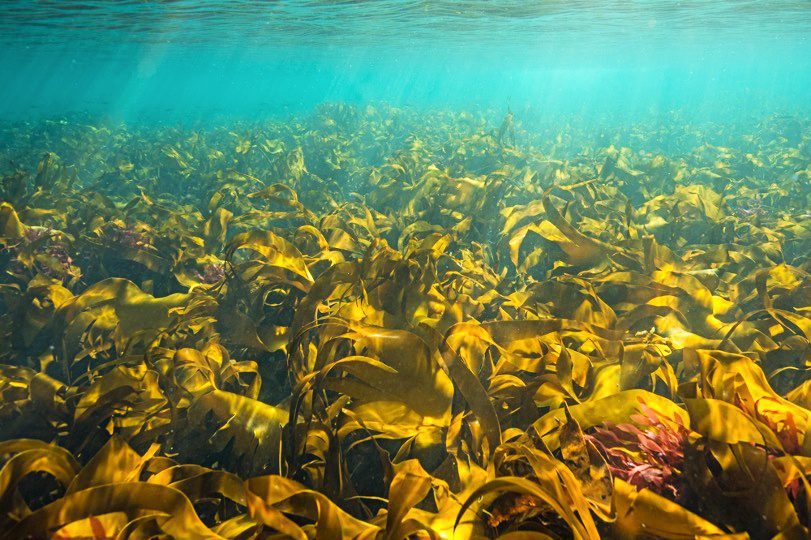 At the opposite corner of England, South Tyneside Council has secured £6.9 million in funding for the North-east's Stronger Shores – an initiative to use nature in the form of seagrass, kelp and oyster reefs to help British coastlines resist flooding, erosion and climate-change impact.
The region hopes to play its part in making the UK a world-leader in establishing proven, affordable and long-term solutions to the climate crisis. The project is part of the DEFRA-funded £150 million Flood & Coastal Resilience Innovation Programme, managed by the Environment Agency.
"Traditional man-made coastal-protection solutions are often expensive to install, maintain and replace,"explained Cllr Ernest Gibson. "Sand-dunes and saltmarshes offer protection but are themselves threatened by rising sea levels and development pressures.
"However, marine habitats such as seagrass meadows, kelp forests and oyster reefs can act as natural buffers that protect coastlines, enhance community benefits and reduce maintenance costs for existing coastal protection. By investing in protecting these seabed habitats now, we hope to see ongoing benefits for people and planet."
Experts will test new restoration approaches to improving water quality, reducing erosion and structural damage, helping to stabilise shorelines, reducing wave impacts, creating rich wildlife, protecting against pollution, improving fisheries, protecting against climate change, providing community recreation areas and extending the lifespan of man-made coastal defences.
Stronger Shores is expected to launch this spring, with opportunities for volunteers to get involved. For information or to share views, email strongershores@southtyneside.gov.uk

Also on Divernet: Seagrass Lifts 'Blue Carbon' Hopes In Cornwall, Shark 'Eyes' Reveal Biggest Blue CO2 Trap, World's Biggest Plant Revealed in Shark Bay, Divers Shift Seagrass Seeds And Nets, We Should Fight To Protect UK Seagrass, Seagrass Damage A Double Whammy