DIVING NEWS
Shark fatality linked to conservation success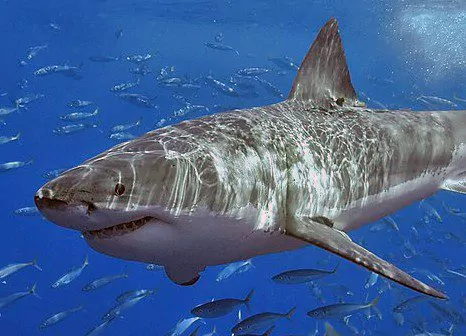 Picture: Terry Goss.
The death of a swimmer following an attack by a great white shark last week has been linked by a shark expert to the successful restoration of seal and consequently shark populations off the USA's north-east coast.
Julie Dimperio Holowach, 63, died on 27 July in the first fatal shark attack ever to be recorded in the state of Maine.
Robert Hueter, senior scientist and director at Mote Marine Laboratory's Centre for Shark Research, stressed that such fatalities tended to be cases of mistaken identity and were generally avoidable.
He told the Guardian that Maine's now-protected seal population and the linked increase in shark presence had resulted from bans both on fishing for marine mammals, in place for almost 50 years, and on damaging fishing gear, imposed 30 years ago.
Holowach had been swimming about 20m from the shore of Bailey Island near her summer home in Harpswell. The species of shark that attacked her had later been identified from a tooth fragment, and Hueter emphasised that because great whites are ambush attackers, rushing to the surface to surprise their prey, it was likely to have mistaken Holowach in her dark wetsuit for a seal.
He said that surface swimmers should avoid wearing dark clothing, going out alone or venturing too near seals or fish present in numbers.
"It's not surprising that with a restored seal population we see the predator of the seal there," said Hueter of Maine.
In summer great whites travelled up the east coast as far north as Canada in search of cooler waters, especially as ocean temperatures increased, but he felt that it was more likely to be the increase in available prey that was the attraction off the New England coast.
Considering that it isn't difficult for a shark to mistake a swimmer for prey at the surface, fatal attacks are very rare. Last year there were only five worldwide, one more than the usual annual average, and of those attacks only two were confirmed as unprovoked.
Florida-based Mote Marine Laboratory was in Divernet News recently because its scientists are currently involved in exploring a series of blue holes in the Gulf of Mexico.