A Match Made in the Maldives
Would the Maldives' reputation as a premium global dive destination hold up during the 'worst-weather trip' of the season? MARIE DAVIES travels to the Indian Ocean archipelago to find out, and enlists the help of fellow-liveaboarders to select her eight highlights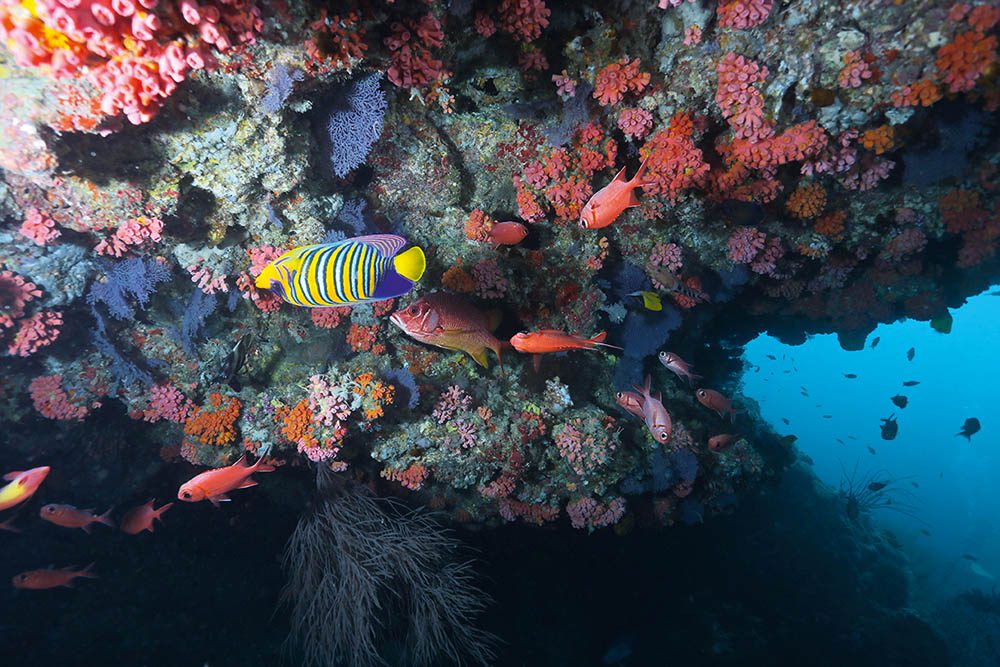 Overhang at Kudarah.
FLYING INTO MALE, the capital of the Maldives, is like plunging into a holiday brochure. The water really is as turquoise as the pages depict, and the island atolls, ringed with pure white sandy beaches and lush rainforest, are as stunning as the advertisers would have us believe.
But if you arrive in the rainy season, be prepared to experience all four seasons in one day. Oh, and rain. Lots and lots of rain.
We're greeted with smiles as we jump aboard Maldives Aggressor II for a seven-day Best of the Maldives trip. Crew direct us to the main saloon and I feel as if I've walked into a 5* hotel lobby.
White leather couches hug the edges of the room, complete with two large glass tables and 16 white chairs, a buffet-style set-up at the back with tea and coffee facilities, a small fridge and
a bar. Plus, two 65in TVs on the wall and an iMac for guest use. Glass windows dominate either side of the boat, offering spectacular views of nearby islands.
I call pretty much every liveaboard a "floating hotel" but Maldives Aggressor II is in a league of its own. This vessel is so spacious and luxurious that it feels more like a floating resort, complete with spa on the top deck and a yoga corner.
The cabins are equally impressive and big.
My twin room is tastefully decorated with white walls, a dark-wood wardrobe and large cupboards. There's a separate shower and toilet (convenient when you're sharing), plus a flatscreen on the wall.
I peek into the Deluxe Stateroom and it has a huge bed and lounge area, plus great views. As one diver put it: "I've never said this before, but the boat is better than the pictures on the website." He's not wrong!
Just outside the saloon is a large camera area, but you won't find tanks or compressor on this 41m vessel. Diving is in tandem with a dhoni that speeds divers away from the mother ship to the dive-sites, typically 10-25 minutes away.
Of the 20 sites I dived, it's surprisingly hard to pick favourites. Each dive offered something special, be it a shy mantis shrimp, a chilled-out turtle, a huge school of blue-lined snapper, mating octopuses, three cranky stonefish, shark-watching from top of the reef wall and… manta rays. So I cheated and asked the rest of the group to pitch in. Here's what we came up with:
Appeared in DIVER December 2018
Whale Shark Search
Halfway through the week, we steam overnight to South Ari Atoll, where the famous gentle giants of the sea feed on plankton. We wake to
a splattering of sun through the clouds (whoo), although the wind is still whipping up white crests on the wave-tops (boo).
Do we care? Nope, today is whale shark day! The briefing is detailed and includes a short animation of how to snorkel with whale sharks (basically no touching, no chasing, no swimming in front).
After 20 minutes' searching from the top of the dhoni, we don our dive-gear and jump in. Then begins a 55-minute drift-dive along Lux Rock,
a steep slope (practically a wall), looking for these elusive creatures.
We're treated to a couple of turtles, a school of fusiliers and a blacktip in the distance, but no white spots. We try again at a dive site called Digurah Beru, but apart from some spekky gorgonian fans and pink soft-coral trees, it's de nada on the whale sharks.
Reliable sightings are what bring snorkellers and divers from around the globe to the Maldives, but even without a whiff of them, it didn't put a dampener on our trip at all.
In fact Maldives Aggressor II still had plenty more surprises in store.
Kudarah Thila (S Ari Atoll)
One of the most exciting dives of the trip, we're told. Descending on top of a small pinnacle at 14m, I gaze at the sharp drop-offs to 20-25m on all sides. A cloud of blue-lined snapper catches my eye and I'm finning down in a flash. I'm in wide-angle-photography heaven!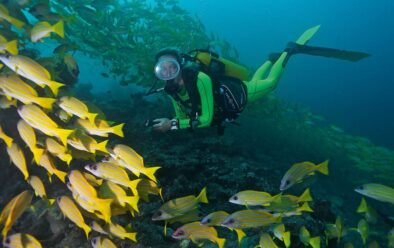 Once my buddy and I have had our fill of the snapper, we fin towards a large overhang
draped with pink and red corals and fans, and a splattering of yellow daisy coral.
Soldierfish, squirrelfish, regal angelfish and a pair of false furcula butterflyfish hide under the ledge (yes, I totally had to look that species up).
Not far away, a flowery cod glares at me from inside its hole. I'm about to risk a photo when the resident eagle ray catches my eye. We follow it down to 30m, and in the distance spot a whitetip shark and a great barracuda. After a few minutes we head back up the slope to bask in the multitude of gorgonians littering the reef.
The current isn't strong, so we manage to traverse the 80m reef in one dive. Even without the snapper, it's a special site, perhaps even my favourite dive of the trip.
Vilamendhoo Thila (S Ari Atoll)
On our last full day's diving we steam towards
a large pinnacle smack-bang in the middle of the channel. I'm thinking "ooh, current!", but what
I should have been thinking was "ooh, batfish!", because we float into the path of a huge school.
Visibility is only 10-15m, but they're friendly and hang close to us for 10 minutes. Moving on, we explore the rest of the reef, with pink fans, lionfish, soldierfish and blue triggerfish everywhere. A whitetip cruises along the wall, followed by a blacktip a moment later.
We stop and wait, and a young turtle drifts past and lands on a ledge on the side of the wall.
We spend the rest of the dive at 12m back with the batfish, mouths agape as cleanerfish forage among their scales.
Bathala Thila (N Ari Atoll)
Our final "favourite" is dive 20, and the guides ooze with anticipation as we descend to the top of the seamount and straight into a school of blue triggerfish. Fans coat almost every overhang and schools of bannerfish swim around us.
Visibility is great at 20-25m, and we hook onto the wall and watch sharks hunting in the blue. Large grey reef sharks mingle with smaller whitetips.
Meanwhile, our guide Marilen is waving at us and we reluctantly leave the shark show and head over to… a giant blue frogfish! It's quite the specimen. Cruising along with the reef on our left we pass stacks of black coral, plumes of pink and orange anthias, and a Napoleon wrasse.
When the Cruise Director announces at the end of the trip "that's the worse weather we've had all season", it makes me smile. I didn't think it was that bad.
Sure, it was a bit stormy for a couple of days at the start,  and rough seas sometimes made getting up the ladder and into the dhoni tricky, but if that's your worst Maldives, I can't wait to come back and experience the best.
Most dives are drifts and some of the sites are advanced, but this trip is good for less-experienced divers too. All diver-pairs are given an SMB to be released at the safety stop. The dhoni then hovers nearby until you surface.
Divers are provided with current hooks to watch the shark action on wall-dives.
Generally it's illegal to dive deeper than 30m. This rule is relaxed on liveaboards but there isn't much more to see below 30m anyway, and the deepest we went was 32m.
The trip was a snapshot of the 35,000 square miles that make up the sovereign nation of the Maldives, but it really is as special as those pesky online ads promise.
FACTFILE
GETTING THERE> Flights from the UK to Male.
DIVING & ACCOMMODATION> Maldives Aggressor II, aggressor.com/maldives
WHEN TO GO> Year-round but January to April brings excellent sea conditions and good visibility. Water temperature averaged 28°C on the trip – "chilly" according to Marilen. 3mm wetsuit recommended.
MONEY> Maldivian rufiyaa or US dollars.
PRICES> Return Emirates flights from the UK from £724. Seven and 10-day trips on Maldives Aggressor II start from $2730, including all meals, wine and beer.
VISITOR Information> visitmaldives.com