We asked 52 pro divers from around the world to share their favourite local dive-sites with DIVER readers. Their colourful accounts will make you long to experience these dives.
Coral Garden – Anda, Philippines

In the western part of Anda, a small, peaceful town in south-eastern Bohol, lies a dive-site that showcases an incredible diversity of marine life, a valuable experience for underwater enthusiasts.
One of the best diving spots you could find, it's suitable for both beginners and seasoned divers and should definitely be part of a rewarding diving holiday for those who love to see healthy, colourful reefs full of marine life.
Coral Garden is 3-5 minutes away from Magic Oceans Dive Resort, a 4* boutique dive-resort, and offers a great combination of walls and sandy slopes that host a lot of marine life, creatures from XXS to XXL. More than 90% of it is made up of beautiful soft and hard corals, especially on the reef top, which is also great for snorkellers as it is only 3-5m deep.
The wall, which is 5-20m deep, has a lot of small caves and crevices that host a lot of fantastic gorgonians and sponges (ideal for wide-angle photographers).
You can see a lot of different species of reef-fish here and there is a higher chance than elsewhere of witnessing visiting pelagic fish such as giant trevallies, barracuda, Spanish mackerel, eagle rays, whale sharks and more.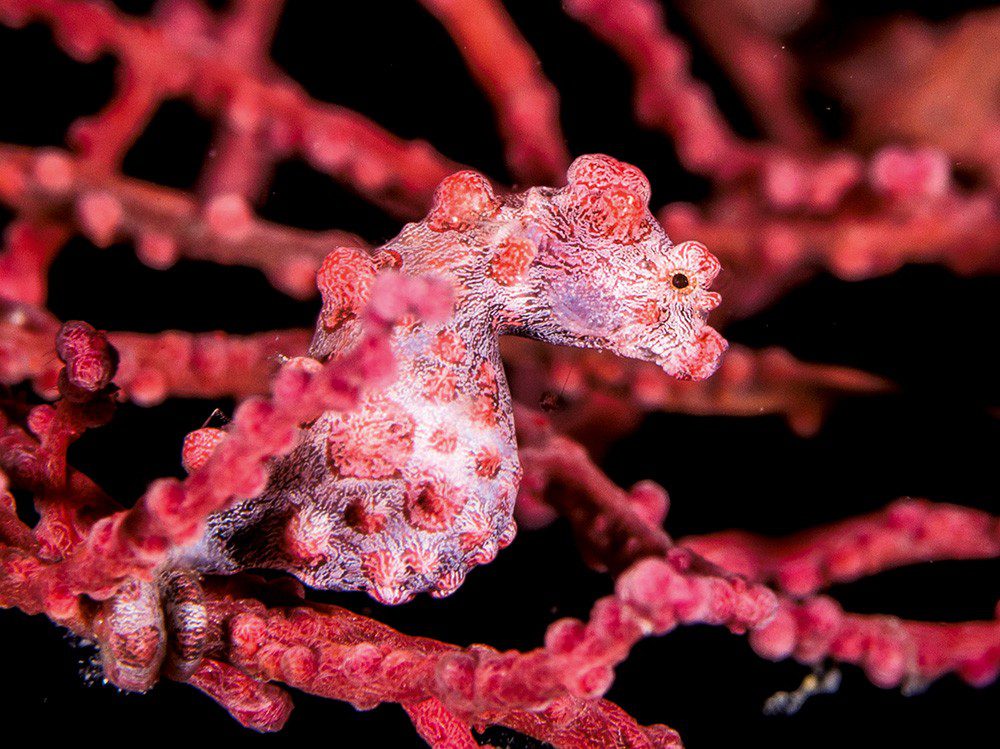 This place is also home to diverse macro creatures. Among the most significant are the creature from the Magic Oceans logo, the pygmy seahorse (Hippocampus bargibanti) found on seafans living on the wall.
You can also see a lot of leopard anemones living on dead gorgonians, and there in turn you can find leopard shrimps.
This environment is also home to frogfish, countless resident resting sea turtles and, of course, many types of colourful nudibranchs, sea-slugs and other Indo-Pacific crustaceans.
Coral Garden is guaranteed to provide you with an incredibly pleasurable dive.
Website: Magic Resorts
---
Spooky Channel – Roatan, Honduras
Spooky channel is a different kind of dive, because it offers divers a different type of experience. As you approach the site you feel an adrenaline rush, because you don't know what's coming next.
It might start out as a mystery, but once you begin making your way down you'll see the amazing formations, caves, swim-throughs and canyons. It gives a feel of sightseeing but also of exploring.
At some point we think this was a waterfall, from the way it sits on the reef and how it connects from the inner lagoon to open ocean.
Visibility can vary, depending on the water conditions and also the time of year. The deepest point is about 30m, it's 15-18m wide, and because of the way it's set up it allows penetration of the sun's rays from the top part of the reef to create what looks like a cathedral under water.
This is a cool dive on which you can enjoy the topography of the waterfall and the chamber-like environment, which makes it close to cave-diving but without needing certification.
As soon as you leave the main chamber of the channel you end up over the usual Caribbean shallow reef in less than 10m, and get the chance to see common sea life such as turtles, parrotfish, angelfish and big schools of blue tangs.
At certain times of year you find giant balls of silversides seeking refuge from predators, tarpon, big snapper, grouper, green moray eels, lobster and small shrimps.
Taking a torch is recommended for exploring under crevices and ledges – you never know what you might encounter in Spooky Channel.
Website: Anthony's Key Resort
---
Karang Sembilan – Raja Ampat, Indonesia
My favourite dive-site around Pulau Pef is Karang Sembilan, and it's so much more than just our house reef. Sembilan means "nine" in Indonesian, and the reef has the shape of the number 9.
It offers an incredible variety of types of marine life that I have rarely seen at other dive-spots.
During a typical dive, we jump from the jetty and go down to 8m. We have a good chance of seeing different types of pygmy seahorse, ghost pipefish, sexy shrimps, various types of octopus – including the blue-ringed and beautifully patterned wonderpus – and electric clams.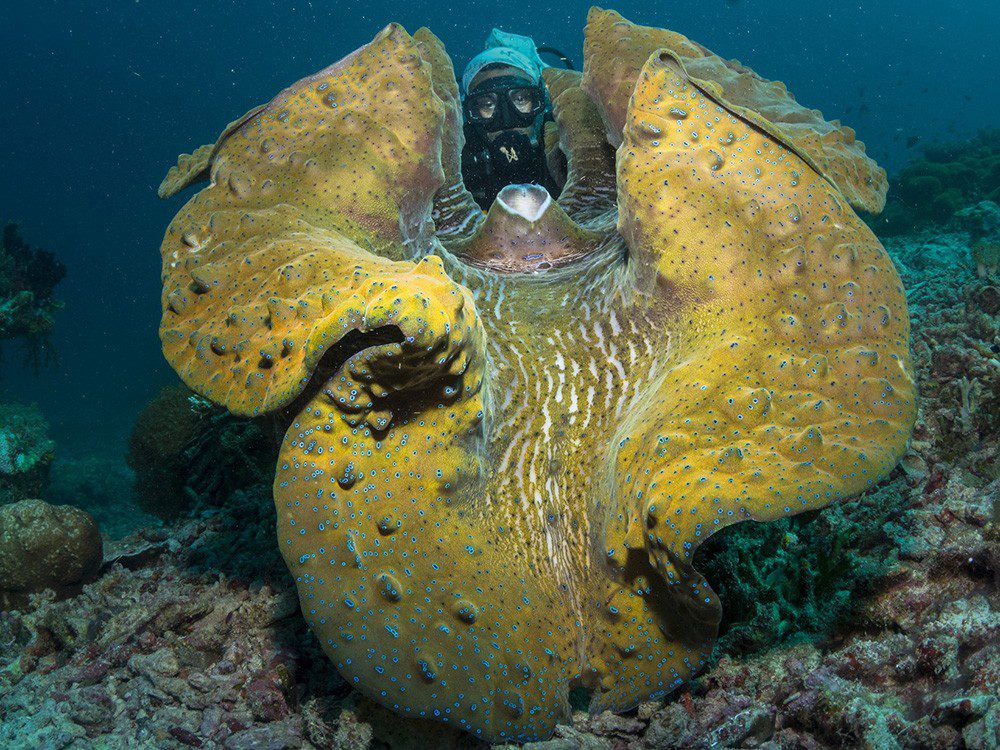 Following the ridge, there are many big coral blocks swirling with glassfish, sweetlips and, here and there, wobbegong sharks.
We then head down to 23m, to find big shoals of yellowtail fusiliers, many blacktip sharks and occasional whitetip sharks or eagle rays.
With the reef still on our right shoulder, we slowly go up to 15 or 10m to get to the coral slope, where we usually find candy crabs, turtles, razorfish, anemones and their clownfish, bumphead parrotfish – shall I go on?
On the way back to the jetty, scattered on the reef, there are around 30 beautiful and healthy giant clams. We collected and planted them there to regrow a population that had been threatened by extinction.
Back at the jetty, we linger around our Raja4Divers' statues, covered with colourful sponges and corals.
Night-dives are especially spectacular, as we often see the endemic Raja Ampat walking shark (above left) and sometimes Walton flasher wrasse, along with lobsters and many other nocturnal creatures.
And snorkellers have come back with huge smiles on their faces after seeing a dugong swim by over the seagrass-covered area on a late afternoon!
Website: Raja4Divers
---
Buddy's Reef – Bonaire

You can walk out of your room straight into the ocean at Buddy's Reef. It's located right in front of the resort, with a spacious dock area and different easy entry-points.
Once you descend to 4m you'll find a yellow rope heading out to the drop-off. From there on, it starts sloping down from 6-30m.
I was blown away by the marine life and healthy corals when I first saw this house reef. Most of the marine life is found cruising around between 12-18m.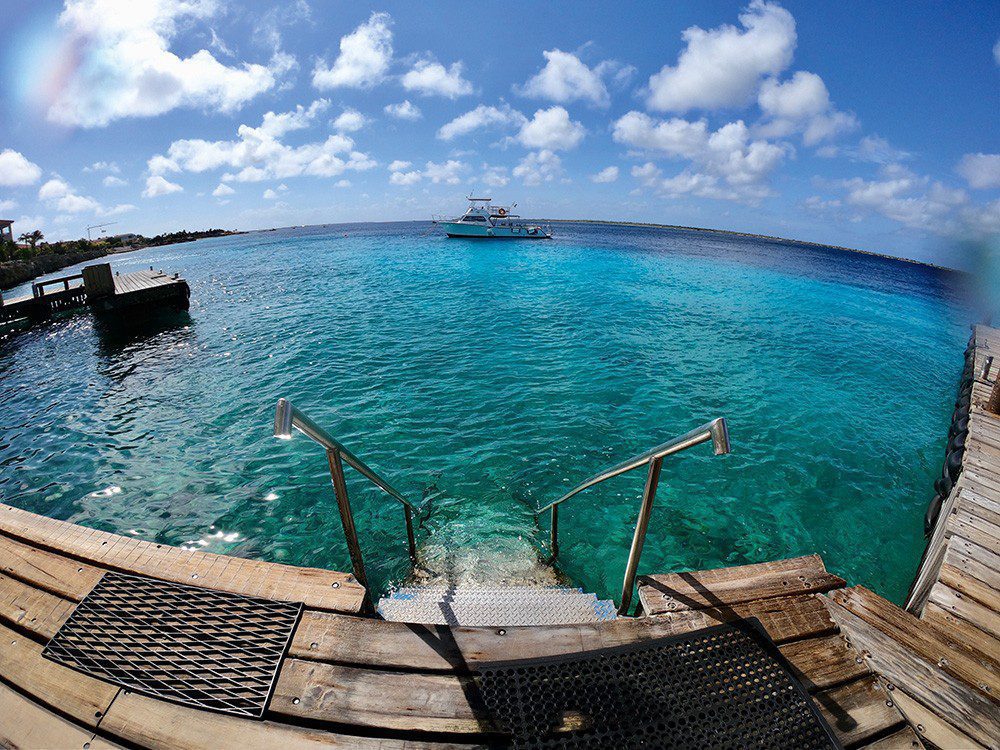 On every dive I've done here I've found big tarpon cruising along, a lot of spotted eels, slugs and octopuses. There is even a little wreck located on the north side, between 9-18m deep.
The reef has loads of different soft and hard corals, all very healthy. Because it's located in Bonaire's "bay area", currents are usually very weak.
There are 34 "Reef Renewal" coral trees right in front of the drop-off – spectacular to see, and also allowing you to find your way back super-easily!
The staff and Reef Renewal Foundation take good care of their reef– it's one of the most alive and cosy reefs I have dived on Bonaire.
Website: Buddy Dive
---
Depan Kampung – Bunaken, Indonesia
Depan Kampung means "in front of the village" in Bahasa, and as the dive-site is a mere 200m from Bunaken's largest village, it is aptly named. It's a continuation of the famous Lekuan wall, only here the reef becomes a slope, rather than one of the vertical underwater cliffs for which Bunaken is famous.
Mooring up at the dive-site, you can already see the corals shimmering under the water's surface, and you might spot a turtle's head appear briefly as it comes up to breathe.
Bunaken is well known for drift-diving and Depan Kampung is no exception, so the typical entrance point is on a sheltered corner of the slope.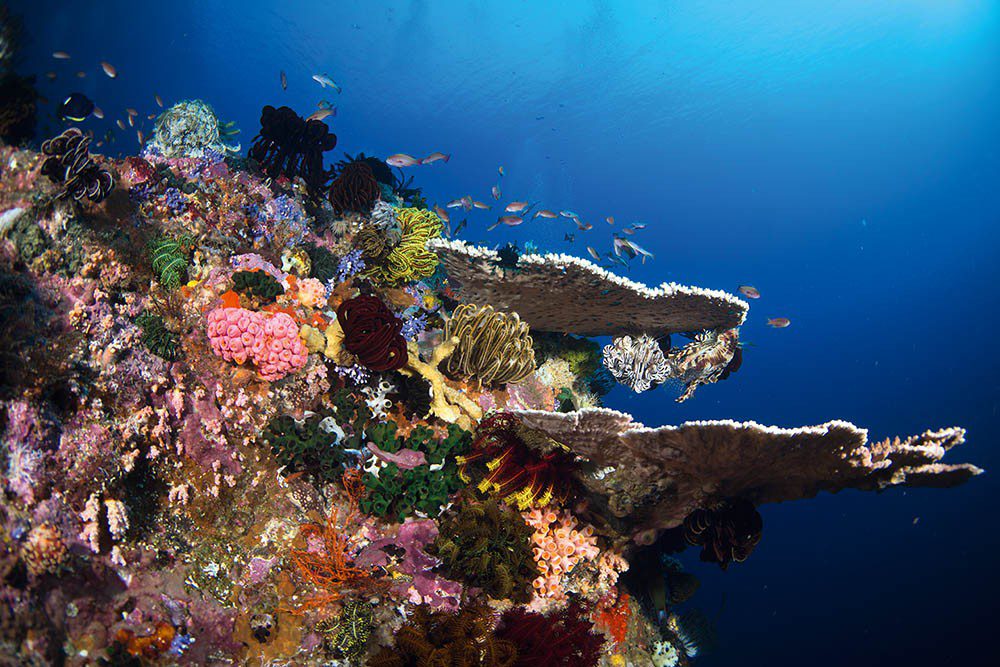 As soon as you descend, you're greeted by thousands of reef fish darting above the pristine shallow corals, and once you reach 5m, some parts of the reef are already above you.
With the slope on one side, the gentle currents push you effortlessly along.
And on your other side is the endless blue, home to tens of thousands of redtooth triggerfish, schooling black snapper and the occasional eagle ray or tuna.
Crown jewels of the site are the abundant green and hawksbill turtles. It's not uncommon to spot 20 in an hour, some in the blue, others resting on a sponge. The slope goes very deep, much deeper than most divers could ever visit. Visibility is good most of the year, so it's easy to spot some of the many reef sharks that patrol the depths.
It's not just the big things you can find here, either. The slope is home to endless critters – nudibranchs, ghost pipefish, frogfish and more.
You need to visit Depan Kampung more than once. You could dive it 100 times, and never get bored.
Website: Siladen Resort & Spa
---
Shark & Yolanda – Sharm el Sheikh, Egypt
For years during the 1990s, I used to dive in Sharm el Sheikh with my club on a diving holiday. We usually visited the Red Sea at the start or end of the UK dive season (in April or October).
Shark & Yolanda Reefs was always my favourite site, for its amazing topography and different corals. It has walls plunging down into unreachable depths, currents on which to drift with no effort, and behind the massive coral pinnacles was a plateau of soft coral among which could be found turtles, rays, crocodilefish and many other species.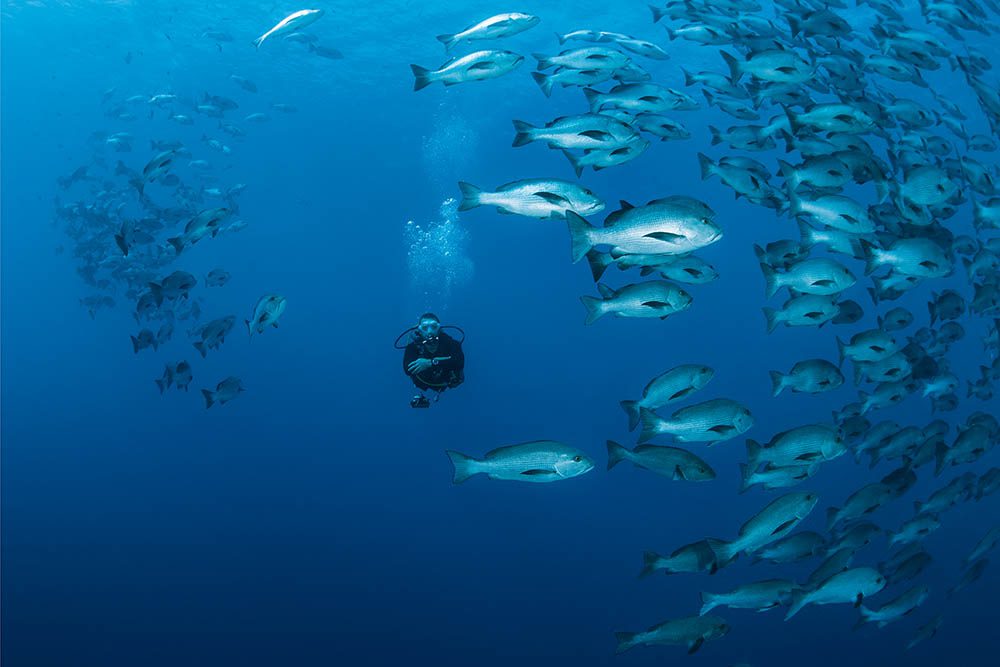 However, it was only in July 2002, when the UK weather was getting my father down and he offered me the chance to join him and his dive-buddy for a week's diving in Sharm during the summer months, that I got to appreciate the true magic of Shark & Yolanda.
Year-round this site is magnificent, fed by the constant soup of nutrients that flow up from the depths to feed and replenish the reefs at the southernmost point of the Sinai Peninsula, but during summer the place comes alive, with so many shoals of different fish that have come to spawn.
With them come bigger predators. During the parrotfish aggregation, you can see giant trevally as big as cars – or so they look in the water.
We have seen a blackfin shark taking a barracuda from the midst of a swirling school, and many other types of shark, as well as manta rays, sailfish and dolphins.
Now I work full-time as a dive instructor and guide in Sharm and manager of our family-owned dive centre, and get to dive this amazing place regularly. I get to choose who does which dives and who teaches the courses, although of course I do share it out. After all, our instructors are here because of their love of diving and marine life, and all still want to see these amazing phenomena each year.
So divers who stay away from Sharm during the summer months because of the warm weather are missing some of the best diving in the world!
Website: Elite Diving
---
Monad Shoal – Malapascua, Philippines

Your alarm goes off in what feels like the middle of the night. But then you remember what it's for, and you jump out of bed and rush off to the dive-shop.
Before you know it, you're on the dive-boat, sipping a cup of coffee, heading east into the rising sun. Your fellow-passengers might still be waking up, but you can feel the excitement starting to build. The divers on the boat have come from all corners of the world specifically to this unique dive-site: Monad Shoal off Malapascua Island, the only place in the world where you can reliably see thresher sharks!
The second you hit the water, you're wide awake. You start to descend, and in many ways it feels as if you're on safari. The straight drop down to 16m is quite spooky, and in the early-morning light and with 10-15m visibility, it almost feels as if the site is shrouded in mist.
Then you're off, swimming slowly over the bottom of the shoal, eyes darting left and right in search of that shark, your heart thumping in anticipation, and you feel as if you're stalking big game through the jungle.
When, finally, through the haze the stunning silver outline of the majestic thresher shark makes an appearance, it seems to come out of nowhere. You sit still and watch in amazement as this graceful creature circles in front of you.
The shark doesn't even seem to notice you; it is just there for its early-morning cleaning.
Another thresher might join it, and perhaps a third. It's not uncommon to see several circling at once. Often they come so close that you could almost reach out and touch them.
As the dive comes to an end and you hit the surface, there are whoops and hollers and high fives all round.
You can almost taste the adrenaline in the air. What a buzz! It's a dive you remember for the rest of your life.
Website: Malapascua Diving
---
Zenobia – Larnaca, Cyprus
Breaking the surface of the eastern Mediterranean a mile from Larnaca port, and looking down the shotline into the abyss, we see every shade of blue and silver imaginable – and nothing more, until we reach around 5m.
At that point a huge, imposing shadow looms into view – our first glimpse of the Zenobia.
We reach midships on the starboard side that lies uppermost at around 18m, and at once are engulfed in a melee of two-banded bream, saddle bream, damselfish and huge grouper. This is a breath-taking wreck, its impressive 172m length disappearing into the distance to left and right.
We descend over the starboard rail and immediately see some of the 104 articulated lorries that were once secured to the deck.
Now they either lie like corpses along the seabed at 42m, or cling precariously by their chains to this huge roll-on, roll-off ferry in their final acts of defiance, as they are slowly claimed by the sea. We descend to a trailer at 30m.
It still contains the skeletal remains of its cargo of meat.
We continue towards the stern cargo doors, maintaining our depth of 30m halfway down the deck. We see many lionfish, briefly encounter the resident loggerhead turtle and might have the pleasure of swimming through huge, menacing schools of barracuda, all the while enjoying this impressive scrapyard of trucks and trailers.
Once between the cargo doors we continue to the bottom of the wreck to explore the two impressive propellers, the uppermost at around 25m.
We ascend to the starboard side at around 20m before heading back to the shotline, over the huge funnels, starboard rail and mind-blowing amount of aquatic life now resident on this magnificent wreck.
Website: Diving in Cyprus
---
Blue Hole – Baa Atoll, Maldives
My favourite dive-site lies on the north-western side of the house reef of Amilla Fushi, in the UNESCO Biosphere Reserve of Baa Atoll. The hole starts at the edge of the top reef at around 6m, with an entrance/exit at 12m and another exit at the bottom at around 22m.
It's a hole but not an enclosed one – which means that cave-diving specialities are not required to dive this site. You could describe it as more of an underwater chimney.
Blue Hole is great for divers of all levels. There is a huge range of marine life to be seen both around the hole itself and along the reef.
On very rare occasions, you might even be lucky enough to see a guitar or leopard shark.
At certain times of year the hole is filled with hundreds of glassfish, and you can often find lobsters and nurse sharks hiding in the crevices, as well as inquisitive hawksbill turtles swimming by. There is also the occasional green turtle, although these are less common.
During the manta season from June to November we have seen manta rays passing by, either along the top of the reef or from the drop-off into the blue.
Looking under coral blocks or ledges you can find lionfish, octopuses and a variety of moray eels among other marine life.
Along the top reef, you'll see schools of blue-striped snapper, bannerfish, triggerfish, parrotfish, oriental sweetlips and blacktip reef sharks, to name a few.
With the top of the site so shallow, we also enjoy snorkelling or freediving there. Sometimes huge schools of bannerfish cover the reef and the entrance to the hole.
With each dive, whether on scuba or freediving, I've found something new to discover. Whether I'm creating videos or photos for our social-media channels or guiding divers, it's always an exciting site to visit – and you never know how lucky your day might be!
Website: Dive Butler
---
Veronica L – Grenada

Visible from the surface on most days, a descent onto this shallow shipwreck provides an exciting adventure for divers at all levels. An inter-island cargo barge sitting fully between the shelving coral reefs of Grand Anse Bay, this 30m vessel provides the comfort of a beginner-level wreck dive with its maximum depth of 16m, yet all the while exhibiting the coral growth and marine life of the most advanced wreck dives on Grenada.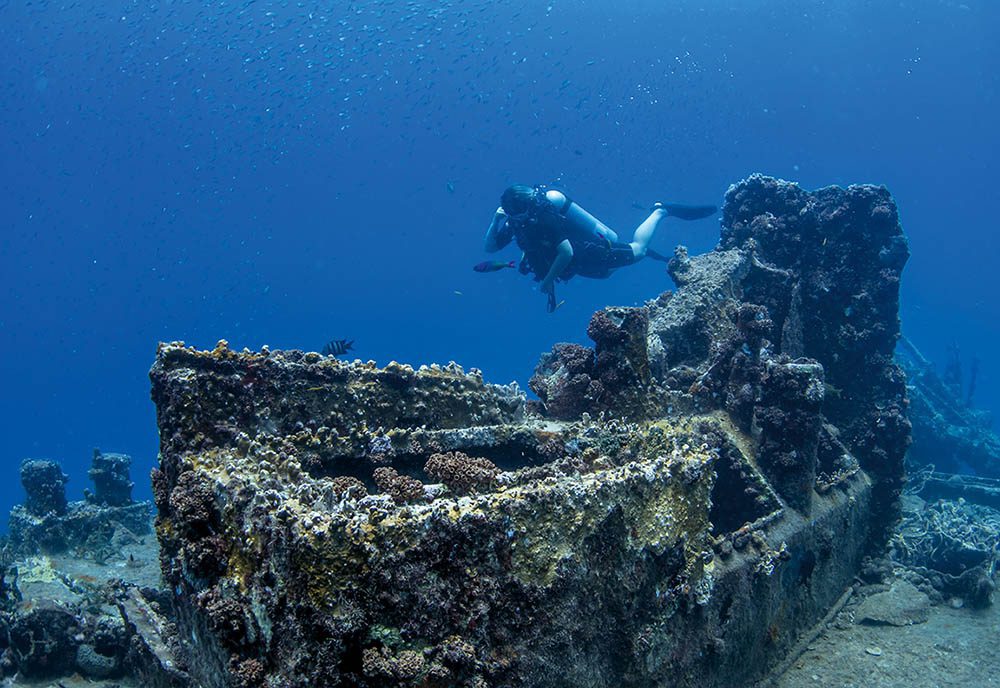 With orange cup corals, sponges and hydroids covering the wreck's surface a variety of marine life thrives – blennies, fireworms, basket seastars, moray eels, octopuses, coral crabs and lobsters to name a few. This is the advantage of resting in a coral bed, and divers can also explore the surrounding reef to glimpse nurse sharks, rays, seahorses and the occasional frogfish.
Shoals of chromis and creole wrasse surround Veronica L as divers navigate the coral growth.
With barjack, trevallies and yellowtail snapper hunting as well, the action on this wreck can be immense; a spectacle for any avid diver. It makes for a particularly impressive night-dive, with the cup corals extended in all their vibrant orange and yellow glory.
To add to the character of the wreck, along the mid-section sits a welded crane that houses a giant green moray eel at its base.
With its open hull, wheelhouse and an engine-room that's intact and visible, a dive on the Veronica L is a delight for all visiting divers.
Website: ECO Dive Grenada
---
Stewards Reef – Tufi, Papua New Guinea

When I was a kid, my dream was to dive with all the different fish in the seas around the world. At Tufi Resort, my dream has come true.
The guests and team are gearing up to visit my favourite dive-site, Stewards, a reef that blows your mind with its amazing colours.
Set against the dark blue at depth to the light blue at the top, we take a journey through the spectrum among a rich variety of fish and corals, not forgetting all those special sea-slugs and other critters.
Expect the unexpected from the moment you release the air from your BC, and the world of Stewards welcomes you with open arms.
In front of us, a little blue-ringed octopus tries to hide itself.
Some metres ahead, the next stop is always with the beloved clownfish in their anemone. The nudibranch colours are spectacular, little visions in pink, blue, yellow…
The corals are huge and healthy – I have never seen such beauties elsewhere.
And all the little things are taking the opportunity to use this coral garden as their home, including the very cute pygmy seahorse, shrimps and featherstars.
The funny thing is that, as at all Tufi's reefs, you look down the wall to left and right and there are all the big fish – barracuda, lionfish and more or less all the sharks you might wish to see, including our favourite albino hammerhead.
After a fantastic dive and on our way back to Tufi Resort, a school of dolphins has fun with the boat.
My words to describe this great location? Breathtaking, stunning, spectacular… fantastic.
Website: Tufi Resort
---
Vera-K – Paphos, Cyprus
Just a 10-minute boat journey from Paphos Harbour in the south of Cyprus lies the Vera-K, a Lebanese freighter that beached on shallow ground in 1972.
This wreckage was then used for target practice by the Cypriot military until 1974, when it was deemed dangerous to passing vessels. The local authorities decided to blow it up, and it's now settled inside a crater in the reef. All this means that it's not unusual to find old ammunition lying amid the debris.
After anchoring onto the top of the reef, we begin our steady descent into the crater, where you can often see green turtles grazing in the seagrass meadows.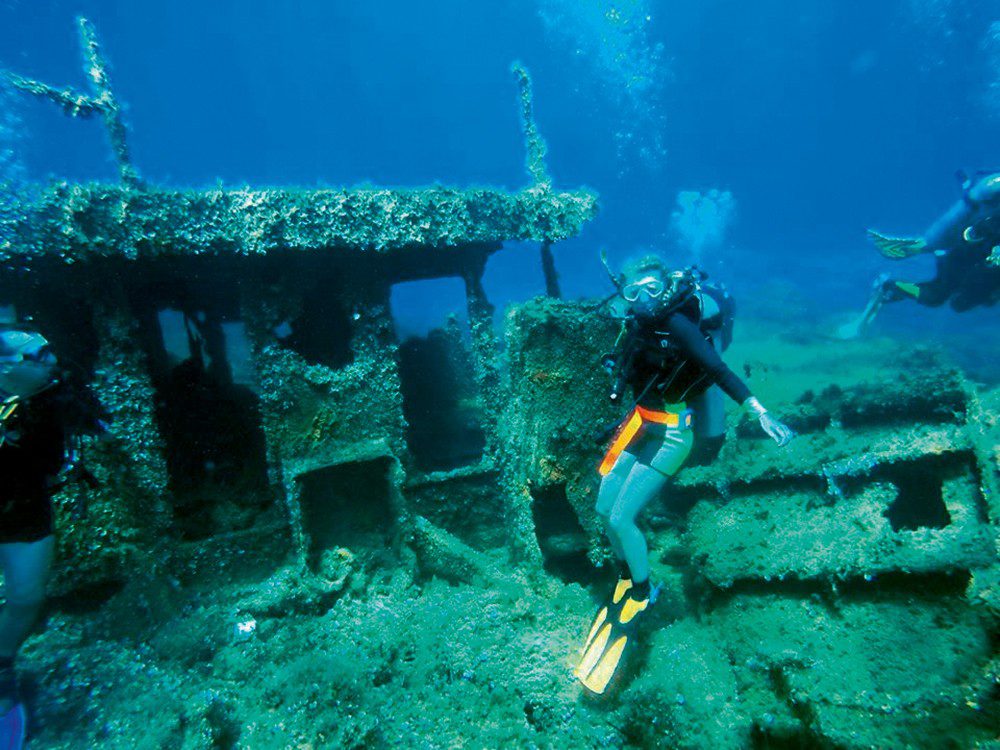 With a maximum depth of 12m, there's plenty of time to enjoy this picturesque underwater world.
We begin the dive by following the crater wall to the westernmost point of the dive-site, to find a large swim-through full of colourful algae, natural light and large grouper that have made their home there.
Continuing around the crater, breaks in the reef open up small gullies and overhangs, perfect for divers to explore before reaching the main attraction.
The Vera-K is in four main pieces: bow, stern, bridge and engine, all scattered over the seabed. The bridge is still intact, though slightly too narrow to penetrate, but it's great for peering into, looking for hidden marine life such as cardinalfish and lionfish.
Although the bow and stern sections are still identifiable, they took the biggest hit in the explosion and now offer refuge to juvenile fish during tougher weather.
A highlight of this dive is the engine, sitting in the middle of the crater and perfectly intact and connected to the transmitter. It's a photographer's paradise.
The combination of natural beauty alongside a wreck with history make this one of my favourite sites around the island.
Website: Cydive
---
Atmosphere House Reef – Dauin, Philippines
Take a few steps from Atmosphere Resorts & Spa and you'll enter one of the largest marine sanctuaries in Dauin. Our house reef is more than just a standard shore dive; it's home to a huge diversity of marine life, and there's plenty to hold your attention over multiple dives.
Green turtles munch on seagrass as you make your way through the shallows, while trevally and emperors scour the reef in packs searching for their next meal.
Head north to encounter blue tangs cruising among the corals and schooling barracuda hanging in the blue. Head south and see blue-spotted stingrays and inquisitive turtle-headed sea-snakes hunting over the reef.
For macro lovers, hairy shrimp, ghost pipefish, frogfish, mantis shrimp and nudibranchs can be found while, if you're really lucky, grape-sized flamboyant cuttlefish eggs can be seen developing right before your eyes.
Dive a little deeper and you'll come across three shipping containers, sunk in 2011. These artificial structures have proved popular with batfish, nudibranchs, scorpionfish and juvenile sweetlips.
Back on the reef, the critter-hunt continues with jawfish mouth-brooding their eggs and broadclub cuttlefish buried in the sand. Finish up in the shallows, where colourful anthias and damselfish twinkle in the sunlight and garden eels, schools of razorfish and sea moths are scattered over the seagrass beds.
Wait a few hours and another rare critter can be encountered. As the sun sets behind the palm trees, technicoloured mandarinfish begin their complex, but brief, mating rituals. Be patient and you won't be disappointed by these small but beautiful fish.
Once darkness sets in, life on the reef changes again. Many fish find a safe crevice and settle in for the night, but others are only just beginning to stir.
If you're lucky, bobtail squid and the elusive blue-ringed octopus can be seen exploring the reef, manoeuvring around colonies of fluorescing corals.
Whichever time of day you drop under the waves, this house reef will have you coming up smiling.
Website: Atmosphere Resorts & Spa
---
Gumi Cenik – Bali, Indonesia
A short boat-ride from the dive-centre takes us to the corner of a bay typical of northern Bali. We descend along a small reef that continues into a sandy slope and follow its course, keeping an eye out for inquisitive garden eels.
Before we actually see the main reef, the clouds of schooling fish give its location away.
Descending along its edge, we're greeted by beautiful corals, schooling snapper, blue-spotted sting rays by the dozen and the occasional tuna whizzing by.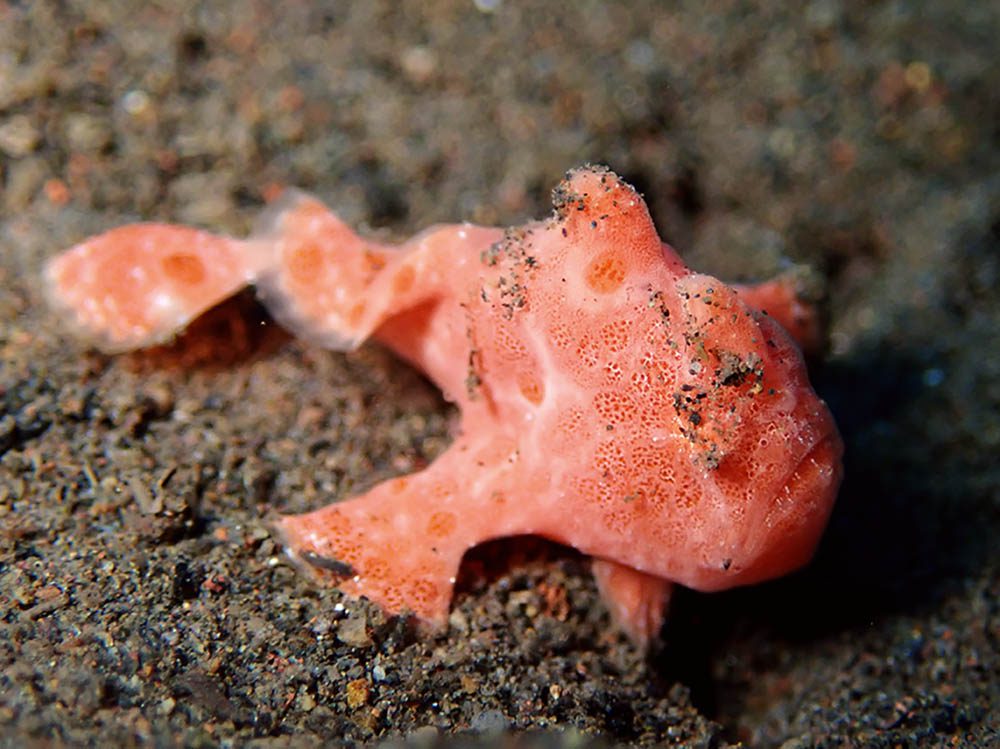 Looking more closely at the reef we find nudibranchs, scorpionfish hiding, frogfish, leaf-fish and ghost pipefish. Often we find a turtle munching away or just sleeping wedged between coral blocks.
Making our way shallower on the other side of the V-shaped reef, we cross a sandy patch to a smaller reef alongside the main one. It is characterised by big barrel sponges growing right in its centre.
Moray eels seem to love living in the shadow of these massive structures, and lionfish regard the ridges of the sponges as prime real estate.
Leaving the reef, the seabed composition changes from sand to stones. Anyone who has been on muck dives will realise that critters love hanging out here, and taking time to look at this seemingly empty rubble slope, you start to notice things moving.
The whole bottom seems to be scattered with the most colourful nudibranchs, special types of shrimps, mimic octopus and the occasional fingernail-sized baby frogfish hiding in plain sight.
The depth here is 4-7m, so it makes the perfect place for your safety stop and the end of a beautiful dive.
Website: Werner Lau
---
Kuredu House Reef – Lhaviyani Atoll, Maldives
All the dive-sites here in the Lhaviyani Atoll are beautiful. With the right current they can become amazing and leave you with lifelong memories of underwater islands, walls, outer-reef drop-offs and corners full of sharks and rays, but one that stands out for me is Kuredu Island Resort's house reef.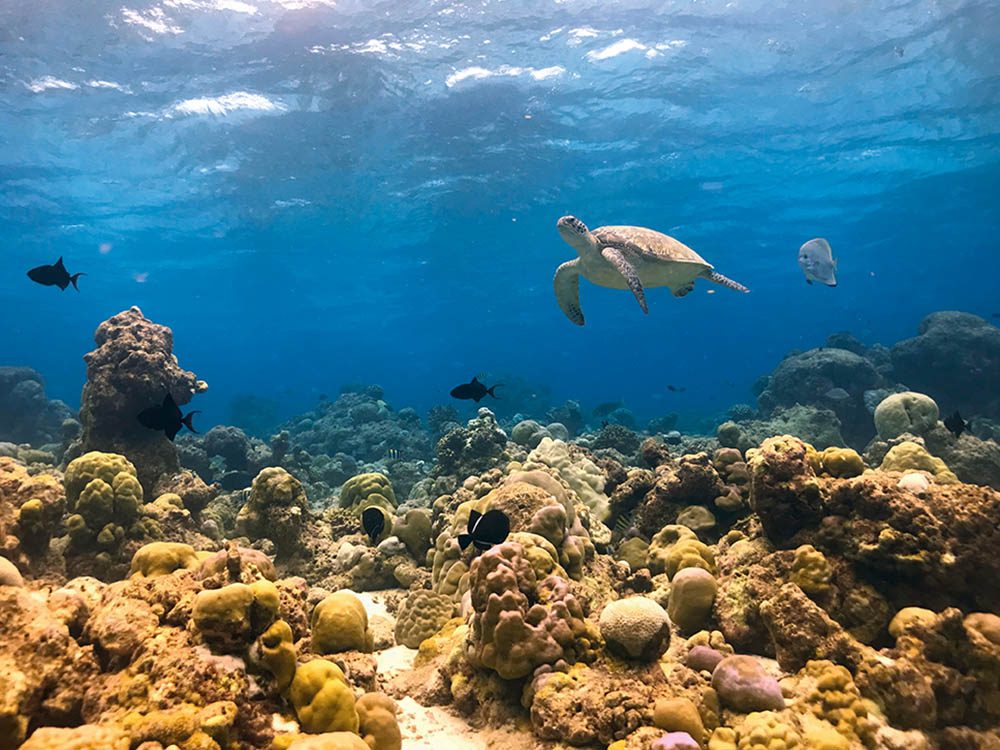 This long reef can be accessed by shore or boat, and stretches between two shark-filled channels on the inside of the island known as the biggest turtle sanctuary in the Maldives. It's perfect for beginners, optimal for courses, and thrilling even for the most fastidious diver.
You're immediately immersed in a fish soup of vibrant colours and movement. The top of the reef is covered with sand, which makes the sun reflect and light up the site with a spectacular gradient of blue hues.
The first attraction is a shipwreck, placed by Prodivers as an artificial reef.
Covered in both hard and soft corals, it invites you to take a closer look into the cargo holds and the bridge for frogfish, nudis, ghost pipefish and the signature 2m-long moray eel getting cleaned behind one of the doors to the bow.
As you move along the reef, you see turtles swimming, sometimes "too" close, seeking out spots to get cleaned or to scratch their shells.
Looking into the blue, you might well see squadrons of eagle rays hovering within arm's length.
The fortunate few might even find themselves in the presence of the majestic ornate eagle ray, as it passes the reef for a bite to eat on the sandy bottom.
And the end of the dive in the nearby channel might provide grey reef sharks cruising in the current, waiting for brave cleaning wrasse to swim into their mouths and "brush their teeth".
Website: Pro Divers
---
Bianca C – Grenada
Last check: fins on, wetsuit zipped up, all pinch-buckles closed, dive computer set to 30% nitrox, gas on, tank and pony full, weights are in my pocket and mask is defogged. All the guests are in their equipment and checked.
I have two couples, one from the USA, the other from the UK. One couple are fiddling with their GoPro, making last-minute setting adjustments, while the others are nervously waiting for the boat to stop. All are experienced divers; we never take anyone to Bianca C unless we have vetted them first.
Easy step off the dive platform, negative entry and they can use my flagline as a reference on the way down. Gotta get to the wreck fast in case there is an unexpected current lower down. One last glance to the top to make sure everyone is following. Sometimes the swim down feels endless, but you always know you hit the right spot when the enormous shadow engulfs you.
At the stern, the usual shy reef shark welcomes me before the other divers arrive. Only the early birds will get a glimpse of him. Now I can focus on the sheer size of the hulk of metal. It's always an eerie feeling when you're by yourself.
One hundred and eighty metres to cover in less than 20 minutes. The divers arrive beside me at 35m and we start swimming towards the bow. First, of course, we have a dip in the pool – "the deepest pool dive you'll ever take" as I joked in the briefing – 40m to the bottom.
I can see the large school of horseye jack shimmering in the distance. I slow the group and signal to breathe slowly, so we don't scare them off. Always an amazing sight.
Someone is banging a tank – must be the other group on the reef, shallower but parallel to the wreck. It makes me turn, and there they are, six majestic eagle rays dancing alongside the wreck.
I signal the divers to turn around. We drift with the gentle current as the rays slowly fly by.
Approaching the bow, we're now at 30m. I signal everyone to check their gauges. If everyone has over 100 bar, we can head to Whibbles Reef. Everyone is OK. Slight eastern turn until we are greeted by black gorgonians and schools of fish.
Another 20 minutes drifting over this beautiful reef and we head for our safety stop and back to the surface.
Website: AQUANAUTS GRENADA
---
Gorgonian Gardens – Alonissos, Greece, Aegean Sea

The national marine park off Alonissos Island is an underwater gem, and 15 minutes by boat from the port of Alonissos, on the deserted island of Agios Georgios, Gorgonian Gardens is a wall-dive with a stunning garden of yellow and red soft corals.
These species are part of a coralligenous marine habitat that hosts the highest concentration of biodiversity in the Mediterranean Sea. They thrive in places with strong currents that create a nutrient-rich habitat for native species, and a passing refuge for migrating schools of fish. Gorgonians grow only 2cm per year, so it's a real natural monument.
You submerge along a rocky wall with a steep slope covered in red algae, complex pink and purple structures that build biogenic clusters, a base for the growth of other organisms.
The wall is full of cracks and holes in which you can find crabs, molluscs and sea-squirts. You'll be amazed by the plethora of different nudibranchs, with their extraordinary colours.
At 26m you start seeing the yellow gorgonians. As you reach 32m these start entwining with the purple ones, creating a surprisingly colourful scenario for the Mediterranean.
The deeper you go, the richer the gardens become. Be alert, because here you can encounter grouper, forkbeards and red scorpionfish camouflaged on the algae.
On ascent, don't forget to look out into the blue, because this site is a passage for migrating fish.
You might see yellowfin tuna and amberjack – sometimes in groups of as many as 30-40 individuals.
Website: Best Diving Greece
---
Emily & Waterlily Wrecks – Mauritius, Indian Ocean
Over my 25 years as a diving instructor, many fellow-divers have asked me to name my favourite dive-site in Mauritius. Without hesitation I say: "My yoga dive." This reply tends to generate a certain amount of curiosity, so I explain about the Emily and Waterlily wrecks, two small sugar barges that were used to create artificial reefs in the early 1980s.
They were sunk about 10m apart on a sandy patch of seabed just off Trou aux Biches, and lie 25m deep.
Nearly 40 years on, I can say that they are the epitome of how an artificial reef should look.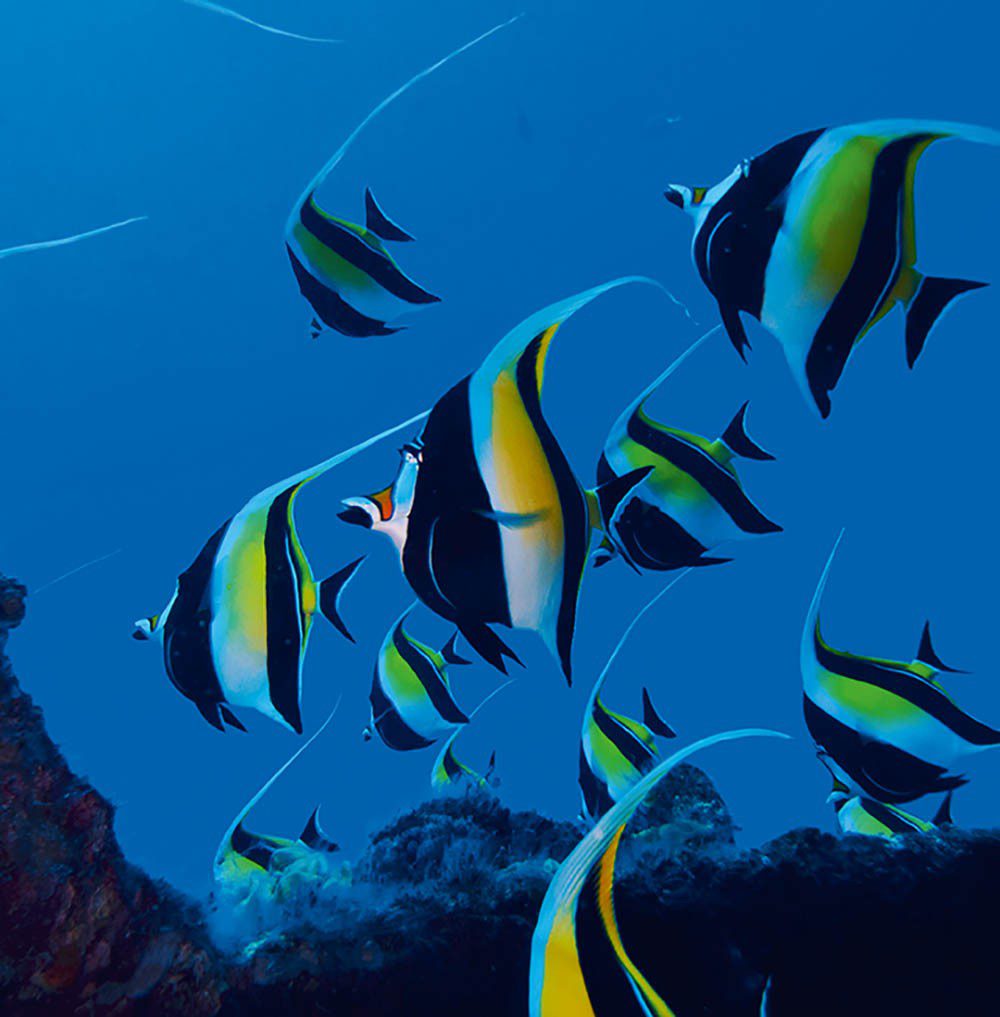 This is not a large dive-site, the barges being only 12m long, but the compact nature of the sites makes for a very interesting dive because
A multitude of critters, large and small, can be found there.
The proximity of the barges to any of the hotels situated in the north-west of the island makes the site a quick 10-15-minute boat-trip out, and the fact that there are no rivers in the vicinity ensures that the water is always clear.
It is also sheltered from the prevailing south-easterlies, and there is never any current under water. That's why I love this site: loads of fish, including some very rare sightings, no current, crystal water – it all makes for the perfect yoga dive.
Website: Diving Mauritius
---
Black Rock – Raja Ampat, Indonesia

Black rock is on the western side of Kawe Island in Raja Ampat. It is only just in the Southern Hemisphere – the Equator is very close!
We always make sure to visit Black Rock on our day-trip to the Wayag islands, before crossing into the Northern Hemisphere.
The origin of the name of this dive-site is very obvious as you approach. A sharp, jaggedy rock rises above the surface and it looks black!
Even though the area around this rock is quite extensive, we tend to dive one particular part.
To the north of the rock that breaks the surface is a long ridge.
It rises, then slopes down again as it extends north, some parts coming all the way up to 5m deep at low tide.
We usually jump close to the rock on the west side and then head north out to the ridge. On the way we swim through a forest of big, bushy black corals. There are also many small, colourful seafans.
The ridge is where all the fish congregate. Baitfish shelter within the black corals and big schools of surgeonfish, butterflyfish and sweetlips hang out here.
Barracuda, tuna and mackerel patrol when the current is running.
Coral heads, also known as bommies, are scattered around the plateau. We can look under these for wobbegong sharks and higher up, hiding within hydroids, Pontohi pygmy seahorses (below).
Another highlight of this spectacular site are the manta rays that can often be seen swooping around the ridge and cleaning on the plateau.
There's nowhere else in Raja Ampat that looks like Black Rock. It's an adventure to get there and an adventure to dive there!
Website: Papua Explorers
---
The Invisibles – Neck, British Virgin Islands
THIS DIVE-SITE IS LOCATED just off Necker Island. A lot of people hear about it but only a few get to dive it, because the weather conditions need to be right.
It consists of two underwater pinnacles teeming with marine life, big schools of fish swirling in and around the crevasses.
Start your dive at a depth of 11m, swimming through soft corals towards the pinnacles. Once you reach the first underwater rock, which towers up towards the surface, you start circumnavigating in a clockwise direction.
You'll be greeted by lobsters hiding in the cracks and schools of grunt under the overhangs. Occasionally look out into the blue for sharks or eagle rays passing by.
Then it's time to start looking up at the big schools of bar and horse-eye jack and barracuda.
After a couple of ledges with more schooling fish, the chub will come to greet you. It's time to make your way into the big boulders with tons of grunt and some beautiful yellow cup coral along the big boulders.
Next head into the deeper water to the sand in about 18m and wait for the spadefish to swarm around you before waving them goodbye and starting to make your way back shallower towards the pinnacle wall.
Big trumpetfish blend with the soft corals along the wall, pointing you towards your final turn to the cresting-wave rock formation for a farewell on your way back to the boat.
Not only is this an awesome dive during the day but it is also the best night-dive I have done anywhere in the world.
It's also where the local turtles find a bed for the night – divers see up to 15 sleeping turtles on a dive.
Website: Sun Chaser Scuba
---
Blue Springs State Park – Florida, Atlantic
BIRDS SINGING, LEAVES RUSTLING in the trees, the sound of divers sipping their coffee and talking in low voices as they wait for the gates to open – these are all typical things to hear while waiting to enter Blue Springs, our local state park and spring.
The gates open at 8am, and because of the popularity of the dive-site, the best bet for getting in the water is to get there 30-45 minutes early. This also means that the best parking will be available.
After assisting each other into our gear, my dive-buddy and I walk down to the diver's entrance.
I'm wearing my 5mm wetsuit, and sweat begins to bead around my forehead. All I can think about is how good that 22°C water is going to feel.
Once in, there's a short wade against a small current to reach the head of the spring. The spring is Category 4, which means that there is a strong upward flow. The spring head is shaped similarly to a bowl, sloping downward until the entryway is reached.
A few fallen logs cover the entrance, and then the spring begins to take on an hourglass-like shape, opening up before closing in, then opening and closing in again. Photographers should be quite excited about the wonderful photo ops, because you can look up and see the rays of the sun peeking through the logs.
At about 23m, the spring opens up into a cave, perfect for those with the proper certifications.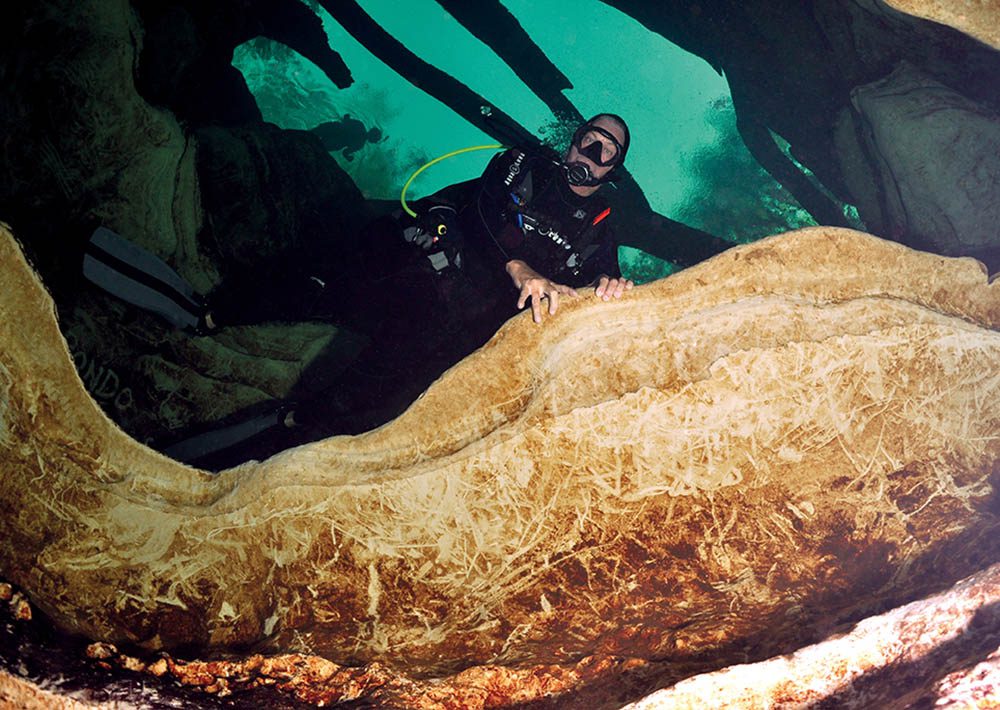 Afterwards, divers can float along with the current to the exit, where there is a whole lot to see! Lots of freshwater turtles munching on vegetation, Florida gar floating along right next to you, and of course, the manatees (above)!
Although touching them is not allowed, they have no problem swimming right up to you, and nothing is cooler than getting to dive with baby manatees.
Website: Seminole Scuba
---
Elphinstone Reef – Egypt, Red Sea
The elphinstone reef is one of the most famous dive-sites in the southern Red Sea. It's more than 300m long and around 25m wide and is located in blue water around 15 miles from the reef coast of Marsa Alam and reachable by boat.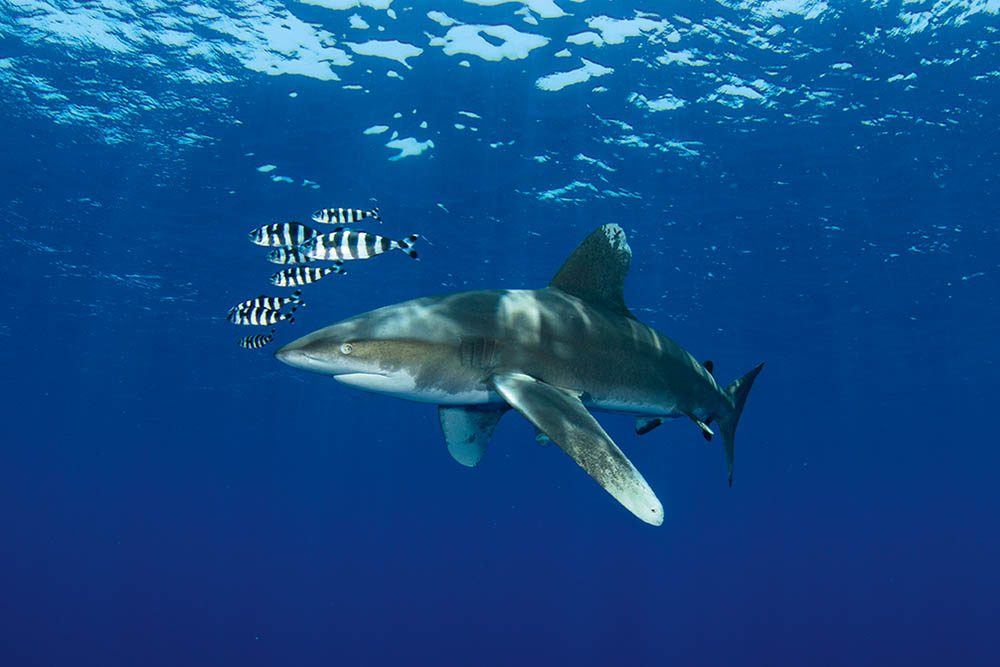 It's one of the few places on Earth where you can dive with oceanic whitetip sharks (above) as well as, if you're lucky, hammerhead sharks.
The main reef starts directly beneath the water's surface and offers you the whole colourful world of the Red Sea from the moment you enter the water.
Thousands of orange anthias dance from a metre down, which makes the safety stop really special. Several plateaus in the north and south and walls full of healthy hard and soft corals swarming with fish make every dive different.
Those clouds of anthias, butterflyfish, hundreds of fusiliers, trevally and barracuda surround you and make you feel part of the ocean. If the current allows, you can move to the end of the plateau in the north.
Looking down to 45m, you can enjoy beautiful formations of fan corals, and look into the blue to spot sharks of all kinds. Elphinstone is a must-do for any experienced diver.
Website: Scuba World Divers
---
The Canyons – Oriental Mindoro, Philippines

After more than 25 years and 11,000 dives in Puerto Galera, known as the centre of the centre of marine biodiversity, of all the amazing dive-sites I'm still enthralled by the Canyons. Divers from all over the world come for that big wow moment diving Puerto Galera's signature site.
The Canyons is often an exciting heart-pumping drift-dive that brings out all the bigger schools of bigger fish, and you really get that feeling of flying.
At slack tide I've been able to appreciate the beauty of the topography and the colourful soft corals that are so abundant. That's when you can take your time and get the photos you want.
The three "canyons" are textured in gorgeous corals and sponges. As you drift to the dive-site you look up to see giant trevally and schools of tuna.
You duck into the Canyons, take a break from the current and can then just cruise through the site and enjoy the show.
Primarily it's the large schools of drummers, snapper, emperors, sweetlips, barracuda, jack, trevally and even sharks that make this such an exciting dive.
It ends at a 1.5m anchor embedded in the coral, where the group can gather before being swept off for a bluewater ascent to the safety stop in the current.
The Canyons makes a great wide-angle dive because of all the photogenic seafans and whip corals – but sometimes it's nice to bring a macro lens and look for pygmy seahorses and nudibranchs too.
Website: Asia Divers
---
Blizzard Ridge – Ningaloo Reef, Western Australia
We pull up at the mooring in Lighthouse Bay. The water is clear and inviting. The white beaches of the bay lead up to the picturesque Vllaming Head Lighthouse that marks the tip of Exmouth Cape. Below wait the marine residents of Ningaloo Reef.
We descend the mooring-line to the sand at 9m and swim east to the ridge. A maximum depth of 14m makes this site accessible to all and allows for long bottom-times.
The abundant glassfish become prey for bigger mouths, with feeding frenzies of mackerel, trevally and tuna adding excitement.
Whitetip reef sharks rest on the sand while wobbegongs hide under ledges. Creep up on the resident silver pearl perch and they might accept you into their school.
For the keen-eyed there are nudibranchs of all shapes and sizes, egg cowries and hermit crabs, juvenile waspfish, scorpionfish and octopuses.
Look out for the sailfin catfish, a species endemic to Ningaloo, dark with a tall dorsal fin and six whiskers upfront. They can be shy under table corals or out foraging in the nearby sand.
The site is also frequented by manta rays in the winter months, gliding by effortlessly or circling over your bubbles, and the occasional dugong sighting will give you bragging rights for life.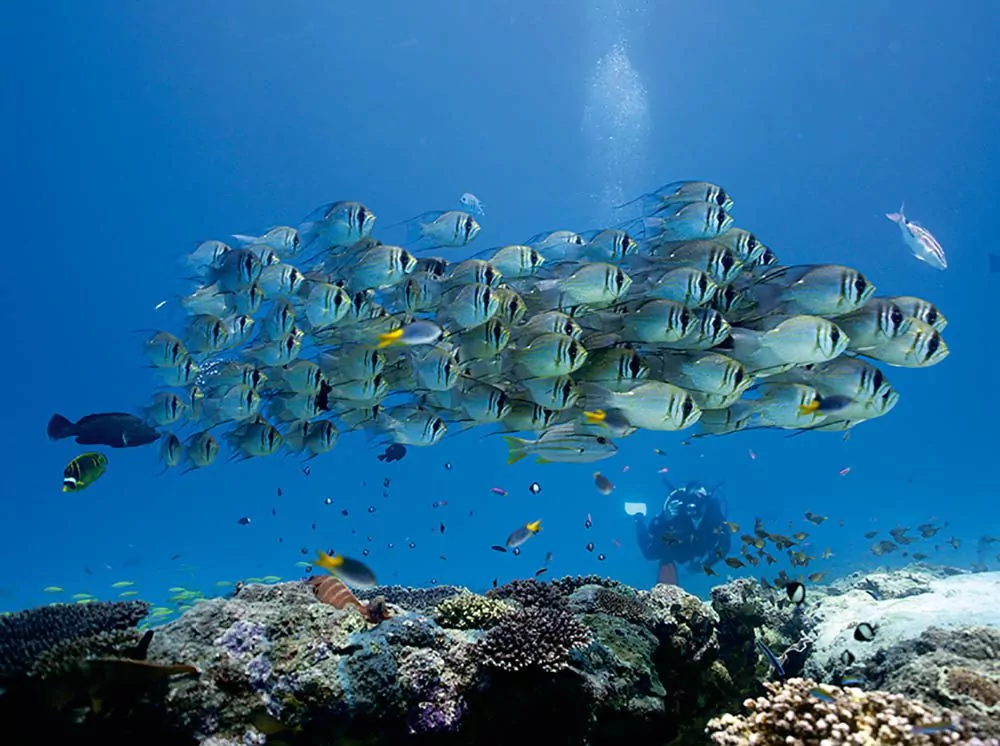 From July to October your dive will be a noisy one, as humpback whales sing constantly to you. Might you be lucky and see one cruise by?
The ridge is a magnet for life. Sand surrounds the site for hundreds of metres on either side and the variety and number of fish living there is thrilling.
Sting rays hide in the sand. Turtles sleep under ledges, waking to swim alongside you before heading to the surface for the first breaths of the day. As you ascend, the mooring-line provides entertainment for your safety-stop. Life on the line can include juvenile batfish, crabs and small gobies, juvenile squid showing off their colours, nudibranchs and colourful sponges.
You'll be amazed by the diversity of life at Blizzard Ridge – it's a surprise and a delight.
Website: Exmouth Diving
---
Kalimaya Canyon – Komodo, Indonesia

We're the only operation offering day-diving to West Komodo, Sangeang and the Sumbawa coast, and it's been our pleasure to explore the surrounding islands and find new playgrounds. We discovered Kalimaya Canyon while searching for dive-sites during our soft opening in 2016, and it's a thrilling mix of surge timing and pristine coral beauty.
Located in the middle of the Sape Strait that separates Komodo Island from Sumbawa, the site benefits from both Pacific and Indian Ocean influences.
Accessible only for a few days each month when the current is just right, this split island presents an unforgettable diving experience available to divers at any level.
Back-rolling in front of the rock face where the water appears calm, we descend a sloping coral reef to reach a cavernous entrance and bottom out at 22m.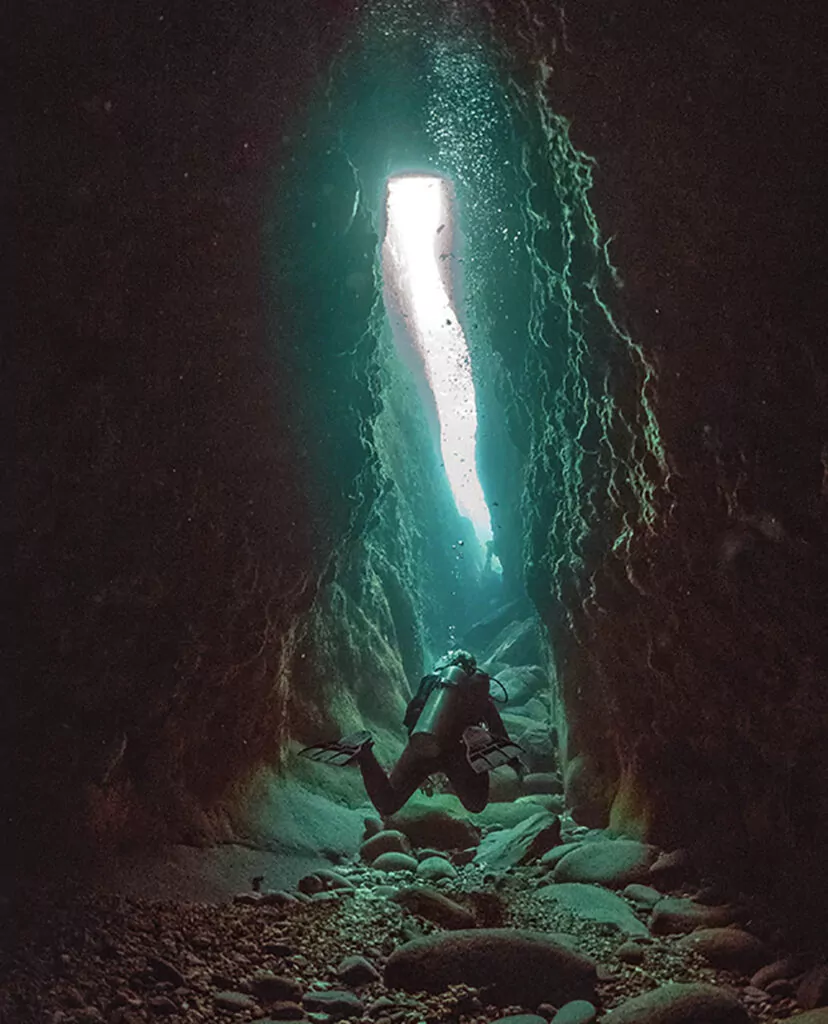 The entrance is populated by bamboo (left) and whitetip sharks, with the occasional turtle swimming through.
As we enter the canyon the rocks overhead gradually close in, leaving us one way to go and a small window of light to swim towards. We enjoy the scenery as the animal life switches to macro, with numerous crabs and nudibranchs coating the walls.
As we approach the exit, the rocks close in overhead and the canyon narrows to a cave only a few metres wide. We slowly swim forward, enjoying the majestic topography as the surge picks up, propelling us forward and back, forward and back, until in a final blast of energy it spits us out.
Emerging into the light, we arrive safely on a shallow reef protected from current and surge.
The rest of the dive is spent exploring this protected coral ecosystem and looking for critters taking a break from the current, including banded sea kraits, marble rays, peacock mantis shrimp and schooling anthias, while pelagic fish swim past in the blue.
Website: Kalimaya Dive Resort
---
Angelita Cenote – Tulum, Mexico, Caribbean
Our guests often ask which is our very best dive-site and, whil2e the question is difficult to answer, this cenote is a place like no other. It lies about 10-15 minutes' drive south of the small town of Tulum through lush green jungle. In this part of the Riviera Maya there are few cars, traffic or people. It's off the beaten track, which we like!
Angelita is not a typical overhead cenote, but more like a water-filled open crater that allows sunlight to penetrate deep into the water.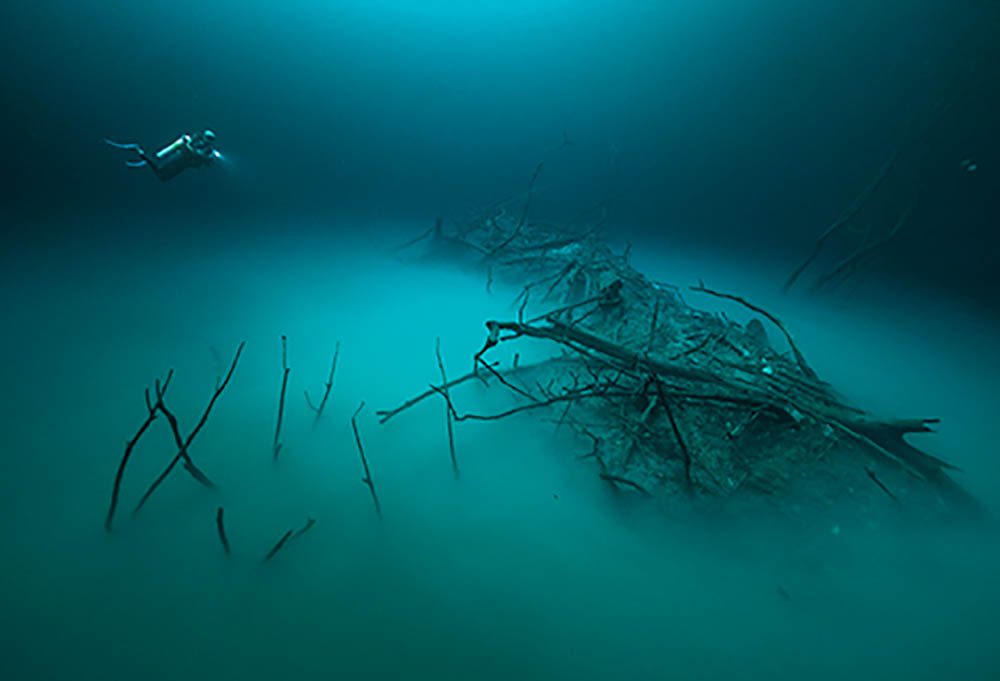 People are captivated by the magical atmosphere of the site and the awe-inspiring deep blue water, surrounded by lush green tropical forest. At around 30m depth you reach a hydrogen sulphide layer, and tree branches mystically reach up through it from below.
Because the water is so clear, hovering here feels like being in the sky above clouds. The layer is about 2m thick, and once inside or below it gets pitch-black, as the cloud filters out all the sunlight.
Yes, it's a sulphur cloud so you get that rotten-egg smell or taste, and if you're carrying silver jewellery you'll notice after the dive that it's turned black. It's a beautiful dive but it is also an advanced one, and we don't do it with our divers on day one.
It extends far deeper than 30m and we do provide the training for those who want to do it.
Website: Pro Dive International
---
Atun Wreck – East New Britain, PNG
One of the most popular dive-sites in this region, as well as my favourite, is the Atun Wreck. It's a simple site in a way, suitable for everyone, but what makes it great is that it contains at once all the possible environments a diver could want.
There is sandy bottom all the way to the wall, with a great area in which scorpionfish and stonefish like to hide, then a wall-drop on which to look out for pelagics such as sharks and mackerel.
The very good-sized wreck lies right on the edge of the wall and is magical for wide-angle photography because of the great visibility, and for macro opportunities right across the wreck.
It sits in a perfect upright position with the bow at about 15m depth and the bottom at about 25m. It's been under water for 30-plus years, so coral growth has slowly been taking over. Beautiful carnation, toadstool, alcyonacea in stunning purple and tree corals grow all over the wreck, especially around and inside the wheelhouse.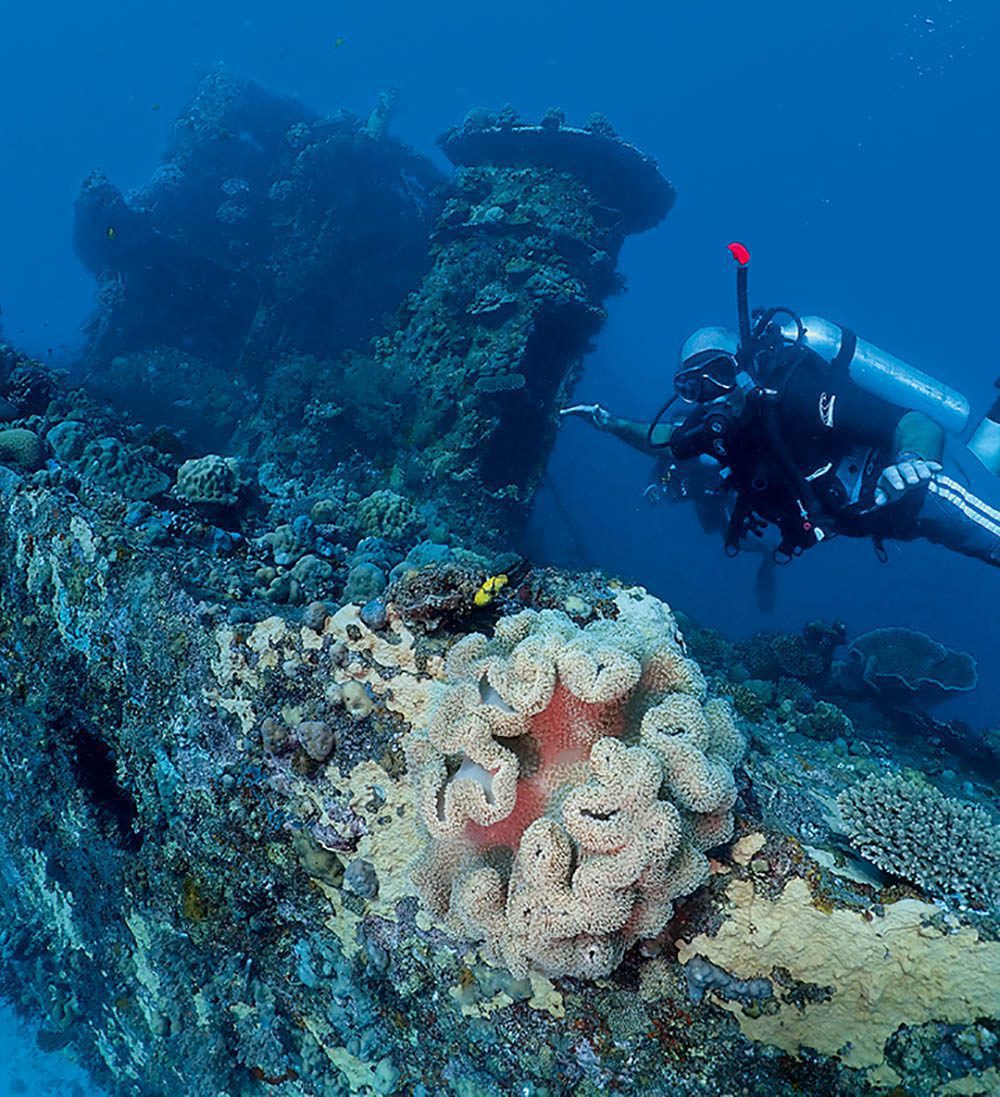 I enjoy searching for flabellina nudibranchs all over the wreck, and sometimes challenge my students to see who can find one first.
It's fun to watch new divers zooming in and scanning every inch of the wreck for this tiny 2, or 5cm-long creature.
Of course, there are many other nudibranchs but this species' outstanding colours make it slightly easier to spot than others that are even less than 1cm long. Bring your magnifying lens when coming to visit.
That's not all. This site also offers great macro for when you end your dive over the shallow part of the reef, which is perfect for safety-stops. Tiny photogenic creatures include sexy shrimps, porcelain crabs, at least five types of anemone, glass shrimps, nudibranchs, pipefish, garden eels and even the occasional mantis shrimp peeking out of its home.
And when you come out of the dive in calm, crystal waters you're treated to the eye-candy of Rabaul Tavurvur volcano on one side and Little Pigeon island with its white sandy beach all the way around on other side.
That's the lunch spot sorted!
Website: Rabaul Dive Adventures
---
Manijin Island – Cyprus, Mediterranean
Located on the south-west coast of Cyprus, in the Paphos region, this tiny island has a lot to offer. This is the perfect dive for a wide range of divers from novice to experienced, with depths ranging from 6-18m.
The island is small enough to dive all the way around, while still having time to take in the beautiful features it has to offer.
Drop below the waves into crystal waters, following the island's reef wall, keeping an eye out for rays, cuttlefish and the loggerhead turtles known to the locals as Caretta caretta. Keep tight to the wall, being sure to take in each feature of the site, beginning with a small notch in the wall filled with calciferous algae.
Continue as the wall leads you to the cave-like entrance of a large swim-through at around 12m.
Make your way inside, being sure to shine your torch on the surrounding walls for a further look at the algae and any of the grouper that make their home there.
Photographers can make use of the picture-perfect archway, which leads into the natural crater that we call the Bowl. You'll find yourself surrounded by overhangs and guided towards the blow-hole.
When the water is slightly rougher and there's movement beneath, you can take advantage of the surge and shoot out of the blow-hole like a champagne cork!
Swim along the top of the reef amid a variety of sea bream, damselfish and beautiful wrasse, with the occasional sighting of a moray eel as you head back towards the boat.
For me the topography of this dive-site, with its unique natural feature and beautiful seascape, makes it one of a kind.
Website: Cydive
---
Big Fish Country – Maratua Atoll, Indonesia
As the population of this atoll east of Borneo is only about 2000, the magnificent reef remains in pristine condition.
Big Fish Country is just around the corner from the small diving island of Nabucco, and it lives up to its name.
The current is strongest around full moon and is matched at that time by huge fish action. For safety we dive the channel only when the current is incoming.
The dive starts a little way away from the channel entrance, so guests slowly approach the action. When all the divers have reached the edge of the channel, current-hooks are unpacked and the big-fish spectacle begins.
In addition to tuna, eagle rays and jack, various species of shark patrol the site, mostly grey, whitetip and blacktip. At the end of the dive our guests can simply drift inside the channel to be picked up by the dive-boat.
Early-morning dives at the site will, with a little luck, offer a special highlight, with the chance of hammerhead sharks out and about in the channel.
Big Fish Country originally became famous for its huge resident school of barracuda. When this cloud of fish approaches and the sun darkens, even the best-travelled divers are thrilled.
Because the barracuda are used to humans, they sometimes gather directly over the heads of the divers and can be viewed up close – providing the perfect photo opportunity.
Website: Extra Divers Worldwide
---
Bullenbaai – Curacao, Southern Caribbean

After 23 years of diving so many beautiful Curaçao sites it's difficult to pick a favourite, but Bullenbaai is right up there. It's in an uninhabited area reachable by boat only, but within 20 minutes of the dive-shop. Few divers go there, so the reef is pristine.
Once in the clear, warm water you see the wall, in the shape of an open hand with sandy patches between the "fingers" and a lot of fish.
The reef starts at 5m and descends almost vertically, way beyond recreational limits. The wall is covered with a variety of leaf and wire corals and colourful tube sponges, highlighting the reef.
Usually there is no current, making for a relaxed dive. I love to cruise around, watching the schools of bogas swimming in perfect synchronicity, and creole wrasse "torpedoing" out of the blue like a river of deeper blue.
I peek into the crevices, finding lobsters, morays and more. Eagle rays frequently cruise over the deep reefs, hawksbill turtles love to hang out, and spotted and Pederson cleaner shrimps lurk in anemones.
There are French and queen angels, and a resident porcupinefish that always hangs out with me.
This dive is always full of surprises and great for photography. It is also perfect for technical dives, teaching and exploring.
The sandy patches are ideal for staging deco tanks, and one can go to 100m and beyond, following the steep drop-off. Even after all the dives I've done here, it always makes me happy. It would be great to explore it with you!
Website: Goby Divers
---
Chupis – Zanzibar, Indian Ocean
We're extremely lucky here in south-east Zanzibar to have amazing dive-sites right on our doorstep. Tides determine our route out, either leaving directly from our dive-centre or through the natural channel.
One of my personal favourite sites is Chupis, which means underwear in Kiswahili! This spot was found by the first underwater explorer of the coast, starting out in 1997 in bad weather conditions, in a 5m boat with one decrepit 35hp engine, no radio, no GPS, no staff but a lot of faith!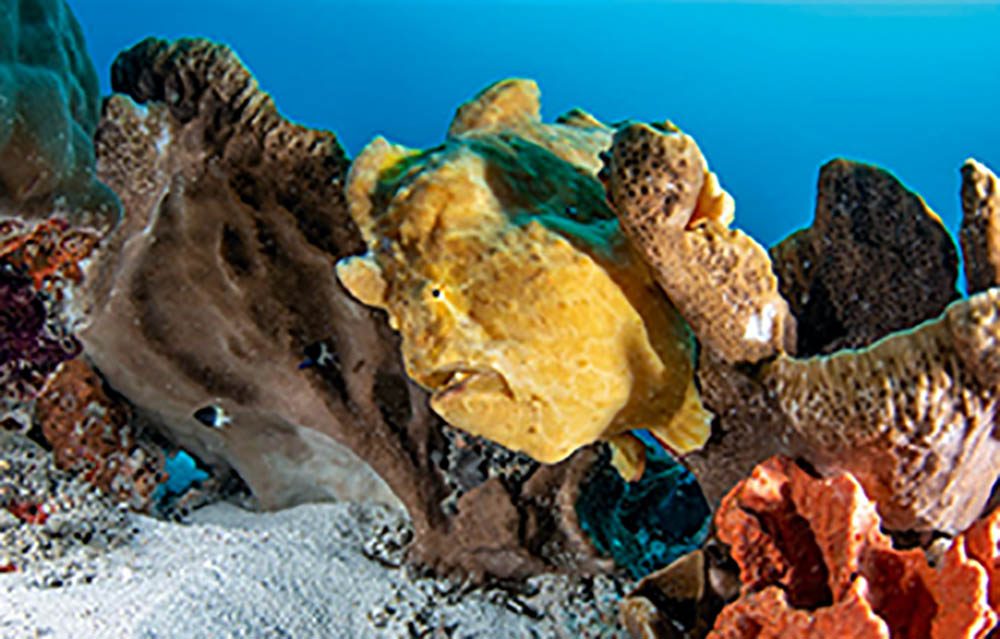 Looking down to see where the corals were starting, with his face at the surface and a very old pair of underpants floating past (hence the name), he found something amazing.
Chupis is perfect for any diver. It consists of three sections of reef.
First is Chupis Garden, 3m sloping down to around 16m and full of beautiful corals and exciting life.
Usually a mild northern current makes it easy and relaxing to drift and find numerous octopuses, different species of scorpionfish, ribbon eels, many nudibranch species, mantis shrimps, titan triggerfish, sting rays and more.
We finish over orange sponges, where we have a very good chance of finding giant frogfish (above) despite their camouflage.
Adriano Chupis has corals from around 14m to 22m and is also full of life. There are always schools of redtoothed triggerfish and many snapper along with the macro life.
This is a perfect place to descend before drifting over and shallowing up to Chupis Garden. At around 15m we have started a coral nursery and many new residents have already moved in, including a couple of Indian Ocean walkmen.
Finally there is Chupis Deep at around 30m, where you can find many moray eels (left) and blotched fantail rays along with large schools of barracuda above and butterfly and parrotfish below. It's full of cleaning stations around large barrel sponges – look out for the shrimps and cleaner wrasse.
Diving Chupis is exhilarating, but also check into the blue for surprises. Bottlenose dolphins sometimes visit the reef, along with the odd eagle ray or turtle.
Website: Rising Sun Zanzibar
---
Mi'l Channel Drift – Yap, Micronesia
One of the world's great dives can be found on the north-west corner of Yap Island, between the municipalities of Rumung, Maap and Fanif.
Mi'l Channel snakes its way from the reef and eventually connects, via German Channel, with the eastern side of the island. On an incoming tide, with lots of clear blue Pacific Ocean racing in, divers can roll into a very pleasant drift of more than an hour and cover more than half a mile.
One can clearly see the bottom some 27m below, and on a nice day you can see from one side to the other. The famous manta rays use this channel to come into the lagoon for their daily cleaning, as do reef sharks, turtles, schools of trevally jack and every other known tropical fish resident in Yap.
Come with me, as we back-roll off our boat Silvertip Express.
I have four divers with me today, and as we chat about the dive and what to be on the look-out for, we are also doing our pre-dive safety checks. Everyone ready? Let's go and meet under the boat.
Here at 5m is a flat, sandy area perfect for getting adjusted, and there just happens to be a big anemone with a beautiful green underbelly. A couple of photos from the group and it's off to Tzimoulis Ridge. As we drift along, I point out a sleeping zebra shark.
Then we spot a group of four mantas swimming past in a leisurely manner on their way to the cleaning station at Stammptisch.
There are sleeping whitetip sharks and a turtle to be seen as we approach the ridge. Here we are met by a school of jack numbering in the hundreds. We also come across a mother grey reef shark with more than 20 babies. She is careful to keep them away from us, but we are close enough for excellent photos.
Time to go up to the boat for some hot tea and a fresh warm towel as we get ready for our next adventure. Thanks for joining us!
Website: Manta Ray Bay Resort
---
Mellow Yellow – Rakiraki, Viti Levu, Fiji
The incredibly rich ecosystem and diversity of soft and hard coral, fish life and critters is what draws divers from around the globe to explore Bligh Water (Vatu-I-Ra Passage).
It's Fiji's top diving region and the "soft coral capital of the world".
This year we celebrate 30 years diving the Bligh, and with seven regions and more than 80 sites on our menu, picking just one is a tough ask, though wherever we venture we can't really go wrong.
A regular favourite is the genuinely world-class Mellow Yellow, which has two main pinnacles starting at 3m and sloping off to the seabed at 40m.
As the name indicates the pinnacles are covered in golden yellow soft coral as well as a myriad of black, blue, purple, orange and red corals adorning the walls.
Divers can also expect to see pygmy seahorses, scorpion leaf-fish, banded sea kraits and countless brightly coloured anthias darting around. Like most Bligh Water sites the tops of the pinnacles are filled with anemones and anemonefish – a perfect way to spend your safety stop.
Look into the deeper water for schools of barracuda, jack and curious grey reef sharks all awaiting the opportunity of a snack.
Mellow Yellow will remain on many divers' most memorable dive lists for a long time.
Website: Volivoli Beach
---
Roma – Wakatobi, Indonesia
Chris Gloor – Chris is manager of Wakatobi Resort Dive Centre
A dive-day when Roma is on the Wakatobi Resort schedule is most likely going to be a great day. This site is special in that the underwater topography of the reef is between that of a pinnacle and a small wedge-shaped seamount with a long, wide ridge getting progressively shallower and finishing in a shallow plateau.
If my divers are comfortable enough, I like to add a little mystery by having the captain drop us in the blue, directly over the deeper section of the ridge where the bottom is around 25m. From there, we drift in a leisurely way toward the apex of the seamount, passing over rows of lettuce coral.
The real treat is the size of each formation, about 10m diameter, so we're talking a really huge and beautiful colony of coral. With luck a turtle or two will be lying atop it – the cherry on the cake.
Current usually brings us to the shallower section, and we can gently drift there while admiring the brilliant corals and multitude of fish. Experienced and adventurous divers can drop down the sides of the ridge to see some stunning seafans and sponges.
Once we reach about 12m, the slope becomes steeper before reaching the top of this beautiful seamount. With some moderate current, this is my favourite section.
A school of black snapper will hover overhead, with a few trevally. More often than not, a school of blackfin barracuda will be showing off on one side of that slope, while yellowfin barracuda await on the other side.
In this area, there is also a small pinnacle teeming with life and colour. A photographer's dream, it's a place where you're likely to find one of our dive-guides enjoying his day off with his camera.
If the guests are slowly reaching their gas reserve, we'll make our way to the plateau and finish with an extensive safety-stop before getting back on the boat at the mooring. Otherwise, divers' air allowing, we can drift some more along the reef and the crew will pick us up wherever we emerge.
After this dive one thing is almost certain – our guests will ask: "Can we do it again?"
Website: Wakatobi
---
RMS Rhone – British Virgin Islands

In attempting to outrun the San Narciso hurricane on 29 October, 1867, the RMS Rhone smashed against Black Rock Point on Salt Island and broke in half, following an explosion in which her hull was breached and seawater hit her superheated boilers.
The wreck has become the most renowned dive-site in the BVI, and one of the Caribbean's best wreck dives. It's located at 10-24m, so easily accessible to divers of all levels.
A two-tank dive is best to fully explore the bow and stern sections, which are about 30m apart at a 90° angle, while a night-dive is spectacular and not to be missed. The wreck and surrounding area became the BVI's first national marine park in 1980.
The 94m-long Rhone was one of the first iron-hulled ships, powered by both sail and steam.
As well as her two masts, she had a single compound steam-engine to drive a gigantic three-bladed bronze propeller, only the second bronze propeller ever built. Today this provides a great swim-through and photo opportunity.
The wreck is home to diverse sea life, including Fang the barracuda, octopuses, nurse sharks, turtles, moray eels, reef sharks, pufferfish and occasional rays and dolphins. There are many coral gardens, cleaning stations and nurseries.
Highlights of the bow section include the foremast and crow's nest, main deck supports, bowsprit, exposed keel, lifeboat davits, encrusted signalling cannon and the condenser, the deepest point at 23-24m.
The stern section, between 10 and 18m, includes the aft mast, boilers, deck-supports that appear as vertical columns, wrench set, embedded silver teaspoon, gearbox, drive-shaft, propeller and "lucky porthole" – give it three rubs and make a wish.
On your next trip to the BVI, you'll find us on Tortola at Hodge's Creek Marina or the Moorings or on Cooper Island (or arrange a rendezvous) and can join us on one of our custom Newton dive-boats for an epic dive on this wreck.
Website: Sail Caribbean Divers
---
Cap Norfeu – Costa Brava, Spain

Cap Norfeu, or "El Gat", is one of the most famous dive-sites and landmarks in the marine park of Cap de Creus.
The pinnacle rises from a depth of 48m to within 12m of the surface, and its walls are covered with red coral and gorgonians.
Barracuda and grouper welcome you on every dive. You can observe how each of them behaves in protecting its own territory, and divers who are patient and resist the temptation to touch them can enjoy being investigated by these inquisitive fish.
You descend on the mooring line to a shallow plateau at 12m, then fin parallel with the coast to reach the pinnacle, circling it in accordance with your personal depth limits.
Staying at 18m it takes a good 15 minutes to cover, while if descending to 30m it would take about 30 minutes to circle. By ascending gradually towards the top of the pinnacle, however, deco can easily be avoided.
During the ascent you can still observe the grouper, as well as octopuses hiding from them. Wandering around you'll see moray eels sharing their space with other creatures, rock cod and hundreds of barracuda. Occasionally we enjoy visits from sunfish, which share their cleaning stations with dentex, dorada and corvina.
And if you have enough air you can also take in the Garage, where Flabellina nudibranchs and other invertebrates graze the rocky walls. It's the Mediterranean at its best.
Website: Euro-Divers Cala Jancol
---
The Mystery Plane – Coron Palawan, Philippines

Plunging into the middle of the sea, you see nothing but the abyss. The water is cold, there is no sign of life and your breathing is seemingly the only thing you hear.
After a few minutes, you begin to wonder if perhaps your dive-guide got lost and you're in the wrong spot, heading nowhere.
Then suddenly a plane wreck emerges from a haze right before your eyes. It's a Hayabusa Nakajima or "Peregrine Falcon", a Japanese fighter that has sat at the bottom for more than 70 years.
Discovered only in 2016 by Sea Scan Survey, the Nakajima is believed to be one of several casualties of the Japanese Imperial Army during WW2 off Busuanga Island in Coron Palawan, the wreck-diving capital of the Philippines.
However, unlike other wrecks in the area, it is relatively intact and untouched, because of its late discovery and location further out to sea. It also lies about 40m deep.
It boasts a brightly coloured cockpit and an almost intact engine-room. To avoid stirring up sediment, you carefully glide around the wreck and, as you point your torch under the wing, you see the undercarriage exposed and teeming with life.
A number of species of corals, marine invertebrates and fish dwell within and around its structure.
Only a few examples of this Nakajima model have survived. What happened to its pilot and why it sank remains a mystery waiting to be solved. The fighter wreck is almost exclusive to our dive-centre, which offers a second, shallow dive to seagrass beds nearby where dugongs, the gentle giants of the sea, can be seen – if you're lucky!
Website: Dugong Dive Center
---
Colombara – Portofino, Italy
Portofino marine park is located in the north of Italy, just half an hour from Genoa, and it's an area of very high biodiversity that includes 20 beautiful dive-sites.
For me, Colombara is one of the most special in the marine park.
The dive begins in a shallow bay. Once we reach the bottom we head east and at a depth of 22m join an extraordinary vertical wall that descends to 45m.
The wall is completely painted in red coral, an endemic species of the region. At 35m we find an arch that forms the entrance to a small cave, where there is time for a brief penetration before returning outside.
Along the wall we keep a look out into the blue, because amberjack and snapper are likely to be there hunting the thousands of small anthias that throng the wall.
The red-coral covering on the wall is now accompanied by huge branches of red gorgonians which, with the blue of the deep water, creates an unbelievably colourful display.
Now it's time to start ascending to the top of the wall where, at 16m, we find an exciting swimthrough with a white sandy bottom. Once out of there, majestic brown grouper lurk as if waiting for you.
Returning to the bay, we find at 8m a big rock concealing a small entrance to another swimthrough.
This one will guide you up to the surface, where you will be able to admire another cave, this one complete with stalactites.
Website: Diving Group Portofino
---
Catalina Islands – Costa Rica
Costa Rica attracts divers from all over the world who come to enjoy the prolific Pacific Ocean marine life, but if you're particularly keen to dive with schooling giant Pacific mantas, the world-renowned Catalina Islands are the place to go. The main island is just a 30-minute boat-ride from the Gulf of Papagayo's mainland.
It's not uncommon to see one or two giant mantas with 5-7m wingspans throughout the year but the optimum time to see schooling mantas visiting this cleaning station is November to May.
Divers are blessed at times to see herds of cow-nosed rays in schools so large that they can take a full 5-8 minutes to pass by, filling the ocean from surface to floor.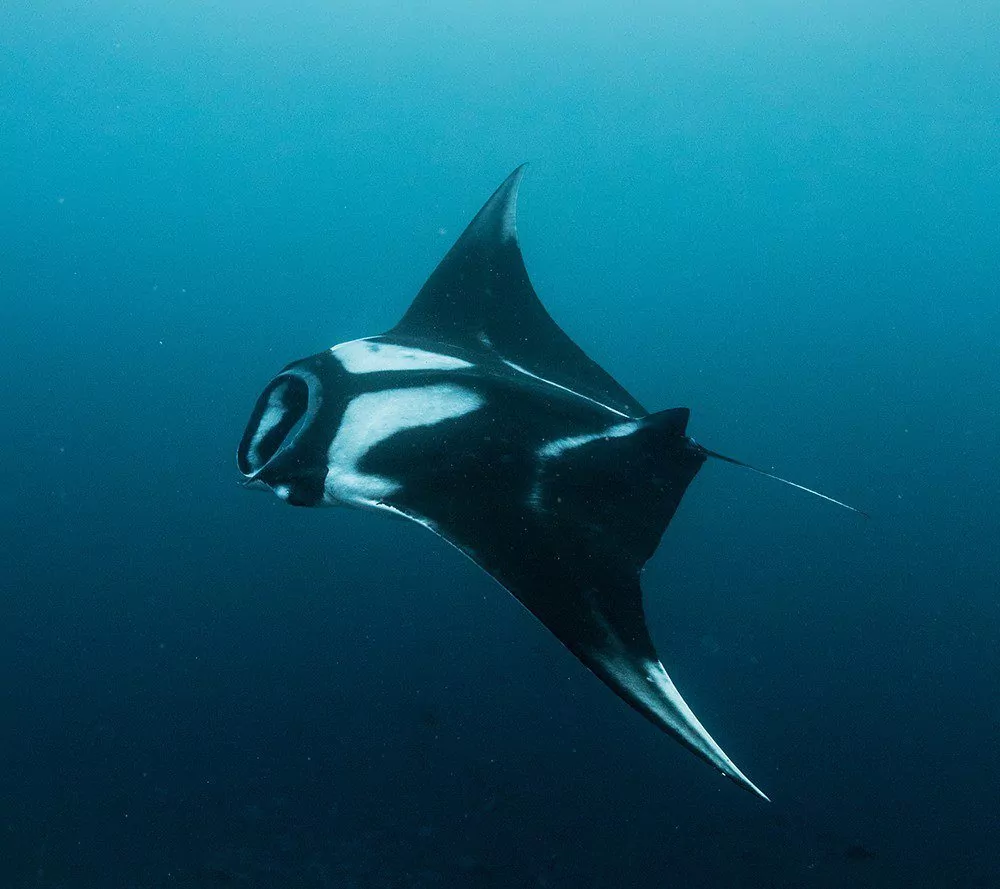 Mobula rays appear in smaller groups of 25-500, and are seen from the boat leaping high in the air and splashing onto the water's surface.
And if that isn't enough ray action, southern sting rays and squadrons of eagle rays hang there too.
Rays aren't the only marine life divers encounter. Whitetip sharks, horse-eye jack, Pacific barracuda, tarpon, snapper and many other species of schooling fish reside there, but share the space with macro life such as colourful nudibranchs and dorids, translucent blue tunicates, blennies, gobies and seahorses.
These nutrient-rich waters make it a prime breeding ground for humpback whales. Antarctic whales arrive in late July and can be seen through early November, while the northern whales coming from Alaska and California pass through from December through April.
Pods of pilot whales, false killer whales and orcas turn up too.
This diver's playground and tons of adventure activities can be accessed from beach resorts just 20 minutes from the Liberia Airport.
Website: Bill Beard's Costa Rica
---
Masaplod Sanctuary – Dauin, Philippines
A volcanic black sandy beach backed by giant palm trees greets you as your traditional Philippine banca outrigger dive-boat pulls up to the mooring. We're diving Masaplod Norte, a site with something for both the macro-spotters and coral-lovers among the small group patiently listening to the briefing.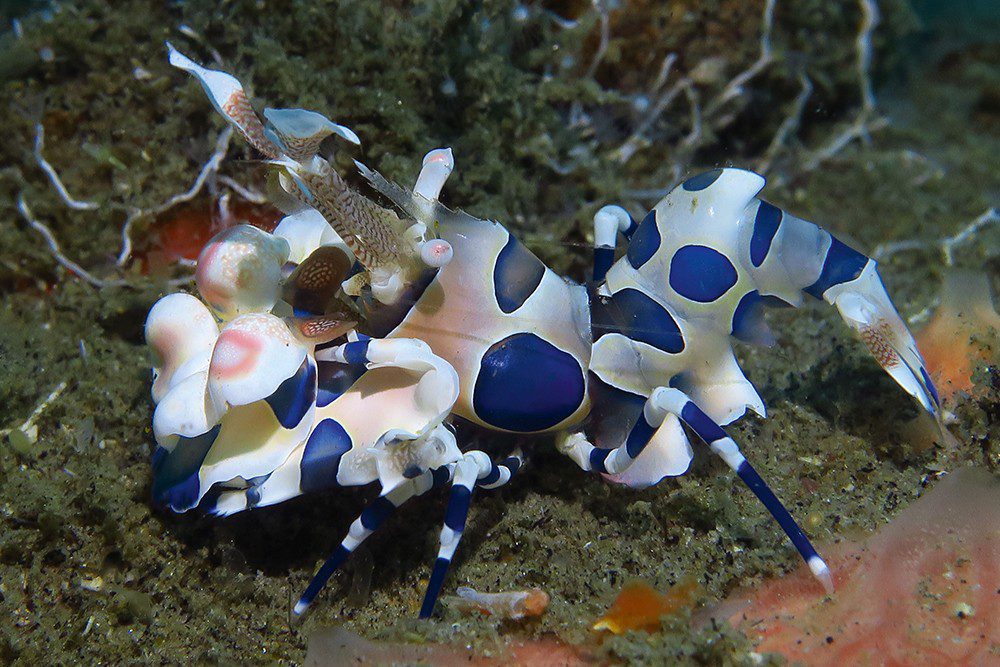 A shallow seagrass bed full of tiny hairy frogfish blends into a sandy slope being scoured by the sharp-eyed guide looking for tiny creatures. Soon enough, the pops of giant strobes reveal isolated huddles of divers intent on capturing the perfect image of a pair of hunting flamboyant cuttlefish, a curious wunderpus peering out of a borrowed burrow, or a dainty harlequin shrimp feasting on starfish.
Dauin is famous for its muck-diving, but there's nothing dirty about the gently sloping reef that marks the beginning of the Sanctuary proper.
Clouds of anthias, chromis and damselfish jostle for position above Acropora table corals, while foraging Flabellinas and assorted exotic nudibranchs root about in crevices and sponges from the shallows down to 25m.
A few more kicks bring us to an isolated coral patch layered with a swirling school of five-lined snapper, Vanicoro sweepers and cardinalfish holding the next batch of eggs in their mouths. A sudden explosion from the sand nearby reveals a blue-spotted sting ray making a fast exit.
Back at the mooring, a scratching post in the shallows is occupied by a giant male green turtle attempting to rub off a persistent barnacle.
Back on the boat, the excited chatter confirms that everyone seems to have got what they wanted out of the dive, and Masaplod Norte has delivered again. Talk turns to where to take the second dive, and it's no surprise to be asked: "Can we do it again?"
Website: Mike's Beach Resort
---
House Reef S Plateau – El Quseir, Egypt

Not far from the main entry to our house-reef bay is the small tip of the main reef. This forms a plateau, starting from 2m and sloping down to 18m.
We're then outside in the Red Sea, dipping to about 25m at the edge before dropping to 40m or so.
To reach this site we usually take a short ride in the Zodiac, and the driver gives us the signal to roll back into the water. After a brief check on the current we head straight down to the edge.
If there is only slight current, usually from the north-east, you can swim against it and enjoy the fish-life. Thousands of anthias and fusiliers move in and out, a school of tuna patrol the tip and at times you can spot a Napoleon wrasse passing at depth.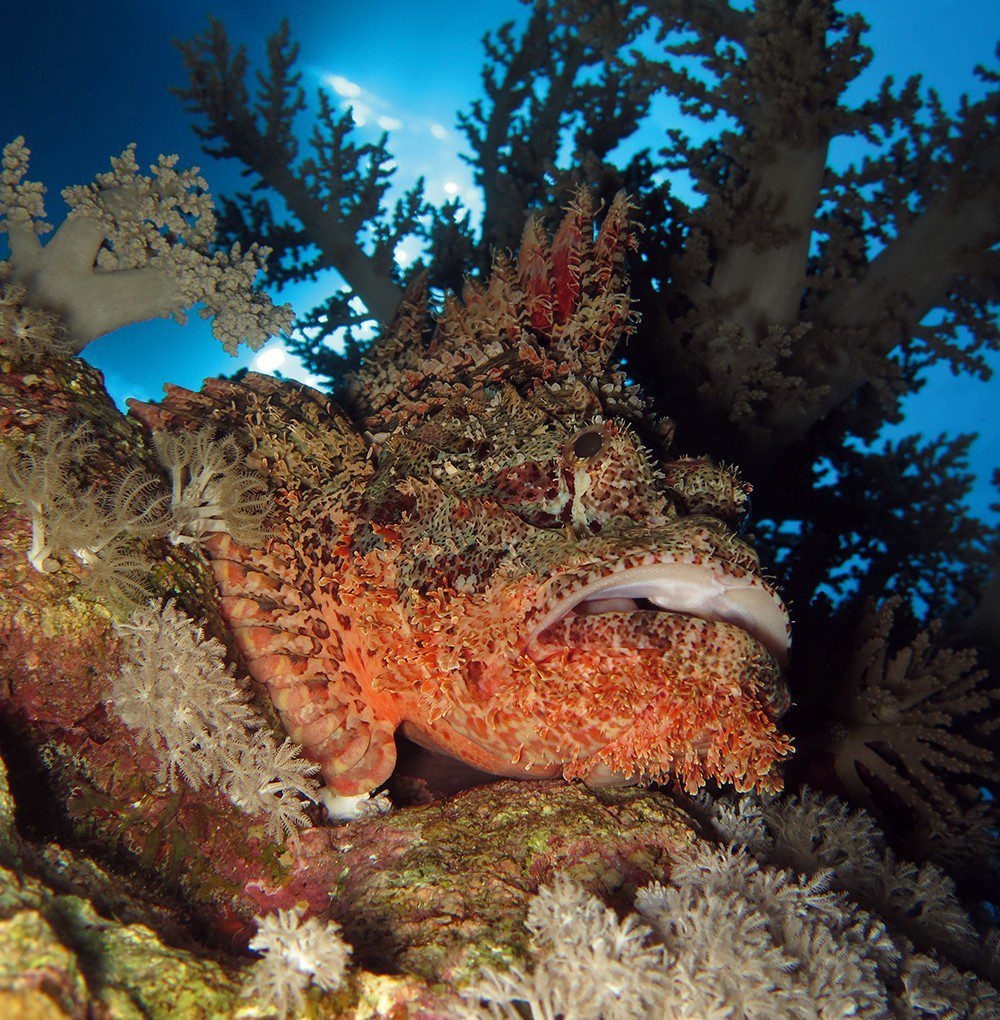 Usually there is current around the south plateau, so the corals there are in amazing shape.
Some bigger coral blocks are "growing" on top of it, with a lot of lionfish hiding inside during the day, waiting for nightfall to hunt.
Moving a bit shallower, you find soft coral in which one of the most sought-after Red Sea fish can be found – the longnose hawkfish.
Before we swim back to the main reef we visit a big coral block that stands alone around 15m from the main reef. Here at Erg Guddi you'll find four kinds of cleaner shrimp, clownfish in a big anemone at the top and sometimes a big moray eel hiding inside as it enjoys the cleaning service.
Reaching the main reef, we move up a bit towards 10m to find a wall covered with typical Red Sea hard coral. Octopuses and morays hide inside, bannerfish and batfish school around the blocks, a turtle searches for soft coral and, in the deeper area, eagle rays or dolphins sometimes pass by.
After around 35 minutes we're back in the south area of the house-reef bay and finish in the shallow waters of our sandy lagoon, looking for double-end pipefish, flatfish, scorpionfish and crocodilefish.
---
Twin Rocks – Anilao, Philippines
This marine sanctuary is one of the most famous dive-sites in the diving paradise known as Anilao, and it's easily accessible from shore as well as by boat.
The two seamounts that give it its name teem with colourful coral and species of fish including clownfish, barracuda, parrotfish, trumpetfish, damsels and lionfish.
Nudibranchs, eels, octopuses, crabs, shrimps and sea turtles are also regularly sighted in this underwater haven, and macro and wide-angle photographers alike can appreciate the species variety and seascapes.
There is also a bed of giant clams just a few metres from a sunken barge covered in hard and soft coral, and more nudibranchs and sometimes frogfish are spotted there.
Mantis shrimps are often seen scurrying around in the open. Banded sea snakes can be seen hunting for their next meal – and all of this can be enjoyed within the space of an 80m swim and depths ranging from 5-18m.
With a comfortable average water temperature of 27°C, a 3mm wetsuit is more than enough for an easy 60-minute fun dive in clear water with up to 20m visibility.
It's always an exciting dive, too, because sometimes special critters such as blue-ringed octopuses, harlequin or tiger shrimp and rare nudibranchs turn up in the area.
Website: Buceo Anilao Beach and Dive Resort
---
Rozi & Arch – Cirkewaa, Malta

Cirkewwa, situated along the northern coastline, offers some of Malta's most fascinating dive-sites, with the mv Rozi topping my list.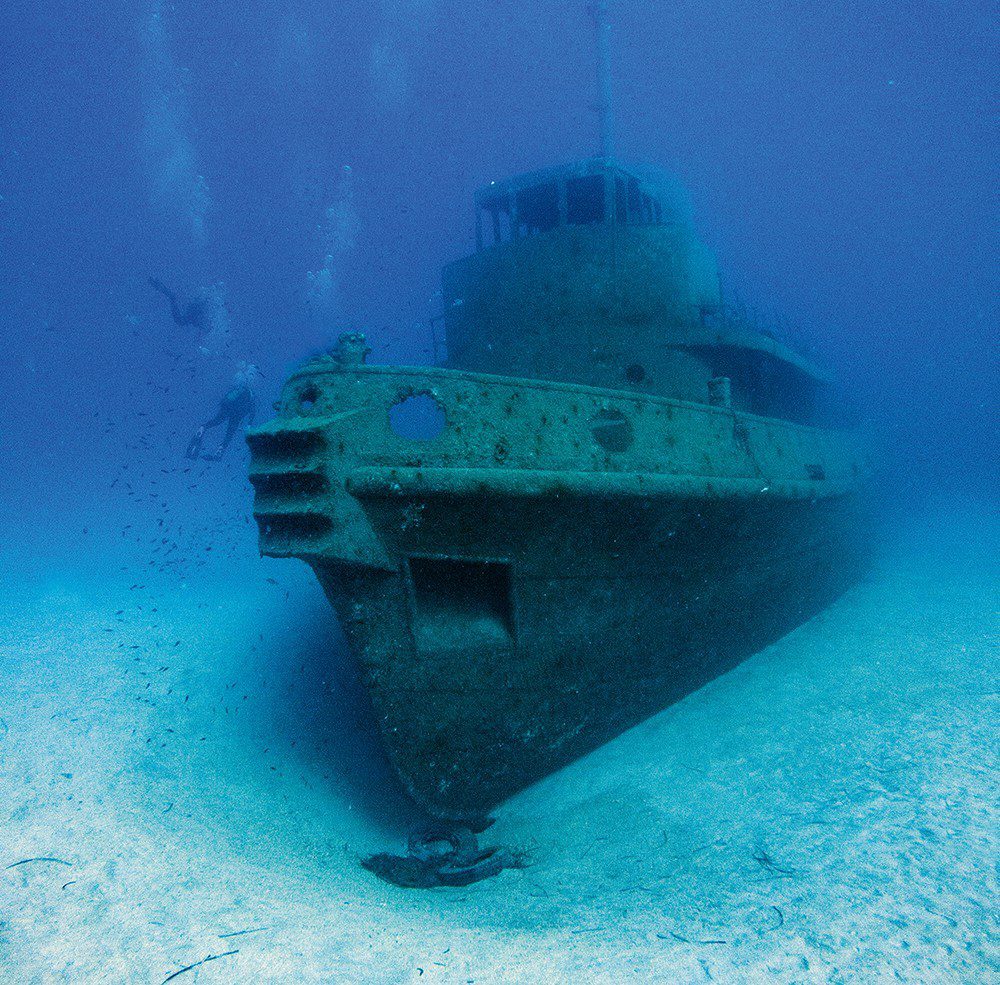 Albeit overshadowed by the larger neighbouring P29 wreck, what the Rozi lacks in size it makes up for in beauty.
The wreck is accessible from the shore. A giant stride leads you into the clear waters and a relatively short swim leads you to the tugboat. Built back in 1958, following retirement it was scuttled in 1992, yet it still lies intact at a maximum depth of around 34m.
Its compact size gives you plenty of time to cover every angle and allows you to absorb it all.
Shoals of various fish species call the wreck home and give it plenty of life. Keep your eyes peeled for any eels, scorpionfish or rays that might be lurking in the sand.
The dive then proceeds to the picturesque Cirkewwa Arch. Once a cavern, the roof has collapsed and made way for a spectacular arch with a depth of around 18m.
It's common to see shoals of amberjack and barracuda around.
After passing through the arch, a slow ascent towards the exit point follows, with a lovely swim beside Adrian's reef. The verdant meadows of Posidonia provide a rich habitat that teems with life. Finally, a swim through a short tunnel leads you towards the area named Susie's Pool for the safety stop.
Fascinating light and wonderful turquoise waters help these few minutes to fly by. Once out of the water, head to the snack bar for a traditional Maltese ftira, and enjoy the warm sun and fabulous views until it's time for the second dive.
Website: Malta Aqua
---
Magic Mountain – Misool, Raja Ampat, Indonesia

Magic Mountain is one of Indonesia's most talked-about dive-sites. It's located in the deep south of Raja Ampat inside the Misool Marine Reserve and takes around 20 minutes by boat from Misool Resort.
Also known as Shadow Reef, the site is a submerged ridge, and its exposed position and currents make it a magnet for marine life.
It starts in the shallows and extends out to a deeper section, dropping off to more than 40m.
Some areas are sloping; others have dramatic wall sections. The west is swathed in soft corals and gorgonians. There are at least two manta ray cleaning stations and the site is a year-round hub for mantas.
Magic Mountain is one of the only places on Earth where you can see both giant oceanic birostris and the smaller reef manta, alfredi.
A typical dive starts with a descent along the ridge to the deeper section. This is a great place to look for grey reef and whitetip sharks patrolling in the blue.
It's also common to see manta rays gliding in from the blue to visit the deeper cleaning station.
As bottom-time decreases, divers can gradually follow the reef back up to the shallows.
Along the way, expect to encounter schools of striped snapper, batfish, bigeye trevally and several lone Napoleon wrasse.
Look for other pelagics in the blue, such as barracuda and giant trevally. If the current allows, take some time to peek beneath the huge table corals to see if you can spot juvenile whitetips – you might even spot one of our resident wobbegongs (above)!
Manta action is not limited to deeper areas of the site.
One cleaning station is located in the shallows and, if the mantas are present, you could easily spend the whole dive watching them while gathering ID shots for the Misool Manta Project.
Magic Mountain represents a rare combination of "sure thing" and "wild card" – you never really know what might turn up, but you can be sure that it will be Magic!
Website: Misool Eco Resort
---
The Maverick – Mount Irvine Point, Tobago
Deliberately sunk to create an artificial reef and diver playground off Mount Irvine point, the Maverick is Tobago's most popular wreck-dive and an ideal site for those seeking their PADI Advanced Open Water, Deep Diver or Wreck Diver certifications.
Built by Ferguson Shipbuilders in 1960, the ship is 60m long and was launched in Scotland's River Clyde as the Scarlet Ibis.
Together with her identical twin-sister Bird of Paradise, they were Trinidad and Tobago's first roll-on roll-off (ro-ro) ferries, providing the vital sea link between the islands well into the 1970s.
Sunk upright in 30m of water in 1997, the ensuing years have worked Nature's magic and the Maverick is almost completely covered in encrusting sponges and hard and soft corals.
Enveloped by schools of brown chromis, creole wrasse, silver baitfish, amberjack and bonito, a typical visit starts with a descent along the mooring-line to the forward deck, with a sweep around the bow for that classic image of the ship's bow looming above you, perhaps pausing for a photo op framed by colourful sponges.
Dropping back along the port side allows you to peer into the car deck before descending further to inspect the rudders, where you might find sting rays and migratory cobias.
Crossing the stern loading-ramp leads you midships over collapsed decking and hull sections, the stairwell, porcelain toilet bowl, schooling striped grunts, mangrove snapper, French and queen angelfish.
Spiralling upwards brings you over the remnants of the bridge, where you'll often find the wreck's resident humongous green moray eel, before you reach the ship's funnels, which mark the shallowest point of the wreck.
Consultation of gauges usually indicates the start of your ascent at this stage, which is accomplished along the mooring-line with the requisite safety stop along the way, so ending another exciting Tobago dive!
I thoroughly recommend getting wet on the Maverick.
Website: Under Sea Tobago
---
Blue Corner – Palau

Palau is like a good box of chocolates, but in diving – many options, but you can hardly go wrong with any choice, so picking a favourite is challenging.
Blue Corner is easily the most famous dive-site, and a spectacle that must be seen. Starting on either side of the "corner", the dive starts as a stunning drift along the beautiful steep wall, overgrown in coral and busy with marine life.
From critters such as leafy scorpionfish to larger fish such as barracuda and bumphead parrotfish, the variety of species found on this wall-dive is countless.
Drifting with the current, it doesn't take long until the dive reaches the corner, the edge of a flat plateau, running a couple of hundred metres out to sea. Currents can be strong in this exposed spot and the experienced guides from Sam's Tours Palau help divers get "hooked" safely, right on the edge to enjoy the best views of the action.
The conservationist's heart beats faster when seeing the numbers of grey reef, whitetip and other species of sharks patrolling in front of the divers. Trevallies, barracuda and a variety of tropical fish join the fun to make this dive an all-time favourite.
Larger pelagics such as bull, tiger and hammerhead sharks can be spotted in the deeper reaches of the wall at times, making Blue Corner an interesting technical-dive option.
The most famous crowd-pleaser for recreational divers is found on almost every dive: the resident and extremely curious Napoleon wrasse that demands attention and is everything but subtle about it.
The ideal finish to this amazing dive is the shallow plateau area where turtles, moray eels, more parrotfish and lots of critters await to help Blue Corner live up to divers' high expectations.
Website: Sam's Tours Palau
---
Helengeli House Reef – North Male Atoll, Maldives
Famous for their turquoise, clear waters, the Maldives are a paradise for scuba. They have good coral reefs but it's the abundance of marine life that sets them apart, and no more so than at this dive-site in North Male Atoll.
This house-reef allows divers to discover its rich biodiversity, from tiny nudibranchs and colourful tropical fish to large reef sharks, rays and turtles. It hosts multiple species that will satisfy everyone's passions and expectations.
The dive starts just beneath the water's surface and already at a few metres deep you'll be introduced to a wide range of colours while diving among powder-blue surgeonfish, pennant coralfish, parrotfish, big schools of bluestripe snapper and many other species.
When you reach 10m, look out into the blue and you'll find curious batfish swimming all around you.
At that depth, sting rays and eagle rays can be spotted as well as reef sharks and turtles, all in search of food and/or resting on the edge of the reef.
Pay attention to the cracks and caves on the reef, because they provide shelter for many lobsters and, sometimes, sleeping nurse sharks.
To spot some of the species more active after dark, such as the nurse sharks and morays, night dives are organised around the reef and offer a great experience.
Website: Atmosphere Hotels and Resorts
---
Devil's Cave – Paxos, Ionian Islands, Greece
The cave is located in a submerged reef 200m south of the Ortholosis sea stack, in the Petriti area. This dive is possible only in calm seas, and the boat is anchored in about 6m of water on top of the small reef We slip south, down a vertical wall, dropping all the time, past some big cracks. Entry is about 30m but the floor drops way deeper.
As we enter the cave, the scale is impressive. The blackness is split only by our lights. The bare walls drop vertically out of sight and the 5-8m-wide roof is at about 24m.
We stick to the left and, as we move further in, we round a bend losing sight of the mouth, then it seems even darker.
After 45m there is a sharp bend to the left into a kind of chamber. Keeping the wall on our left, we work our way out again.
On the walls are starfish, the odd shrimp and occasionally a rock lobster. Many other caves in the area have brightly coloured walls when lit, but "The Devil" is dark.
It's really nice to see the entrance again but our exit is up the chimney, a vertical tunnel in the roof about 1m in diameter, starting at 25m and opening out at 17m.
This is a different world, bright and warm (above the thermocline). There is a lot of vegetation and small fish. We gently meander up the reef, around rocks and up through a nice arch where you can see scorpionfish and nudibranchs, turning stones to look for octopuses.
Past a few shallow caves, interesting rock formations can be found at 5m. They look volcanic but this is unlikely in limestone so we guess they are petrified trees. Perhaps this is where the name Petriti comes from. Back to the anchor and onto the boat for our surface interval, to change tanks and head for our second adventure of the morning…
Website: Paxos Oasi Sub
---
Jahir – Lembeh, N Sulawesi, Indonesia

Solitude Lembeh Resort's private jetty juts out into one of the sheltered bays of the Lembeh Strait and the midst of the dive-site known as Jahir, making it our virtual house-reef. One of the most convenient aspects is its suitability for all divers from bubble-makers to advanced open-water divers – there is plenty to discover at any depth!
Jahir offers a variety of fascinating marine life. Divers are greeted by the sight of numerous vibrant coral bommies teeming with reef fish. One of the highlights is our "Seahorse Hotel", established under the guidance of expert Dave Harasti, where we frequently spot common and thorny seahorses as well as the occasional frogfish lurking.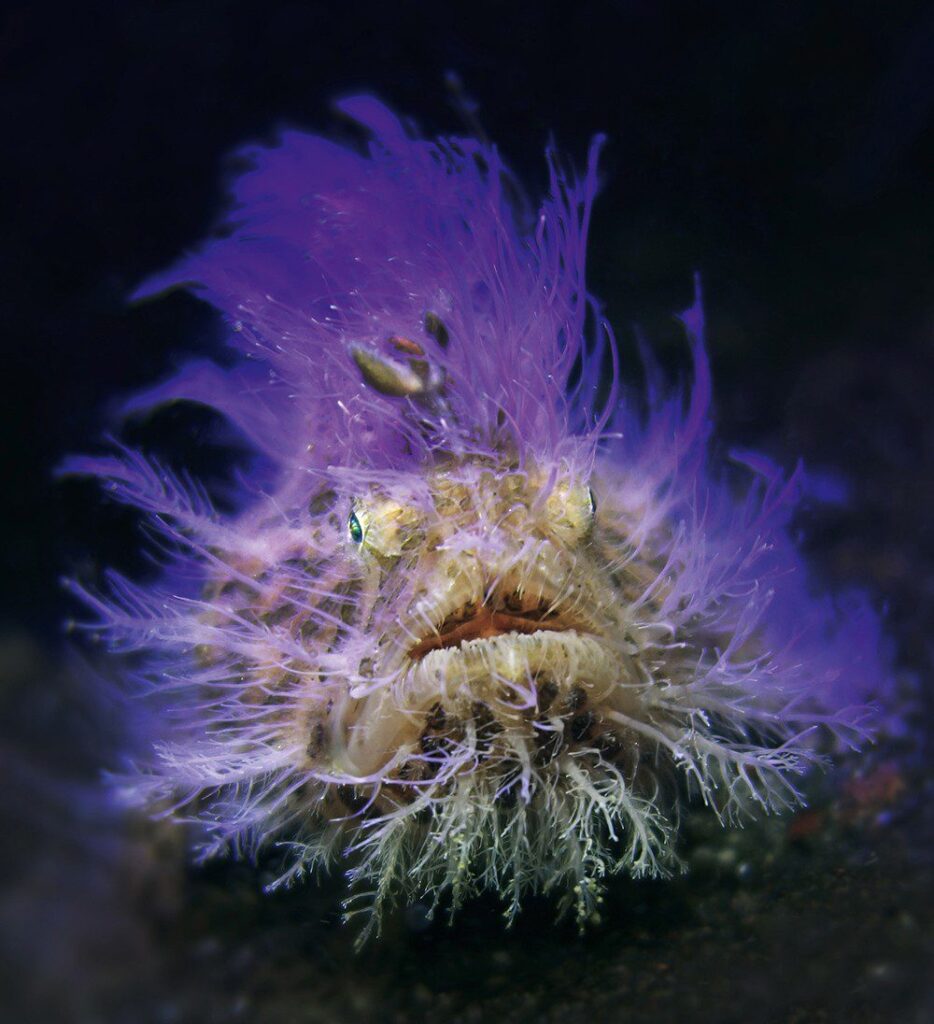 After indulging in this initial shallow part of the dive, we continue deeper, following the black-sand slope. Divers can then head right, for remnants of wreckage offering excellent opportunities to find various species of nudibranch and eel, or take a favoured route to the left and the iconic muck-diving more associated with Lembeh.
Here we progress slowly, carefully scanning the sand for the most highly sought-after critters. Jahir is a dive you can do time and time again and yet it feels different on each occasion – from one dive to the next, the critters you see can be completely different.
Look out for mimic, coconut, mototi, long arm and hairy octopuses as well as diver favourites such as flamboyant cuttlefish, ghost pipefish and hairy frogfish.
This is my favourite Lembeh dive-spot, and one I would dive daily simply for the plethora of rare creatures that could be lurking.
Every dive here feels like a new treasure hunt!
Website: Solitude World
---
Playa Grande – Lanzarote, Canary Islands

If they asked me to dive every day at Playa Grande, I would say yes!
Every day is a different day there, with varying life. We even find new species – every other week.
We can reach Playa Grande from our dive-centre by walking with the kit through the water – it's super-relaxing, so we can take our time.
We go down from the beach onto a sandy plateau where we can get up close with many small lifeforms, but also big ones such as the typical angel shark (Squatina squatina) and many species of ray: eagle, sting, butterfly and torpedo.
When we reach a depth of around 20m we find a drop-off that just keeps on dropping – to about 1500m! Here we find reef fingers with spectacular swim-throughs.
On the reef we're bombarded with the colours of sponges, little corals and much more. Many critter species can be found, including moray eels, crustaceans and my favourite nudibranchs!
When we reach our deco limit or are getting low on air, we have a small house-reef at shallow depths between 5 and 10m where we can fin around until we finish our air.
This reef too is full of life, and often we're able to find a seahorse in the shallow rocks, as well as octopuses, cuttlefish and many other creatures.
If you'd like to come diving with us here at Playa Grande, I can assure you that I'm up for plenty more dives there. I hope to see you soon!
Website: Euro-Divers Lanzarote
---
Mandolin – Bunaken, N Sulawesi, Indonesia

When asked to write about my favourite dive-site around Bunaken, I thought it would be easy. Then I changed my mind at least five times a day for a week, because we're so spoilt for choice – we have drift dives and walls, sloping reefs and muck-diving rich in critters.
In the end I chose Mandolin. Why? Because this is a site (wall and drift) abundant in dazzling coral and possibly the most impressive variety of marine life I have ever experienced.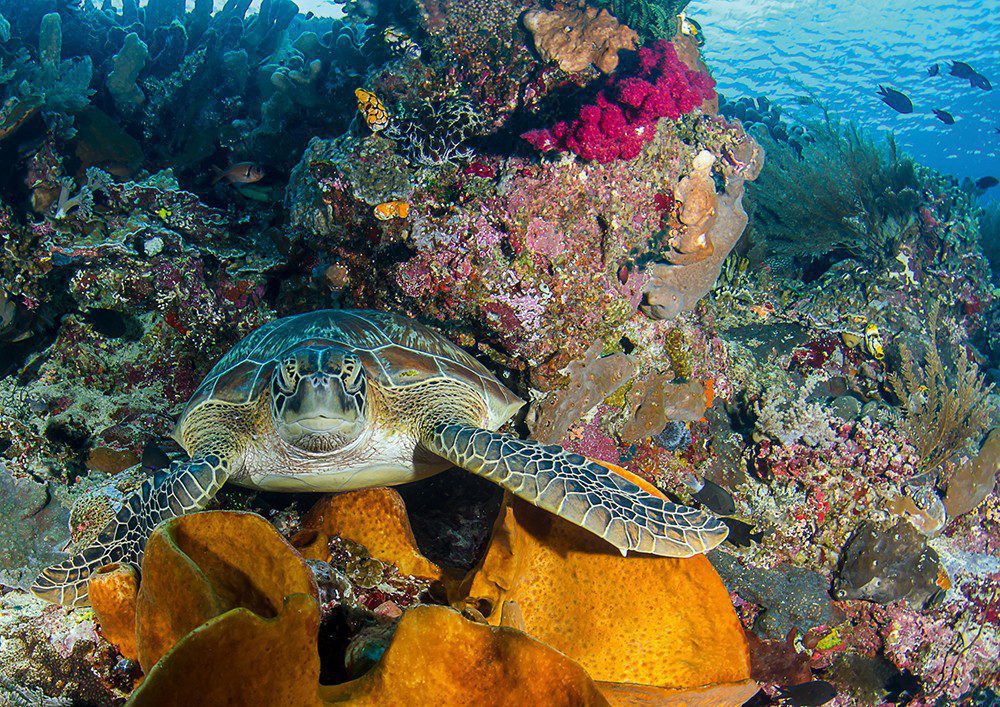 Pelagics cruise the drop-off, eagle rays glide serenely along the reef, a large school of black snapper lurks menacingly, coral overhangs provide shelter for whitetip sharks, and the only constraint to seemingly limitless visibility are the dense schools of butterflyfish and red-toothed triggerfish.
And then there are the turtles; unruffled by divers, they rest on ledges or contentedly munch coral – a photographer's dream! – while for macro-lovers, the soft corals are home to a bewildering variety of crabs, shrimps and nudibranchs.
The reef-top is spectacular, and I often spend half the dive cruising through one of the loveliest coral gardens I have ever seen with my camera at the ready, because the fish and critter life here is simply stunning.
I could dive Mandolin every day, and every day have a different experience. Indeed, it has given me some of the most incredible dives of my life. Mandolin is special.
Website: Bunaken Oasis Dive Resort & Spa
---
Sardine Run – Moalboal, Cebu, Philippines
I'm sure you've all heard about the magnificent Sardine Run in South Africa, where you can watch a massive, migrating baitball between the months of June and July.
But did you know that you could witness a similar phenomenon in Moalboal all year round?
Only a five-minute boat-ride from Kasai Village Dive Resort you can watch 10 million sardines congregate in tropical waters with a spectacular wall as a backdrop, just a few metres offshore. If this dive isn't on your bucket-list yet, it's time to add it!
Divers and underwater photographers come from all corners of the world to witness this underwater tornado of sardines.
Because of the location and the fact that the big ball of sardines can be found at a depth of only 5-15m, this is a suitable dive for anyone from beginner to experienced diver, and it's also perfect for snorkellers.
At the moment no one really knows what causes the sardines to act this way – the phenomenon is poorly understood from an ecological point of view.
But importantly the sardines attract a lot of tourists and the locals understand the positive effect of this, so no net-fishing is allowed in Moalboal.
The traffic is heavy down here, but it's the sort of traffic you wouldn't mind and is perfectly organised.
The sardines are all effortlessly co-ordinated, creating alien formations and moving together to perfection.
The sight will keep you hypnotised for the better part of your tank. It's the top attraction for the resort's divers, and it's easy to understand why.
Website: Kasai Village Dive Resort
---