FAMILY DIVER
On the Cilento Coast
Italy's Amalfi Coast is well-known to tourists, but further east lies the Cilento Coast, where Italians spend their summer holidays but few foreigners reach – and even fewer divers. FEDERICA SQUADRILLI CARR is a regular visitor
Barracuda, near Sapri.
Cilento lies south of Salerno, encompassing the stunning Greek temples and mozzarella-producing pastures of Paestum with the national park of Cilento and Vallo di Diano.
The attractive seaside town of Sapri, positioned at the end of an open gulf, completes the picture, being the last settlement in the Campania region, as well as in Cilento.
The vast bay is called Golfo di Policastro, after one of the villages that dot its coastline. It's an area of striking appeal, with its imposing hills sloping towards the sea, peaceful mountain villages and crystal waters that consistently win Blue Flag eco-awards.
I've been going on family holidays there since I was two and even now, as a long-standing resident of England, I will drag my husband, son and dog this way each year.
It's a beautiful, relatively unspoilt location with a slow pace of life where we can relax and recharge our batteries.
It also offers quite a few pleasant surprises under water. It's not the tropics, nor one of Italy's main destinations, but a diving break around there shouldn't be dismissed, because it offers a variety of interesting experiences.
Appeared in DIVER November 2019
I've been diving in these waters since I learnt to dive some 20 years ago, and only regret not having started sooner!
The gulf's central section consists mainly of sandy bottoms and nothing much to see, but the dive-sites lie on its edges, south towards Maratea and north towards Marina di Camerota and Capo Palinuro.
There is only one dive-centre there, Profondo Blu, set up a few years ago by Sapri-born and bred Antonio Chiacchio.
A young man with a passion for diving, Antonio wanted to share his love of the sea with others. He takes us under his wing every summer and his enthusiasm for the area is contagious. He and business partner Vincenzo Dell'Olio run a smooth, professional operation and, since diving with the centre, we've seen things we had never seen before around there.
Antonio is a cave-diving enthusiast, and has discovered a couple of new sites in recent years. There are many famous caves, some of which require technical-diving abilities and a local guide to avoid fatal accidents (of which, sadly, there have been a few in nearby Palinuro).
Many caverns are suitable even for beginners. One is the Grotta di Santa Maria, where Antonio guided us this year.
The entrance is from a small bay at a depth of around 10m. The thermocline hit us as soon as we entered, and through the fuzzy water and the torch's beam we saw two thick stalagmites rising to the left, shaped by centuries of Nature's efforts.
A couple of black shrimps scuttled away.
Towards the back the cavern was so shallow that we were able to surface and marvel at the vast stalactite-clad ceiling.
The site hid more surprises, with a small pebble beach revealing a stone staircase used long ago by locals to collect fresh water. The water is drinkable, clear and, despite the cold, incredibly pleasant.
The site is called Santa Maria because one of the rock formations at the back of the beach looks – with a fair amount of imagination – like the Virgin Mary.
A well-known site around the corner is the Cattedrale, taking its name from the sheer size of the walls that slope from the cliffs to a depth of around 25m. Seaweed covers the bottom, sea urchins peek from under the rocks, little perch dart in and out of the weed and dazzling sunbeams dapple the walls.
You can enter a small swim-through at the bottom before re-emerging by a steep overhang, marked by the constant shrieks of seagulls and eagles.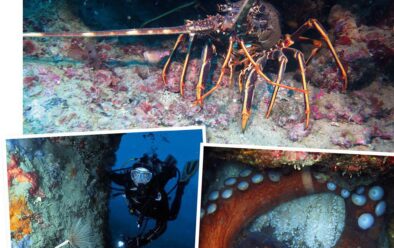 Many years ago, when it was still possible to dive the remarkable natural port of Infreschi, we spotted an intact Roman amphora on the seabed there.
We reported the find to the authorities, and it was removed for safe-keeping.
The seabed is still dotted with pottery shards, because this area was on the trade routes from Africa to Italy. The diving takes place mainly on the outer edges of the bay, because sections of the coast have become marine protected areas.
We did a couple of dives nearby, in the middle of nowhere as it seemed. We moored at a fixed buoy and jumped in to a depth of about 25m. A mild current was up, not common in this area but strong enough to make photographing a solitary peacock worm tricky.
We followed Antonio to the plateau's edge and onto the wall below, which goes down to about 38m. The wall is covered in red gorgonians, which I had not seen in this area before – a positive, lush sign of recovery. It also revealed plenty of flabellina nudibranchs and starfish among the posidonia seagrass, and shoals of small black-striped bream swimming past.
After time spent with the seafans, we checked out a huge octopus hiding in its burrow.
Back on the upper plateau, Antonio signalled frantically for something big. The camera was not ready as two enormous grouper swiftly hid under the ledge of the wall. Never mind, a big lobster made up for it!
Diving can done all the way back towards the marina at Scario, where Profondo Blu is based. Among the wall dives, Torre Mozza is an easy site just outside the village that takes its name from a Norman tower on the cliff above.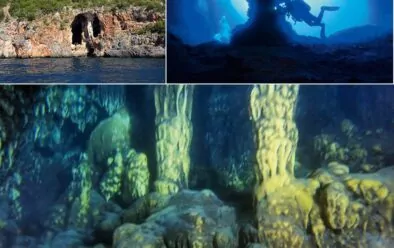 Tiny anthias and shiny salpe flicker in the light, and walls covered in orange sea daisies can contain sea cow nudibranchs and shy moray eels.
On the opposite side of the Gulf just outside Sapri there are more interesting sites: less wall-diving and more on pinnacles and rocky outcrops, with the water bluer and the vis even better than on the Scario side.  Antonio discovered a cavern there that he named Grotta Chiacchio after himself.
It presented us with a series of quirky encounters. As we slowly moved through its nooks and crannies, careful to avoid lifting the bottom silt, we found a couple of pretty red mechanical shrimps, a small squat lobster (quite rare in this area) and a shy forkbeard hiding in a hole.
But the most incredible sight left me breathless and was something that in years of diving in exotic, far-flung locations I had never seen.
As we came out of another twisty hole, we swam a bit deeper on the cavern's side around 35m deep and, on an old fishing rope sticking out of the rocks, saw a few mermaid's purses of cat shark, alive and pulsing.
In the largest, the baby sharks could be seen floating inside the protective case. Seeing nature in its primal form was unforgettable. And then, at the end of this special dive as we came out into the blue, a shoal of barracuda swam past.
This region is perfect for a family holiday, so those not wishing to head under water can enjoy sitting on a boat, dipping in and out of the clear inlets with tiny pebbly beaches that dot the coastline.
The towns along the bay all offer plenty more, from beach lidos with cafes and entertainment to inexpensive accommodation and authentic, delicious food to fill up on after diving.
We love to stop for lunch at Rustica in Policastro, a family-run trattoria that's been around for decades. A full meal there costs less than 15 euros per head, but the pasta al forno is unmissable.
And don't forget one of the most Italian of habits: ice cream. One of Italy's most famous makers, Enzo Crivella, is based in Sapri. He loves this area and welcomes tourists with open arms and delicious, freshly made gelato.
FACTFILE
GETTING THERE> Direct flights from the UK to Naples (BA, easyJet, Ryanair, Thompson). From there Cilento is a 2.5hr drive or train journey. Hiring a car is recommended.
DIVING & ACCOMMODATION> Profondo Blu Sapri, facebook.com/profondo blusapri. There are many hotels and B&Bs in the area but Hotel Giardino in Scario offers packages for divers.

WHEN TO GO> June to October, though the dive-centre operates year-round on request, depending on the weather. Water temperature at depth is around 24*C in summer, and a 5mm wetsuit is recommended.
PRICES> Return flights London to Naples from £80. Return train transfers to Scario from 20 euros. Hotel double room 60-120 euros depending on season. Two dives 70 euros.
VISITOR Information> livesalerno.com/cilento-coast