CARIBBEAN SPECIAL – GRENADA
Passing Through Where They Know How to Put on a Show
Grenada is the wreck-diving capital of the Caribbean, and its dive-centres work together not only to get the most out of its existing wrecks but to keep expanding its stock! STEVE WEINMAN can't get enough of it – but first, there's a problem…
A squadron of squid move above the Anina.
THEY SAY IT'S NOT IF but when you flood your underwater camera, but I always thought I'd be the exception. My philosophy was to tinker with the housing and O-rings as little as possible, just slip the camera in and out quickly in a clean environment. For years my lazy ploy worked a treat.
Now here I am at 15m at a dive-site murky in the aftermath of a storm, and I've pressed the button and no reassuring "Canon" logo has appeared. The darkness in the housing isn't just absence of light, it's sea water.
The case has popped open. It had passed a pre-dive dunk in a freshwater tank but can't have been fully locked. I'm making futile efforts to close the door with the horse long bolted, to attract my buddy's attention, to control a wayward fin-strap all at once. Don't panic!
That first dive in Grenada lasted all of four minutes. Now I'm sitting on Dive Grenada's boat, whingeing at the captain.
I've removed the battery, dunked both camera and housing in fresh water and dried them with a towel, but for some unknown reason the crew hadn't thought to load the large bag of dry rice that the experts tell us we need in this eventuality.
Pop the camera in, leave for a few months and all might be fine, they say. Where's that bag of rice when you need it?
I had missed a warm-up dive at Black Forest, which I had dived before, and when the others came up and commiserated with me on my loss, it was clear that I hadn't missed too much.
And now we were going to do the first of the wreck dives to which I had been looking forward, and I would be unable to record it.
The Tyrrel Bay had been deliberately sunk at 16m only five days earlier, so we would be among the first visitors. The 32m Florida-built aluminium-hulled patrol boat had seen much action with Grenada's Coast Guard as PB-01 from 1984 but had been unused for some years.
The Grenada Scuba Diving Association (GSDA), of which Dive Grenada's British owners Phil & Helen Saye are active members, had persuaded the government to sink the Tyrrel Bay as an artificial reef near Boss Reef, and two years of prep work had just come to fruition.
My instinct as I hover around the gleaming white, upright virgin wreck is to seek out the photogenic angles, and of course I feel hopelessly ill-equipped, but I soon just give in to the fun as Cojack leads me down through a hatch and we twist through the internal spaces into the control room and up onto the bridge, where we can stand and pretend to pilot the vessel. The machine-guns are gone but everything else is in place, from compass to telephones. It's a diver's playground.
Appeared in DIVER February 2019
I AIM NOT TO VISIT the same diving destinations too often, but Grenada is one that keeps drawing me back. This is just the first, and the smallest, of three wrecks I'm going to dive that weren't on the seabed six months before.
Don't think that Grenada is all about artificial reefs, however. The 2018 sinkings (I'm here in October) bring the official tally to 15. I mention several times during my week's stay that I'd thought it had been up to 17 a decade ago, but it seems that Grenada is now so wreckage-rich that they no longer bother to count some of the more broken-up attractions.
There is of course the queen-mother of Caribbean shipwrecks, the 180m Italian liner Bianca C, on the deeper side but still spectacular to swoop across. There are the many genuine and impressive wrecks, particularly those on the wilder Atlantic side such as the Hema and King Mitch.
There are wrecks for all levels but, as I would be reminded, the quality of life on the best reefs also takes some beating. And that's despite the lionfish invasion that has ravaged much of the Caribbean.
As we start our ascent from the Tyrrel Bay a group from Eco-Divers, including one diver in full camo suit and hood, lands on the wreck armed with tridents, determined not to let the red-feathered predators get a foothold on the new wreck.
On past visits to Grenada I have always dived with the very fine Aquanauts operation at True Blue, and had pointed out to the tourist board that it would be good to experience some of the other centres too. Now I had my wish in spades, because I was scheduled to dive with a different dive-shop every day of the week.
Before leaving Dive Grenada, Phil showed me the breeze blocks he is using to construct artificial reefs off Grand Anse beach in front of the dive-centre, part of his commendable programme of sharing with sometimes water-shy locals the wonders of the underwater world.
THERE IS AN UPSIDE to most situations, and the loss of my camera now revealed the best of human nature as each dive-centre in turn kindly stepped up to lend me a variety of units over the next few days. The results of using these unfamiliar cameras were mixed, but I was very grateful for the chance to keep my hands occupied under water!
The second of the new wrecks I dived was with Peter & Gerlinde Seupel's Aquanauts the next day. The 60m container-ship Anina lies to starboard in 30m near the Purple Rain reef, and proved as good as I had heard it was.
Diving this time on nitrox with dive-centre manager Paul Ward, we started at the bow and dipped into the big open holds for an easy swim through. Gradually we came up onto the deck to explore the huge crane and its control-room.
At the stern we admired the caged propellers with their famous population of queen angelfish. Incredibly, these had made the props their home when the Anina was moored in harbour, and had gone with the flow when she was towed several miles out to sea, staying with the mother ship. They are quite a sight.
We moved up over the stern and the hull, admiring its covering of orange cup corals. Above it amidships a shoal of small squid was hanging out and amenable to having their pictures taken.
Fish pecked away at algae on the hull, sergeant-majors and the creole wrasse that give Purple Rain its name flitted. We were enjoying the views and stayed until close to deco before ascending.
The Anina was built in East Germany nearly 50 years ago. After a career in northern waters she had moved to the Caribbean in the 1990s but fell derelict in Grenada, building up that rich coral covering in dock.
Once again the GSDA had worked with the tourist authorities to arrange the sinking. Grenada values its diving visitors.
The last of the new wrecks would be off neighbouring Carriacou island later in the week, but for now there was a reminder on the second Aquanauts dive of just how rich the Grenada reefs can be.
We had enjoyed our surface interval at Fowler's Island, watching eagle rays lazily circling the boat, then motored a little further out to the shallow ribbon reef known as Shark Reef.
Being on the Atlantic side, this can be subject to the strong currents that help the coral to flourish, but today we were in for a delightful gentle drift.
I had forgotten how this site bursts with life. Basket sponges, brain corals and soft corals abound and are swarming with fish. Lurking squirrelfish, queen triggerfish, parrotfish and schooling snapper are the ones you can't fail to notice. The reef is named because there are so many nurse sharks there (you rarely see other types of shark in Grenada), usually sleeping half-hidden by reef.
Spiny lobsters are everywhere – I counted eight in one crevice – as well as morays, candy-stripe shrimps, sting rays – I saw them all on that absorbing dive.
Oddly, while photographing an oversized lone yellowtail snapper I was distracted by a looming porcupinefish before suddenly being mobbed by a dozen hefty French angelfish. They seemed to be coming straight at me, veering off in different directions at the last minute
and looking as surprised as me. Now that's what I call a second dive!
ANOTHER DAY, another dive-centre. Eco-Divers is situated on Grand Anse beach, beside the excellent Coyaba Resort where I would spend my last few nights.
It is run by Christine Finney who, like all the other dive-centre owners I met
on this trip, is very active in collective promotion of Grenada. It's always a good sign when dive-shops work together for the common good, and tends to be a sign of confidence in the product – beware those places where bitter rivalry prevails.
An example is Grenada's Dive-Fest, which started the weekend I left but is the result of collaboration between the various centres and tourism bodies.
Christine was away but I went diving with Brit Ben Frudd, who lent me a camera and took me on a long and enjoyable dive at Molinere Reef in about 15m, setting the tone on a positive note with a large green seahorse and, as at Shark Reef the previous day, impressing with a seascape of lush soft corals, barrel sponges, brain and plate corals.
Molinere, located within Grenada's Marine Protected Area, consists of corals broken up by sandy channels. There were enough lone trumpetfish to form an orchestral brass section, and bigeyes, parrotfish and butterflyfish seemed to be everywhere, with solo porcupinefish and snapper the larger presences. Highlights were a very white octopus and, towards the end of the dive, a jumpy green turtle.
We followed up with a slightly deeper dive on the Buccaneer, a yacht wreck I had dived before but which retains considerable charm, deliberately scuttled but some 40 years ago.
Covered in yellow cup corals that were already colonising the steel hull before it was sunk, it lies on its starboard side with its decks long gone, so is easy to dip inside.
The good thing about starting on the Buccaneer is that by heading inland afterwards, following reef that's not particularly colourful but full of life, you gradually move shallower and enter corridors before suddenly being startled by the sight of a table complete with
wine bottles.
It's the start of the Sculpture Gardens laid down 12 years ago by British artist Jason deCaires Taylor, and something I had missed on previous visits, as dive-centres tend to visit only once a week.
I'm very glad I saw it, because now I appreciate how well integrated into the reef system the sculptures are. It isn't like those standalone installations you might have seen elsewhere. Many of the statues are overgrown now, some figures have collapsed, and it all adds up to an increasingly "authentic" experience.
Sixty-five concrete and steel sculptures are scattered around in various states of transition as the reef and fish life embrace them, and I would love to do this as a night-dive. The hour passed quickly.
BUT THE DAY HELD another wreck, an old Grenada favourite, the 40m Veronica L cargo vessel. This was one of only two accidentally sunk wrecks I dived that week, though such wrecks dominate by around 2:1.
It's easy to see why it remains popular, sitting upright with its photogenic superstructure, again generously covered in corals and clouded with creole wrasse and damselfish as well as predatory jack hovering amidships, where a huge green moray eel acts as sentry on the winch.
The bottom is in only about 16m, which is where we followed the hull round to the bow. Then we moved away at right angles for a gentle half-hour dive across a plateau that featured much soft coral, sponges and more hard coral than we had seen to date.
Eventually I was surprised to see a straight-edged pale edifice looming ahead, and, unbriefed, couldn't take in for a moment what seemed to be a mirage – what was it, some sort of dockside wall?
The penny dropped – we were coming in low and at right angles to the Tyrrel Bay for a return visit. By now there was already enough algae on the glass for messages to have been scrawled.
On my first day I had had no camera; this time the battery gave up the ghost shortly after arrival. Low on air in any case, we ascended. A day for surprises.
THE NEXT TWO DAYS were to be spent in Carriacou, the small sister-island north of Grenada. It's a small-plane hop away, and they're hot on baggage limits. I was able to leave some of my gear at the Cobaya and set up at the Mermaid Hotel, a bit more basic than Grenada's True Blue or Cobaya but comfy enough.
In fact I came out on the first morning to find an armed guard near my door – it turned out that Grenada's PM had been staying the night for a ferry-port opening. If it's good enough for him…
I get used to going to dive-centres where they insist on setting everything up for you, and am often told that they prefer it that way because there are fewer mix-ups. PADI 5* centre Deefer Divers, co-owned by another friendly Brit, Gary Ward, doesn't ascribe to that philosophy, which I know will suit many UK divers – you set your kit up at the dive-centre and cart it down the beach to Deefer's stable and spacious 10m diving catamaran.
Carriacou has more than 30 dive-sites waiting off its west coast, but I had heard a lot about the Sisters site, said to benefit greatly from the nourishment afforded by enthusiastic currents swirling around these twin pinnacles, and was eager to experience them for myself.
What a great intro to Carriacou!
There was little current in evidence as we dropped in, much as there had been little on Grenada's western reaches, but the proliferation of gorgonian and other soft-coral growth took me by surprise – the Sisters seemed more lush forest than garden.
The sponges and hard corals were there too but the sensation was one of swaying lushness. A big turtle ambled past; the scene was idyllic.
The current picked up as we reached what I believe was Barracuda Point – it must have been, because a big barracuda was hovering overhead – and it was a bit of a fin as we rounded the corner but not enough to stop us reaching gentler waters beyond, where we enjoyed the company of medium-sized sting rays and some small snoozing nurse sharks.
The follow-up reef dive at Whirlpool couldn't compete for lushness – few sites could – and, though generally shallow, included a deeper diversion to explore a small tugboat wreck, upright and well-colonised. The Whirlpool name comes not from vicious counter-currents but from the small bubbles that trickle from deep beneath the seabed.
We ended up in an area of rocky corridors where more sting rays puffed up the sand and an octopus was acting oddly in the open, moving a few paces at a time as a coral trout darted tentatively at it. Perhaps it was sick.
THE THIRD OF THE 2018 wreck creations was on the menu the next day, and now we were with Lumbadive in Tyrell Bay (spelt differently to the wreck), run by the very entertaining couple Diane Martino and Richard Laflamme.
Diane kindly lent me her own camera, the same model as mine – I especially appreciated this as she told me she had never lent her camera to another diver and took great and understandable care to clip it onto my person in the water. Familiar controls at last!
The Troll Mammoth tugboat, which was sunk in April, was built in 1956, has a history and looks the part. It had last worked in St Kitts, and Richard had played a key role in preparing her for sinking, as dutifully recorded on YouTube.
Lionfish had swarmed in soon after the sinking and were duly dispatched. Now small fish peck at its thick algal coating as it lies, some 40m long and around 20m deep, not far from the Sisters.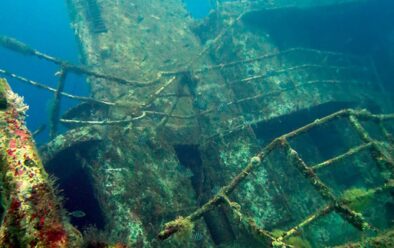 Again, it's upright, very picturesque in what was now much better vis of 20m-plus, and had plenty to explore as we circled and dipped inside, from the instruments on the bridge to the open holds. We swam along a companionway on the inside and I had to breathe in to emerge. Jack stared down on the scene.
Before lunch we dived yet another wreck at the same sort of depth, the 17m yacht the Rose, not too far from shore in Tyrell Bay. The idea was to take in the boat, which sank in 2003 so again has a lot of growth on it, then traverse the large expanse of turtle-grass between wreck and shore.
As it turned out a vigorous offshore current made this quite a sweat, though we were rewarded by seeing a number of flying gurnards – always a pleasure, especially when they spread their electric-blue pecs, and the odd spiny lobster and sting ray out in the open.
I might have looked forward to the end of that slog, but wouldn't have done had I known it would be my last dive of the trip.
I attended a launch party for the DiveFest that evening and flew back to Grenada due to dive with a centre called Scuba Tech, but it had been a stormy night and I arrived to find the diving called off. I was flying the next day, so that was my lot.
I couldn't complain. I'd lost my camera but had enjoyed some outstanding reef dives, especially the Sisters and Shark Reef, a sculpture garden and seabed Jacuzzi, and some seven wrecks of various sizes, including all the newest ones.
I HAD ALSO GOT TO STAY at True Blue resort at last and, true to what I'd heard, that was a very pleasant experience. and I discovered that there is a lot more good dining around Grenada than I'd realised.
This time round I hadn't visited the reefs and wrecks on the wild Atlantic side or returned to that behemoth the Bianca C, but the sheer range and richness of diving in Grenada and the outlying islands would make it an unusual diver who got bored here.
And the restless dive community have their sights on a big military ship for their next scuttling project! Confirming my conviction that as Caribbean diving goes, Grenada is up there with the very best.
FACTFILE
GETTING THERE> Steve flew with BA via Antigua (no disembarkation on short stopover). Carriacou flights SVG Air, flysvgair.com
DIVING> Aquanauts, aquanautsgrenada.com; Dive Grenada, divegrenada.com; Eco-Divers, ecodiveandtrek.com; Deefer Diving, deeferdiving.com; Lumbadive, lumbadive.com
ACCOMMODATION>True Blue Bay Boutique Resort, truebluebay.com; Coyaba Resort, coyaba.com; Mermaid Beach Hotel (Carriacou), mermaidhotelcarriacou.com
WHEN TO GO> Year-round, but Jan-April dry season ideal.
MONEY> East Caribbean dollar or US dollars.
PRICES> Combos with BA return flights and seven nights' B&B at True Blue Bay from £822pp; same but all-inclusive at Coyaba Beach Hotel from £1211pp. Seven nights B&B only at the Mermaid $828 (all based on two sharing 2-9 October, which takes in part of the Pure Grenada DiveFest).
VISITOR Information> puregrenada.com