A scuba dive on a coral reef in Kiribati on 24 May has kicked off a five-year "global expedition" to explore the remote and biodiverse tropical Pacific – and the pressure is on the research divers to come up with the right answers.
The latest Pristine Seas venture has begun amid what organiser National Geographic describes as escalating threats to the ocean, from plastics and global warming to overfishing and deep-sea mining – and the team hope that their activities will help in tackling some of these critical issues.
Also read: Help to pinpoint dive-sites of scientific interest
The NatGeo Pristine Seas team are working from their expedition vessel Argo, which carries resources that include the 400m-rated three-seater submersible DeepSee, 6km-rated drop-cams and the BoxFish Luna ROV – hardware they say has already proved its worth at some 40 locations from pole to pole.
Since 2008, the programme has conducted 38 expeditions covering more than 6.5 million sq km of ocean, generating more than 250 peer-reviewed scientific studies and 30 documentary films. As a result it claims to have inspired the creation of 26 marine protected areas (MPAs) over an area two-thirds the size of the USA.
The team will collaborate with central and western Pacific nation governments, communities, indigenous and local people and marine scientists in the areas visited. The idea is to study, document and identify potential routes to expanding protection in what is known around the islands as the "Blue Pacific Continent", with new MPAs being established there as part of the global 30×30 initiative.
Why remoteness is key
"The health of the tropical Pacific is an essential need for the people who live there, and really to everyone on the planet, because the ocean is a key part of our life-support system," says Enric Sala, NatGeo explorer in residence and Pristine Seas founder. "But that makes this mission an exciting opportunity to restore marine life and bring in more benefits to local communities and economies."
Phase one of the project will involve covering some 4,000 miles during 2023, exploring the ocean to depths of 6km. The team are working initially in Kiribati's Southern Line Islands, and will then move on to Tongareva in the Cook Islands, believed to support the largest reef shark population at any inhabited coral atoll.
Later Pristine Seas will be based in Niue; the Marshall Islands; Kosheri, Pontipe, Chuuk and Yap in Micronesia; and Palau. The team have already worked in the Pacific's Pitcairn Islands, Kiribati, Niue and Palau in the past, and insist that it is for good reason that they seek out the remoter parts of the world.
"Previous scientific studies missed the incredibly important role of sharks, because the work was done in easily accessible areas that had been degraded or overfished," explains chief scientist Alan Friedlander to illustrate the point.
"We removed this bias by going to very remote regions like the Southern Line Islands or Chile's Salas y Gomez Island and showing how a truly pristine, healthy ocean environment functions."
They also succeeded in documenting that fish populations in highly protected zones are capable of surging by 500% or more in the space of 5-10 years, setting off a "cascade" of beneficial ecological impacts.
They are now studying how the revival of sharks and other predatory fish in a protected area in the Southern Line Islands enabled reefs to recover rapidly from a devastating 2015/16 El Niño ocean warming event.
The miracle at Kiribati
Working with Kiribati had prompted a no-fishing area to be established in five Southern Line Islands in 2014, resulting in protection for populations of sharks, snapper and other predatory fish, alongside large schools of parrotfish and surgeonfish. Their presence appears to have enabled the reefs to recover rapidly from the El Niño – in stark contrast to severely damaged reefs in unprotected areas.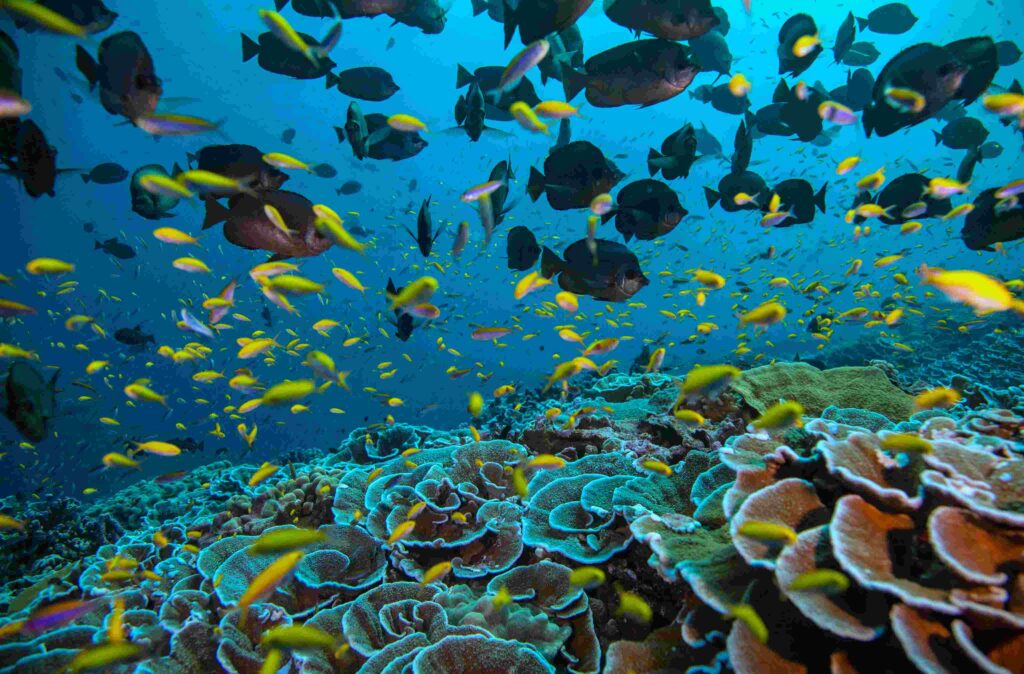 "When we first came here in 2009, we encountered a reef paradise unlike anything we had ever seen, and when we heard about the warming event… I feared that paradise was lost forever," says Friedlander.
"I vividly remember the joy and relief I felt on that first dive in 2021 near Vostok Island, that moment when the bubbles cleared from in front of my dive-mask and I could see the bottom. It was covered with a landscape of live, gorgeous corals and a thriving reef full of fish."
"It's such an awesome and uplifting display of nature's power to restore itself," says Sala. "We sail with hope because we have witnessed the amazing capacity of ocean life to heal itself – if we just give the ocean some space."
Tools for the job
"We're going to use a wide variety of tools from simple to complex," says Friedlander of the Pristine Seas approach to ocean exploration. "And we're going to study everything from whales and sharks down to microscopic organisms and even things we can't see at all, like environmental DNA.
"These methods include conventional scuba, technical diving, multiple camera systems that will probe the offshore waters and the deep sea down to 6000m, as well as a three-person submersible that we can use to depths of 400m."
The Pristine Seas programme continues to be led by the man National Geographic describes as "one of the world's most accomplished science divers, polar explorers and expedition leaders", British diver and TV presenter Paul Rose. Live-streamed video, audio and data will be available to the public online as the new initiative makes its way around the Pacific.
Also on Divernet: The super-corals offering a beacon of hope, CCR divers surface with deep-reef discovery, Tahiti's giant rose reef amazes divers, The world's most isolated atoll