CARIBBEAN DIVERRum, Reefs & Wrecks
It was a flying visit with three days for diving, so would NICK & CAROLINE ROBERTSON-BROWN get a picture of what Barbados could offer? They were certainly in for a seahorse surprise
Lush coral growth on the jetty legs.
Appeared in DIVER September 2017
BARBADOS. Just saying the word out loud conjures visions of sandy beaches, palm trees and clear, blue water – but what about the diving? Well, it turns out that plenty has been done to make this a good destination for scuba-diving, freediving and snorkelling, as we found out on a recent whistle-stop trip.
With only five nights on the Caribbean island, and just three days of diving, we thought it was going to be tough to get a true feel for Barbados. But the team from Barbados Blue made sure that we maximized our time in the water.
They flew in part-owner Christine from Grenada to act as a dedicated model on our dives, provided us with further dive and freediving guides, and made sure that we experienced as many different sites as possible.
On top of this, our guide from Barbados Tourism, which had organised this brief familiarisation trip, ensured that we got a taste of the island culture in the evenings and on our day off from diving before we flew home.
We landed in late afternoon to be greeted with sunshine, heat and wonderful scenery on the way to our hotel, Bougainvillea Beach Resort. The hotel lived up to its name, with the colourful flowering plant after which it is named lining the walkways and pool area with vibrant pinks and purples.
Having sorted out the usual first-day trivia, such as finding DIN converters, filling in paperwork and working out logistics, we boarded our boat and set out for Carlisle Bay.
This is an area on the west coast – where most of the diving is done – that has been turned into a playground for divers and snorkellers alike.
A SERIES OF SHALLOW WRECKS, varying from World War One casualties to modern tugs, have been sunk here over many years to create a marine park. There is a circuit of wrecks, anchors and other artefacts around which divers and freedivers can easily navigate.
Some of the wrecks are so shallow that they are only just beneath the surface. At these, if you look up, you will see groups of snorkellers enjoying the prolific fish life that make this site its home.
With so many wrecks, along with profuse marine life, this is a site that calls for both wide-angle and macro photography, so we split up with our own guides to get the most from it.
The wrecks are in good condition and very easy to dive. However, as they are on a sandy bottom, and this is a shallow site, the visibility can be as low as 10m with the stirring up of the sand on windy days.
We were treated to reef squid, turtles, barracuda, sea-slugs, numerous shrimps and crabs, loads of tropical reef fish and a wonderful seahorse.
It was quite a start to the trip, and we were happy to spend the whole day exploring the Carlisle Bay wrecks.
Our evenings were dedicated to discovering Barbadian cuisine, and we were astonished by the variety and quality of the restaurants we visited.
Of course, we had to try out some of the famous rum cocktails too, and our visit to Cocktail Kitchen didn't disappoint, with Dark & Stormy becoming a firm favourite. However, the scotch bonnet (pepper)-infused Mango Chow was a whole new experience, and not for those whose limit is a korma!
One of the most famous dive-sites in Barbados is that of the wreck of the Stavronikita, and it was the focus of our second day of diving. The Stav, as it is known, was sunk as an artificial reef in 1978 and sits between 20 and 40m.
This 110m Greek freighter has been under water for nearly 40 years and has plenty of coral growth to show for it.
The ship was carrying a cargo of cement to the island when fire took hold and she had to be towed to port. The wreck stayed for two years before the Barbados Parks & Beach Commission bought it to be used as a diver-attraction.
To be able to sink such a large vessel, explosives experts from the US Navy were called in, and it's possible to see the blast-holes where the hull was breached to sink her. One is just forward of the starboard propeller and can be penetrated, which takes you along a corridor to the cabins. It's quite dark, but there are frequent escape-holes along the way.
The Stav is still intact and sits upright on the seabed, adorned with colourful sponges, anemones and corals. To do justice to this splendid piece of rust you would need at least three or four dives but as it was we had only one, so focused on the shallower bow section and the forward mast, though we did regret not having more time on the wreck.
We also pulled up to one of the many piers and jetties lining the coastline. Offering shelter for many fish species, as well as providing a substrate on which coral and sponges can grow, these man-made structures usually make good dives.
While those that are still in active use might suffer from debris and rubbish being strewn on the seabed, there are always critters and fish-life that will make it their home. It also creates an atmospheric scene and can offer up a surprise or two. This one had incredible coral growth on one section, with another covered in tube sponges.
Our final day of diving saw us visit another shallow area called Folkstone Marine Park. Again, the lack of depth meant that the sand had lowered our visibility after some stormy weather. However, the team were proud that some of the brain corals thriving there had been transplanted by them, after being saved from certain destruction during a harbour extension plan.
WE DIVED THIS SITE FIRST, as there were no snorkellers or other divers this early in the morning, and visited the well-inhabited wreck of an old barge, alongside a healthy, shallow reef.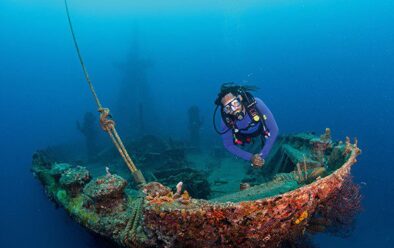 To get a better feel for the barrier reef that runs the length of the island, we headed to deeper water. Here the visibility is much better, as the sandy areas subside and the water clears with the stronger currents.
We descended to 20m and explored the top of an amazing coral-covered reef, but we could have gone much deeper, with the reef sloping off down into the darker water. Here we found classic Caribbean reef scenes, with huge barrel sponges rising tallest of the coral and sponge formations packing the shallowest areas.
One disappointment was the lack of larger reef fish, the result of overfishing. This is being addressed, we were told, and it's to be hoped that some of this barrier reef will become a marine park in which any fishing is banned.
Our final dive of the trip was, at our request, to another jetty. We needed more time in Barbados, as we would have loved to do more reef-diving, to repeat-dive the Stav and return to Carlisle Bay, but we knew that this was going to be a special experience.
As the boat pulled up close to the pier-legs, we could see that the vis was better than on previous days. We jumped into the water and surface-swam closer in to the jetty.
The first few inches of water were boiling with sergeant-majorfish trying to avoid being eaten by a large barracuda. The pier-legs were covered in every colour of sponge you can imagine. Porcupine, squirrel and scorpionfish hid among this growth, but we were there to look for seahorses.
We spent a long time looking carefully at all the sponge growth on the pier-legs, but found nothing. That was OK, as this was a wonderful place to dive and take photos, but just as we were starting to give up hope Caroline found a pair, clinging onto a discarded piece of metal on the seabed.
One was pink and the other brown, and they were swaying in the current. Now that we were in the right area, and had got our eyes in, Christine found eight more in a small area – incredible!
There must be many more, but time waits for no one, and we had to surface. To see so many of these enigmatic animals in one place was a highlight of the trip.
On our pre-flight non-diving day we were treated to a visit to the spectacular cave system that lies beneath the centre of the island. Specialised transport takes you through magical Harrison's Cave to see the cleverly illuminated stalagmites and stalactites that have been forming deep beneath the surface for centuries.
It is water from this cave system that is used to make the sweet spirit from the oldest rum distillery in the world…
THE FOLLOWING MORNING we headed across Bridgetown to find out more about (and sample) the delights of the Mount Gay distillery. The process of making rum is started by distilling molasses in copper pot stills. It is then matured in charred white oak barrels previously used for American whisky.
The final stage is the blending, and two-year-old rum can be blended with a 20-year-old to give the right balance. Our favourite sipping rum is the XO, while the best for a "dark & stormy" has to be the Black Barrel.
At the end of a diving week in Barbados, why not see for yourself which one you prefer – there are several other variations from which to choose and the 1703, while expensive, is sublime.
While in Barbados the famous Fish Fry on Friday nights is worth seeing – also head to St Lawrence Gap for some excellent restaurants, including Cocktail Kitchen or, for something a little more romantic, try Champers or the Fish Pot.
We were enchanted by Barbados. It is a beautiful island, the people are easy-going and friendly, the food and drink surprisingly good and the diving we did was excellent.
FACTFILE
GETTING THERE> Nick and Caroline flew direct with BA from London Heathrow.
DIVING> Barbados Blue, divebarbadosblue.com
ACCOMMODATION> Bougainvillea Beach Resort is close to the dive-centre, on the beach near Oistins and St Lawrence Gap, bougainvillearesort.com
WHEN TO GO> Year-round. Barbados has not been hit by a hurricane since the 1950s.
MONEY> Take US dollars, though change is given in Barbados dollars at a fixed rate.
PRICES> Bougainvillea Beach Resort/Barbados Blue offer a packaged one-week diving deal for £800 (two sharing). Return BA flights from £550.
VISITOR Information> visitbarbados.org