PACIFIC DIVER
There are a number of extraordinary historical legacies to explore in the Marshall Islands, says MARK B HATTER. Ship and aircraft wrecks, great vis and pristine reef, anyone?
In my quest to photograph every species of anemonefish for a coffee-table book I hope to someday publish, I had seven Indo-Pacific destinations still to visit.
So two years ago, I began planning a trip to the Republic of the Marshall Islands in the west-central Pacific, exclusive home to the three-band anemonefish.
I figured my best opportunity to find it (and the better investment) would be from a liveaboard rather than through day-trips from a dive-shop, but my initial Google search revealed no sport-diving liveaboard operations in the Marshall Islands.
What I did find was Martin Daly's website, which advertised surfing charters and deep-wreck technical diving at Bikini Atoll. So I contacted Daly and asked if he would be interested in running an exploratory 10-day sport-diving charter in the islands.
"We can do it," he replied enthusiastically. "Finding your anemonefish will not be a problem. Plus, we have plenty of WW2 wrecks to dive and, in my opinion, the best visibility in the world outside the lagoons."
He explained that as commercial fishing was not allowed in the nation I would see lots of sharks on the outer reefs. "We have the largest shark sanctuary in the world," he told me – the 770,000sq mile area was designated by the government in 2011.
He had me, of course, with his anemonefish guarantee.
With the prospects of unlimited visibility, plunging walls, narrow passes, sanctuary sharks, endemic anemonefish and WW2 wrecks galore, it wasn't difficult to find nine diving buddies to split the cost of chartering Daly's Indies Surveyor.
The Marshall Islands lie 2400 miles south-west of Hawaii, and despite covering such a large area their landmass is a mere 70sq miles. Yet having been the focal point for major historical events makes them a draw for serious divers.
In the period 60-80 years ago the WW2 military occupation of Kwajalein by the Japanese and the USA's post-war nuclear testing on Bikini Atoll have left an abundance of war relics and a half-century of isolation on some of the atolls, because of nuclear contamination.
Fast forward to today, and the brutal scars of history present opportunities for our diving team. Bikini Atoll has been opened to technical diving for more than a decade and Rongelap Atoll is now sufficiently safe to support a nascent population of Marshallese, and allow our boat safe passage to dive-sites that have perhaps never been visited before.
Kwajalein Atoll
Our adventure began with three days' diving in the lagoon of Kwajalein, one of the largest atolls in the world.
Strategically important to the Japanese during WW2, at least initially, after losing the Solomon Islands and New Guinea to the Allies, the Japanese command elected to muster depleting war assets closer to home, and declared the Marshall Islands "expendable".
Even so, the Japanese war council wanted to exact a toll on any invading US forces, and defended Kwajalein with 28,000 troops.
With no aircraft or naval warships (only freighters and small gunboats in the lagoon) for support, they were no match for the US Navy and Marines during the two months of Operation Flintlock to retake the Marshall Islands.
By 4 February, 1944, Kwajalein had been secured by the Americans.
Seventy-five years later, the lagoon is peppered with dozens of well-catalogued WW2 shipwrecks and hundreds of US planes that were scuttled after the war, offering divers the rare opportunity to visit a turbulent time in world history.
We kicked off our expedition with a check-out dive on one of the lagoon's most notable war relics, the Prinz Eugen, a German war prize captured by the Allies in Europe and towed to Bikini after the war to be used as a nuclear weapons-testing prop.
Ironically, the 207m ship survived two detonations without sinking. Escaping death Rasputin-like, she was towed to Kwajalein for further study.
But the hull, weakened by nuclear blasts, developed a leak. By now too contaminated to be boarded, the ship eventually capsized and sank on a sandy slope in 36m, bow resting on the bottom.
An easy dive and a great place to check our kit, the wreck is not particularly photogenic beneath the surface. However, at low tide, two of three propellers break the surface, creating an opportunity for cool split-level work with wide-angle lenses behind super-wide dome-ports.
Our next dive was on the Palawan, a Philippines engine freighter captured by the Japanese and used by the Imperial Navy.
It sits upright in 45m just north of Bigei Island and, while little of the structure remains, the large wheel covered with colourful marine growth amidships makes for great wide-angle images.
Continuing north, the 115m Akibasan Maru sits upright in 49m. It's believed that it had just arrived with supplies from Chuuk Lagoon when it was attacked on 31 January, 1944. The ship took three direct hits from a US aircraft and sank within five minutes.
The holds are reportedly still loaded with resupply goods, now just artefacts, such as seaplane wings and pontoons, and beer and sake bottles. I missed these, but the pastel sponge colonies amidships kept me occupied for much of the dive.
Arguably the best wrecks are found at the lagoon's northern boundary, including the 104m Eiko Maru. The ship is thought to have been attacked near Kwajalein Island, but made it to the north end of the lagoon before sinking upright on the sandy bottom in 40m.
With its two kingposts amidships and 3in bow gun, we decided before the dive to split into two groups, allowing everyone shots of the gun without photo-bombing each other.
From the gun I moved amidships to an open hold with what appeared to be a large hole blown into the side hull. It looked like the product of a dive-bomber torpedo. I was pondering how the Eiko's sailors felt while under attack when one of my buddies circled outside the hull and framed nicely for an image, breaking me from my sombre thoughts.
The shipwrecks were cool but the aircraft graveyard, just off the island of Roi Namur, also at the atoll's northern end, was great! Over nearly 2sq miles 120-150 US aircraft were scuttled after the war, too costly to ship back Stateside.
Stripped of engines and critical parts, they were pushed off barges into the lagoon. At 35m the graveyard includes Mitchell B-25 bombers, Douglas Dauntless dive-bombers, F4U Corsairs and Hellcats.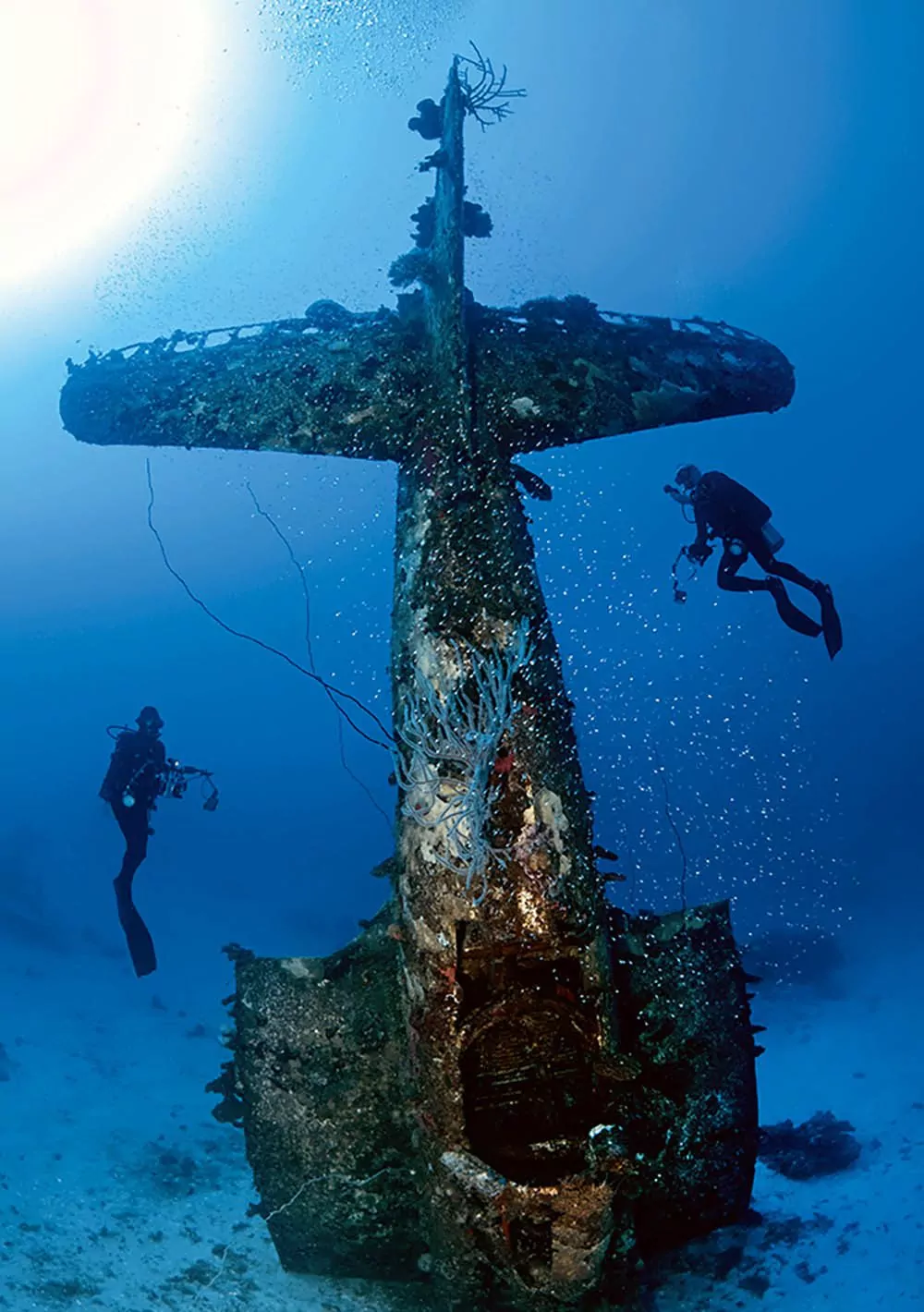 Oddly, while 70 years of oxidation have taken their toll on the Japanese ships, many aircraft are surprisingly clean, with little marine growth. My favourites are the planes still standing nose-down on the bottom, as if on a final dive-bombing run.
After three days of diving Kwajalein Lagoon's wrecks, it was time to sail north to Rongelap Atoll. Its history is even darker than that of battle-torn Kwajalein, and a taste of real exploratory diving.
Rongelap Atoll
On 1 March, 1954, the US military detonated a 15-megaton thermonuclear device on Bikini Atoll, codenamed Castle Bravo. The 4.5-mile-diameter fireball, forming within one second of the blast, was visible on Kwajalein, 250 miles away.
The blast vaporised two Bikini islands, blew a crater 76m deep by 2000m wide into the atoll's ring and formed a mushroom cloud reaching nearly nine miles into the sky.
As islanders through the archipelago reported "the Sun rising in the west", contaminated residue from the cloud began dropping radioactive debris, up to 2cm deep, on Rongelap and its unprepared population, 95 miles east.
Sixty years, billions of dollars and decades of clean-up have now rendered Rongelap safe for human habitation again. A small population of Marshallese have repatriated Rongelap to re-establish an historic way of life, lost for so long.
Because it's safe for the islanders, it was also safe for the Indies Surveyor to explore the passes, slopes, walls and reef crowns around the atoll.
Our crew had surveyed charts in advance for more than a dozen dive-sites, most unnamed, and many likely never to have seen a diver. And over the next five days we would shoot the rapids at passes on incoming tides, visit never-before-dived vertical walls and explore coral gardens that rival any in the world.
We arrived at Rongelap ahead of schedule. The seas were calm, and good juju resulted in a pair of large yellowfin tuna from handlines trolled behind the Surveyor, begging the question of which comes first – breakfast sashimi or diving? The tuna could wait.
We iced the catch, kitted up and rolled into impossible 50m visibility at 8am. We were greeted by grey reef, then silvertip sharks as we descended through 35m.
The quarter-moon phase generates a mild current, and we drifted across a beautiful spur-and-groove reef towards a distant pass. I was shooting wide-angle, but noted the 7cm Helfrichi dartfish hovering above small, sandy pockets on the slope, which was now near-vertical, at 30m. I saw too many fish that were new to me and my image library, so decided to shoot macro on the next dive.
Bottom-time and nitrox waning, I worked my way toward the crown of the slope, where the coral coverage was dense and diverse. Finally, I saw them. At 20m, in a wide sandy bowl, a pair of beaded anemones were hosting families of three-band anemonefish!
I had the wrong kit, but hoped to get a few shots by carefully placing the glass of the dome-port millimetres from the animals. It appeared to be a good omen; it was our first dive on the outer reef, and I had already found the underlying purpose for pulling this trip together.
As it happened, we later found that this reef was the only known location for the three-band anemonefish. After several additional days' searching for the fish at other sites, the group was kind and agreed to return to this reef, allowing me to capture more images with my macro kit.
We finished our dive on a shallow corner of reef at the mouth of the pass, where the current had accelerated sharply due to the venturi effect created by the tidal bore pushing against the narrow, shallow pass opening.
We found sanctuary from the current in small amphitheatres below ridges of dense coral formations outside the pass, and lingered there photographing the many colourful fish.
Next morning we steamed to West Pass, a remote, deep, narrow channel between the lagoon, reef crown and open ocean on the western ring of the atoll.
No other passes lay nearby, and we expected a "shoot-the-rapids" dive experience on the incoming tide.
We were not disappointed. While the current was too strong for most reef-building corals, the walls were covered with orange-pastel sea life, coral-like in nature but unknown to all of us. As on all the other dive-sites on the outer reefs, the ubiquitous sharks followed curiously.
In 2016 the central Pacific, along with most of the world, experienced a significant, extended warmwater event that exacted a toll on the Marshall Islands coral population. By the time of our 2018 trip, unless you knew the tell-tale indicators of bleaching damage you'd believe that most of the sites we dived were minimally, if not completely, unaffected.
However, as we were exploring new sites every day, we expected and did come across two reefs heavily damaged and struggling to recover, as evidenced by the abundance of macro algae inhibiting new coral colonisation.
Yet most of the locations we dived were in excellent shape, well along the road to recovery, as measured by the numbers of fist-sized coral colonies established between older, larger growth colonies that had survived the warmwater event.
On the fourth day, we discovered something incredibly rare: a spectacular reef with the most dense, colourful and diverse coral coverage that any of us had witnessed anywhere in more than a decade. It was stunning!
Beginning with an open forest of table corals, many 2m in diameter, and building to an impenetrable plateau of hard corals, this reef surely set a gold standard in reef health. Everything was big, healthy and colourful, including a century-old giant clam. It left me hopeful that even under the deadly impact of recent climate-change-driven events, Mother Nature's resilience can still surprise us.
Ailinginae Atoll
Eight miles west of Rongelap, uninhabited Ailinginae Atoll was where our crew "guaranteed" that our dive-team was "absolutely the first" to explore its reefs.
Down to our last day, with a long steam home ahead of us, we could afford only two dives to explore the south wall of the atoll. Using the same criteria for selecting dive-sites on Rongelap, the Indies Surveyor dropped us on a pair of winners.
As at Rongelap the outer wall was a heavy spur-and-groove reef, as was the case at the second site, but with a twist. Near the end of our dive, at 15m, our guide discovered a series of caves and tunnels formed within the wall of the reef.
I followed him down a rabbit-hole, and contorted through the twisting tunnel. I switched on my torch and marvelled at the ancient structure, careful to avoid banging my camera on the brilliantly hued walls.
Some minutes later, we popped back out on the reef 5m deeper and 20m from the entrance. Leaving the tunnel, I extinguished my torch and ascended to blue water off the reef for the final time, joining my fellow-divers for a safety stop.
As my computer began to tick down my interval, I could think of no more appropriate ending to an incredible trip, documenting relics of a distant war and exploring places once held off-limits for the darkest of reasons. And all for the sake of the three-band anemonefish.
FACTFILE
GETTING THERE: Only United Airlines services the Marshall Islands, flying in from Honolulu. Trips are arranged around the every-other-day service to Kwajalein.
DIVING & ACCOMMODATION: Indies Surveyor is comfortable, clean and substantial, says Mark Hatter. It has five twin cabins and two communal heads
WHEN TO GO: Wreck-diving in Kwajalein is year round but only July-October is calm enough to reach Rongelap and Ailinginae Atolls.
MONEY: US dollars.
HEALTH: Indies Surveyor has a recompression chamber and crew trained to operate it.
PRICES: The 10-day charter costs US $45,000 for up to 10 divers, including food (excellent, says Mark), beer & wine and nitrox. The round-trip price from Honolulu, Hawaii is $1600. Flights to Honolulu cost from £800.
VISITOR Information: Visit Marshall Islands Website