Who's your new buddy? A bout of traveller's bad luck threatens BRANDI MUELLER's trip to Belize, but she knew that Aggressor Fleet would do all it could to break through the voodoo and get her out diving!
Also read: Photographic expansion at Diving Talks
A Nassau grouper was pressing his nose against my camera-port. He was actually touching it. Laughing through my regulator, I tried to back up and move away, but he stayed with me as if he was connected to my underwater housing.
What can an underwater photographer do besides keep on taking shots, but really, he was too close. I was trying to adjust my strobes while still attempting to move away, but the grouper wouldn't budge, other than for what appeared to be checking out his "best side" – shifting his body from side to side, a bit higher, a little lower now.
Morning Dive Anticipation
Earlier that morning, as I sipped my coffee and enjoyed an omelette, I had not been expecting an underwater grouper modelling session. The morning light poured through numerous windows in the Belize Aggressor III's dining-room, and outside blue skies and turquoise water were beckoning me and the other divers into the depths below.
I'd like to pretend that this fish loved me as his puppy-dog eyes stared directly into my lens, but I'm pretty sure he was just in love with his own reflection.
This interaction lasted long enough for my dive-buddy to get plenty of video. Each time I tried to move in any direction the fish corrected his pose, making sure his sexy fish-face was in view, front and centre. Once I had dozens of shots, some framed with my buddy and a few selfies with the camera turned around (which the fish followed), we signalled to continue our dive.
I swam off and turned to say goodbye, but we were now a group of three. For 10 minutes our new buddy followed us along the wall, sometimes behind us, sometimes just swimming under our arms, close enough to touch. The fish of Belize were nothing if not friendly!
Back on board our floating dive-resort we relayed tales of our new best friend to the other divers while warming up on deck with hot showers and dry towels. Our surface interval passed quickly as we relaxed with cups of tea and cookies on the sun-deck.
Liveaboard Experience
Liveaboards are my favourite way to dive. Usually the easiest and most comfortable way to explore a dive destination, they also provide the opportunity to carry out maximum dives at the best dive-sites.
A week on the Belize Aggressor III was exactly this. From the moment I was met at the airport and whisked away to the boat, everything was taken care of. All I had to do was dive.
At 34m long, the boat comfortably took 18 passengers, and the eight crew seemed to anticipate our needs even before we knew what we wanted. My stateroom had plenty of space, and a private bathroom with shower.
On the bed when I arrived was a lovely gift of Stream2Sea sunscreen and other reef-safe products. I was happy that Aggressor had embraced reef-safe sunscreen and was helping divers to protect the fish and corals of Belize.
And my favorite amenity – a robe! I was actually hoping to be a bit chilly, so that I could wrap up in this plush, oversized garment between dives.
I love the diver camaraderie on liveaboards. As someone who often dive-travels alone, they are a great way to meet new friends. Sharing meals and common spaces, I find that divers are a special sort of wonderful (or weird) in our own way.
Some of my best friends over the years have come out of dive trips, and at first glance I looked forward to getting to know this particular group.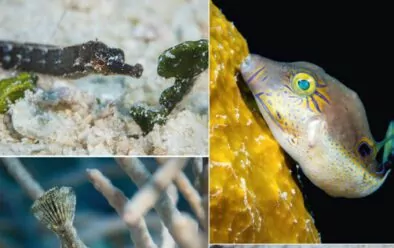 Diving in Belize's Barrier Reef
We left the dock in sunshine and headed for Turneffe Atoll, 20 miles from Belize City. Belize is a small country squeezed between Mexico and Guatemala with almost 190 miles of coast, and just offshore is the world's second-largest barrier reef, the Mesoamerican system.
It stretches from the Yucatan to Honduras but Belize's coastline hosts 80% of it, including Turneffe Atoll and Lighthouse Reef, both on our itinerary.
After a briefing on how the diving worked and a site-specific brief, we jumped into the crystal waters at our first dive-site. Sandy Slope was just that, with patchy reef.
Moored in about 12m, all diving was done from the liveaboard, with the 5* service of the crew putting on our fins and passing our cameras into the water.
We descended into a macro wonderland. Just below the boat, the dive-guide called me over to show me a pipehorse (on the first dive!) and later I managed to find a pike blenny showing off to a potential mate, and a tiny filefish trying to blend in with the coral.
The sharpnose pufferfish must have been mating because they were everywhere, and I also found a few yellow-headed jawfish. Just as it was time to ascend I looked out into deeper water and an eagle ray glided by (this always happens when I have a macro lens on!)
With no set time-limits my buddy and I spent more than an hour exploring the reef before returning to the boat.
Night Dive Adventures
Five dives a day were offered, including a night-dive after dinner.
I have a confession to make: I don't like "going" on night-dives. I lose ambition after a long day's diving, particularly after a warm shower, dry clothes and an excellent dinner.
It's difficult to resist a glass of wine in exchange for putting on a wet wetsuit and jumping into cold water in the black of night. And yet I never regret it once I'm under water.
So I held off on the Aggressor-branded Tidal Force wine (great name, great wine) and took the evening plunge. And… it was amazing.
I found nudibranchs on purple sponges and basketstars. There were crabs and shrimp all over the reef, including some very photogenic shrimp living inside tube sponges. Colourful parrotfish slept in the reef, and everywhere I looked there was something to photograph.
The captain had said to be back in 45 minutes and the first time I checked my dive-computer it was at 55 minutes.
I could see other divers (all the other divers) still under water, but I committed to heading back to the boat like a good diver. Turning my strobes off and stowing them, I swam towards the boat and noticed three divers crowding around something.
I slowly made my way behind them, and there was an octopus hunting. As it moved along the reef the divers moved in unison with it, drifting when it drifted, pausing when it paused. Strobes flashed.
The Aggressor had two spotlights shining directly down, making it almost impossible to get lost. As I got closer I saw at least six massive tarpon, silver scales reflecting in the spotlights.
I thought to myself: "Wow, I didn't even need to leave the boat!"
About to ascend again, the dive-guide was shining his light furiously at me and pointing out two squid almost directly under me. Strobes back on, arms extended – just a few more shots.
OK, for real this time, I'm going up.
Halfway through the week we moved to Lighthouse Reef, which had steeper wall-dives and just as much marine life. On one dive there was a massive patch of seagrass just under the boat with hogfish, parrotfish and even a shark swimming by, just under the boat!
I was having so much fun shooting in the seagrass that when I looked up I could only just make out bubbles in the distance heading towards the wall. Oh yeah, the wall – that was the point of this dive.
Finning madly to catch up, I made my way to the wall and the blue abyss opened below me.
I love that moment when you swim beyond the reef off the edge into the deep blue; it's like you're flying or should be falling. There's a world above and a world below, but I love hovering in the middle.
I looked down. Two eagle rays swam past just at the edge of my sight. I was discovering that Belize eagle rays hate the paparazzi. I had seen so many, but none came close enough for a photo.
Following bubbles, I kept swimming to catch the group. Large purple seafans and barrel sponges created a bright seascape, with schools of creole wrasse passing over.
Still lagging behind the group, I was low on the reef shooting a barrel sponge when I heard a diver's bell.
Instinctively looking up, I saw a huge grey reef shark headed straight towards me. I ducked lower and it kept coming right for me until it passed directly overhead.
Following the wall, there were more gorgeous reefs and lots of fish. Grouper seemed to be the main residents, watching us from their territory under gorgonians and seafans.
Halfway through, we turned and shallowed up, finishing the dive under the boat. There was a commotion, with chub everywhere, swarming like mad and making it almost hazardous to get out of the water.
Hungry chub were dive-bombing my buddy's hair and surrounding me, darting back and forth. Seriously, the fish of Belize have no concept of personal space!
Cutting through the waves
Flights are delayed, things break and weather can be bad.
Bad luck is something we all risk when we travel. On this trip, I hit all three problems, but amazing customer service (and a little good luck) got me diving anyway.
On the way to Belize, a delayed flight caused me to miss my final leg into Belize City. After an email to notify Aggressor, I showed up two hours late – and there was a crew-member waiting to take me to the boat, just as if I'd been on time.
I had been scheduled to do a seven-day trip on Belize Aggressor IV, but as we walked to the boat I noted that though it was sunny and the skies clear, it was windy. Really windy.
Onboard the captain announced that not only were the winds stronger than he'd like, but engine problems could delay our departure for a day or two. Plans were made for zip-lining, cave-tubing and a visit to the Mayan ruins while the boat was being fixed.
The captain checked with Belize Aggressor III, also set to depart next day for a 10-day charter, and found two single female berths.
The crews transferred my and another passenger's luggage and, once the winds calmed a little the next day, we headed out to dive. IV would pick us up from III once the engine problems had been resolved.
Unfortunately for IV's passengers, that trip later had to be cancelled. Some guests went home; Aggressor arranged for others to dive with a land-based operation. So with my flight leaving before the 10-day charter ended, it arranged a small boat to take me and the other guest back to Belize City in time.
It was not ideal, but I was impressed that quick planning got me out diving – I'm only sorry it didn't work that way for all of IV's divers. Sometimes you just have to make the best of things – you can always go back later.
Even my flight out of Belize City was delayed, and time lost in long security queues made me miss yet another flight, so I was stuck overnight in Houston.
I hope I've exhausted my travel bad luck for a while!
The Blue Hole Dive
No dive-trip to Belize is complete without visiting the Blue Hole. This limestone cave was formed hundreds of thousands of years ago by the shifting of land and sea-level rise, and now it is 122m deep.
We did explore to 40m. Following our dive-guide from the shallow reef around the hole into the deep blue, I checked my computer while it still felt shallow and was surprised already to be at 28m.
Soon the first stalactites could be seen, hanging eerily in the water. We passed several, swimming in and around, taking in the massive structures and gazing up to the light blue of the surface and down to the darker blue beckoning us deeper.
This UNESCO World Heritage Site is a unique dive to be checked off every diver's bucket-list. It left me wanting to see what lies deeper.
Conclusion
Like most dive-trips, this one came to an end too quickly. I was sad to leave my new dive-buddies, the friendly crew and the spectacular diving in Belize.
Between lovely relaxing dives was endless amazing food and fantastic conversations that fluctuated between dive-computer recommendations, fish identification and: "Oh my goodness, where did you get those adorable Lycra socks with multicolored pineapples on them?"
With healthy reefs, lots or marine life and a beautiful boat for eating, sleeping and diving, I look forward to planning my next dive trip to Belize with Aggressor Fleet.
FACTFILE
GETTING THERE> Major airlines including United, American and Delta fly into Belize City. From the UK most travelers will connect through the USA.
DIVING & ACCOMMODATION> Belize Aggressor III, aggressor.
WHEN TO GO> Year round. Dry season is December through April with water temperatures around 25°C, air temperatures 24-26°C. Rainy season is June-November, with warmer water temps of 28°C, but this is also hurricane season.
MONEY> Belize dollar. US dollars and credit cards widely accepted.
HEALTH> Recompression chamber in San Pedro on Ambergris Cay.
PRICES> Seven-day charters start at $3095 including shared cabins, up to 27 dives, and all meals. $110 port fee.
VISITOR Information> travel belize