Where will you be diving this year?
Ten travel experts offer their predictions to STEVE WEINMAN
AS SOON AS WE START considering where our next dive trip should be, a formidable array of factors come into play. These usually start with your budget but go on to include how many trips you hope to fit in; where you've dived before; your qualifications; whether you like to notch up new experiences or prefer to revisit the tried and tested; whether it's wrecks or fish or caves or just photo-opportunities that tick your boxes; whether you like your water hot, cold or tepid, shallow, deep or standard; whether you'll have non-divers or trainees in tow; and, inevitably, Foreign Office terrorism/crime alerts, travel strike threats, school holidays and seasonal weather warnings.
Phew! With so much to take into account you might be tempted to forget the whole thing and head for your nearest inland site, only you probably won't.
So where to go?
To help concentrate your mind in January, the season of holiday-planning, we asked those people in a unique position to offer advice.
OK, UK dive-tour operators have their products to sell, but they base their portfolios on places that offer decent diving and facilities and which they think you'll like. After all, if their offerings disappoint, they can write off your return business, expect negative comments online and can forget about winning the 2018 DIVER Awards!
Ten tour operators agreed to share their thoughts on this year's golden destinations – existing winners they think will grow even stronger in 2018; locations promising outstanding value for money; and up-and-coming diving hotspots. Would any sort of pattern emerge?
STRONG & STRONGER
"The destination we've seen the most interest in for 2018 is the Red Sea!" says Angela Nordin of Scuba Travel. "Obviously it's had a tough couple of years, but there's still nowhere quite like it, that you can get to in only a few hours, and with such diverse or exciting diving.
"The sightings have been incredible throughout – you name it, our divers have seen it in 2017. The southern Red Sea has been especially rewarding, and we're thrilled that the airlines are finally starting to put more flights on.
"The new routes with Thomas Cook offer us more choice of UK departures into both Marsa Alam and Hurghada."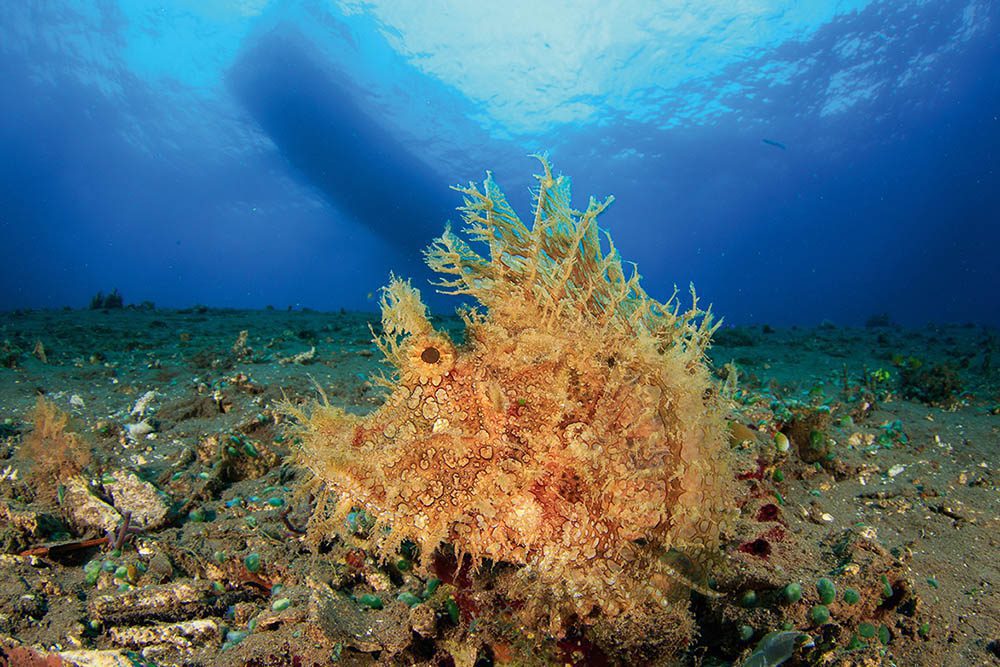 John Spencer-Ades of The Scuba Place adds an important word or five for what was once divers' principal entry-point to Egypt but remains the victim of a UK air-landing ban: "Let's get back to Sharm!"
But he is also a firm advocate of the Maldives, probably the most popular choice in this strong-and-stronger category: "The corals are fighting back, costs are down, and the choice of liveaboards has never been wider," he says.
"Over the past 12 months Regaldive has witnessed a surge in the popularity of liveaboards in the Maldives," reports that company's Kelly Pipes. "We expect demand to be maintained into 2018 and beyond.
"The beauty of the Maldives programme we offer is its flexibility, meaning that many guests combine a liveaboard with an island-based stay. The Maldives will be a key destination for our guests for many years to come."
Marcus Bull of Planet Dive concurs about the Maldives, and says the resorts offer something for any budget and any type of traveller. "The liveaboards are also starting to diversify," he says, "with unique experiences on offer including spa-and-dive combos and dedicated trips for families or freedivers.
"With weather-patterns changing, the Maldives is also becoming a year-round diving destination, with the big-hitters like mantas and whale sharks being seen for longer and more frequently. So even in the low season you can enjoy great diving at unbelievable value for money."
Phil North of Dive Worldwide suggests that Lanzarote in the Canary Islands will be a 2018 winner: "With the lustre of Egypt's Red Sea continuing to fade, Lanzarote is well-placed to stake its claim as the most popular short-haul destination, with year-round sunshine and excellent visibility," he says.
And even closer to home, Portugal is the unexpected tip from Paul Hughes of Hidden Depths Dive Tours, and his belief is down to the Algarve's Ocean Revival Project.
"It's now five years since four ships were sunk to make it the largest artificial reef in the world, and marine life is prolific," says Paul. "With Portugal being a safe destination, coupled with its proximity to the UK, it's perfect for weekend or longer trips.
"It's also perfect for non-diving partners and families, and word is spreading that it has a very good dive-centre."
Time to move really long-haul, and Truk Lagoon is the location of choice of blue o two's James Evans. "Truk is renowned for world-class wreck-diving, and with 61 wrecks tightly packed into a coral-reef lagoon, it's easy to appreciate why divers love to travel there," says James.
"Many of these incredible wrecks can be explored within recreational dive-limits and, with a fantastic array of marine life, Truk Lagoon is a truly unforgettable diving experience."
Truk Lagoon is also top of the list in this category for Marcelina Jesus of Ultimate Diving.
It's a wreck-diving destination likely to figure on any diver's bucket-list, she says, but also "getting more accessible in terms of travel and costs."
Kris McBride from Divequest backs remote Socorro and Guadalupe off the coast of Mexico as they continue to build their reputations for amazing big-animal encounters.
"Giant oceanic mantas compete with humpback whales and 10 shark species to be the highlight of Socorro, while the world's most famous shark steals the show at Guadalupe," says Kris (that's the great white, just saying!)
Among the tour operators we spoke to, Ben Stokes of Dive Safari Asia is the only one confined to a particular part of the world, albeit a huge part, and he offers some interesting observations about Indonesia.
"With so many different regions on offer, divers are increasingly considering Indonesia as a collective of unique destinations, each with its own attributes," he reckons.
"East Indonesia is currently leading the charge – the Banda Sea has recently had a great season for spotting hammerheads and big fish, with many liveaboards reporting excellent sightings from September to November.
"Alor is increasingly being recognised as a destination that offers muck-diving on a par with Lembeh Strait, and Triton Bay also boasts excellent chances of encounters with whale sharks.
"These relatively new destinations show that Indonesia is reinventing itself as a premier dive-destination ahead of typically popular destinations such as Wakatobi, Sulawesi and Raja Ampat."
VALUE FOR MONEY
Cost is of course a prime consideration for divers at a time when sterling has been on the slide, so what about the best value-for-money destinations in 2018?
We've heard that the Maldives is getting stronger but don't always hear about it in terms of bang for buck – though that's how James Evans sees it: "It's home to more than 700 species of fish, a huge range of shark species and the largest population of mantas anywhere in the world, and this abundance of marine life can be attributed to the ideal growing conditions the waters provide.
"The Maldives is consistently growing in tourist numbers and with tropical temperatures all year round and low prices, now's the time to visit."
Paul Hughes has sound reasons to recommend South Africa in terms of value: "There aren't many currencies that the pound has stayed strong with, but the rand is one of them," he says.
"Blessed with an amazing array of large pelagics from Cape Town to the Mozambique border, and numerous land-based activities, there can't be a better time to visit."
Out in the Indian Ocean, Mauritius beckons for Marcus Bull, who describes it as an "unexpected delight". Again, it's not traditionally associated with affordability, but he insists that "compared to other island destinations, Mauritius hotels offer an all-inclusive resort feeling that's hard to beat, and the price-tag is more affordable than you might think for a destination of this quality.
"Most of the resorts we work with have on-site dive-centres and also offer a whole host of all-inclusive activities – you hardly have to fork out a cent while you're on holiday."
Tempted? John Spencer-Ades is looking east. "Anda in the Philippines – the cost per dive here is unbeatable!" he declares, with a level of enthusiasm that demands exclamation marks.
"Five to six dives a day, every day, so that's 10 days from £2250 all-in for up to 50 dives! And it's awesome diving, too!"
Marcelina Jesus agrees on the Philippines but it's the tiny island of Malapascua that's takes her fancy: "It's an alternative destination for those on a tighter budget, yet offering great diving opportunities, including the thresher sharks, reefs and macro."
Angela Nordin is with Marcelina on that one: "There are two destinations that offer real bang for your buck – Malapascua for shark- and reef-divers, while critter-divers should make a beeline for Bali."
For Ben Stokes, too, it's Bali that "still represents great value for money, and following the scares from Mount Agung [the northern coastal volcano that threatened to erupt in October] many resorts are offering great discounts to entice people back to the island".
The Far East does loom large in terms of money well-spent among the tour-operators. "A visit to Manado in Indonesia offers a great-value twin-centre holiday," suggests Kris McBride.
"Combine the reefs of Bunaken and the critters of Lembeh for two very different types of diving with economical accommodation and no additional flights. Short transit times mean you don't waste any diving days when you move resorts."
Only one of our experts suggested heading west to stretch your pound, with Mexico favoured for "sensational" value by Phil North, thanks to "superbly priced all-inclusive resorts on the doorstep of great dive-sites, whether that's at Cozumel or on the Yucatan Peninsula, plus a range of self-catering options".
Of course, Egypt still represents outstanding value for money, the more so as tourists in general stay away – even if UK divers are going back. "Regaldive saw many guests returning to the Red Sea in 2017," says Kelly Pipes.
"Both land-based holidays and liveaboards were extremely popular, and we expect this trend to continue in 2018. In fact requests for Red Sea liveaboards have been so high that desired dates have often been unavailable.
"With the introduction of new flights to Marsa Alam, we expect both our liveaboards and land-based options in the southern Red Sea at Hamata and Port Ghalib to be a big hit in 2018."
Divers out on liveaboards can only assist the struggling Egyptian economy so much – but it all helps.
HOTTEST TIPS
So what is the outside-track hot tip for 2018? Nobody was arguing for anywhere that close to home.
"People are always looking for the next 'new' place and Papua New Guinea might be the one," argues Paul Hughes. "Australians have been visiting for years and have done a pretty good job of keeping it quiet from us Poms.
"It pretty much has it all, from the big stuff to the small stuff, and wrecks too. It's a paradise for underwater photographers and is well worth the long trip."
Out in the far Pacific lies Tonga, talked up by Marcelina Jesus, and it's the big surface attractions she has in mind:
"This is the place to go in 2018 for the humpback whales – it's one of the places in the world where you'll still find plenty of them in their natural habitat."
And, of course, you can join the humpbacks in the water in Tonga.
Regaldive is expecting the liveaboard trips it is now offering to premium eastern Pacific destinations Cocos Island and Guadalupe to be extremely popular in 2018, says Kelly Pipes, while Kris McBride of Divequest has the Pacific in his sights too, with what must be one of the most sought-after destinations in the world: "Regular liveaboard trips to Bikini Atoll will start in 2018, allowing regular access to these world-famous wrecks for the first time in years."
Kris also has a suggestion that might be described as gorging for wreckies: "How about combining Bikini with a trip to Truk Lagoon in time for the 75th anniversary of Operation Hailstone in 2019?"
"The forgotten paradise of the Solomon Islands offers incredible pristine diving," says James Evans of another Pacific destination. "Commercial fishing has been banned there for more than 20 years, allowing the marine life to flourish and reefs to thrive. Divers can enjoy potential sightings of schooling pelagics along with amazing macro life."
The Solomons experienced fierce fighting during WW2, including the famous battle of Guadalcanal, leaving a huge number of wrecks. Liveaboarding is now a realistic option: "We expect this destination to become a firm favourite with divers in 2018," says James.
Like Bikini, St Helena in the South Atlantic has been off the radar for years, the previous lack of an airport making trips there measurable in weeks rather than hours. Now, however, it is suddenly accessible to divers, if more of an unknown quantity (though we hear that whale sharks are regular visitors).
"With the long-awaited completion of the island's airport, this remote place is set to be 2018's hot destination," insists Phil North. Now that's nailing your colours to the mast!
Alor in far-eastern Indonesia seems familiar by comparison, but for Ben Stokes there are few "new" destinations that can compete: "The diving mix includes some of the richest and most pristine reefs found anywhere in Asia, set right alongside black-sand muck-diving offering an abundance of critters," he says.
"Here you effectively have two destinations in one. All this is topped off with the chance of big-fish encounters, including mola mola and hammerheads."
Marcus Bull went for South Africa in the value category and he shifts his focus just a little further north for his off-the-wall tip. "With idyllic beaches, amazing luxury hotels and remote undiscovered islands, Mozambique is a diver's dream come true," he says.
"It's perfect for the well-travelled diver looking for a relaxing, luxury escape in remote, uncrowded waters." Combining a diving holiday with a land safari is a practical possibility with this destination.
A little closer to home "we're quite excited about the Azores at the moment," says Angela Nordin. "Brits haven't really started diving there, but it's a real gem.
"It's easy to get to with short flights, and the walls are packed with fish. We love the vibrant marine life and the variety is impressive. But for sure, the star of the show there are the blue shark dives. What an adrenalin rush, and beautiful sharks to dive with!"
We'll leave the last hot tip to John Spencer-Ades, who has been impressed by the British West Indies island of Nevis: "Beautiful island, beautiful diving and, as yet, untapped! Reputed to be the very best diving in the Caribbean, with an A-list scene above the surface."
It's a bold claim, but as we said, tour operators make the journeys, do the dives, make their decisions on your behalf and have to live up to their promises. Pattern? Not really. Decided yet?
CONTACTS