UK DIVER
Tempted by
Temperate Seas
Locked down in Spain, WILL APPLEYARD shared dreams of UK diving through social media. So where will your first post-pandemic dive be?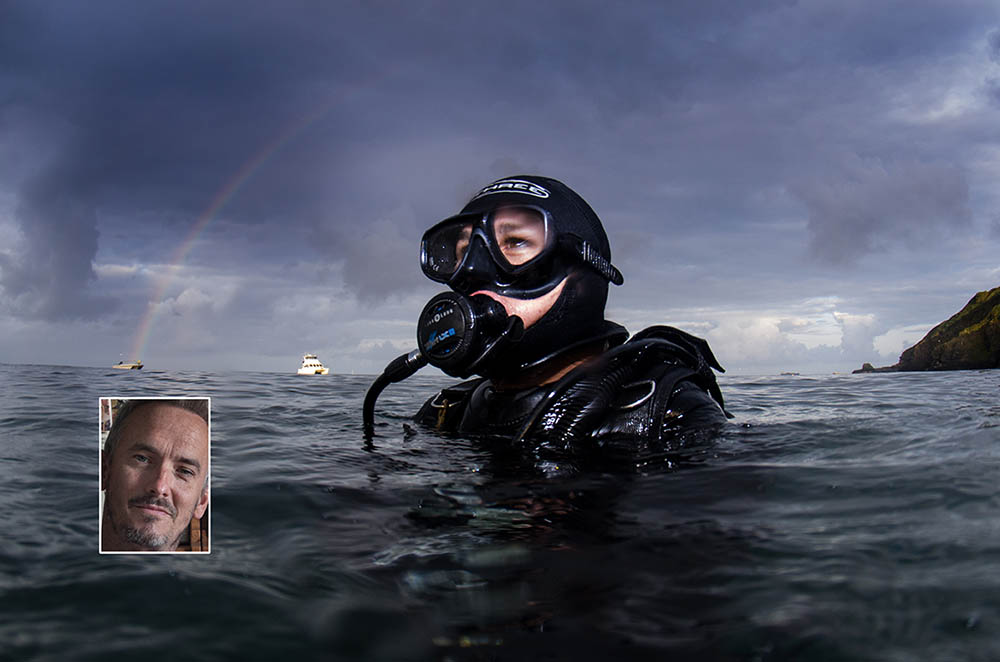 An afternoon shore-dive, complete with rainbow. Inset: Will Appleyard
Appeared in DIVER July 2020
Heading way up north, accomplished underwater photographer and friend Jason Brown pinged me a note to tell me about his favourite places to dive among the scuttled WW1 German fleet at Scapa Flow, in the Orkney Islands.
Jason, dripping with diving qualifications, told me: "For any photographer with a lust for rust, Scapa Flow is hard to beat – where else in the UK can you dive the remains of once-mighty WW1-era battleships bristling with weapons of war?
"While the battleships draw all the attention, I prefer the smaller cruisers. They might lack the big guns of the capital ships but they make for far better dives and – dare I say it – better photographic subjects. They landed on the seabed the right way up, so a lot more of their superstructure is on show.
"The battleships 'turned turtle' and rolled over when they sank, hiding most of the interesting stuff. The cruisers also benefit from having sunk in shallower water, which means nice long dives even without the benefit of nitrox!
"If I had to pin down which single Scapa wreck is my favourite, it would be the SMS Coln. It lies in just 22m at its shallowest point and is still surprisingly intact. What makes it special are its cavernous swim-throughs – there's nothing quite as thrilling as swimming through the lower decks of a WW1-era warship!"
I  met Ali Worsley while camped on the beach at Porthkerris in Cornwall a couple of summers ago. Her enviable lockdown location was in the French Alps and we conversed online about her time diving at St Abbs on the UK's east coast, near the Scottish border. I'm ashamed to say that I still haven't been diving there, but Ali has convinced me to go this summer.
"Diving in St Abbs should be compulsory," she says. "It might be far north if you're a southerner but it's well worth the trip. If you stay in the village it's easy diving, a five-minute stroll at most to the harbour wall for loading.
"Many of the dive-sites are a stone's throw away, so if it's choppy you can easily bear it – plus the sites tuck into inlets, so there is shelter. Despite being close they're quite varied; walls, huge granite boulders, knife-edge rock lines to follow and sandy beds.
"The marine life is awesome – lots of squidgy stuff, and a good amount and variety of fish. Lobsters, squat lobsters and crabs are in abundance – you could almost get bored of them!
"The real highlight if you're lucky is to spot a wolf-fish. Drop below 20m, nose into every nook and cranny and you could be in for a treat!"
Diving at St Abbs really is a rite of passage for UK divers, which is why it has been bumped up my list.
Further south-east, my friend Alex Gibson told me about one of his first UK diving trips to the Farne Islands with Billy Shiel's Boat Trips from Seahouses.
"I remember it well; it was my first underwater encounter with seals," he said. "Although that was brief it was truly exciting seeing large, fast, agile animals in our own waters. I immediately wanted more.
"I also remember being pleasantly surprised by the amount of colour all over the rocks – yellow, pink, orange, green, purple and more. A lot of that algal, spongiform, bryozoan and seaweed growth is easy to dismiss because it doesn't stand too high or form interesting structures (as coral does), but without it there would be a lot of grey and in the right light I think it's beautiful."
So social media finally seemed to hold some real significance for me during this time of confinement.
Besides its normal function of showing off our enviably adventurous moments and our best photographic work, at this point I think it was able to bring divers together in a positive way.
And, although we can't wait to start travelling to the ends of the Earth once again in search of that road less travelled, remote places and pristine seas, perhaps consider that real adventure is often hiding in plain sight, and closer to home than we might think.
Find them on Instagram or YouTube:
After selling the joys of UK diving to any doubters out there – now, with UK diving the only practical possibility for many of us, WILL APPLEYARD gets practical –

click here to see how

.