archive – WrecksThe Million-Dollar Dive
Titanic's bigger sister-ship Britannic sank off Greece in November 1916. Now, 100 years on, the iconic wreck has seen the arrival of a new breed of human interaction in terms of diving technology – resulting in what Leigh Bishop believes could be the greatest-ever wreck-dive!
Photography by Leigh, Rich Stevenson and Richie Kohler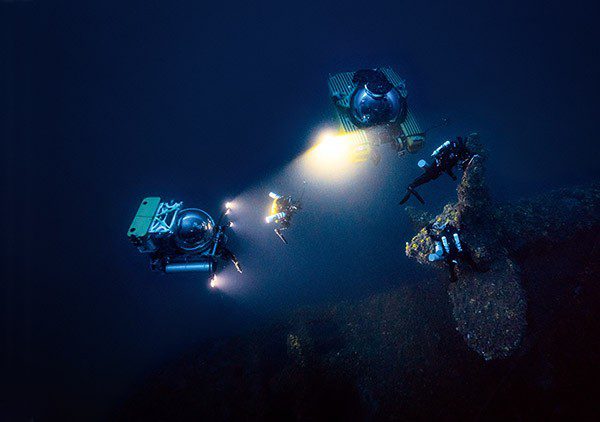 HMHS Britannic
The White Star Line sister-ship of RMS Olympic and RMS Titanic was built as a transatlantic passenger liner and launched just before the start of WW1, but entered service as a hospital ship in 1915. She struck a mine off the Greek island of Kea on 21 November, 1916, and sank an hour later, WW1's largest casualty. All but 30 of the 1065 people aboard were rescued.
I DIDN'T KNOW IT THEN, but I was about to experience the best dive of my life. A dive to a leviathan of a shipwreck, one that would become Mount Everest for technical divers. The Britannic is, after all, the largest ocean-liner on the seabed!
Words can't describe the dive I had that day. The wreck was breathtakingly massive, a replica of its sister-ship Titanic only bigger, and completely intact. In 50m of blessed visibility, it was a wreck-diver's fantasy fulfilled to the maximum.
I had circumnavigated the entire wreck riding an Aquazepp DPV and breathing mixed gas from huge twin 20-litre cylinders strapped to my back.
I had cruised along the open and covered promenade decks, under huge lifeboat davits silhouetted above against the midday sun, and along the seabed debris-field between funnels and masts, to a maximum depth of 120m.
My return from the stern took me alongside the ornate teak and brass windows of stately rooms like those in the veranda café, designed for the Edwardian aristocracy. Often I'd pause to peer through a window into what was perhaps once a first-class cabin, or one of the parlour suites on decks B and C.
I had cruised through open doorways, penetrating into voids of darkness deep inside the wreck.
My powerful (for the time) DPV light illuminated internal rooms such as the first-class lounge, smoking room and the remains of the gymnasium. I'd even dropped onto what was once the grand staircase, its darkness beckoning me deeper into the bowels of the wreck.
That dive happened back in the 1990s.The best part of two decades would pass until, in 2016, another dive would come close to that one. I had never expected it to be surpassed.
THAT EARLY DIVE ON Britannic had been with the notorious British deep wreck-diving team known as Starfish Enterprise. Led by Nick Hope, that one expedition alone had made 78 manned dives to the wreck, more than Cousteau's Greek Odyssey expedition had carried out when it was discovered in the 1970s.
In the following years, Britannic became part of my life. I would eventually be the veteran of five expeditions and the wreck introduced me to new friends, including one I would eventually lose to the wreck itself.
Some of those friends succumbed to the challenge of the wreck's mysteries and took their own Britannic path of adventure, set out for them deep inside the boiler- and engine-rooms.
I was on the 2003 expedition, regarded by many, including the wreck's owner Simon Mills, as the most successful of all.
British diver Rich Stevenson had penetrated deep into the boiler-rooms and filmed the bulkhead watertight doors wide open, proving the old explanation of why Britannic counterintuitively sank so much faster than Titanic. With each watertight bulkhead open to flood water, it was only a matter of time.
Fellow-Brit Bill Smith discovered the minefield laid by the Germans, to put to rest any argument about why Britannic sank. He even found the mine, detonated but still attached to its anchoring chain.
My best friend Carl Spencer led that expedition. Together we had shared a vision of Britannic exploration, a fantasy stretching into the future of diving. I had dived the wreck long before Carl made his first swim along the decks. It wasn't until he attended one of my presentations of that '90s expedition that he became fascinated by it.
In 2009 we put together a National Geographic expedition that also carried the Explorers Club flag. It was the most ambitious diving project of its time, for an elite team to explore deep inside the wreck and make a two-hour scientific documentary to kick-start a season of expedition programming, including a live broadcast from the Titanic site.
Rich Stevenson once again penetrated the boiler-room, taking well-known US diver Richie Kohler with him. I was taking stills inside the wreck, but in the Marconi radio-room Carl had developed a problem with his rebreather. Bailing-out to open circuit, he made for the surface, but as his gas reserves ran low, a switch to an incorrect breathing mixture resulted in a fatal oxygen-toxicity hit.
I knew that Carl had aborted the dive, but it was only after more than six hours of deco that I learnt of his death.
Kohler told me the news, which would greatly affect my personal feelings about deep diving in the ensuing years.
Now it's Britannic's centenary year, and we were delighted when news came through that permits would be granted to allow continued exploration.
OF COURSE, IT WAS NEVER the intention that any of the great turn-of-the-century ocean-liners should end up on the deep-ocean seabed. These were the largest machines constructed at the time, and their creators could hardly have envisaged their ships encountering underwater machines of the future a century later.
I had seen the technology develop over the years, but nothing quite prepared me for this 2016 expedition. Kohler, US underwater cameraman Evan Kovacs and the Russian U-Boat Group were about to take deep wreck-diving to an entirely different level.
Free-swimming technical divers would work alongside deep-working submersibles and ROVs to accomplish their tasks, all of which would be filmed for a BBC TV documentary and a big- budget Russian-made movie to be distributed globally. British technical diver Andy Torbet would join the team, making his first dive to Britannic as the presenter of the BBC show.
Since the loss of my close friend, however, I remained concerned about my mental ability to undertake dives at these depths again. But Kohler, a great friend for many years, had factored in an impeccable safety plan.
Diver safety support would focus around a commercial wet diving-bell, a first in mainstream technical diving. Safety procedures were further detailed in a 70-page standard operating procedure (SOP) document that had evolved from previous expeditions from as far back as the 1990s.
There would be only four divers in the water on any one dive-day, each using their own preference in closed-circuit technology but with a diluent team choice of 9/73 trimix.
An emergency bail-out profile would be based on a carried three-gas protocol: 13/60 trimix, 20/30 trimix and 100% O2. All other gas would be in the diving-bell, the main point of bail-out at depth.
The surface vessel would maintain a three-point mooring position to keep the bell on station. In the event of a lost mooring or a drastic shift in weather conditions during the 40-45min bottom phase, the bell might shift out of sight of the returning divers, in which case ROVs and submersibles would be used to maintain contact with them.
The submersible pilots would direct them to an off-station diving-bell in midwater, out of sight from the wreck.
The bell would become key to the safety protocols. Each exploration diver would need to understand PO2 and venting, verbal and light comms, buoyancy adjustments, emergency (on-board and surface-supplied) OC gas, bell-master responsibility and an unconscious diver scenario.
Any diver ascending into the open bell at depth had to confirm that the PO2 was within acceptable range before removing his loop and breathing in the atmosphere of the bell.
At the bell's maximum depth, on top of the wreck's hull at about 90m, the atmosphere inside would be hyperoxic, with a PO2 in excess of 2.0!
WHILE THE VENT GAS was air, the PO2 in the bell could be dropped by venting bail-out gas into it or having bottom gas pumped down from topside. With time spent in the bell, exhaled gas from a diver's loop would require a venting phase to prevent changes in buoyancy.
Venting gas and changing buoyancy characteristics were also vital if the topside conditions changed. In rough seas, adjusting the buoyancy took the hard recoil out of the bell if the cables started bouncing.
Using a bell was a new approach to a mainstream mixed-gas project for any of us technical divers. A diver with CNS or air embolism, a convulsing diver, an unconscious diver, either breathing or not – every possibility was factored into the safety element of each dive.
Protocols extended from separated-diver to no-gas scenarios. Basically put, all a diver had to do in an emergency was to swim back to the bell located just on top of the wreck. It was loaded with built-in cylinders, each pumped with the gases required for the dive. Each one had multiple long hoses adapted to specially made Apeks regulators.
Additional portable bail-outs of both deep and intermediate mixes were also fixed into position in the event of an off-board CCR supply if needed.
Because of the very strong surface currents that can occur over the Britannic site, decompression gradient model safety factors were also taken into consideration. The plan was to complete as much deco as possible at depth, where the currents would be felt less.
Run-times were capped at 40-45min, with scrubber duration taken into consideration. Gone were the days of my youth when I was happy to push up to an hour's bottom time on Britannic and suffer the long hours of arduous ocean decompression.
All diving operations were supported by the watchful eye of "Big Brother", the ROV control centre topside, backed up by $6.5m of submersible technology.
And should anyone get lost on the wreck, the submersible pilots could hold up a directional sign with one hand while continuing to eat their sandwiches with the other!
The technology would allow divers to get on with the filming required while the submersible extended the hours of investigation and photography.
Such preparations served to restore my confidence and overcome my fears – so much so that the last dive of the expedition would turn into something very special, an event I later dubbed "The Million-Dollar Dive"!
THREE DIVERS, great friends who had all shared many Britannic adventures over the years, joined me to relive my great dive of the '90s. With Italian Edoardo Pavia, American Michael C Barnette and Rich Stevenson, we conducted a complete tour around this massive wreck on a single dive.
My lithium-powered Suex scooter propelled me alongside the others as I once again cruised the decks of the liner. That and the heliox mixture breathed through my Inspiration rebreather helped me to gain a spectacular new perspective of Britannic.
Watching from the comfort of the best seat in the house, Kohler followed in the Triton 3300/3 submersible alongside pilot Dmitry Tomashov,
While Russian cinematographer Sergey Machilskiy caught every frame of that amazing dive on his Red Epic 5K camera for the big movie screens.
Dmitry's father Evgeny skilfully manoeuvred his own specially built one-man minimal-displacement submersible into positions from which to highlight locations such as the propellers and bow, making them look like something from a Hollywood set.
The ROV filmed everything from the rear as those topside watched in awe! The technology on that single dive alone ran into millions of dollars, and every new angle on that 100-year-old wreck took my breath away.
The interaction between the cutting-edge technology of then and now felt like witnessing the moment when man invented electricity!
And the five hours-plus of deco to follow was carried out in the luxury of the diving-bell and everything that came with it – chocolate, sushi, assorted Haribo sweets and, courtesy of Evan Kovacs topside, piped music!
Greatest wreck dive ever? I would suggest that it was. Circumnavigating Britannic in its centenary year with all that technology had finally surpassed my memorable 1990s dive.
It had felt like science-fiction diving, I said to Kohler as he climbed from the submersible's hatch hours later, but he disagreed with my description: "Science fiction – no! I think you'll find, Leigh, that from where I sat watching, that dive you just made was science fact! "
Appeared in DIVER November 2016