MEXICO DIVER
500% More Fish
Is this the most successful marine park ever? The stats are astonishing, and the reality of diving at Cabo Pulmo is even better, says HENLEY SPIERS
WHEN OUR DIVE GUIDE, Alex, had said that the school of jack was so big that you could smell it from the surface, I thought it was just flamboyant, diver hyperbole. But as we approached the site, the unmistakable oily whiff of fish started to hit my nostrils…
I was in Cabo Pulmo, in the Baja California Sur peninsula of Mexico, and could barely contain my excitement as we prepared for our first dive.
Cabo Pulmo is home to one of the most successful marine parks in the world, and an area widely mentioned in diving vernacular. Despite this, I was very happy to find that it still had a decidedly undiscovered feel to it.
Landing in San Jose del Cabo, I hired a car (unable to resist the Jeep upgrade option) and took a spectacular two-hour drive through a mountainous, desert landscape, the sea coming in and out of sight as the road wound around the coastline.
The flight had been tortuously long, but I was now experiencing that elation that comes with arrival in an exciting new dive-spot. Taking a right turn off the main road, the last half-hour was spent driving along a bumpy, dirt road.
I couldn't quite believe that Cabo Pulmo, a place about which I had heard so much, still existed within such humble, mass-tourism-free surroundings.
CABO PULMO is a village community that relied on fishing until, in the early 1990s, the population realised that their waters had been totally overfished.
It was then that one of the biggest families, the Castros, convinced the community that they had to protect their bay. In 1995 they successfully campaigned for the government to establish the Cabo Pulmo National Park.
Initially, 35% of the park area was designated as no-take zones, but this was later expanded to allow zero tolerance of fishing throughout the park.
The results, in only a decade or two, have been astounding. By 2009 every group of fish, from the smallest to the biggest, had returned, and the overall fish biomass had increased by 463%!
By this measure it's the most successful marine park ever established, a beacon of hope in an ocean that needs our help.
For my first dive, they asked where I wanted to go, and the huge school of jack was the obvious answer.
I put on my mask, and the smell of the fish disappeared, soon replaced with the sight of the largest accumulation of fish I had ever seen as we back-rolled in.
I've swum among schooling jack before, but this was different. Even in 20m visibility, the wall of fish was so big that you couldn't see the start or the end of it.
Down on the sand at 20m, I found myself with a ceiling of jack, stretching all the way to the surface.
Just 10 minutes from shore, and we were engulfed in big-eyed jack in what has to be one of the wonders of the underwater world! Even better, with strict limits on number of divers per site, and a dive-site booking system in place with the park rangers, we had the experience all to ourselves for the next 45 minutes.
MEXICO HAS LONG BEEN on my diving bucket-list and, now that I was here, it was rapidly meeting my high expectations, and that's not just the mezcal talking! I would soon find out that Cabo Pulmo had a lot more than massed jack on the menu.
The oldest living coral reef in North America is located there, one of only three in existence. Four enormous, mineral fingers reach out to sea and create an interesting geological seascape. These fingers are the foundation of the reef, and, although it doesn't have the vivid colours we tend to associate with coral reefs, it is home to a great deal of life.
Hundreds of small seafans dot the rock face, swaying with the rhythm of the sea. Every nook, cranny and overhang is a home to fish, corals, and creatures.
Peer inside and you'll find a blunthead triggerfish taking a breather or, my personal favourite, the guinea-fowl puffer, using its dark, white-spotted body to hide in the shadows.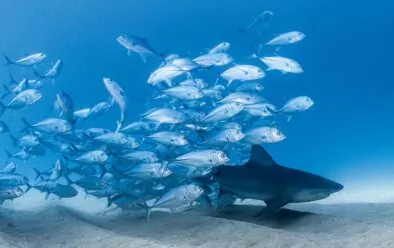 Throw a bit of strobe light onto the seascape and the colours come back, revealing a distinctive palette of pink, purple, orange, and yellow hues. As an underwater photographer, I was delighted to find that the fish were both abundant and very comfortable in the presence of divers. You could approach to within inches and they would happily pose.
The jack school made the marine park famous, but on each reef-dive we would pass swathe after swathe of small fish shoals. Resembling one of Picasso's cubist artworks, the burro, or Panamic porkfish, have vivid yellow bodies, sloping stripy faces and form tight packs.
They are found on almost every dive, but I couldn't resist taking pictures at every opportunity, their colours contrasting perfectly against the blue water.
I WAS STAYING AT Cabo Pulmo Beach Resort, recommended as the best place in town by some Mexican friends. The rooms here range from basic to large, beach-side villas.
I was in a basic room, which provided all I needed as a solo traveller, but was already daydreaming of a return trip with the family in one of the villas.
The dive programme allows for up to four dives a day, with two in the morning and two in the afternoon. The dive-boats are launched by tractor, and you stay out on the ocean during the surface intervals.
The sea was pretty calm during my visit, so the launches were easy. The boats are fairly small and do rock a lot in even a modest swell, so bring the tablets if you're vulnerable to motion sickness.
According to park rules, the maximum ratio is six divers to one guide, so the dive-groups are always nice and intimate. The dives are almost all around the 20-25m mark, without the possibility of working your way up a gently sloping reef.
The rules dictate a maximum dive-time of 50 minutes and, at those depths on a single cylinder, you find that either air supply or no-stop time dictate an ascent around 45 minutes anyway.
I was surprised to find nitrox unavailable at any of the Cabo Pulmo dive resorts, particularly with lots of repetitive dives in the 20m range, and hope to see a change there in the future.
Although it was my first time in Mexico, I have long admired the food and was feasting on fajitas, quesadillas, and burritos between dives.
Smartly, the restaurant staff take your lunch order at breakfast, so there's no messing around when you get back from the morning dives (which regular readers will know is a bugbear of mine).
The dive-staff were very friendly and quickly make you feel part of the family, even over a short stay.
BULL SHARKS ARE AMONG the residents of the Cabo Pulmo reef and I had been thrilled to get my first-ever encounters with these stocky predators on our first day out. However, unlike the reef fish, the sharks were remaining just out of photographic range and, as they say, if you don't have a photo, it didn't happen!
So, keen to get definitive proof of these shark sightings, I asked Alex to do his best shark-summoning act. He took our group to Esperanza dive site and we hovered over the sand at 25m. Soon enough, the silhouette of a bull shark emerged from the distance and made its way towards us.
I tried to remain calm and low to the ground, and time my breathing to avoid bubble-spewing as it came close… click…now I certainly had proof, although more of an ID shot (a mostly derogatory term among underwater photographers) than anything award-winning.
Our group spread out a little to expand our visual reach, and we waited for the bull shark to loop around again. It kindly obliged, and the excitement among our group was almost palpable.
As we continued to scour the horizon for action, a shoal of jack came into view, not quite as big as the school but a good size nonetheless. I dared to dream for a moment that these two subjects, shark and schooling fish, would come together, and to my incredulous delight the bull shark came back round and was swiftly engulfed by the jack!
It was an incredible sight, as the shark impassively cruised along the sand with an army of fish surrounding it. The shark showed no sign of aggression towards them and, actually, the big-eyed jack seemed to be actively rubbing themselves against its body. I would later learn that the rough sharkskin is a perfect scratching pole for ridding themselves of parasites.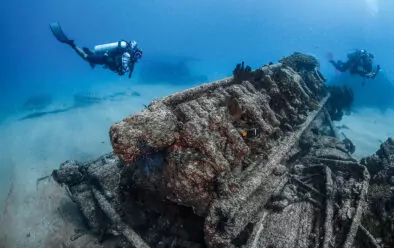 The bull sharks are also commonly sighted at El Vencedor, the only wreck-dive in the bay. The repopulation of the reef with sharks, rays and large grouper is the most noticeable difference compared to other dive-spots, and it is such a pleasure to swim around under water knowing that, at any moment, you might encounter one of these kings of the reef.
Funny to think that it's actually the way the oceans should be, and we have become oddly accustomed to reefs on which sharks are an unusual sight.
El Vencedor was a large tuna-fishing trawler that sank in the 1980s after hitting the reef. Today it's one of the most popular dives in the area. In only 12m of water, it's a hotbed for marine life and its parts are strewn all over the seabed, as if thrown by an underwater giant.
The propeller peers out from a mound of old fishing-nets, and its impressive engine stretches along the sand.
As we explored the site, bull sharks would come in and out of view in the distance, keeping us company as we explored the ship's remains.
AMID ALLL THIS GREAT DIVING, the jack school remained enormously compelling, and we would return to it daily. On each occasion, the fish's behaviour and conditions varied slightly.
On one day we found the whole school close to the bottom, rubbing themselves against the sand – the same kind of fish spa treatment we had seen them perform with the bull shark.
Over time, I started to notice more of the other marine life that would either accompany or visit the school. Pufferfish are frequently found, seemingly using it as a protective shield.
Yellowfin surgeonfish, sporting a yellow band across the face that gives them the appearance of highway robbers, pulsated their pectoral fans frantically to keep up.
On rare occasions a turtle would show up too, bringing added fun to the action before moving on.
Considered a delicacy, turtles were once a part of the diet at Cabo Pulmo. Today, they are protected and yet another marine-park success story.
Cabo Pulmo left me inspired for the marine life, but also the will, determination, and foresight of this small community, numbering only just over 100 people. It's easy to see that things are working better for everyone now, but 25 years ago Cabo Pulmo's population took a decision that threatened their very livelihood, in the hope that one day it would pay off.
It's hard to overstate how brave and rare that is, and wonderful to see how well the gamble succeeded, both for the environment and the local people. This tiny Mexican town is now world-famous, and a beacon of inspiration to coastal communities all over.
I loved Cabo Pulmo: for the diving, for the sense of discovery, for the friendly welcome, and for the heart-warming conservation story. I will definitely be coming back, and hope we can see more "Cabo Pulmos" in the world in 2019 and beyond.
FACTFILE
GETTING THERE> BA flies from London to San Jose Del Cabo via a US stop, and TUI is set to introduce direct flights from London to Los Cabos from this November.
DIVING & ACCOMMODATION> Cabo Pulmo Beach Resort, cabopulmo.com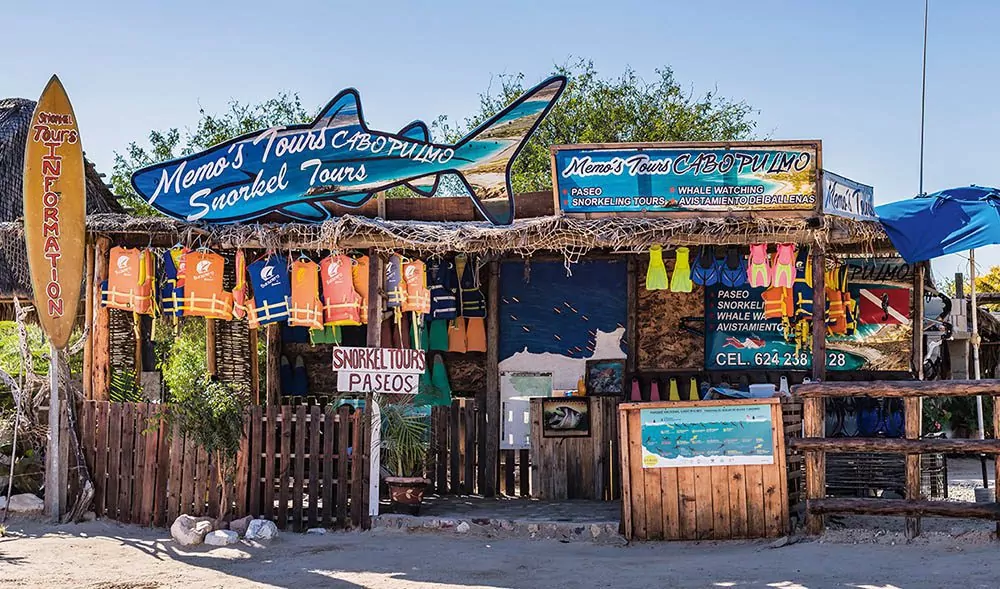 WHEN TO GO> High season is mid-September to mid-December, with October and November especially popular as these months offer the best visibility and warmest water (26°C). Windy season follows and water temperatures can drop to 16°C. Visibility reduces drastically as plankton and algal blooms occur but whale season starts, and far more nudibranchs and other macro creatures are visible. May and June is the time for large schools of mobula rays.
HEALTH> Nearest hyperbaric chamber is in Cabo San Lucas.
MONEY> Mexican peso.
PRICES> BA return flight from under £500. A three-night full-board stay at the resort during high season, including two dives a day, costs US $700pp.
VISITOR Information> visitmexico.com, visitloscabos.travel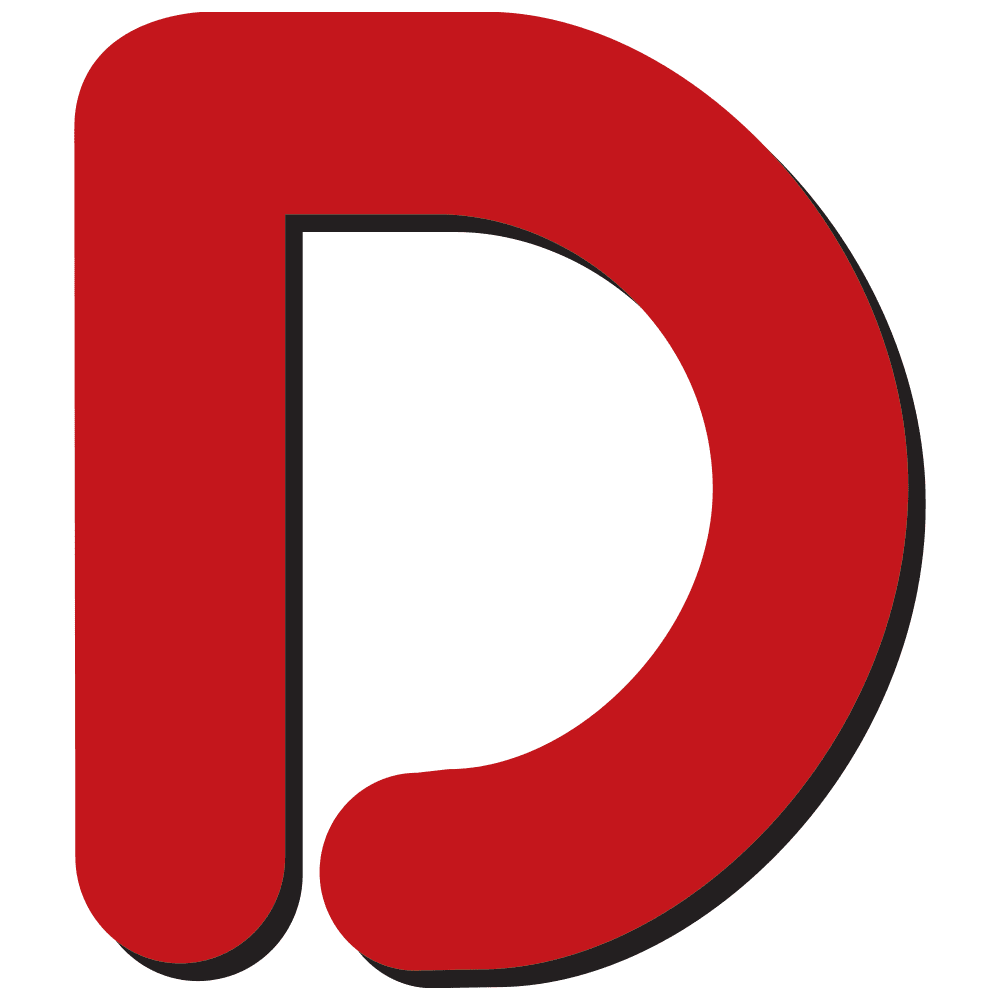 One of the world's longest-established diving websites, Divernet contains a wealth of information about diving destinations, equipment, techniques and much more, as well as daily news updates from around the world.