PHOTO DIVER
Imagine Messi Teaching You To Play Football
Not all 'pro' photo workshops are the same – on some you just pay and hope. But what's it like learning to get the best from your camera under water from a recognised master? HENLEY SPIERS studies at the school of Mustard
I'M PRONE TO DAYDREAMING, and sometimes imagine what it would be like if underwater photography was a globally recognised activity with the same kind of following as football. Billions of people would be familiar with the top underwater photographers, and the announcement of big competition results would be televised.
This popularity would of course bring commercial benefits too, and the likes of Tony Wu and Paul Nicklen would be earning £200k a week.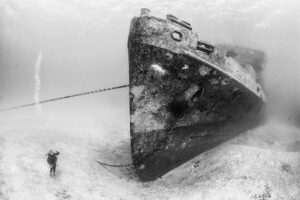 Sadly, this is far from reality. Underwater photography is very much a niche activity in which the celebrity of the top "players" doesn't extend too far outside a small community of insiders – at least they don't have to worry about the paparazzi!
Now I bring this up because one of the benefits of underwater photography being a niche activity is that as a fan it's easier to get access to the top dogs.
As a budding image-maker, you can quite easily sign up for a workshop with the Lionel Messi of the underwater photography scene.
For me, the Ballon D'Or of underwater photography goes to Alex Mustard. In fact, as both the best player and coach I guess he's kind of like Lionel Messi and Pep Guardiola rolled into one.
Back in 2016, I decided to get serious about underwater photography and duly signed up for two of Dr Mustard's workshops. I figured it was an investment in my education; the closest you can get to doing a degree in underwater photography.
I'd signed up for a Red Sea trip, headlined by the possibility of seeing oceanic whitetip sharks, and one on Grand Cayman that was advertised as being a solid grounding in using light under water.
The Egypt trip came first. I packed my dive- and camera-gear and rocked up at the airport, feeling a mixture of excitement and nerves. I'd never met Alex Mustard before and was a little in awe of him during our first encounter.
I soon came to realise that while he is a seriously impressive photographer and teacher, he's also just a nice guy who likes to have a few laughs along the way, and you needn't be intimidated. His enthusiasm for underwater photography is infectious, and it was great to see that even after 30 years of shooting he is still the first one in the water and the last out.
It quickly became apparent that most of the other 15 divers on the trip were regulars. These workshops are sold out almost as soon as they're announced, and Alex has clearly built up a loyal following of divers who seem to do a lot of their trips under his guidance.
The regulars are of course familiar with how it all works, as well as with each other, so as a newbie you may feel a little behind the curve at first – I certainly did.
That's not to say that they weren't friendly. Indeed, a few beers with the group on the first night made for a slightly uncomfortable sail across rough seas the next day!
Appeared in DIVER May 2018
IT'S WORTH POINTING OUT that, unlike the formal dive-training with which most of us are familiar, Alex does not follow you around and teach under water.
The set-up is as follows: pre-dive, Alex briefs us on photographic opportunities and techniques relevant to the site. We then go for multiple dives and capture some images.
In the evening, Alex will give another presentation and then conduct an image-review session. It will be announced earlier in the day that everyone is allowed to enter one or two photos, and he needs them by such and such a time.
Officially there is no competition, and the idea is that we all learn from the critique of, not just our own photos, but those of the rest of the group too.
I really enjoyed this concept and learnt enormously from it. To have your image come up on screen and then hear the immediate reaction and feedback from one of the top wildlife photographers in the world is fantastically valuable.
Some people get a bit shy at this point, and don't enter their photos to the review. To me this seems a shame, because it is one the very things you've paid for.
Don't worry, he doesn't crucify any images – it's very much about  looking for the positive and displaying what improvements can be made.
You can edit your shot or not for submission, and one of the most valuable things I gained was watching Alex at work on Lightroom and Photoshop. Essentially, your image comes up, he reacts and then starts re-editing it – watch those sliders closely and your editing process will be much improved by the end of the trip.
A word on the competitive aspect. Alex does as much as he can to make it a friendly exchange of ideas but hey, you can't hold back human nature. I hold my hand up to feeling like the image review, at least at first, was an opportunity to see how I measured up against the other shooters.
Even so, this doesn't result in any feelings of animosity towards other photographers, only disappointment if your results aren't what you hoped for.
In fact, I found that I learnt a great deal from the other photographers on the trip. Being based on a liveaboard is conducive to this, because we were all living in close confines and would gather side-by-side to review and edit images.
I GUESS A KIND OF HIERARCHY does form, with the most experienced shooters acting as mentors to the less advanced. That particular group included some heavy-hitters from the underwater photography scene, such as Mario Vitalini and Nick More. Mario was named up-and-coming photographer of the year in the first Underwater Photographer of the Year competition, while Nick has now won the BSoUP/DIVER Print competition two years on the trot.
Their submissions to the image review drove me to become better, and they were usually on hand to help out with little tips, too. They were just two of the many talented photographers around, and one of the pleasures of these workshops is meeting a whole new network of people who share the same passion.
I came away from that first workshop inspired and excited for the next. However, if I had one frustration, it was that I hadn't seen Alex Mustard in action. We had seen beautiful shots in the presentations, but these fell under the "something I prepared earlier" umbrella.
Just as watching YouTube clips of Messi isn't the same as watching him in person, I was eager to see Mustard live. This would soon be made possible on the Grand Cayman workshop.
Unlike in Egypt, we were now based in a resort, and I would recommend this workshop as the first to attend, because it's more geared at getting your fundamentals right.
I had read about a technique called "inward lighting" in Alex's Underwater Photography Masterclass book and was determined to add it to my repertoire. Basically, it involves pointing the strobes back towards the camera, which enables you to isolate wide-angle subjects against a dark background. I'd swotted up on the theory and felt sure I could figure it out.
On the first day, Alex held a pool session to make sure that everyone's cameras were correctly set up and to go through some lighting basics. This was also a chance for any of us wanting to practise a particular technique to do so.
I had arrived a bit early, and Alex suggested that I start practising inward lighting on a plastic toy he had set up. I confidently swam to the deep end and started shooting, and shooting, and making small adjustments, and shooting again, for a frustrating while, never quite getting the desired result.
Alex eventually swam over and, clearly not too impressed with my results, borrowed my camera, adjusted the strobes, took a shot… reviewed… took one more shot… then passed me back an image of a beautifully lit toy against a perfect black background. Wow, I thought, this guy knows his stuff!
His mastery of technique and speed were also apparent in another memorable moment. We were on the house reef taking super-macro photos of a rough-head blenny. Alex had suggested that I follow him to this particular individual, because its unusual position at the top of a coral head meant that you could either expose for a black or blue background.
Once descended, Alex quickly found the blenny and spent perhaps two minutes shooting it. He came over and showed his LCD screen displaying two shots: one with a blue background and the other black, both beautifully crisp.
I thanked him and settled down to try to replicate it – a process that took my full concentration and 20 headache-inducing minutes. There could be no more doubt that the man was fully deserving of all
the accolades.
ON THIS SECOND WORKSHOP I found myself missing Jade, my usual dive buddy and model. While everyone is buddied up, it is in a very loose sense, and we were so absorbed in our individual photographic journeys that no one was willing to sacrifice a minute of precious clicking for modelling purposes.
And yet, almost every wide-angle shot would benefit from having a person in it to add interest. This was particularly the case when we were shooting reef scenes on which a diver's silhouette would have been the cherry on top.
About halfway through the workshop, I found myself bemoaning this state of affairs with Brook Peterson, a professional Californian shooter. She was feeling the same way, and we decided to spend a portion of each dive from there on posing for each other.
Yes, it meant some dead time in the water for our cameras, but the pay-off was photos with greater depth and impact – a very worthwhile give-and-take that I would recommend to others.
The second workshop had quite a few first-timers, and I enjoyed finding myself in the position of "old hand".
More at ease now, I also didn't see the image reviews as an opportunity to try to flex photographic muscles.
The nightly presentations were very informative, often touching on similar subjects to the content of Alex's book, but in greater depth.
That said, the workshops tend to attract an older crowd generally (I guess that makes senses considering the required combination of expensive photo gear and enough time to enjoy it), and some of them had a hilarious habit of dozing off during Alex's talks.
Luckily this was taken in good humour; far better, I imagine, than if a Manchester United player had fallen asleep during one of Jose Mourinho's team talks!
All in all, these workshops were a game-changing experience and imparted a lot of knowledge which has served me well since.
Learning from one of the leading lights of underwater photography is an opportunity that you don't find replicated in many other fields, so I'd strongly urge any other budding underwater photographers to make the most of it.
Alex Mustard runs photography workshops most months, suited to all levels of ability. They fill up fast, so divers are advised to subscribe to his newsletter to find out what's coming up – go to amustard.com/workshops