SHARK DIVER
Blacktips of Aliwal
When you spend a month in their company you can get to know a blacktip shark community pretty well, as EDOARDO SPACCA found in South African waters
I REMEMBER THE FIRST dive-briefing. "Always be aware of where you are," said the guide, adding casually "and if they bite, don't move, just wait for them to let go…"
That's the spirit! I thought, unsure whether to feel anxious or simply enjoy the feeling of anticipation of a new experience.
It was my first visit not just to South Africa but to the continent – real Africa, with lions, elephants, hippos and, of course, sharks. My expectations were high, based on what I had read and seen online before departure, yet I didn't really know quite what to expect from
a baited dive with oceanic blacktips (Carcharhinus limbatus). Despite my thorough research, I still had big butterflies in my stomach that first morning.
The location was famous for its sharks. Aliwal Shoal, on South Africa's north-east coast, is a rocky reef that's home to several species, from the resident community of blacktips to the seasonal raggedtooth (sand tiger), tiger, hammerhead, bull, dusky, silky and, rarely seen although present, great white sharks.
When it comes to big animals the Shoal keeps on giving and, depending on the season, can offer regular sightings of dolphins, whales and giant potato bass, along with the occasional mobula, guitar shark, turtle and shoals of snapper.
An hour's drive south from Durban in KwaZulu-Natal and three miles off the coast, the Shoal is named after a vessel that almost sank there in 1849. It nests within a Marine Protected Area, established in 2004 and extending for 11 miles along the coast.
The exposed Shoal is often swept by currents and subjected to fierce swells. Its highest peak reaches 6m below the surface, and its rocky slopes plunge to more than 30m with a maximum width of about 400m, and are rich in corals and other marine life.
Having said that, the combined effects of industrial fishing and the wide use of nets and drumlines to protect beaches have had a severe impact on the number of sharks in the area, according to "shark whisperer" Walter Bernardis of African Water Sports in Umkomaas.
Populations, whether of whale sharks, great whites or tigers, have dropped dramatically in this part of South Africa over the past 10 years.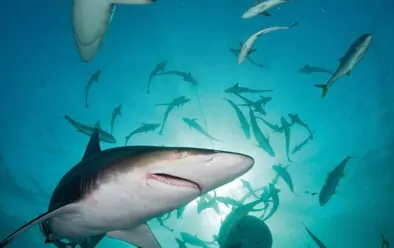 Aliwal Shoal was the first location where it became possible, in 2000, to engage in tiger-sharks diving without cages, with the introduction of baited dives by African Water Sports.
Over the following decade it was possible to see these sharks on every baited dive, typically several individuals at once. Umkomaas had claimed the title of "Tiger Shark Capital of the World" before Tiger Beach in the Bahamas became well-known.
In recent years, however, sightings have become increasingly rare. Drumlines, introduced in Kwazulu-Natal in 2007, and shark gill-nets are designed to capture and kill.
Drumlines are large, anchored floats from which a single baited hook is suspended, while gillnets hang at depths of 10-14m to entangle the sharks. Both are laid about 400m offshore.
Four drumlines to each net are allocated to each of the 37 beaches across some 200 miles of coastline. They work both directly to catch the targeted sharks or, in the majority of cases, smaller sharks get hooked or entangled, thrash about to try to get free and in the process attract the larger predators – in the case of tigers, mostly females.
Some 1100 sharks are caught every year, including some 65 tiger, 20 great white and a number of Zambesi sharks, the three main targeted species. Bycatch includes various cetaceans.
Some measures have been taken to lower bycatch and use of the nets is avoided during the Sardine Run, but the fact remains that there are less damaging ways to protect water-users – such as informing them how not to put themselves needlessly at risk.
Appeared in DIVER August 2018
OCEANIC BLACKTIP SHARKS are classified by the IUCN as Near Threatened. Subject to fishing and gill-nets, they also have a very slow reproductive cycle, with the females mating and giving birth only every second year.
Reaching up to 3m long, they have bronze-coloured skin and a very light band by the pectoral fins. Their fin-tips are darker than those of the more familiar and smaller blacktip reef shark (Carcharhinus melanopterus).
Our fast 8m rubber dinghy was launched at a river-mouth providing convenient access to the sea. Battling the daunting Indian Ocean waves we reached Aliwal Shoal in about 20 minutes, and preparations were made to throw the sardine-filled bait-drum overboard.
This was hung at 6m, with a second smaller drum suspended further down the line at 12m, for the benefit of any of those elusive tiger sharks that might be passing. We jumped into the water to find 15-20 sharks dancing below us, drawn by the smell as the drums drifted along with the current.
For us, hanging around the bait-drum in the chilly (18-22°C) waters was time well-spent, if not for the faint-hearted. The blacktips were decidedly inquisitive towards divers.
We're not on their menu, and over nearly four weeks of daily diving I would never witness any aggressive behaviour towards us but, make no mistake, they are wild animals that demand constant vigilance and positional awareness.
They were not shy of coming close, and although their curiosity was connected with that sardine scent, they would take time out to investigate us thoroughly, even when we were distant from the bait-drum.
At first they were intimidating, and on the initial dives I spent much of my time watching carefully to see where the next one was coming from, rather than purely enjoying the moment.
However, the excitement of being among them and looking them in the eye was palpable.
AS THE DAYS PASSED, I became more confident and launched myself fully into the action, appreciating both the sharks' moves and their speed whenever the bait was in their sights.
They never flinched when a piece of sardine was at stake, even when I was positioned with my camera in the middle of their snacks, trying to sync their open mouths with my strobes.
Excitedly they would close in on the bait-drum, circling and crossing over from all directions at increasing pace as the bait was thrown out of it.
They showed no hesitation in repeatedly shouldering me aside, or coming up from behind and making me bow. The closer I was to the drum, the readier they were to bump me, at times even passing between my legs.
As time went by, I also started to think of baited dives as the sharks' busy happy hours, a little tapas or sashimi for them, and started to feel closer to them, particularly when watching Walter practising putting them into a state of tonic immobility, the "hypnotic" state into which sharks can be placed by experienced divers, usually by gentle manipulation of the body.
From my close-up perspective, it was heartbreaking to see the impact fishing had had on the creatures in front of my camera. Almost every shark I encountered in the Shoal had hooks in its mouth, and injuries ranging from infections caused by rusting metal to permanent damage to their mandibles.
My attraction to sharks started 15 years ago, on dive three of my open-water course in Thailand. At the time Koh Tao was famous for its large population of reef sharks, which has now disappeared.
I found their grace and power mesmerising, but always treated them with deference and respect, which essentially meant physical distance.
In Aliwal Shoal, however, distance between diver and sharks becomes a relative concept, and during my last dives there I ended up interacting directly with them, after Walter had explained to me his method for placing a shark into tonic immobility.
On two subsequent dives I gave Walter my camera and took his place at the bait-drum. I didn't manage to put a shark to sleep, only caressed the bellies of two of them, which they appeared to enjoy.
After the second dive, Walter told me that what he had seen me doing was quite unusual, considering that the sharks were not in a trance, concluding his analysis of the day with: "I think they liked you, but don't cry if they bite you tomorrow." Enough said, that was the end of my tonic-immobility trials.
BACK FROM MY JOURNEY, when I showed my photographs to friends and colleagues it saddened me to realise once more how even those with some diving experience would assume that I was an adrenaline addict, looking for trouble while playing with deadly wild beasts.
Such misconceptions are of course common – few people understand sharks' crucial role for the preservation of the eco-system.
Popular fear of sharks has facilitated the operations of powerful commercial interests – the shark-finners – pushing entire species to the brink of extinction, and inefficient protective measures for bathers such as those in South Africa and Australia haven't helped.
You and I know as divers that oceanic blacktip and other sharks are more threatened than threatening – all we can do is share our knowledge to the best of our ability.
FACTFILE
GETTING THERE>Daily flights with BA and South African Airways to Durban, then a road transfer 30 miles south to Umkomaas.
DIVING & ACCOMMODATION>African Watersports offers a variety of dive and stay packages. Its baited dives attract blacktip, tiger and other sharks. It can accommodate up to 12 divers at its Seascapes apartment, africanwatersports.co.za
WHEN TO GO>For blacktip (and dusky) sharks, September is the best month but they turn up year-round, with tigers from December-March.
MONEY>South African rand.
PRICES>Return BA flights in September from £474. For 10 dives (blacktip & reef), with seven days' B&B and airport transfers, reckon about 17,400 rand pp (£970).
VISITOR INFORMATION> southafrica.net