FRESHWATER DIVER
'Why I decided to be the first person to film every species of UK fish in inland waters,'
by JACK PERKS
Dive partner John Mcintyre and I arrived at a caravan park that backs onto the River Tavy in the hope of finding salmon. It was October, so the trees were heavy with golden-brown foliage and there was a nip in the air.
Leaves falling into the river provided a surreal autumnal experience once under water, and being Devon it was raining, though the water had only a slight tea-coloured tinge about it.
The pool was about 10m wide and perhaps 7m at its deepest, which for a river dive is pretty helpful.
The riverbed was lined with large smooth rocks but the fast water kept any silt from forming. Although some sections were quite fast-moving the pool was fairly slack, allowing for a stress-free dive.
Starting downstream, we slowly made our way into the deeper parts, until we could see large dark shapes.
This is one of the things I love about river diving, not knowing what you might come across. Pretty much all of our fish species can be found in rivers, so a dive can be a real lucky dip.
We skirted past large boulders, and a cave likely worn down from years of erosion looked promising.
Most of the fish we were seeing were sea trout, and they would usually dart off before we could get anywhere near them, but the odd fish would remain still and allow us to get close, caught between fight and flight mode.
One of these fish was not a sea trout but a beautifully coloured salmon, the king of fishes, and it allowed me to take a few snaps. That the river was relatively low was good for me, not only because of the easier dive conditions but because it meant that the salmon had to wait in the deeper water until the rains came and allowed it to move on.
It's the mystery of fish that intrigues me most, Nature that for most people is hidden out of sight, out of mind.
Fascinated by the natural world, I started fishing when I was 11. By 16, I had taken up photography. I looked at what other photographers had done in terms of recording freshwater fish in the UK and found that there was little out there, other than the odd pike portrait from Stoney Cove. Many freshwater fish species had hardly been photographed in their natural environment.
The lure of sea tends to be an easier sell then some mucky pond or canal, but inland waters hold such a diverse range of species and subjects for photographers to get stuck into. And I lived, and still live, in Nottingham, which is nowhere near the sea!
In 2013 I set up a crowdfunding campaign to try to film every species of fish found in British fresh water – so behaving a bit like a birder, but in scuba gear.
I was expecting to capture all 54 species in a year, but in fact I've only just completed the task!
At the start there were issues around what constitutes a British freshwater fish. Should I include only native species? Naturalised ones? And what about marine fish that enter fresh water?
I decided to base my list on the species found in Mark Everard's books about British freshwater fish – with one or two additions – focusing on all the native species, naturalised and common non-natives and the few marine fish that can stay in fresh water for prolonged periods.
Over time I have developed photo techniques to use while scuba diving and snorkelling, along with pole-cams and underwater camera traps.
In the time that I have been working on the project underwater cameras have changed massively and, now that they are more affordable and widely used, it has become far more common to see fish footage online.
I knew I had to find the best spots possible if my work was to stand out.
I relied on many fisheries scientists, Environment Agency staff, anglers and river-keepers to be my eyes and ears and let me know when certain species turned up. Often I would leave home at a moment's notice in the vain hope of seeing a fish few other people had even heard of!
I travelled from Cornwall to Northern Scotland and just about everywhere in-between. When I first started on the project I couldn't drive, so I had to catch a train or beg for lifts with all my camera-kit.
While pursuing my object I've dislocated my arm, become ill from contact with river water and cut the end of my finger off while chasing after vendace, one of our rarest fish.
It wasn't a monster pike that had my digit, rather me adjusting my camera with a pen-knife that slipped.
I've worked in all weather conditions, from a pleasant dip in a chalk stream on a warm July afternoon to lying face-down in Highland lochs in November, questioning my own sanity.
Grayling are by far my favourite fish, though barbel come a close second. I've spent the most time filming these ladies of the stream in the Peak District, as it's not too far from where I live in Nottingham.
It took years of observation to work out where the grayling breed and the best times to see this. The males fight each other in spectacles reminiscent of stags rutting. The darkened males then slink off with the paler female grayling and find an area of fine gravel.
There is a misconception that most freshwater fish are a muddy brown colour, but to dispel this you only need to look at a grayling's fins, with their hints of violet, flashes of kingfisher blue and deep warm reds flaring though.
Frustratingly, grayling don't return to the same spot each time, as a salmon or trout would to a redd, so leaving a camera in place could be a vain exercise.
But, finally, I was there watching as a male placed his dorsal fin over a female and the two fish began to spawn – an amazing sight that had taken years of work to capture.
Common species were sometimes surprisingly hard to find. Carp, for example, proved tricky because ponds containing lots of them tend to be quite mucky.
Sometimes success is just a matter of luck. With Rob Cuss, a fellow fish-fanatic, I went for an April dive at Stoney Cove in an effort to photograph pike spawning.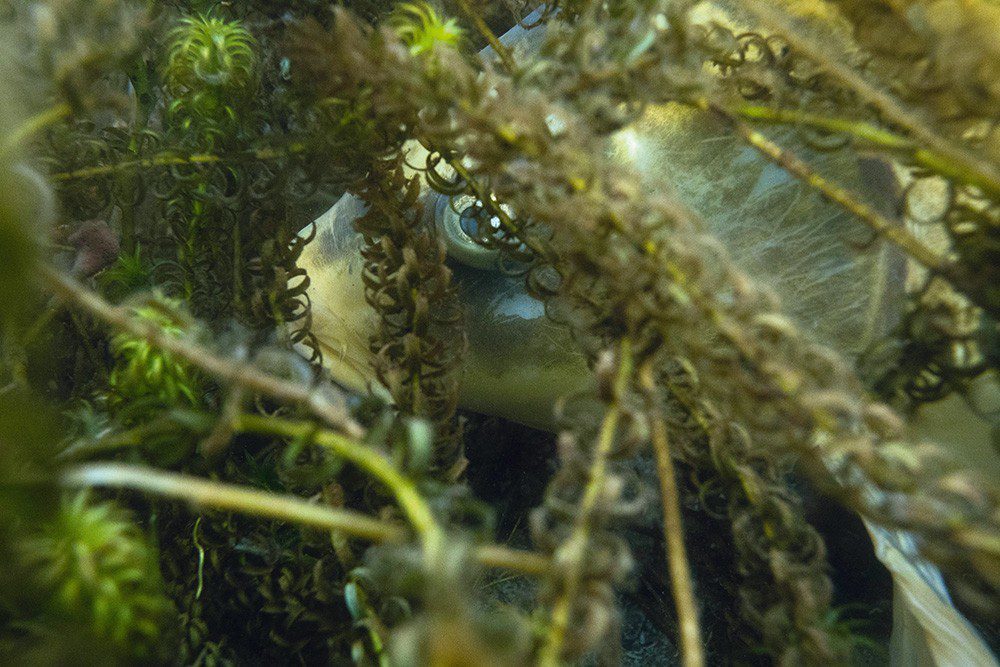 It was pretty cold, not helped by the fact that I was wearing a wetsuit, and the temperature wasn't much over 10°C down on the deck as we dipped in to check out some regular haunts. The algae bloom had started early that year, and the dive-schools had already been in so visibility was horrific, but we pushed on.
Rob pointed to something and, sure enough, it was a pike, but it was very much on its own, which doesn't help when you're after spawning shots.
After 45 minutes I was starting to feel the cold a bit, so signalled that we should head back. As we were checking the weeds on our return journey I noticed a funny white shape tucked away. It was the wrong shape and colour for a pike, but no perch or roach could be that big.
What it was was the almost-mythical ghost carp that calls Stoney Cove home, a fair lump of a fish. It was just sat there and let us fire off a few shots.
I'd heard about carp being in Stoney for years but had put it down to tall stories and narcosis until this huge white carp, the site's own Moby Dick, put in its welcome appearance.
The filming has largely taken over from fishing for me. It has been a fantastic tool for observing fish behaviour, such as when shoal-fish such as perch and roach mob predators like pike when they spot them staying behind and close to the tail – much as songbirds will mob a buzzard.
I've seen fish team up or, at the very least, take advantage of each other, with perch shadowing eels as they root around for prey, and moving in to grab fleeing bullheads and small invertebrates.
Low-interference filming is now being used to a much greater extent to monitor fish, while the arrival of drones has helped massively with counting salmon and trout redds.
What now? I'd like to write another book, perhaps on the places, people and fish I've come across, and also try to film more British-waters marine fish, though not all of them – there are around 400 species and most live in the deep sea!
Some of the European freshwater fish such as Cozimo barbel, Amur pike and huchen sound like a challenge, too.
Watch Every UK Freshwater Fish Filmed Underwater at jackperksphotography