archive – Diving NewsSteven Slater dies on Andrea Doria dive
British technical wreck-diver Steven Slater, 46, from Gateshead, has died following a dive on the deep-lying Andrea Doria shipwreck off the eastern USA.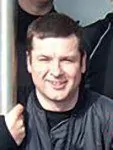 The incident occurred at the Atlantic site 60 miles off Nantucket on Monday, 24 July.
Slater was part of a group of around 10 divers who had travelled overnight from Montauk, New York aboard the charter-boat Ol' Salty II, according to the Cape Cod Times.
With rough conditions at the site, the divers were said to have waited some time for them to calm before diving.
According to the US Coast Guard, Slater was pulled unconscious from the sea by crew-members, who administered oxygen and CPR for two hours.
A Coast Guard helicopter arrived on the scene but as Slater had not responded it was decided to leave him on the boat, which had set off back to Montauk as soon as all the divers had been recovered.
The boat docked on Tuesday morning and Slater was formally pronounced dead, with the cause of death to be determined. A police spokesman said that the possibility of an equipment malfunction was being investigated.
Slater's friend Mark Dixon told the newspaper that Slater "was probably one of the UK's top four or five divers" and described him as a safe and meticulous diver who had been on hundreds of dives, including very deep wrecks such as the Empress of Britain and the many North Sea wrecks he had discovered and researched.
"He didn't take any more risks than he had to," said Dixon. "He did die doing what he loved doing. He'll be greatly missed by everybody."
Slater, a past contributor to Diver magazine, is the 13th diver known to have died while exploring the Andrea Doria, an Italian liner that sank in 1956. The wreck's depth ranges from about 50m to 75m.
* MEANWHILE a US diver has died after exploring a WW2 aircraft wreck site off Ramsgate in the English Channel.
Dr Bruce Hottum, 63, was diving from a boat 10 miles off the coast on the afternoon of Friday, 21 July.
Crew called the Coastguard to report that he needed medical attention and a helicopter was sent to airlift him to hospital, but he was pronounced dead on arrival, according to Kent police.
Dr Hottum's partner in his New York dental practice, Dr Charles Fliegler, told Associated Press that he "came up on the last dive, didn't feel well and collapsed".
The diver had visited the UK after being called in by Project Recover, which searches for the bodies of missing-in-action US service personnel, to find out whether the plane wreck contained human remains. He had previously taken part in a related project in Palau.
Divernet – The Biggest Online Resource for Scuba Divers