CAVE DIVER
The Exploration of Izvor Licanke
An unexplored sump in a Croatian cave presented an irresistible challenge to CHRISTINE GROSART, but there would be many difficulties in her team's way, from red tape to worn line – hotdog horrors, too. Main photography by MARK BURKEY
Christine Grosart in the main passage at Izvor Licanke.
Appeared in DIVER June 2018
IN 2015 I JOINED a group of divers from Project Morpheus to check out some caves in the south-east of Rijeka, Croatia. One of them, called Izvor Licanke, was a man-made resurgence used as a pumping station for drinking water for the local town of Fuzine.
The cave had been explored only once, by the prolific French cave-explorer Frank Vasseur. He had dived the first flooded section, or sump, some 19 years earlier and, after 350m or so of swimming and climbing, came across a second, completely unexplored, sump.
He made remarkable progress in poor visibility and reached a depth of 36m, but because of political access issues, he was unable to return. Nor had anybody else been there.
Entering any cave in Croatia requires government permits, and these are especially tricky to obtain when it comes to diving in a town's drinking supply!
Project Morpheus had, however, acquired the permissions required to dive Licanke so, several months later, my other half Richard Walker and I headed back to find the second sump and, with Frank's agreement, try to extend the line.
The first trip did not go as planned. Rich and I tried to self-carry 12-litre side-mount bottles and deco gases and, on reaching a short rope-climb, spent several hours running around in a high-level boulder chamber with no sign of a sump.
We contacted Frank Vasseur to find out where we had gone wrong, and prepared for the next trip.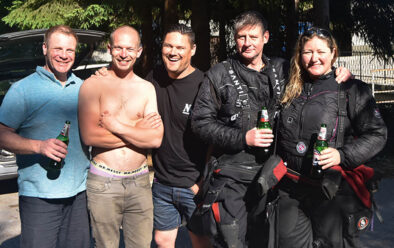 It was the following June before Richard and I were able to return to Licanke – this time with the help of Rick Van Dijk, who was keen to get involved.
We set aside three days for the project: day one for carrying, day two for the push-dive and day three for carrying the gear back out again.
The first obstacles inside the cave were a couple of deep lakes. Swimming through these with multiple, heavy bottles was not a good idea, so I came up with the idea of using a Halcyon life-raft.
We attached it to a scooter, piled it up with cylinders and towed them across the lakes.
We then had the monotonous task of simply carrying the bottles in caving bags to the second sump, involving a short rope-climb and some hauling, large slippery boulders which moved and a bit more streamway with jagged edges.
Rich and I dived with side-mounted trimix and decompression bottles. Visibility was 6m. We followed Frank's line down a shaft to 21m and over some gradually undulating sand slopes. The cave was roomy, 10m wide and 8m high.
I reached Frank's final tie-off, which was exactly where he had said it would be, and began laying line. At a distance – and also depth – of 42m, we hit our gas reserves. Rich made a survey and the cave was wide open, so we vowed to return the following year.
ROLL ON TO MARCH 2017, and we were on the lookout for someone who could take high-quality images of the project and also shoot video for our idea for a short film.
Now Rich, Rick and I aren't bad photographers, but our attempt at documenting the project in 2016 had failed miserably. Put simply, we couldn't carry the kit, organise the trip, dive the sumps and explore the cave while videoing ourselves doing it. We needed someone else to take on the job.
"What about Mark Burkey?" Rich asked. Mark was quickly making a name for himself as an award-winning (dry) cave photographer.
"Nah, he can't dive," I replied, wishing that he could. The first sump was only 40m long and 6m deep but even so, it was not the sort of thing to do on breath-hold.
"Well, you've got three months to teach him," said Rich. I was hesitant, because we had caved together only once and Mark would need not only to learn to scuba-dive but to cave-dive too.
It was a tall order, and I brushed off the idea, yet struggled to think of anyone else. After some thought, I figured: "Stuff it, he can only say no", and phoned him.
Mark had been to my talk on Croatian caves at the Hidden Earth caving conference the previous year and seemed excited about the project. It wasn't long before he called me back and said he was pretty much on.
"Oh… um… there's just one other thing," I said. "You need to learn to cave dive by June!"
A hearty laugh came down the phone, followed by a definite "OK!"
Mark was straight into the swimming pool at my local club and embarked on an intensive three months of training.
He was soon following cave-line blind-folded, doing lost-line searches, S-drills, emergency valve drills, mask-removal, gas failures, learning more fin-kick finesse – it seemed like overkill for such a short sump, but we couldn't afford to have anyone on the expedition who was a risk.
He would have to pass the sump a minimum of eight times, and needed to be safe in an emergency. Mark took it all in his stride, and it wasn't long before he began to look like a cave-diver.
Rick Van Dijk returned to Croatia again to help, and we invited my ex-cave-diving group trainee Ashley Hiscock along. Robbie Varesko from Krnica dive would be our Croatian fixer and the team was complete.
We picked up our gas, drove two hours north to Fuzine and settled into our gite.
THE NEXT MORNING meant Mark's first cave-dive. He was chaperoned by Rich and me and had no trouble at all.
He surfaced on the far side of sump 1, grinning from ear to ear. We sorted the camera-kit while the dry tubes and exploration bottles came through the sump with Rich, Rick and Ash.
Day two, and we were on schedule.
All the bottles, harnesses and lead had arrived at the bottom of the climb.
Mark wielded his camera, shooting video for our short film while Ash had a short dive to check the visibility and the state of the old line and drop our decompression bottles in the right place.
It took eight flashguns to light up the main passage. The results were stunning!
Morning broke on day three and we headed to the cave via the local shop, to get some provisions. The underground food was getting complaints, so Ash and Rick, given that we had very little to carry on that day, decided that they were going to cook hotdogs.
We ventured into the butchers and Rick sought out some sausages while Ash spotted some likely-looking hotdog buns.
Rich and I got into our drysuits, and it was a careful caving trip to sump 2, trying hard not to slip over and rip them.
We talked through our dive plan. We simply didn't know what depth this cave would go to or where it would go next, so we opted for 60m maximum depth and a total run-time of about 40 minutes from the bottom of the shaft.
This gave us 10 minutes to get to the end of last year's line and another 10 at whatever depth to lay some more.
I was running the line again (well, it's my project, after all!) and Rich would be jotting down a survey behind me.
The thin line, laid in 1998, had been given a good battering by the winter floods every year since, and the shaft near the start of the sump had me worried. The mud on the overhanging wall turns the visibility to zero and, coupled with a frail line, it could snag on our multiple bottles.
A line-break in there would be a nightmare, and pretty dangerous.
We set off into the sump, and it didn't take long to reach the end of Frank's line, and the beginning of ours from 2016.
I unclipped my line-reel and tried to stay relaxed. Going into unknown caves is exciting and it takes experience to keep your cool. Slow is smooth and smooth is fast, I thought.
I tied in my reel and signalled to Rich as he dug out his survey gear. We were off!
THE CAVE, TO MY RELIEF, didn't really trend much deeper, though we did reach 50m at one stage. The undulating sand-dunes in the floor were rippled and pretty, and the far wall was about 10m away. As much as I wanted to just string out the line as fast as possible, regular tie-offs would make future issues easier to fix so I dutifully put them in every 15m or so.
My gauges began to threaten to turn me around. I was approaching my gas margins, and the cave was still going.
At 43m I met a gradual slope upwards, found a suitable rock and wrapped the line around it, cut it free and Rich and
I both thumbed the dive.
The release of pressure as we turned was instant. Of course, we weren't out of the woods. Mountain ascents don't count if you die on the way back down. We did our gas switches in deteriorating visibility and set off up the shaft.
Rich was now close behind me; all seemed to be going well. As the shaft became more awkward, we went single-file. I was just thinking that it didn't seem as bad as last time, when the unthinkable happened.
"Oh shit!" I repeated it several times in my head and also out loud to myself through my regulator. "Just keep calm, keep your head – you have loads of gas to go looking for him, and he has plenty of gas too."
Despite all the training and plenty of "oh shit!" moments over many years while cave-diving in less-than-desirable conditions in British caves, nothing quite prepares you for that moment when your boyfriend is in acute danger. I had just lost Rich Walker.
The broken end of the line flailed behind me and I stared at it in horror.
We had dreaded this. A 19-year-old frail exploration line in a slightly off-vertical shaft, zero visibility from our exhalation bubbles and a bouquet of spent ali 80s, and there we had it – an emergency.
I gathered up the loose line to stop it forming another hazard and wrapped it around a nodule of rock on the sloping wall. Trembling, from both fear and the cold, I unclipped my exploration-reel while staring into the fog in the hope of seeing his light. There was nothing but silence and the glow from my torch.
I TIED IN THE LINE-REEL and set off to where I had come from. Rich, doubtless thinking I was trying to assassinate him, had calmly deployed his search-reel and headed upwards, following the overhanging wall.
No sooner had I set off down the shaft than we ran into each other. We tied our reels off and made our way to the next decompression stop, shivering in the 7° water at the end of a 97-minute dive.
We had just discovered beautiful, virgin cave passage, but for five very concerning minutes it had barely seemed worth it.
On surfacing, Mark was at the ready with his camera. Rick waded into the sump pool to help me off with my gear, and I was shivering uncontrollably. We really, really needed those hotdogs!
We climbed the small boulder pile to the makeshift kitchen to be met by a very sheepish Ashley, who was poking the sausages around in the boiling water. "The bread fell in the water," he lied.
"You mean there's no bread?" I wailed.
Like two naughty school-children, Rick and Ash started giggling. Mark hid.
"Well, on the upside, they were covered in sugar!" Ash had bought the Croatian equivalent of iced buns instead of hotdog rolls, and we felt a little more smug.
Rich and I scalded our fingers fishing the hotdogs out of the boiling water, and ate the lot in minutes.
Ash raided Rich's wetnotes, wanting to know how much line we had laid. We didn't know and didn't care. Last year we had laid only 42m at 42m depth on our first dive in sump 2. In France we had laid 42m on our last dive in Fourmi Perdreau. I had laid 42m in Garrel in 2012.
"You'll never guess what!" Ash called out.
"Don't!" I said. "Don't tell me it's 42m!"
Ash laughed: "Nawwww –you laid 99!
The team plans to head back this year, and I have had to buy a rebreather. We're excited about the prospects of this cave, and can't wait to see what's around the next corner!
Our thanks to Krnica Dive Centre, Apeks and Halcyon.
CHRISTINE GROSART
In 2009 Christine Grosart dived solo to the far reaches of Wookey Hole Caves, and still holds the British women's cave-diving depth record. She has led explorations in France and Croatia and holds the end of the line in four caves. Offshore dive medic, caving instructor, Cave Diving Group examiner and secretary of Ghost Fishing UK, she also manages Project Baseline South Wales Caves.
PROJECT MORPHEUS
This is a joint initiative between Krnica Dive Centre and Ruđer Bošković Institute to explore, map and preserve Croatia's freshwater caves. During its first year's explorations, it started mapping two springs that supply the local bottling industry to help it maintain water quality. Morpheus also started exploring a second area in which the springs run into the sea to create a cave environment including haloclines and interesting formations at the entrance.