Appeared in DIVER September 2019
Before I got into diving vintage twin-hose regulators for fun (but a sluggish breathe), I had only ever owned high-performance models. My parents bought me my first when I was 17, in 1980, based on a review in DIVER, and over the years I've used and owned a succession of expensive, best-of-breed regs.
Each had different breathing characteristics. Though all were easy breathes, one threw air at me when I inhaled, another fluttered in the shallows and others were smooth throughout the breathe. When I tried cheap school regs, I had to drag air through them by comparison.
When you're used to an easy breathe, a regulator that makes you work for air reminds you of that each time you take a breath.
It's distracting, and unnerving. You begin to doubt how well it will let you breathe if you're battling a current in deep water or, worse yet, if you have to share using your octopus.
In the absence of meaningful objective testing, my attitude towards these life-support systems was simple – buy the most expensive I could afford.
Today we have CE testing to set a minimum standard for breathing effort, but according to experts a regulator could still pass and be a hard breathe in extremis. Besides, it doesn't indicate by how much a regulator might exceed the minimum standard.
Now my job is to test whichever regulator is provided, and some are awfully inexpensive. So how does the low-cost Mares Ultra 72 stack up when you demand high performance and an easy breathe?
72X First Stage
The 72X first stage can be used with any Mares second stage. I reviewed it in June 2019 partnered with the impressive Loop with its distinctive snag-preventing, under-arm hose-routeing. It's unusual in having eight mp ports to supply second stages, direct-feeds and air tools, arranged with two leading off from each side and the others pointing straight down when the first stage is mounted "upright" on your tank.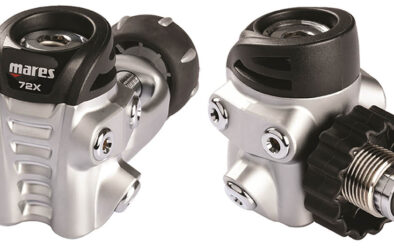 This provides lots of options to route hoses over your shoulder or under your arm to keep the whips tight against your body, minimising the chances of a loop catching in wreckage.
Elimination of a swivel turret means that hoses don't interfere with each other as they move. Some say that a swivel turret also requires another joint and therefore another O-ring seal and creates a potential fail-point.
The 72X is aimed partly at technical divers who probably give more credence to mechanical failures, but as a recreational diver I'd use those downward-facing ports to run, say, my drysuit direct-feed. It's neater than any layout I could achieve with my own regulators.
Left and right sides of the 72X have hp ports for a pressure gauge and/or transmitter.
This is a balanced-diaphragm design, with a membrane separating most working parts from the water and hence salt and silt deposits. The one exposed spring can be modified using an isolation cap, if diving in very dirty or cold water.
Out of the box, the 72X is CE-rated for a water temperature of 4°C, but the air will be running much colder, which could cause water around that exposed spring to freeze, restricting its movement, impeding performance and possibly causing the mechanism to jam.
An isolation cap can use either a liquid such as silicone or air, and Mares offers both options.
The more air you demand the greater the chilling effect, so deeper or prolonged dives progressively increase the risk of freezing. Another effect of deeper diving is that gases become denser or more viscous, leading to more laboured breathing, especially when working hard. Once past 30m breathing air, respiratory efficiency is cut by half. So regulator designers try to boost first-stage performance mechanically.
The 72X uses Mares' Dynamic Flow Control (DFC) to do this, routeing the air to the mp ports to create a venturi effect, like that of an underground train passing through a tunnel and pulling the air along after it. This is claimed to greatly reduce inhalation effort and provide equal flow-rates to all ports.
The first stage is nitrox-compatible with mixes up to 40%. A nice safeguard is an automatic device that seals the first-stage inlet when it's not under pressure, so it won't flood if you drop it in the rinse-tank without its dust-cap.
The Ultra Second Stage
The Ultra is a conventional design with an over-the-shoulder hose. The technopolymer case makes it light and very comfortable, so there's no risk of jaw-strain.
To start the inhalation cycle, you first open the second-stage valve, which is spring-loaded, much like a self-closing door. This second stage isn't pneumatically balanced, a feature Mares holds back for its premium models.
So, in theory at least, cracking the valve is just a little harder than with a more expensive unit.
Once you've cracked the valve, a Mares Vortex Assisted Design (VAD) venturi keeps the air flowing with minimal effort on your part, directing some of it through the second stage to create a vacuum, much as the DFC does.
This helps to hold down the diaphragm, keeping the valve open for you. Venturis are standard features on any second stage, but Mares reckons VAD is more advanced than most.
Usually air would enter the second-stage chamber through the hose and spring-loaded inlet valve. With VAD a small tube routes it directly into the side of the mouthpiece stem, said to reduce the risk of icing.
Icing can occur when air volume expands in the second stage, as when pressure drops. The drop is roughly 9 bar as it reduces from hose to mouthpiece. Second-stage valve components such as the spring and orifice are vulnerable to icing because of, among other things, moisture from your saliva and exhalations condensing on these parts and forming ice shards that can block the movement of the lever.
Air supercools as it passes through your first and second stages, so can run as much as 10° colder than the ambient water temperature.
This is why the CE standard specifies cold water as a modest 10°, and why regulator icing is not only a concern to ice-divers.
VAD, according to Mares, means that much of the supercooling takes place away from the inlet valve, so the icing risk is less.
This is one reason the Ultra can be used in water down to 4°, like the 72X first stage, even though it is technopolymer. Metal might conduct heat better and draw warmth from surrounding water to help prevent icing, but it's heavier on your jaw and for travelling.
Adjustments
The Ultra has one inhalation control, the Twin Power Adjustment, shared with top-of-the-range second stage the Epic Adj. I was extremely impressed by the Epic and 82X first stage, but in my review I misidentified the Epic's Twin Power Adjustment as a venturi on/off switch.
in fact it's a feature that switches between two different-size passages through which the air is fed into the mouthpiece stem.
The effect is to either speed up or slow down the air's velocity, slightly altering the Ultra's effectiveness in reducing breathing effort.
The air speed also affects how much it cools. The switch is located on the hose-protector and is easy to grip, even with gloves. I liked the two very distinct click-stopped settings.
Mares says that the harder-to-breathe setting further minimises the risk of icing, but the difference to inhalation effort is subtle, even when breathing very hard indeed.
This is very different to the usual venturi control fitted to many regs, which is an anti-freeflow control to be used only when the second stage is out of your mouth.
Twin Power Adjustment is meant to be deployed while breathing from the Ultra. I would be inclined simply to leave it on the easiest breathing setting.
The Ultra is easy to purge with gloves, and a breeze to clear using the exhalation method, even upside-down. The Superflex hose coils up tight for storage, is braided for durability and boosts jaw comfort by reducing binding.
The compact exhaust tee does a good job of keeping bubbles out of your line of sight, and you can get your eye up to your camera viewfinder as well.
Best of all, the Ultra is a very easy breathe, with minimal cracking effort and a nice smooth air-flow, even when breathing very hard at depth.
Is Two A Crowd?
Most training agencies dropped buddy-breathing long ago, preferring to rely on the easier-to-master octopus, but an unforeseen problem was the demand two divers might put on a first stage when inhaling simultaneously.
Low tank pressures, depth and mounting panic, common factors in an out-of-air incident, all increase the workload.
A number of fatalities during octopus-sharing events raised suspicions that some regulators could not supply two divers with enough air to breathe at the same time.
In 2014 the CE standard EN250A was set for regulator performance. The Ultra 72 is certified to this, indicating that it has been proven to supply two divers breathing moderately high quantities of air at 30m.
Essentially each diver gets to breathe 250 litres of gas per minute at that depth without exceeding a certain work of breathing above which carbon dioxide levels increase.
The only way to test work of breathing objectively is on a costly machine such as an ANSTI test bench, but we can at least test octopus performance subjectively, to discover how a regulator under stress really breathes.
With instructor Nick Balban, former DO of Gibraltar SAC, which hosted my Ultra test, I dropped to 32m to try to outbreathe it. We did this by finning as hard as possible against an anchor to get our breathing rate up, and in two minutes used about 1000 litres between us.
My feeling is that at that depth the Ultra 72 was supplying plenty of air for little effort. The exhaustion that sets in doing these tests is due to the inevitable build-up of CO2 working that hard produces. It's not, in my opinion, breathing resistance imposed by the regulator.
Conclusion
It's easy to be effusive about this modestly priced, highly specified and easy-breathing regulator. The arrangement of the 72X ports makes for easy and effective hose-management.
The DFC seemed to meet all Mares' claims to supply air equally to all mp ports when we tested it in that hard-breathing sharing exercise. The Ultra second stage really is a lovely breathe, and I highly recommend this reg.
Specs
TESTER> Steve Warren
PRICES> Ultra 72 £311, Ultra octopus £124, Twin Balanced Piston Dry Kit £80
FIRST STAGE> Balanced diaphragm with DFC
SECOND STAGE> Downstream with Twin Power Adjustment & VAD
PORTS> 8mp, 2hp
WEIGHT> (DIN) 1035g, (Yoke) 1208g
CONTACT> mares.com
DIVER GUIDE>  9/10