archive –
Gear
FeaturesMy Favourite Kit – Jamie Watts
A marine ecologist, expedition-leader and naturalist guide, he has worked in the Earth's most spectacular marine eco-systems. After two years with the British Antarctic Survey he has spent another 10 southern summers shipboard in the Antarctic Peninsula, and nine northern summers around the High Arctic and north Atlantic islands, but he has also led and guided expeditions through Indonesia, PNG, the Solomons and Vanuatu. Jamie has logged more than 290,000 sea miles on 2300 days at sea and 145 expedition voyages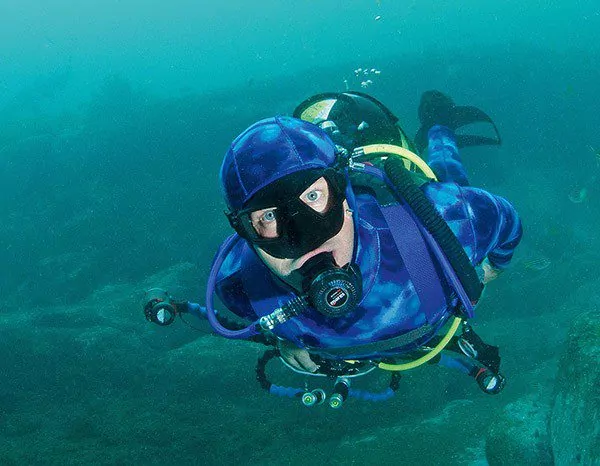 I'VE SPENT AN INORDINATE amount of time fiddling about over the past 20 years to get my gear right. I've been through a dozen masks and sets of fins, and at least a few BCs and reg sets.
I have drifted towards "less is more" – gear that allows us to dive, not become the dive or clutter it up. Streamlining and minimising make a huge difference to efficiency moving through the water.
British divers are pretty bad for doing the "Christmas-tree diver" thing, with safety gear hanging off D-rings around over-engineered BCs. I've seen far too many divers get stressed out from the drag and over-encumbrance, sometimes to the point where carrying excessive safety gear in fact makes them a danger to themselves.
I'm also keenly aware of keeping airline baggage weight down. My ideal kit is a single lightweight, simple, reliable set I can take from tropics to poles via a variety of airlines and other transport modes.
I fiddle, strip down and cut back my gear to the point where I now have everything including my wetsuit (which does me for snorkelling in the Arctic or Antarctic and scuba anywhere from about 8°C and colder) down to less than 10kg. My camera gear goes as hand luggage.
MASK
My face seems to be an "average" fit but noses – particularly the bridge – top lips and foreheads, lines etching into the corners of the eyes, and spacing of those eyes all affect mask fit and choice. How fancy or expensive a mask is has no bearing on how well it works.
Freedivers are way ahead of scuba-divers in getting masks right. Their low-volume models sit close to the face. They widen the field of view instead of blocking it, and are relatively streamlined.
I've used various freediving masks and am now enjoying the most comfortable, low-volume, wide-view mask I've ever owned, a rather inexpensive Subgear in white. My eyelashes just about touch the glass when I sniff it to my face, and it's compact and close enough to my face that whatever the current is doing, it won't pull away.
I get rid of the big plastic clip and adjustment and on this one have a split-ring – it's much neater, packs down better and is more streamlined.
I also prefer freediving snorkels, which are large-bore and wrap tightly around the head. I'm using an Omer at the moment.
FINS
Years ago, I tried several of the long freediving fins (polypropylene blades can be excellent for efficient propulsion, but the long blades force you into a kick that's rather long and cumbersome for a shortish guy like me, and not good in tight spaces).
I then tried the various Force fins (very efficient), split-fins (Apollos are particularly good) and more recently Predator Power fins (fantastically efficient, particularly in currents, but your kick-cycle becomes very short and quick, and for smooth video filming you need to be aware of this). A short-to-medium fin-kick cycle suits me best.
I never really got along with mainstream soft plastic fins with adjustable or spring buckles – the blades almost always have drag and a soft floppy lag to the kick, the foot-pockets don't often wrap snugly around the foot so you get loss of efficiency with transmission, and the clip-and-buckle systems cause quite a bit of drag. Nothing in nature is built like this.
I use thick neoprene socks with just skin soles rather than regular chunky-soled booties. This allows me to use full-foot fins that wrap snugly to my feet and transmit energy more efficiently. The socks are snug but not tight, and I can use the same socks and fins in the Antarctic as in the tropics.
At present I use full-foot freediving fins (Mares pockets fit my rather broad flat feet the best without any pressure spots, but several manufacturers have very similar equivalents).
They are a couple of sizes bigger than my shoe size to fit the socks.
I've replaced the long freediving blades with shorter, stiffer composite blades designed for underwater hockey by New Zealand company Ruku Blades. These are about the length of "normal" scuba fins but stiffer, with an incredible amount of spring. For a steady fin-kick the efficiency is superb, though if I'm out of condition they're a bit on the high-power side.
REGULATOR
I have short Miflex hoses on all my gear, and a regular octopus-length yellow one for my octopus. This makes my reg set light and compact. A 45° swivel elbow at the second stage gives a big improvement in comfort and streamlining.
Because I get to dive the Arctic and Antarctic I want a reg I can use anywhere. For nearly 20 years I had the same Atomic Titanium, a spectacular piece of kit, and I still think it is the benchmark for the most comfortable, best-breathing and most reliable regulator for almost any situation – though it now has a few challengers.
However, below 5°C a few friends who spend much time diving in extreme cold water have tried the Atomics and mentioned freeflowing, partly because titanium seems to be a "sticky metal" in the cold, but also these are high-flow piston first stages, and you have a lot of cooling airflow through a metal piston tube surrounded by cold water.
I think piston regs in extreme cold water are probably a bad idea even with environmental-sealing kits because of this high throughflow.
Squat-shaped diaphragm first stages have much more metal around the high-flow areas, which can heat-sink away the coldness.
On the other hand, diaphragms tend to bed into their seats with use, and I feel you progressively lose a bit of breathing performance, so if I was only warm- or temperate-water diving I'd use a piston.
Many coldwater divers still use Poseidons, even the old Cyklons. I don't know of anyone who has managed to freeflow an Xstream, and this is my first stage of choice, though I find the Poseidon pilot-valve second stages a bit "suck-whooshy". It's a bit heavy, but the chunky metal is what makes it good in the cold, and it has all the advantages of a diaphragm reg without the disadvantages.
We use twin rigs for redundancy in the ice and my second rig has a tiny Interspiro first stage (a piston, but with the internal parts encased in a non-freeze bubble).
I find most second-stage regs rather bulky and uncomfortable. They often seem to hang off the mouthpiece, so I end up putting on a mouthpiece with long bite tabs that I can hold lightly with the back of my mouth with my lips relaxed.
My Mares Proton Ice is solid for cold conditions but also lightweight and easy for warmer conditions.
COMPUTER
My Mares Puck Air is tiny, does everything in one go, and it's air-integrated so I don't forget it. I do almost entirely single-cylinder, no-decompression dives with a wedge-shaped profile, hitting the deepest bit first, then cruising progressively shallower. It's usually pretty conservative diving, so my computer is just something I glance at once in a while.
BC
Many BCs have become rather overdone, and often poorly done. Most are far too bulky and heavy, wrap around the diver's belly and ribs, with bulk and pockets under the arms. Many don't hold the tank that well, hanging off the shoulders where it should be low on the hips, and with both the buoyancy bladders and a plethora of straps and D-rings hanging well away from the body.
Technical divers using high-pressure steel cylinders need significantly extra lift, but for most applications 10s of kilos of BC lift simply reflects overweighting and results in unnecessarily large BC bladders.
Most of my BCs have been small travel wings. The last few years I've used a tiny Deep Outdoors model that I've stripped down and hand-stitched onto my very spartan harness. It's not designed for it but I've used it with twins and it was fine, because I wasn't overweighted.
Depending on whether I'm diving aluminium (most overseas diving) or steel I might put some small trim-weights on my tank-bands.
Dive Rite and Zeagle have made some excellent backpack- and parachute-style harnesses that are superbly comfortable and streamlined. I've owned and used both, but currently I have a soft backpack with a webbing harness that I've sewn together myself with a chest-strap, a low waist (so I can comfortably belly-breathe) and crotch-straps so that my tank is held securely low into my back.
My BC weighs 2kg, and fits snug and comfortably whether I'm in a wetsuit, drysuit or just a swimsuit.
I have no pockets. I don't do multi-stage deco or mixed-gas diving so have no need for either whistles or bells. My tiny delayed SMB has a little more than 5m of line wrapped around a finger-reel, packs down to the size of a drinks can, and clips onto a D-ring, and my lovely little Trilobite line-cutter sits on my waist.
SUITS
For years I've preferred freediving suits to regular wetsuits – the good ones are far more comfortable, and you don't have layers of cuffs, zippers and Velcro. I use ones that are Smoothskin inside and lined outside, so I have to wet them to put them on. Once you're in they are far more comfortable and warm than any "normal" wetsuit, and the good ones let little or no water circulate, so are far more efficient at keeping you warm.
Off-the-peg works fine for me but I've treated myself and got a made-to-measure suit from Elios Sub in Italy. Friends and serious freedivers from the Antarctic to Indonesia recommended it, and my 7.5mm suit is the warmest, most comfortable wetsuit I've owned. I've freedived for an hour-plus in the Antarctic at -1°C and been comfortable.
It's good for snorkelling down to Arctic or Antarctic temperatures and for scuba down to about 8°C, though I make sure I have something to put over it on the boat because of wind-chill.
The suit's almost too good. It got me thinking that I could minimise further, so I just had a 4.5mm version made.
A little smaller measurement at wrist, ankles and waist and I reckon it'll still be good for almost the same range of temperatures, but it'll pack down even smaller and I need only 3kg of lead.
Diving any colder than 8°C and I go to my trusty drysuit, a Bare NexGen Pro. It's a lightweight but very tough membrane suit with just a bit of elasticity. It's very comfortable, and for a couple of Antarctic seasons I wore it as a boat-suit as well as on dives.
I can wear it all day (with the occasional pee break – but I don't hold with pee zips or pee valves;
I don't feel the need to spend that long either sealed up or under water).
The standard zip was light and kinked up a bit so I fitted a heavy-duty one, and I've gone through several sets of seals and settled on heavy-duty everything.
UNDERSUIT
One thing I have yet to find to my complete satisfaction is an undersuit. I think one good thick one is far better than layers of thin suit.
I had a very thick Weezle suit that was pretty good, as was my Fourth Element Arctic. I'd like to try one of the new-generation undersuits, something thick and non-compressing, and test a heated undervest in polar conditions.
HOOD & GLOVES
The most experienced and capable ice-divers I know all seem to keep it simple, and get something that fits perfectly rather than anything fancy. They use thick, spongy neoprene hoods and three-finger mitts, neither too loose nor too tight.
Waterproof gloves and hoods are superb, as are Fourth Element ones, and I know folk who use both in extreme cold, but I seem to fall between the standard sizes for both. so they don't work for me. Using double hoods is a recipe for constriction and stress, and I never got along with dry-glove systems, though to be fair I have tried them only a couple of times.
CAMERA
For video as well as photo I've very much enjoyed micro four thirds cameras in the past few years, and the Panasonic GH series and Blackmagic video is still the foundation of my topside system, and gives me stills as good as all but the most ludicrously costly and bulky full-frame SLRs.
The video capability of the GH and Blackmagic is even better than pro SLRs.
For under water, I had a superb and still pretty compact Nauticam housing for my GH3, and got some excellent results.
Now, with the new generation of compacts, I've downsized, and happily. I have a couple of Sony RX100s, each camera the size of a cigarette packet, that can produce stunning stills and superb high-bitrate video. In the RecSea housing it's still tiny, and one of the things to be aware of is stabilisation for smooth video shots.
With the Inon wide I'm getting nice wide-angle shots, and the screw-on wet-lens capability is liberating (though I sometimes want pockets on my BC now!). I do struggle with getting the focus right for macro, but that's probably my technique.
LIGHTS
I have had Inon S2000 strobes for years and they have been superb, and my iTorch video light does everything I need for now, with a lovely even wide beam, but with the speed LED lights are coming on it is probably pretty puny and underpowered.
I'm trying to figure out ways of reducing the bulk and drag of my flash arms.
Appeared in DIVER July 2016