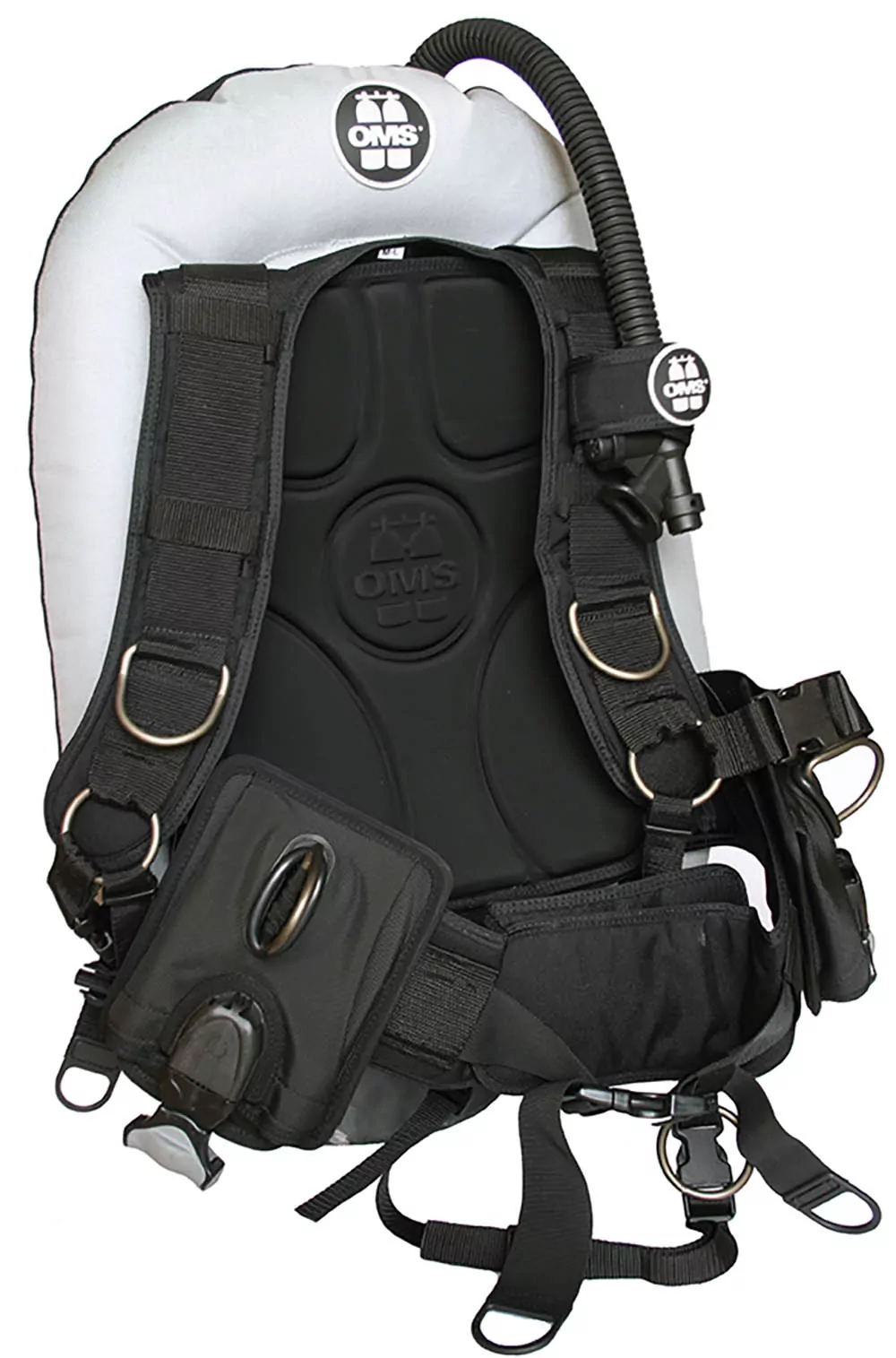 Appeared in DIVER September 2018
OMS HAS BEEN MAKING highly thought-of wings for a good while. When I did my OC technical-diving training my course included use of what my instructor felt was the best wing for technical diving, a double-bladder OMS that offered redundant buoyancy cells big enough when fully inflated to support an outboard motor and function as a reserve dive-boat.
I exaggerate, of course, but regardless of the number of cylinders I clipped on, there was no way I would find myself short of buoyancy.
However, there are far more recreational divers than there are technical divers, and lots more people dive singles than twins, so those big wings have limited appeal.
If you need one, nothing else will do, but how many people really need one?
On the other hand, and there's never a shortage of other hands in diving, the wing concept applies perfectly well to single-cylinder recreational diving. Your buoyancy is placed exactly where it's needed on the dive, above your back and between your body and your cylinder when you're in a good horizontal trim.
There it provides the most stable support you can get.
True, jacket-style BCs these days are designed to fill from the back first to mimic the effect, but with a proper wing you also get an uncluttered front, because there's nothing but harness over your shoulders and around your waist.
The Design
Enough preaching. Here's the OMS IQ Lite Signature Package, a ready-assembled pairing of its IQ Lite Cummerbund harness and Performance Mono Wing with vertical weight system, intended as a lightweight go-anywhere wing for the travelling diver.
The Performance Mono Wing is a doughnut-shaped bladder inside a heavy-duty grey and black outer casing. Fully inflated, it provides either 12 or 14.5kg of lift. In practice that will allow you to carry a lot of kit if you drop weight from your belt as you add weight to the harness.
A corrugated hose sits top-left of the wing and features a high-quality standard inflator unit. To let gas out, you either lift the hose and press the button or pull on the corrugated hose to open the valve.
There's a dump-valve on the wing at the bottom left that exhausts gas easily when you're horizontal, and is operated by grabbing the ball on a string and pulling.
The IQ Lite Cummerbund harness is made of tough webbing that is backed over the shoulders by a broad and slightly padded strap, so the weight of your kit sits more comfortably. Both shoulder-straps have pinch-clip buckles to make dekitting as easy as possible.
A wide, padded Velcro cummerbund encircles your waist with the pinch-buckle-fastening waist-strap over the top, and a narrower sternum strap with another pinch-buckle holds the top front of the harness in place. Shoulder-straps, waist-strap and sternum-strap are all easily length-adjustable and stay the length you want them.
You can say the same for the crotch-strap, which snaps onto another pinch-buckle attached to the waist-strap, where there's also a ring to which to snap your scooter if that sort of thing appeals.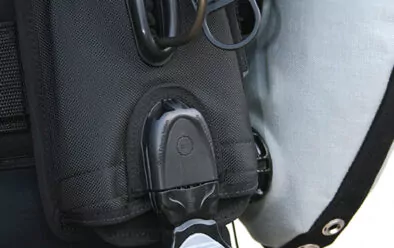 The Vertical Weight System pockets on the waistband hold the integrated-weight system. Each pocket can hold up to 2.7kg, and the pockets are easy to load and snap into place securely. The handles take a bit of a tug to get the weights out again, which is good, and are set vertically on the waistband, so you need to pull directly downward, a surprisingly easy and natural motion.
There's a cranked D-ring on each shoulder-strap, and each pocket has a D-ring that stands straight out from the pocket.
Twixt harness and wing is a padded backplate. Well, not a backplate as such, but it's padded and it covers your back. It's attached with Velcro to the inside of the harness, and covers the screws holding wing and bladder together.
Around the back of the assembled wing and harness you'll find four rolls either side of where a single cylinder would sit to locate the bottle, and there are two conventional cambands to hold it firmly in place. The bands weren't threaded through the cams on my sample, so you might like to check that either yours are or you know how to thread them yourself before first use.
Broad, soft, red plastic pads help to stop cylinders slipping. The supplied cambands will fit a single cylinder, but swap them for some longer straps and I'd be happy using this wing with twin cylinders.
In Use
The OMS wing dropped easily into place on a single steel 15, though the new bands were hard and stiff and took some work to get sorted.
Once correctly threaded and the cams pulled tight the cylinder was held solidly in place, with no movement when walking about pre-dive. The padded harness did a good job of spreading the weight. Post-dive, when the bands were soaked and had stretched a bit, I tried tightening them up but got very little movement out of them.
At first sight I had felt that the wing looked a bit bulky and might need some extra lead to sink compared to my own travel wing, but it didn't, or not that I noticed.
Under water I went through my usual head-down, forward, backward and sideways rolls and couldn't make the harness shift on my back.
The inflate added air with a nicely judged degree of control, and gas could be dumped under control from the corrugated hose or by pulling the hose, though the bottom dump could be a little fierce, erring on the all-or-nothing side.
It didn't take much practice to get it all in hand, however, and the wing performed exactly as a wing should.
Conclusion
My only real gripe with the OMS IQ Lite is that both dump-valves are on the left side of the wing. I'd prefer a dump on either side so that
I could use the unoccupied hand rather than have to juggle whatever else I'm holding, although it is possible to reach the corrugated hose with either hand if necessary.
And I'd as soon not have the pockets, but that's me, and it's very much your choice because the wing is available without.
Overall, I really liked this wing. It looks and feels built to last, works exactly as it should and delivers the diving experience I was hoping for.
Specs
TESTER> Mike Ward
PRICES> £515 (£435 without weight-pockets and cummerbund on harness)
WEIGHT> 3.4kg with 14.5kg wing
HARNESS SIZES> XS, S, M/L, XL
COLOUR> Black, red, red/black, pink/black, grey/black
CONTACT> fathomdiving.com
DIVER GUIDE>  9/10