archive – Diver Tests
Regulator BEUCHAT V-Twin
SELF-CONTAINED UNDERWATER BREATHING APPARATUS originated in France – the first commercially successful scuba sets were claimed to be the twin-hose open-circuit units developed by Emile Gagnan and Jacques-Yves Cousteau in 1943.
I'm not sure if this claim is fact or fiction, but what I do know is that my own desire to take up diving was born after watching the legend in the red beanie and his team of explorers share the underwater realm on our family television set.
France has a rich history in regard to scuba diving equipment, as has long-established French manufacturer Beuchat, which has played a major role in gear development from day one, and still flies the flag.
Latest product from the French Riviera-based company is another twin set-up, although this one has a modern twist. I took it with me to the temperate waters of the Pacific to give it a go.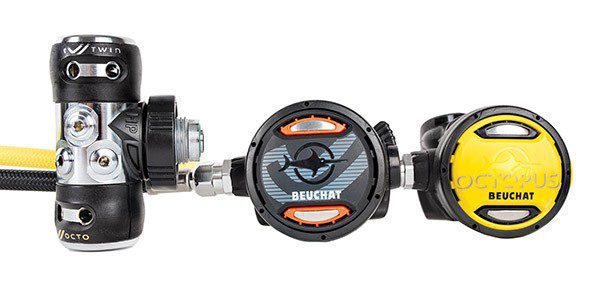 Twin Concept
Constructed from marine-grade chromium-plated brass, the first stage is in fact two first stages integrated into the same body.
This "twin concept" incorporates two separate regulator mechanisms assembled at opposing ends of the first-stage body. One is dedicated to the main second stage, the other to the auxiliary or octopus.
This innovative design allows simultaneous breathing from both second stages to secure optimum performance at depths of up to 50m. It's of note that the European certificate EN250-2014 provides standards for alternative second-stage use to depths of 30m, making the V-Twin's performance surpass the requirements.
The first-stage regulator mechanisms are of the standard, non-compensating piston design. This pattern is known to offer simple but dependable gas delivery, while at the same time being easy to maintain.
There are five 3/8in medium-pressure ports arranged either side of the first-stage body and a single 7/16in high-pressure port located at the top left-hand side.
The main piston mechanism delivers mp gas to two ports on the right, with the dedicated auxiliary second-stage port (clearly marked with an embossed plastic pointer) on the same side.
The two mp ports on the left are supplied by the octo mechanism and are configured for optimal BC and drysuit feeds. The V-Twin first stage is available with either 232bar yoke or 232bar DIN tank connections. The latter version weighed in at 691g on digital scales.
The Second Stage
As the V-Twin is dedicated to delivering the optimum breathing performance to two divers in an out-of-air emergency at depths up to 50m, Beuchat has built both primary and alternative second stages to the same specification. In fact they're identical but for colour schemes.
The second-stage body is made from high-grade polymers and fitted with a compensating demand-valve mechanism with an adjustable nozzle. The purge valve is fitted centrally at the front with a large "soft-touch" cover.
Lateral water inlets around the periphery are designed to reduce the dynamic effect of water on the main membrane and reduce unwanted freeflows when facing into a strong current.
A single diver-adjustable control is side-mounted on the main body, This doubles up as a venturi control lever, with dive and pre-dive positions at the lever's limits and in between the limits for breathing-sensitivity adjustment.
Both second stages are fitted with lightweight braided mp hoses. The black primary hose is 75cm long and the octo hose is 92.5cm and coloured yellow to aid identification. Each second stage weighs in at 171g (without hoses).
In Use
I found the port configuration excellent for optimum hose-routeing, putting everything neatly in place without adding drag or snagging points.
The only downside was the single hp port on the first stage, which limited me to either an hp hose-mounted contents gauge or a wireless transmitter but not both.
When I'm using dive-computers with a transmitter, my preference for safety reasons is to add an analogue gauge as back-up. Unfortunately this wasn't an option, and left me with a decision to make, so the almost fail-safe submersible pressure gauge was the obvious and sensible choice.
I had been alternating the diving days with the Beuchat V-Twin and a flagship titanium regulator that I also had on test.
It's amazing that the two when compared turned out to be difficult to tell apart in the performance stakes.
Was this is a reflection of the strict European certification process that modern regulators have to pass to gain a CE mark, or a reflection of just how well the V-Twin delivers its gas? I'd certainly like to think it was the latter.
The V-Twin was a joy to breath from. It took only a few minutes to find the optimal position for the breathing-adjustment lever on the primary second stage, and once done I left it in this setting for all the subsequent dives.
The octo venturi control was left set at the pre-dive position to prevent freeflows when rolling off the RIB, and it did exactly that.
To test the regulator to its full potential, dive-guide Sten Johansson and I opted for air-fills and together descended to 45m on the pretence of searching for a school of hammerheads.
At depth we went through a pre-planned out-of-air drill, with Sten wolfing down air from the V-Twin octo, while in tandem I did the same. We synchronised our inhalations to see if there was any loss in performance and air delivery.
You won't be shocked to hear that there was no downturn. In fact, it was as if we were breathing from separate regs (which to all intent and purposes, we were).
The purge was easy to find and delivered gas progressively, but I found it stiffer to operate than most of the models I've been testing recently.
The narrow and compact exhaust port sent exhaled bubbles either side of my face without interfering with forward vision, but as we were diving mainly in current, it was difficult to determine whether this would always be the case.
The V-Twin second stage felt light and unobtrusive in my mouth, and the lightweight flexible braided mp hose didn't restrict head-movement in any way.
Conclusion
There's no doubt that the Beuchat guys have produced an excellent regulator in the V-Twin. The ethos behind the design is sound, although I would have liked to see a second hp port.
I am being picky here but, like many others, I enjoy the convenience of a wireless transmitter plus the solid reliability of an analogue gauge – it's a bit belt-and-braces I know but, hey, that's the way we should all dive, isn't it?
The performance when emergency air-sharing at depths past the recreational limits was outstanding, and it's here that this "first of its kind" two-in-one first stage really scores.
If the unthinkable ever happens, and Murphy's Law dictates that it happens at depth, I hope I'll be breathing from one of these French bad boys.
SPEC
PRICE: 379 euros
FIRST STAGE: Non-compensating piston
MATERIALS: Chromium-plated marine-grade brass, high-grade polymers
PORTS: 5 mp (2 main, 3 octo), 1 hp
CONNECTIONS: 232bar DIN, 232bar A-clamp
COLDWATER COMPATIBLE: No
NITROX COMPATIBLE: Yes, up to EAN 40%
SECOND STAGE: Air-compensated valve
CONTROLS: Venturi, dive/pre-dive. Adjustable breathing control
WEIGHT: First stage 691g, second stage 171g
CONTACT: www.beuchat-diving.com
DIVER GUIDE 9/10
Appeared in DIVER July 2016