Just over a year after the discovery of Äpplet, the sister-ship of Sweden's famed 17th-century warship Vasa, the same dive-team came across a surprising set of new discoveries – which have just been revealed.
Also read: Divers find 'evil-eye' disc – and village of 100,000 spikes
The maritime archaeologists, from Vrak, the Museum of Wrecks in Stockholm, along with Swedish Navy divers had discovered the well-preserved Baltic shipwreck in December 2021, and it was identified in October last year, as reported on Divernet. This spring they set out on the military vessel Furusund to document the ship's hull through 3D filming.
The latest finds were made on their initial dives, when the divers were amazed to find wood-carved sculptures that had previously been hidden behind the stern – including two large lions from the national coat of arms, displayed on the transom.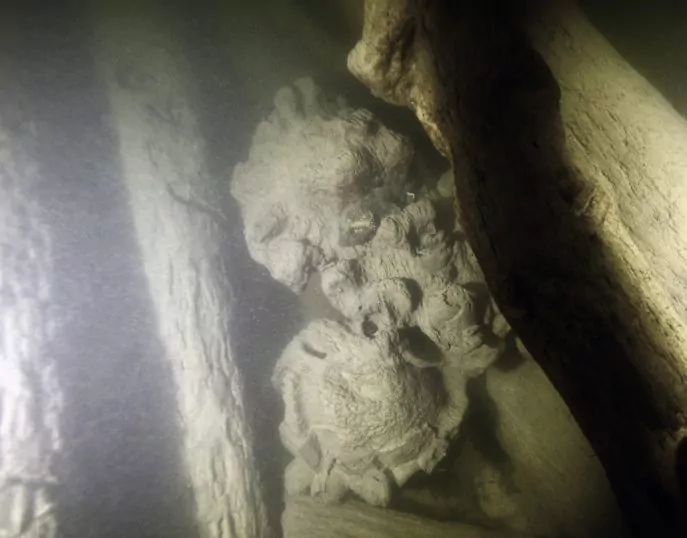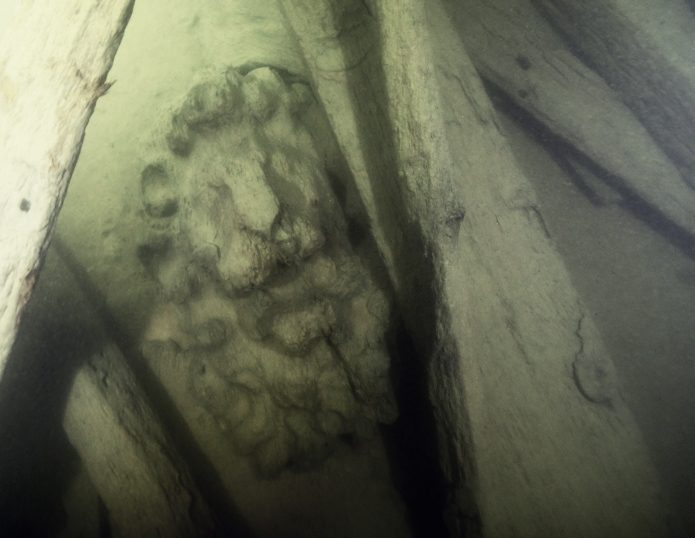 Beside the lions was a smaller, circular sculpture in the shape of an apple – which would have formed a nameplate for the ship formally known as Riksäpplet (Royal Apple). In times of low literacy, such images were often used to help identify vessels.
The archaeologists had hardly expected to find sculptures left intact on a ship that had been retired and scuttled. "I've been diving for more than 30 years and have never found a sculpture," said Vrak marine archaeologist Jim Hansson. "To be part of finding the ones from Vasa's sister-ship Äpplet is one of the most amazing things I've ever experienced!"
Completed after sister-ship sank
The construction of the two large warships Vasa and Äpplet had been ordered by the Swedish King Gustav II Adolf in 1625, and they were built beside each other in Stockholm. Vasa was completed first but sank in 1628, a year before Äpplet was ready to launch, incorporating lessons learnt from the sister-ship's swift demise. When Sweden entered the 30 Years' War in 1630, Äpplet was in its fleet that shipped troops to Germany.
The ship had been built wider than Vasa to provide more stability, and served the navy for 30 years before being deliberately sunk in a strait at Vaxholm in 1659.
"To find Äpplet at all, and then realise that it was sunk with its sculptures still there, is something I never expected," said Vrak underwater archaeologist Patrik Höglund.
The Äpplet sculptures have similarities with those found on Vasa – but also differences, say the archaeologists. They believe that on the former wreck they have also found a depiction of Atlas the Titan, in the form of a figure carrying what appears to be a globe. Atlas is not represented on Vasa.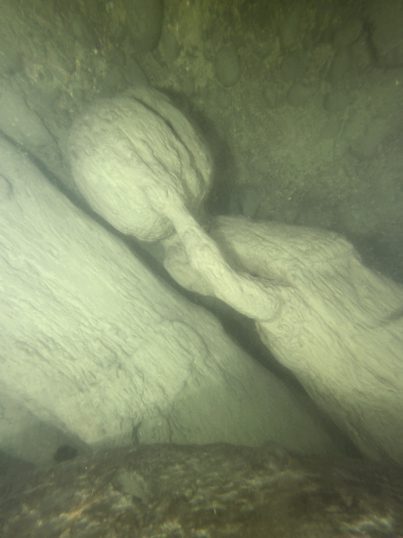 "Suddenly finding a gaping lion staring back into the darkness down there tops my list during my professional life as a diver," commented HMS Furusund's diving manager Peder Sjöholm of the discoveries. "The stern's construction is partially preserved at the wreck-site. This means it is now possible to understand the development in ship construction, from the unstable Vasa and attempts to find the right shape for a massive, heavily armed ship.
"The investigations reveal that Äpplet had both a higher stern and a different shape than Vasa, the hull of which is not as wide and is narrower at the top of the sterncastle. Details and differences in the construction of these two ships bring us much closer to the shipyard builders than before."
"This find clearly confirms why we need a museum about our cultural heritage on the bottom of the Baltic Sea," said Vrak's museum director Odd Johansen. "The museum has been open for less than two years, so it's amazing that we can already announce this sensational discovery!"
Wrecks and artefacts are preserved in good condition in Baltic waters, although salvaging artefacts from Äpplet for conservation and display remains a possibility – at the discretion of the county administrative board.
Vrak and navy divers have investigated Vaxholm a number of times for the "Forgotten Fleet" research programme, in collaboration with Stockholm University and Riksbankens jubileumsfond. Vrak is located near the Vasa Museum at Djurgården in Stockholm, and forms part of Swedish National Maritime & Transport Museums (SMTM).
Also on Divernet: Swedish Divers Survey British Annie Shipwreck, Divers Date Unique Baltic Shipwreck, Vrak Divers Find 10 More Baltic Wrecks, 6 Historic Wrecks ID'd For Diver Trail, Divers Find Barricade 'Forest' In Baltic, Exploring Baltic Shipwrecks In Sweden