The number of unprovoked shark "attacks" worldwide fell in 2022, tying with 2020 for the fewest reported incidents in the past 10 years, according to the annual report derived from the University of Florida's International Shark Attack File (ISAF) database.
2020 was when Covid-related travel restrictions and beach closures are thought likely to have resulted in fewer encounters between humans and sharks.
The majority of the 57 unprovoked bites last year occurred in the USA and Australia. Five proved fatal, down from nine in 2021 and 10 the previous year. But there is bad news for the sharks – it is thought that the overall reduction in bites in 2022 could reflect the global decline in shark populations.
"Generally speaking, the number of sharks in the world's oceans has decreased, which may have contributed to recent lulls," said Gavin Naylor, director of the Florida Museum of Natural History's Florida Program for Shark Research. "It's likely that fatalities are down because some areas have recently implemented rigorous beach safety protocols, especially in Australia."
In the ISAF statistics, scuba divers are lumped together with snorkellers and freedivers to account for only 12% of the total of shark-bite victims – the majority are surfers or swimmers.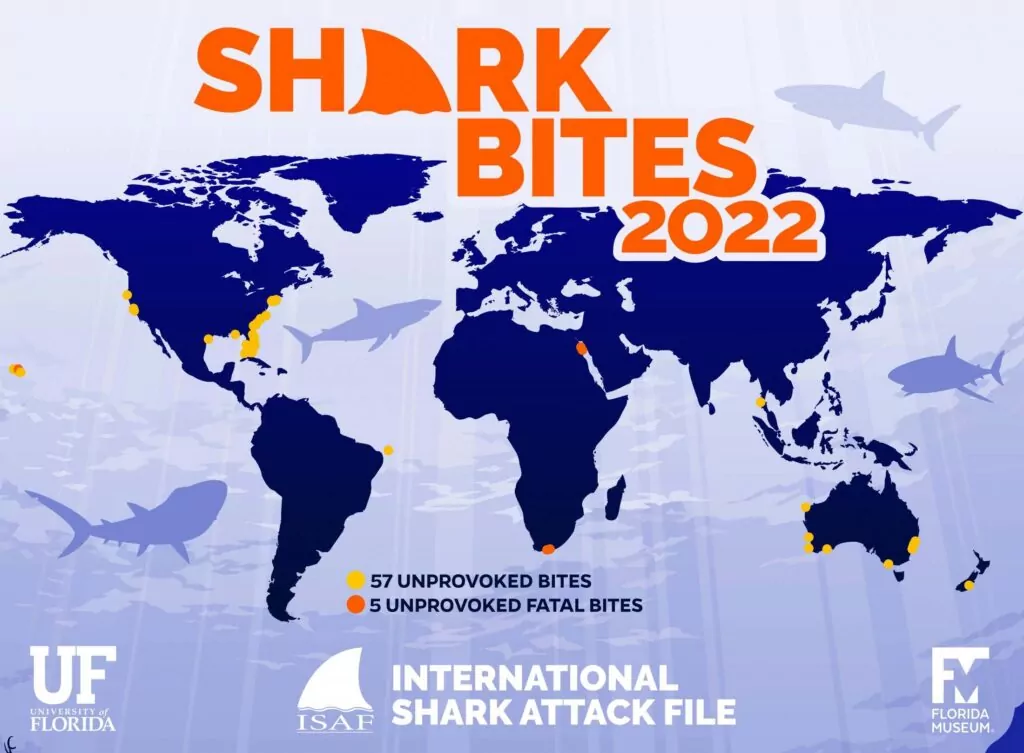 Provoked bites
Since 2013 there have been an average of 74 unprovoked shark bites per year. The ISAF report strongly emphasises unprovoked bites rather than the type likely incited by the presence of fishing-lines or chum in the water. In 2022 an additional 32 bites would count as having been provoked, whether intentionally or unintentionally.
"Unprovoked bites give us significantly more insight into the biology and behaviour of sharks," says Naylor. "Changing the environment such that sharks are drawn to the area in search of their natural food source might prompt them to bite humans when they otherwise wouldn't."
As usual the highest number of bites occurred in the USA, especially Florida, though none of the state's 16 unprovoked bites was fatal. Two, likely from bull sharks, required amputations, and in one rare incident a female snorkeller in Florida's Dry Tortugas National Park was bitten by a lemon shark.
Unusually New York reported a record eight bites in 2022, six confirmed and thought likely to be the result of juvenile sand tiger sharks drawn into the surf zone by baitfish off Long island. 
The only unprovoked US death occurred when another female snorkeller went missing in Maui, Hawaii in December, as reported on Divernet.
Unusual marine system
Nine unprovoked bites occurred in Australia, and two in South Africa, thought to be by white sharks and both fatal. Single incidents occurred in Brazil, New Zealand and Thailand. 
Two female snorkellers were fatally bitten on the same day in Egypt's Red Sea, where shark bites are rare considering the levels of inwater activity. The attacks occurred less than a mile from each other and might have been perpetrated by a single tiger shark.
"It's a very unusual marine system because the seafloor drops so precipitously," said Naylor, explaining that this could bring sharks in close to the coast. "Open oceans are often pretty bleak, and the pelagic sharks that live in them make their living by opportunism. Whatever potential food source they find, they'll sample."
The chances of being bitten by a shark remain "incredibly low", concludes the report, which can be found at the International Shark Attack File site.
Also on Divernet: White Shark Kills Diver With One Bite, 'Dangerous Moonlight' Linked To Shark Attacks, 'Freak Event': Snorkeller Plays Down Shark Bite