Two dolphins and a porpoise found dead on the English and Welsh coasts in February are now thought to have been among the first cetaceans in the world to be infected with avian flu.
The body of an adult female short-beaked common dolphin was discovered on Pembrokeshire's Newgale beach on 19 February. Tests have shown that although she had died of other causes she was infected with the virulent H5N1 strain of avian influenza.
Also read: When do 'magical' big-animal encounters turn intrusive?
Another dolphin found a few days later in Devon was similarly infected, and a dead harbour porpoise washed up in East Yorkshire also tested positive for the virus, though in neither case was it the cause of death. It is thought that the cetaceans contracted the disease by eating infected wild birds, but investigators want to determine whether the virus has mutated, and how much of a threat it poses.
The discoveries underline the importance of reporting cases of stranded marine animals so that post mortem examinations can be carried out on them. The UK Cetacean Strandings Investigation Programme (CSIP) collects data, and anyone finding a dead or injured marine mammal is asked not to touch it but to call it in as soon as possible.
Dead-animal strandings can be reported to CSIP on 0800 652 0333 (in Scotland the number is 07979 245893).
The Animal & Plant Health Agency says that more than 20 dead mammals, also including seals, otters and foxes, have tested positive for bird flu around the UK so far this year.
Dolphin chasers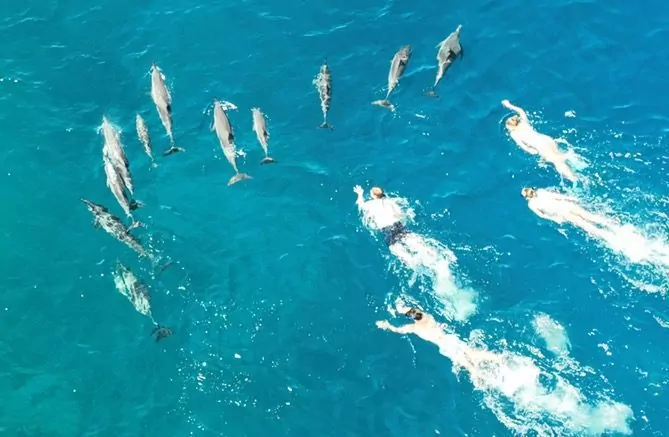 Meanwhile in Hawaii a group of 33 swimmers have been referred to federal authorities for harassing spinner dolphins by the Pacific islands' Division of Conservation & Resources Enforcement (DOCARE) and the NOAA Office of Law Enforcement.
Officers of the Department of Land & Natural Resources (DLNR) patrolling Honaunau Bay on Hawaii island on 26 March reported finding the swimmers pursuing a pod of dolphins.
Drone video and photographs were released to show the group "aggressively pursuing, corralling and harassing the pod". After being informed while in the water that they were contravening laws designed to protect marine mammals, the swimmers were met on land by DLNR officers, who are authorised to enforce federal laws such as the Marine Mammal Protection Act.
Earlier this month a similar joint investigation was launched into 65-year-old Hawaiian snorkeller David Jimenez. DLNR officers reported that the self-styled 'Dolphin Dave'had been repeatedly harassing a humpback whale and a pod of dolphins in Kealakekua Bay while videoing his behaviour for social media. He is set to answer charges in Kona District Court on 11 May.
Also on Divernet: Dolphins Raise Voices Against Human Din, Dolphins For Avatar: What Was JC Thinking?, Malta Park Blames Divers For Dolphin Deaths, Dolphins Guard Russian Warships Against Divers, Why Today Is World Dolphin Day