The ban on caged shark diving at remote Guadalupe Island off Mexico, which has frustrated the great white shark divers and liveaboard operators who would normally be several months into the 2022/23 season by now, has been declared permanent by the Mexican government.
Update: 'Time to fight like hell for white sharks'
But some operators remain defiant and insist that the ban, which has been pinned on increased scrutiny following several high-profile shark-cage incidents in the past, will sooner or later be overturned. They also argue that the move could be detrimental rather than for the protection of sharks.
Guadalupe lies 160 miles off the Pacific coast and has been a marine reserve since 2005. Long renowned as one of the world's leading white shark locations, dive-boats visited for caged diving between November and June, switching to Mexico's other celebrated remote diving location the Revillagigedo Islands, which includes Socorro, at other times of the year.
Guadalupe is inhabited only by scientists and some military personnel and seasonal fishers. Eastern Pacific white sharks come to feed on seals and other prey in the area.
Mexico's CONANP, the National Commission of Natural Protected Areas, unexpectedly declared Guadalupe closed last May. It wanted time to carry out a scientific study of the shark population to determine whether it was being adversely affected by diving and fishing activities.
In August the Secretariat of Environment & Natural Resources (SEMARNAT) confirmed that the closure would apply until the end of 2022, impinging on bookings for the upcoming shark-diving season. The announcement ignited a bitter argument as liveaboard operators contended that the closure was unprecedented and illegal.
Five-year programme
As of 10 January Guadalupe's five-year biosphere reserve management programme has been renewed but excluding diving and sports fishing. CONANP maintains that the move will strengthen protection not only of white sharks but bottlenose dolphins, sea-lions, fur seals, elephant seals and seabirds, and enable it to better protect the island's ecosystems.
"The prohibition of the observation of the white shark for recreational purposes eliminates the bad practices that put this species at risk due to the use of attractants and observation cages," it has stated.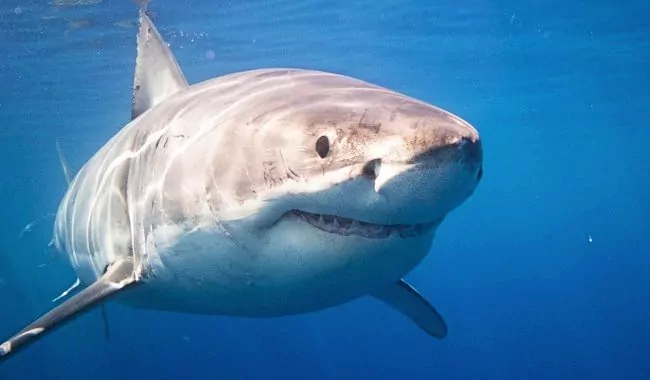 The closure would allow wildlife to live "without alterations such as noise, boat traffic, human interaction with fauna or the introduction of invasive species". The Mexican Navy has been charged with enforcing the closure and is expected to issue its own report on its viability later this year.
Mike Lever, who runs Nautilus Dive Adventures, contends that previous scientific studies have already demonstrated that, far from being adversely affected, the shark population has boomed as a result of eco-tourism. This is in large part because the presence of shark-diving boats deters poachers while at the same time facilitating scientific study.
He also says that the closure will have a negative effect not only on the local economy but on the marine park itself, through loss of the fees collected from divers. Tourist revenues have been estimated to be as high as US $25 million, and the state of Baja California, which administers Guadalupe, is said to oppose the closure and might yet force a reversal of the decision.
'Bad practices'
Boat operators in Guadalupe were expected to observe strict CONAMP guidelines, and the "bad practices" cited are understood to refer to four unusual incidents widely shared on social media, even though two of these occurred six years ago, and one was in Socorro rather than Guadalupe.
The first came in October 2016 when a juvenile white shark appeared to have been injured after accidentally entering a surface cage and having to force its way out. The scuba instructor in the cage was unhurt.
Later that month a shark bit through a line supplying air to divers in a cage submerged at 10m. The four divers escaped uninjured but it proved difficult to extricate the shark although, as with the one in the first incident, it was eventually able to swim away.
In October 2019 a great white died after getting its head stuck between cage bars, struggling to free itself and ending up decapitated. Nautilus, the operator involved, maintains that after carrying out many thousands of cage-dives safely since 2003, it had never before come across a shark repeatedly charging at a cage in such a way.
In June 2022 the Pacific Fleet liveaboard Socorro Vortex hit a reef off Socorro while the captain and crew were reported by guests to have been asleep, as reported on Divernet. The collision also resulted in a fuel spill.
Price of challenges
Even before the announcement about the new five-year Guadalupe programme, the closure had hit operators hard, one example being long-established Horizon Charters.
"While this closure was brought about by several deeply disturbing videos and actions by others at the island, the net good from cage-diving both to shark research, and perceptions of sharks worldwide, is not to be understated," it says.
Insisting that the ban has been politically rather than environmentally motivated, it has just issued an appeal to its clients: "We spent over $100,000 on legal challenges on behalf of our divers to keep Guadalupe open for everyone and are now facing refunds of over $500,000 to divers who booked with us in 2022," it says.
"In short, with the refunds to all divers after the Covid closure and now this, we are strapped. We refunded divers in Covid when other Guadalupe boats did not – it was a massive hit we weathered but this second one is really tough."
Also on Divernet: My Great White Adventure, Great White Shark Captivates Freedivers, When Hunter Becomes Prey