Maldives diver set for two-day immersion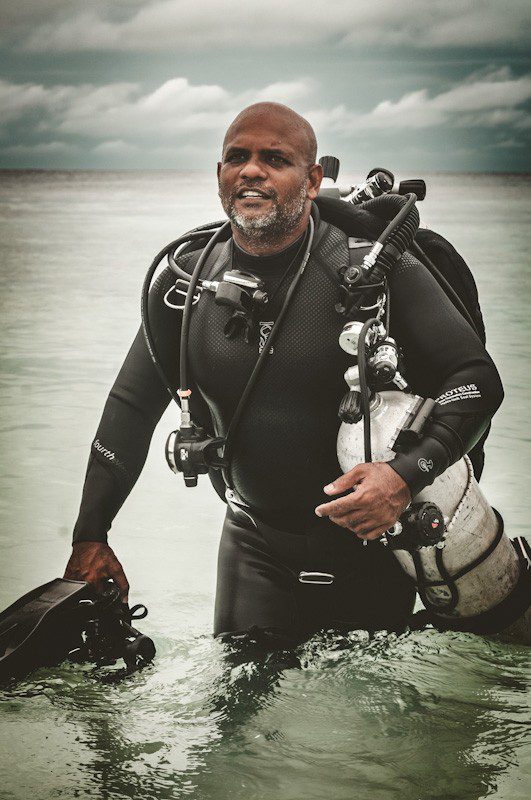 There was disappointment for UK scuba divers yesterday (26 August) as it was announced that the Maldives would remain on the government's red list for travel.  However, plans are going ahead to mark the Indian Ocean nation's 50 years in the diving industry next year, centring on a 50-hour scuba dive to be carried out by Maldivian technical diver Shafraz "Shaff" Naeem.
The Ocean 6:50 event is set to take place at the Kuda Giri dive-site in South Male Atoll from 25-27 February, 2022 – by which time it is hoped that current travel restrictions will have been eased.
The idea is to bring together "the local and international diving community, marine researchers and environmental activists to raise awareness and advocate for meaningful and sustainable solutions to the issues of plastic pollution, climate change, endangered species and the marine ecosystem", according to events-management company Unix Sporting.
Unix describes itself as "a team of entrepreneurs working together to bring unique sporting events to the Maldives".
While under water Naeem will be holding a pledge that visiting divers can sign as a show of solidarity for the cause. The entire dive will be livestreamed through YouTube and Facebook, and divers from around the world will also be invited to sign during the virtual event.
The longest open saltwater scuba dive world record is held by Egyptian diver Saddam Killany, who managed more than 145 hours in Dahab last year. Naeem's endurance dive, if successful, would be a national and regional record.
For the attempt, described as the first of its kind in the South Asia region, a support team of international and local technical divers, a doctor and a psychiatrist will be stationed on board a vessel at the dive-site.
In addition to the main event, dive-training, freediving and  marine-conservation camps will be organised and there will be "dive expeditions" in Huvadhoo, Fuvahmulah and Addu atolls.
For divers wishing to visit during Ocean 6:50, nearby Anantara resorts and others are expected to offer special packages, with discussions also underway with guest-houses on the local island of Maafushi, Naeem told Divernet.
The event is supported by local dive-centres and the Maldives police, National Defence Force and Ministry of Tourism, with sponsors including Dive Systems UK, Fourth Element, Luminox, Shearwater Research and TSK Zurich. Diver contributor Saeed Rashid is set to be chief underwater photographer.
For updates on attending Ocean 6:50, email comornaji@unixsporting.com