Five SHIPS Project scuba divers were looking for the remains of an 18th-century shipwreck near Drake's Island in Plymouth Sound national marine park when a fisherman turned up and showed the dive-boat cox a rare find.
The man had found a blue lobster in one of his pots, and the chances of such a find are reckoned to be about one in two million. Most lobsters are mottled brown in their natural state and the blue coloration is the result of a genetic mutation that can be passed on to any offspring.
The fisherman requested that the divers release the female lobster, thought to be about 50 years old, somewhere safely out of reach of other divers or pots – which they duly did.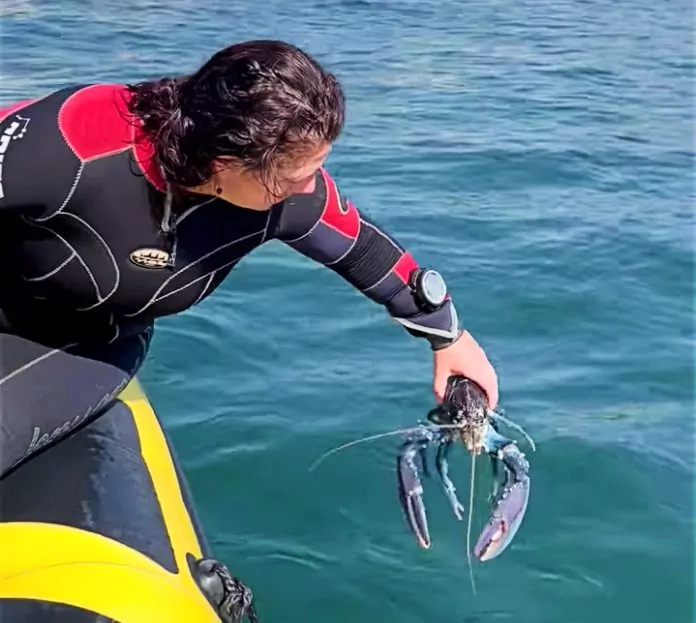 "Thanks to the fisherman for not taking her into market," SHIPS Project director Mallory Haas said later of the crustacean the divers dubbed Lucky Blue. "It was nice to also release something back in the wild, so it can make more little baby blue lobsters."
The SHIPS Project is a volunteer non-profit Community Interest Company (CIC) that researches maritime historical sites and events under water as well as on land, focusing on and around Plymouth. It also provide maritime heritage consultancy for projects in South-west England.
The odds on finding a blue lobster might be long, but two years ago Diver reported on another such specimen in the UK. Rochdale gastro-pub chef Austin Hopley had been shocked when this blue crustacean turned up as part of his regular seafood delivery from Scotland.
Rather than boil Larry, as Hopley named him, the chef went to the trouble of finding him a new home with Sea Life Manchester – and, as a consequence of the encounter, declared that he was taking lobster off the menu altogether at the Hare on the Hill.
Also on Divernet: Improper use of SMBs and diver-down flags, Diver pays £375 per undersized lobster, Divers urged to back crawfish recovery