Responding to fears of negative publicity from a recent oil-spill near the prime Philippines diving destination of Puerto Galera, tourism secretary Christina Garcia Frasco has been out scuba diving with other officials at the popular resort on the island of Oriental Mindoro.
Frasco dived from the Lalaguna Villas resort dive-boat. She said afterwards that although at least 66 tourist sites and more than 1,400 tourist-sector workers had been affected by pollution from the motor tanker Princess Empress, which sank on 28 February, Puerto Galera had remained unaffected and was "100% open" for tourists.
The minister dived at Lalaguna Point on 12 April with other dignitaries: Puerto Galera's mayor Rocky Ilagan, tourism regulation under-secretary Shahlimar Hofer Tamano and regional director Zeny Pallugna. Expressing his gratitude for Frasco's visit to Puerto Galera, the mayor noted that it was the first by a tourism secretary for 20 years.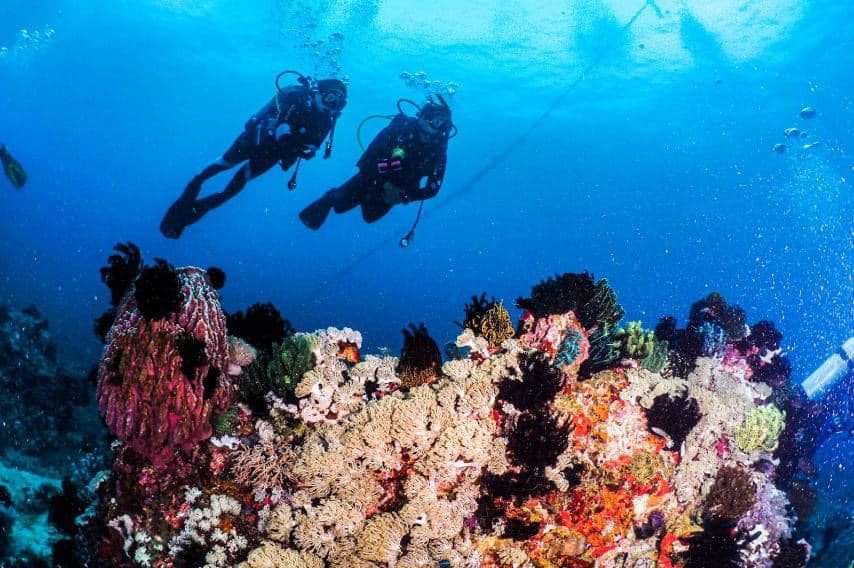 "Notwithstanding the difficulties, the challenges and the calamities this province has and is facing, the Philippines, including Puerto Galera and Mindoro, continues to be a beautiful tourist destination," said Frasco, who also chairs the Philippine Commission on Sports Scuba Diving (PCSSD). "We are very hopeful that the message is sent across to everyone that they should come and visit Puerto Galera."
'False information'
As with many Coral Triangle diving destinations, Philippines tourism had already been badly affected by the Covid pandemic, but 18,750 tourists were said to have visited in the week leading up to 10 April, mainly from China, South Korea, the USA, Japan and Germany.
Mayor Ilagan criticised what he described as false information on social media that the oil spill had affected Puerto Galera. But while the diving hotspot might have escaped the effects, other communities had been less fortunate.
Princess Empress had drifted and sank near Balingawan Point. Leaking diesel fuel and oil soon expanded to form a slick covering around 24sq km and affecting nine municipalities in Oriental Mindoro, one in Antique and two in Palawan.
During her visit, Frasco issued grants to leaders of sustainable tourism organisations in the affected areas, designed to help establish alternative livelihoods for those affected by the spillage.
Also on Divernet: Philippines: The Fantastic Four, 4 Manta Hotspots Identified In Philippines, Ignore Rumours: Moalboal Baitball Still Delighting Divers, Philippines Reopens To Visiting Divers