US diver Mark Ecenbarger, who built and ran Lembeh Strait's first dive operation, Kungkungan Bay Resort, has died at the age of 62.
Ecenbarger's mother Kathryn, a haircare-salon heiress, had come across the area of North Sulawesi opposite Lembeh Island while travelling in Indonesia in the late 1980s. After deciding to buy an old coconut plantation on the mainland shore near the town of Bitung, she sent Mark, a building contractor and also a scuba diver, to construct a resort there in 1991.
Initially the strait had seemed to offer little to tempt travelling divers more accustomed to colourful coral reefs, but through his dives Ecenbarger soon realised that the benthic marine life was unique, and could become a magnet for underwater photographers and marine biologists.
By 1994 he was running Kungkungan Bay Resort, soon better known as KBR, and divers were discovering the pleasures of "muck-diving", for which Lembeh remains the recognised centre within the Coral Triangle.
12 bungalows
Forward-thinking in terms of eco-tourism, KBR was based on Ecenbarger's decision to keep the development small-scale and discreet, albeit luxurious, adopting traditional local architectural styles. The resort began with only 12 bungalows, with a restaurant, administration block and four dive-boats.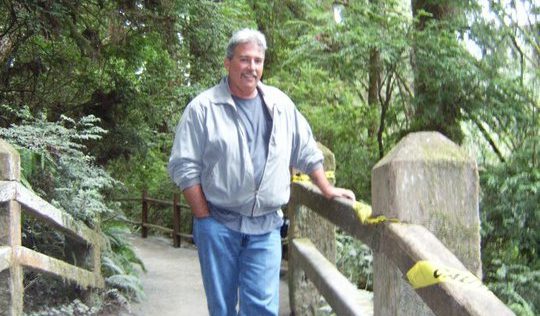 The reefs on which guests dived were leased from the government, which enabled KBR to impose its own rules to keep them in good condition. Groups were limited to eight divers per site, and no-touch and other sound diving practices enforced. On word of mouth divers and especially underwater photographers were soon queueing up to visit, and other dive resorts began to spring up around Lembeh Strait.
"Mark was the person that changed my life in a dramatic and exciting way," wrote underwater photographer Constantinos Petrinos on his death. "Because of him I made my underwater journey in Indonesia, met my first wife and have a 19-year-old son.
"He was a tough guy and some people reading this might have had differences with him, but I think that we can all agree that Mark and his family affected the lives of so many people in the Lembeh Strait with KBR."
Ecenbarger died in Cottonwood, California on 26 February, leaving his wife Rina Jelita and a daughter.
Also on Divernet: Critters A La Carte, Adventures In Wunderland