INDONESIA DIVER SPECIAL
When it comes to muck-diving, Lembeh Strait is ground zero. Story and photos by JESPER KJØLLER
NORTH SULAWESI is an epicentre of biological diversity. Hidden between debris and rubble on the volcanic sandy bottom of Lembeh Strait, you can find the strangest creatures.
It's all about having sharp eyes. Maybe this tiny piece of seaweed is really a rare critter? Or perhaps it's just a tiny piece of seaweed?
Dive Into Lembeh is the newest dive resort along the Strait. It offers very easy access to all the well-known dive-sites, and combines the comfort of a resort with the practical convenience of a liveaboard.
Diving in Lembeh Strait is the opposite to diving in the Red Sea, with lifeless desert landscape above water replaced by lush rainforest and swaying coconut palms.
Below the surface, however, there are no colourful coral reefs, only a black-grey sandy bottom, which at first glance looks dead.
But, suddenly, the dive-guide stops and indicates something with his metal pointer. My brain feverishly browses through a Rolodex of underwater creatures – images of fish, crabs and snails are quickly formed and rejected again and again It's about finding the right outline and size. Here lifeforms assume shapes and camouflages you hadn't considered possible.
Suddenly the carousel stops and I've found a match – it's a skeleton shrimp! The alien-looking creature, no bigger than a fingernail, fuses perfectly into the coral branch on which it sits, which is why I couldn't see it at first. I settle down and begin the process of getting a good focus through my 105mm lens.
After the first few dives we slowly  settle into the special Lembeh dive rhythm. Nitrox cylinders for the entire day are analysed and marked before the first dive. The staff assembles your gear and loads the boat. Even your camera is freighted over from the dunk-tanks in front of the large, well-lit camera-room.
You just have to get yourself on the boat dressed in your wetsuit, check your equipment and that's it. The staff and the service concept are excellent.
The operation runs like a well-oiled machine, with lots of smiles and laughter.
Lembeh Strait was formed during a volcanic eruption that moved Lembeh Island off the mainland of North Sulawesi and formed a narrow passage. It's mostly 40-50m deep, but at both ends the bottom slopes down to several hundred metres, and these special conditions are part of the biological mechanism that makes life in the strait so special. The nutrient-rich water from the depths and equally nutrient-rich volcanic sand supports the enormous diversity of species.
Most dives begin under the boat at 5m. After reaching 25-30m as the deepest point, you zig-zag back up the slope to the boat and keep searching.
All dives are conducted in small groups – Dive Into Lembeh maintains a luxurious ratio of three divers maximum per guide.
Most of the 50 named dive-sites are 5-10 minutes' speedboat ride from the resort in the northern part of the Strait.
Though close to each other, they are quite distinct. In some places there are shallow coral reefs, but the archetypal Lembeh dive is on a grey or black sandy bottom. After the dive, you are handed fresh fruit, water and a clean towel.
DIRECTLY IN FRONT of the resort, divers can access famed sites Hairball and Aw Shucks. If for some reason you don't want to dive from a boat, you could easily explore the house reef for a week and not run out of interesting things to see.
The local guides have an almost supernatural knack for spotting the miniature wildlife in the Strait.
When they find something, they catch your attention by banging their pointers against each other or waving a light. A nudibranch or scorpionfish sitting on the bottom won't cause much hullabaloo, but a blue-ringed or mimic octopus will. Such creatures are rare and also extremely hard to spot, camouflage artists that they are.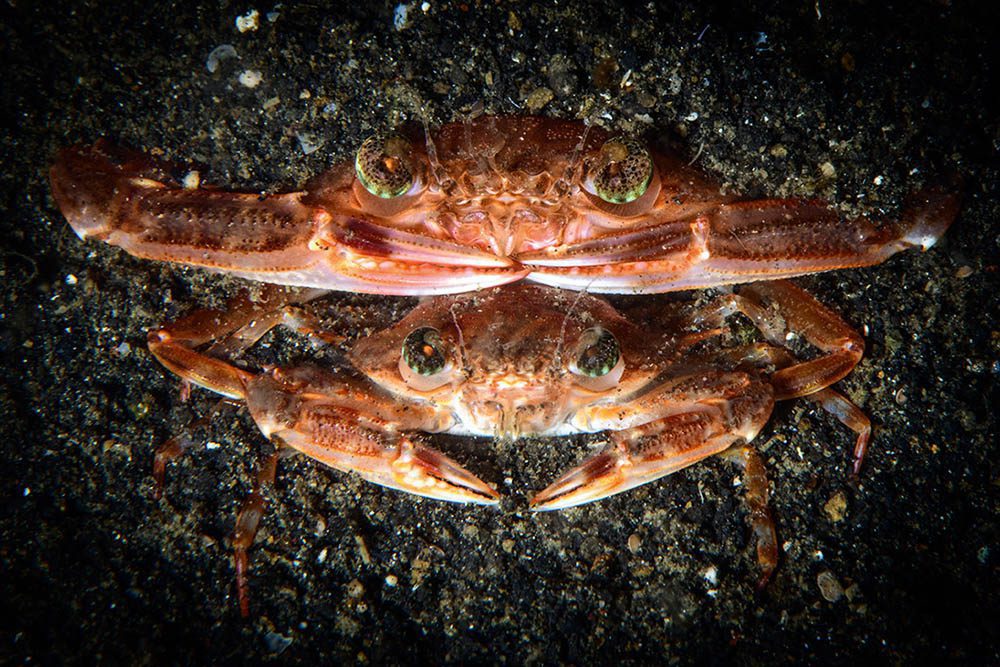 When the guides point at something, it isn't always clear what it is. Everyone who has tried muck-diving knows the sensation of feeling completely foolish.
What am I missing? Sometimes I have to give up and just shoot a few pictures to make the guide happy, especially when I don't have the right lens for that particular size of creature.
The guides sometimes write the name of the species on a slate, but as their grasp of Latin taxonomy often exceeds mine, that doesn't always help.
Take a safari on an African savannah. You might be lucky and see lions, giraffes and elephants, or you'll see nothing but dung beetles and wildebeests. Then again, if you stay at home, you'll see nothing. You have to take your chances.
Diving in Lembeh Strait is the same. Every dive is a safari and you're always alert and ready for anything.
On most dives, you'll be busy taking pictures, and end the dive only because your nitrox is running low.
WHILE SAFARI TOURISTS go for "the Big Five", the Lembeh equivalent must be "the Small Five". I'd nominate pygmy seahorse, blue-ringed octopus, hairy frogfish, mimic octopus and lacy scorpionfish as the five superstars of muck-diving.
On this trip we saw the first four, but the last, the flamboyant and elusive Rhinopias aphanes that used to be quite abundant in the Strait, has apparently moved deeper and is rarely seen within nitrox range. How would it be to explore the deeper parts? Give me a rebreather and some helium. Maybe one day…
Every species in Lembeh has been photographed so many times that finding a fresh approach is a challenge. At one time you could win photo competitions or get onto dive-magazine covers if your shot was in focus and the clownfish not swimming out of frame. Today full-frame DSLR or mirrorless cameras with more than two dozen megapixels and high-capacity memory cards with thousands of exposures have raised the bar.
Novel toys such as snoots to alter the shape of the flashlight or dioptres to enable extreme close-ups spur photographers to new creative heights. You also have to be patient and lucky to get that special shot of animal behaviour.
"I miss the old days when we were shooting on film," says Dive Into Lembeh's dive manager and co-owner Steve Coverdale one evening at dinner, as we reminisce. "When limited to only 36 exposures people were politer and took only a few shots of the critter before letting the next photographer have a go.
"They were always saving a few extra frames for the mimic octopus under the boat at the end of the dive."
I tend to agree, though I don't miss leaving a dive destination with 40 rolls of undeveloped film and not knowing if I had a single usable image.
Today, divers upload their edited images to Facebook from the resort wi-fi moments after getting back from the dive.
Steve and Miranda Coverdale met in the late 1990s. For years they managed Red Sea dive operations before relocating to Sulawesi to manage Lembeh's famous Kungkungan Bay Resort.
After six years they moved to Europe to live a "normal life" but after a couple of years in the Netherlands missed the tropical lifestyle and returned to Indonesia to build their own resort at Kasawari Bay from the bottom up, relishing the opportunity to design the set-up exactly as they wanted it. The result was Dive Into Lembeh.
A trip to Lembeh is a tangible lesson in applied underwater biology. Phenomena such as symbiosis, camouflage, mimicry, specialisation and host-parasite relationships are clearly reflected on the bare sandy bottom, and can be studied and appreciated almost as if in a laboratory.
Every lifeform has adopted a unique survival strategy and position in the eco-system. Some are protected because they mimic other poisonous or foul-tasting organisms. Stripes or bright colours seem to be a popular choice of decoration for toxic faunae.
BUT NOT ALL striped or brightly coloured creatures are venomous or indigestible – it just pays to pretend to be a deadly dinner. It's mind-boggling to ponder how evolution has shaped so many variations and permutations of mimicry.
Time is the essential factor that makes this possible. Natural selection after so many generations drives the evolution, and in Lembeh Strait you feel as if you have the opportunity to study the machine-room of God, or Darwin.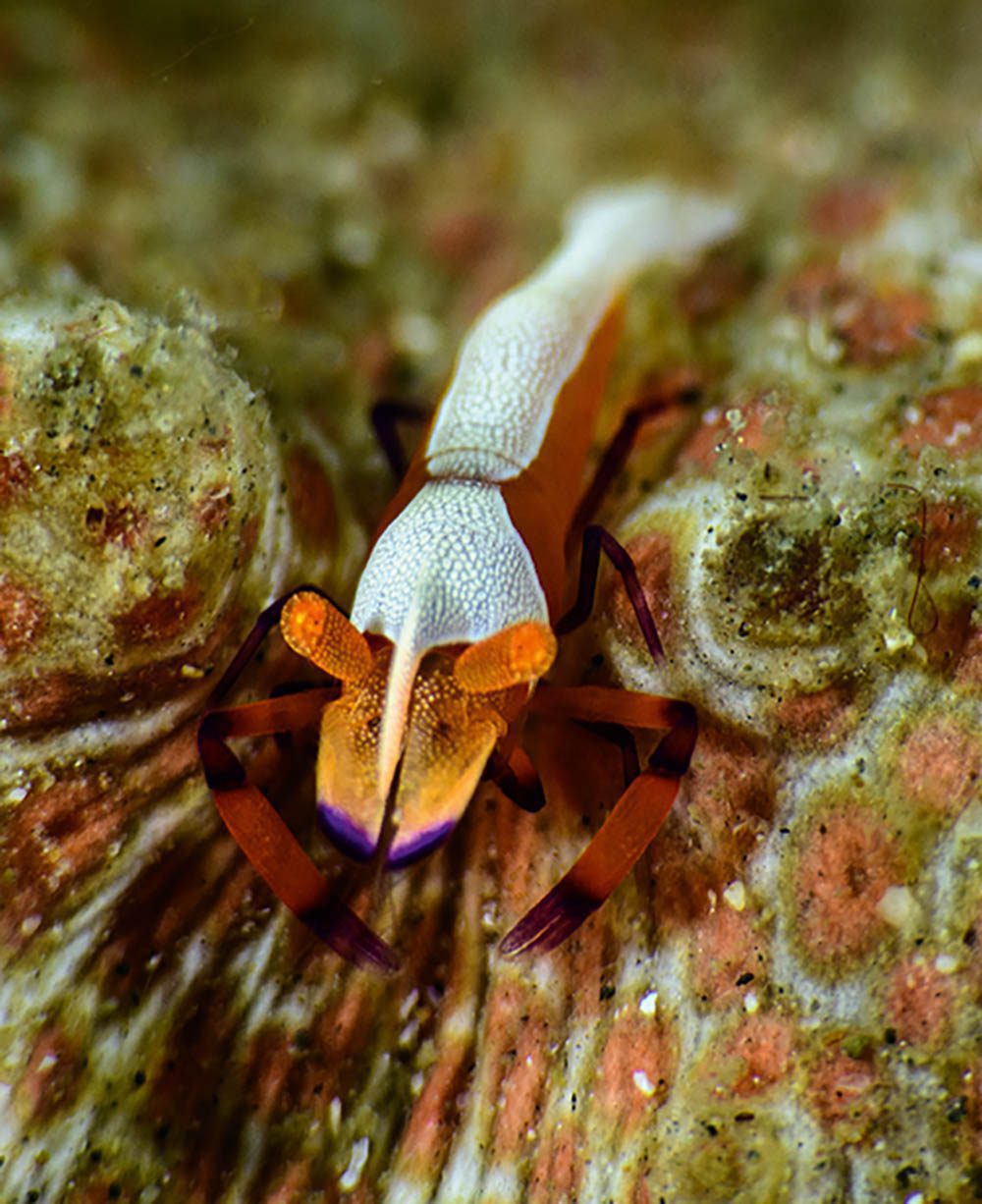 Many of these biological marvels can also be observed on lush coral reefs in the Coral Triangle, but in Lembeh it's as if all the disturbing elements have been stripped away, making it easier to document and appreciate the ecology.
I've seen images of a strange creature inside the mouth of clownfish. The parasite Cymothoa exigua was discovered quite recently, presumably because the clownfish is the most photographed subject on any coral reef. This small isopod doesn't eat the fish's tongue but attaches itself to the base until it eventually withers away.
The clownfish lives on with the parasite as a substitute tongue. Talk about specialisation! What do you do for a living? "I find clownfish and replace their tongue with myself. How about you?" One can only guess how many more such relationships we have yet to discover.
Herry, our excellent guide, asks what we have yet to cross off our wish-list. I ask if he can find me such a clownfish, hardly expecting him to be able to deliver, but he smiles. Next day he points at a clownfish at the seldom-used dive-site Selena Patah and, with a circle round his jaw, indicates that it is infested with Cymothoa exigua.
I can't see the two tell-tale black dots, but start shooting the fish again and again. It's one of the livelier clownfish, so really hard to get, but after a long series of shots I stop and zoom in on my screen on one of the more promising images.
Bingo! I can clearly see two dots from the eyes of the small crustacean, though the mouth and parasite are not satisfactorily in focus.
But now I know I'm not wasting my time, and keep at it for another 15 minutes – luckily, we're in shallow water. In a few of the 100-plus images I manage to get the peekaboo shots of the tongue-eating parasite.
High fives to Herry after the dive.
If your tropical desires lean towards unspoiled coral reefs, blue water to the horizon and the possibility of interaction with large pelagic wildlife, don't go to Lembeh Strait. Here you get plenty of plastic debris on the bottom, limited visibility and rarely encounter animals larger than your fist.
But if you're into diversity of species, biological surprises and macro photography, I can't imagine a better place to spend a week or two. The muck magic of Lembeh Strait is contagious.
At Dive Into Lembeh, you'll enjoy friendly and thoughtful service from a management team and staff that know and understand exactly what you need.
When you realise that your biggest problem for the day is deciding which lens to attach to your camera before the next dive, that's when you discover that you really are on holiday.
FACTFILE
GETTING THERE> Fly to Singapore and on to Manado with Silk Air or Singapore, or to Jakarta and onwards with Garuda Indonesia. Dive Into Lembeh will pick you up at the airport and transfer time is 90 minutes, depending on traffic.
DIVING & ACCOMMODATION> Dive Into Lembeh has nine sea-view air-conditioned en-suite bungalows, each with its own Japanese-style hot tub on the balcony. Nitrox 32 is on tap.
WHEN TO GO> Dry season from March-November is sunnier but in the rainy season (December-February) it's cooler, lusher and less crowded, and as the showers are short this is also a good time to dive. Water temperature 28-29°C.
MONEY> Indonesian rupiah.
HEALTH> Decompression chamber in Manado, though it's not the most dependable.
PRICES> Expect to pay from £2075pp with Dive Worldwide for flights, transfers, seven nights' full-board twin share, 12 boat dives and 8am-6pm house reef access.
VISITOR Information> Indonesia Travel
OTHER FEATURES FROM THE INDONESIA DIVER SPECIAL – May 2019
Holiday News Indonesia