The main scuba-diving areas of Philippines tourist hotspot Puerto Galera remain uncontaminated by oil from last month's Princess Empress tanker spill, according to the latest official reports and the observations of dive professionals.
While 26 areas of sea off Puerto Galera have failed the most recent water-quality testing, the dive-sites lie within the nine areas that passed the tests and are said to remain in good condition.
Also read: Dive trip temptations: Philippines & Malaysia
A report on Divernet on 17 April had suggested that the tourism secretary's positive assurances about water quality in Puerto Galera as a whole might have been premature. That had been based on an announcement by the governor of Oriental Mindoro province that preceded a more specific water-quality report by the Philippines' environmental and health departments.
"Puerto Galera is a large area but dive operations are focused around the three bays Big La Laguna, Small La Laguna and Sabang," explained Dave Churchman, general manager of the Scandi Divers resort and dive-centre in Big La Laguna.
"These dive areas have all tested clean, as have those to the east and west of these three bays, which include both muck and wall-diving sites. This makes up the entire dive-site collection for this area, including Alma Jane and Canyons all the way to Kilima Steps.
"Furthermore, we've had numerous trips to the local highlight Verde Island, where the water quality is equally clean. Batangas and Anilao are also testing clean, which means that the macro diving across the water from us is also still perfectly safe to dive." These areas lie north of Puerto Galera on the other side of the Verde Island Passage.
Bouncing back
The crucial distinction will come as welcome news for divers planning a trip to Puerto Galera, which had been bouncing back from its closure during the coronavirus pandemic.
The massive spillage from the tanker Princess Empress in March is estimated to have cost Oriental Mindoro at least 1 billion pesos (more than £14 million) and to have had a serious effect on employment, particularly in the fishing and tourism sectors.
The popular tourist area White Beach, which lies in an area that failed the water tests, "is 40 minutes' drive away and not a dive destination, even though it is still considered part of Puerto Galera," said Churchman. "It's a big area to lump together."
The nine Puerto Galera sampling stations where water quality was approved cover the Small La Laguna and Big La Laguna shorelines, Balete, Central Sabang shoreline, Coco Beach, Batangas Channel, Paniquian, Balatero and West San Isidro Bay.
Long-term testing
Announcing the results on 18 April, officials suggested that substandard water quality in the other 26 areas was not necessarily down to the oil-spill and might have pre-existed. The public was warned that in these areas contact with water could result in skin diseases, rashes or blisters, but elsewhere no swimming ban was required, with only ingestion of seawater warned against.
Environment Secretary Maria Antonia Yulo-Loyzaga expressed the hope that the Princess Empress oil-spill would be contained "within the month", and said that water-testing off Puerto Galera would continue long-term.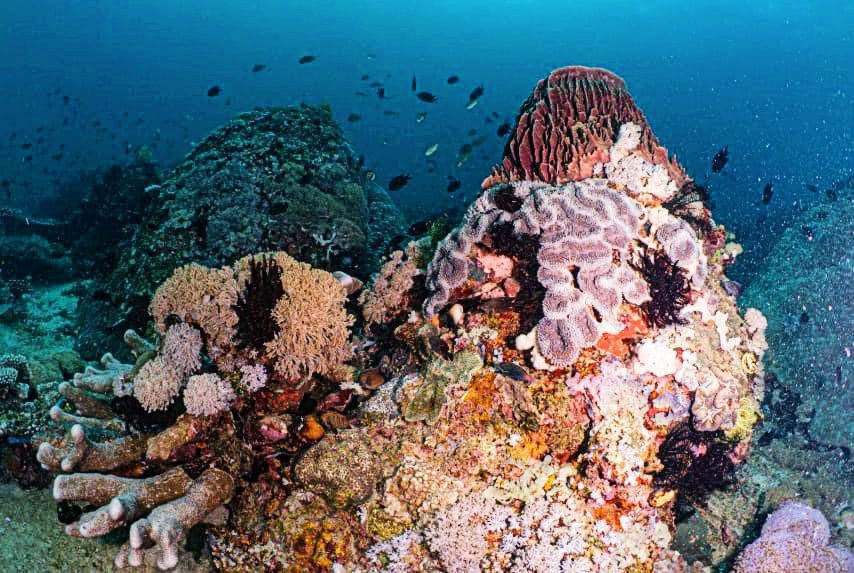 Tourism Secretary Christina Garcia Frasco, whose solidarity dive off Puerto Galera the previous week had been covered in an earlier report on Divernet, agreed that the nine areas given the all-clear were those that included "very prime dive-sites".
She said that Puerto Galera would remain open for tourism, warning that it accounted for at least 85% of Oriental Mindoro's tourism economy and that 5.3 million pesos (about £76,000) would be lost daily if tourists were kept away.
Puerto Galera was one of three locations in the Philippines recognised 50 years ago this year by UNESCO as a Man and Biosphere (MAB) Reserve.
Dirty tricks?
In a further twist to the unfolding story, on the same day that government officials were making their statements about water quality, Oriental Mindoro's governor Bonz Dolor announced that he had given police 24 hours to apprehend people he said were suspected of attempting to contaminate two beaches in the Puerto Galera area with oil.
A 200-litre-plus oil-drum had reportedly been found at San Antonio and a plastic bag containing another 20 litres at Santo Niño. Rewards of at least 200,000 pesos (about £2,900) were offered for evidence leading to apprehension of those responsible.
Also on Divernet: Philippines: The Fantastic Four, 4 Manta Hotspots Identified In Philippines, Ignore Rumours: Moalboal Baitball Still Delighting Divers, Philippines Reopens To Visiting Divers