DIVING NEWS
Team effort cracks Tasmanian cave puzzle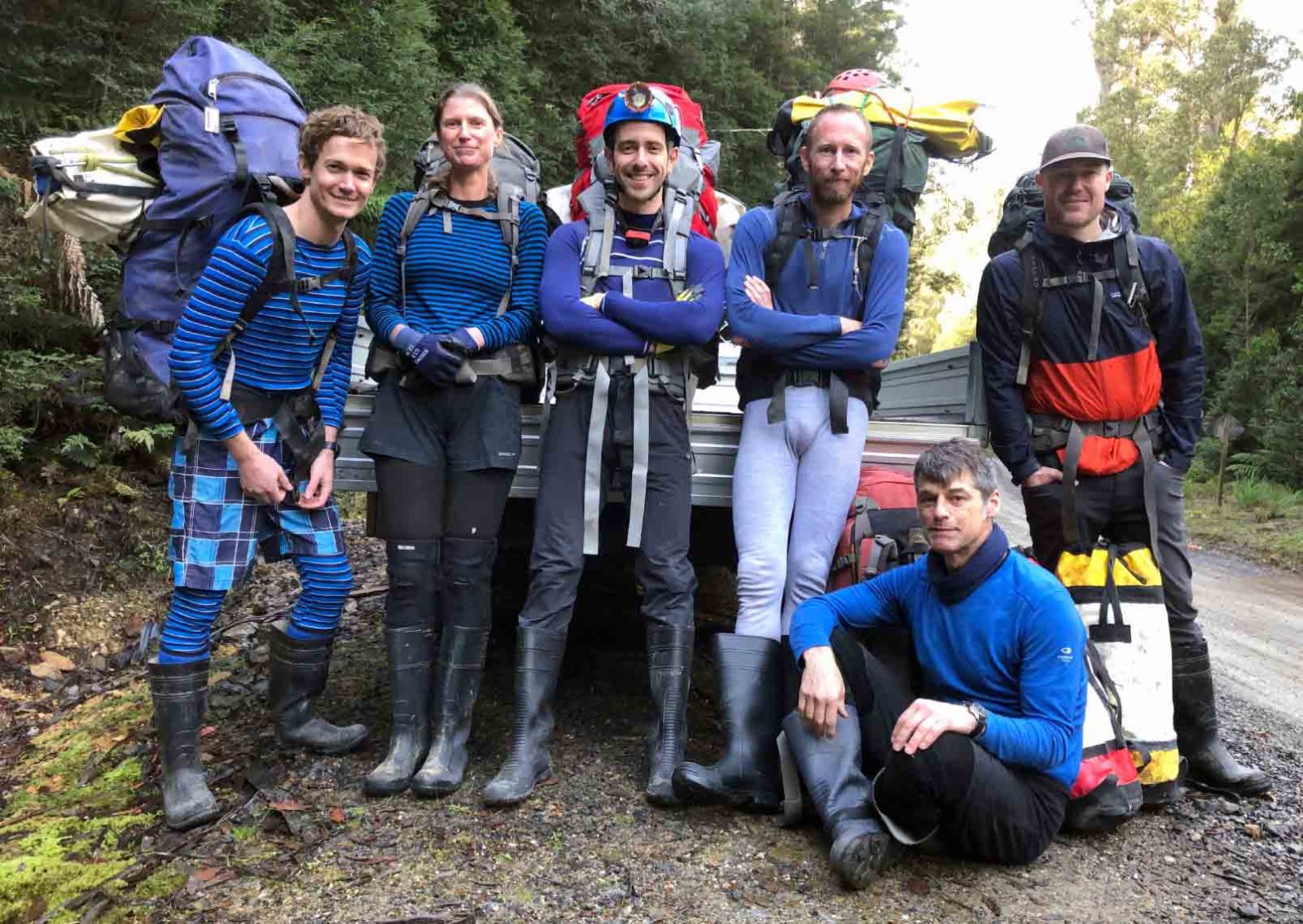 The team, with Stephen Fordyce on the left and Stefan Eberhard second from right. (Picture: Stefan Eberhard)
A Tasmanian cave-diving team has made the long-sought link between Australia's deepest and fourth-deepest-known caves – and broken the national cave-depth record in the process.
Cavers have been trying to prove a link between Niggly Cave and Growling Swallet since the early 1900s. Diving alone, Stephen Fordyce, 32, reached an Australian record cave depth of 395m as he negotiated some 250m of uncharted underwater passages to find the connection.
The four-day expedition he had spent a year organising was supported by a caving team from Hobart-based Southern Tasmanian Caverneers (STC).
The team of 10 spent four days in late May camping in the Junee-Florentine system of more than 600 caves and 50km of explored underground passages that lies beneath Mount Field National Park, north-west of Hobart.
The arduous approach to the start of the flooded passage carrying Fordyce's diving equipment took seven hours. A 90-minute walk up a steep hill to the Niggly Cave entrance was followed by an hour spent squeezing through a tight, winding passage, and further progress included a 250m abseil and the crossing of a waterfall using "flying fox" overhead-line apparatus.
The sump started at a cave depth of 350m. "I then went off and did a pretty lonely and scary dive for 100 minutes," said Fordyce.
He described the horizontal dive with a maximum dive-depth of 12m as "essentially negotiating a maze under water, while laying guidelines so I could find my way out, to find where the passage connected into the other cave.
"I picked a left wall and followed that a lot of the time. Then at times it would get too tight and so you have to go back and around. There were a couple of really low restrictions where I wasn't sure I could get through and I had to really wriggle."
He described the moment of meeting up with the Growling Swallet system, in which he had previously laid a line. "I was able to swim up and see the guideline that I put in four years ago, and tie the new guideline to the old guideline and put a marker saying 'this is the connection point'.
"One of Australia's most perplexing underground puzzles has been solved. This discovery is the result of the combined work of generations of cavers in Tasmania, and wouldn't have been possible without a huge team effort."
STC vice-president Dr Stefan Eberhard, who was part of the expedition team, said that establishing the link was important for building both scientific knowledge and environmental protection. "The Junee-Florentine caves contain features of great cultural, scientific and conservation value, including archaeological heritage sites, unique species of cave-adapted fauna, bones of extinct megafauna and ancient sediments deposited during glacial periods," he said.
"Exploration of these caves is far from complete and much more of this complex and extraordinary puzzle remains to be discovered and mapped by speleologists and cave-divers for years to come." During the expedition the support team had discovered a kilometre of new passage, while Fordyce had found a passage going towards another cave 3km away – providing a focus for the team's next underground venture.
Besides Fordyce and Eberhard, the team consisted of Alan Jackson, Gabriel Kinzler, Serena Benjamin, Fraser Johnston, Petr Smejkal, Patrick Eberhard, Chris Sharples and Rolan Eberhard.
A documentary film, Tartarus: The Search for the Junee Master Cave, is due for release at a later date.