LIVEABOARD DIVER
A Diver's Dilemma
An experienced diver, CHARLIE THISBY enjoyed her first liveaboard experience in the Red Sea recently, but an unforgettable underwater encounter left her in two minds about how to follow it up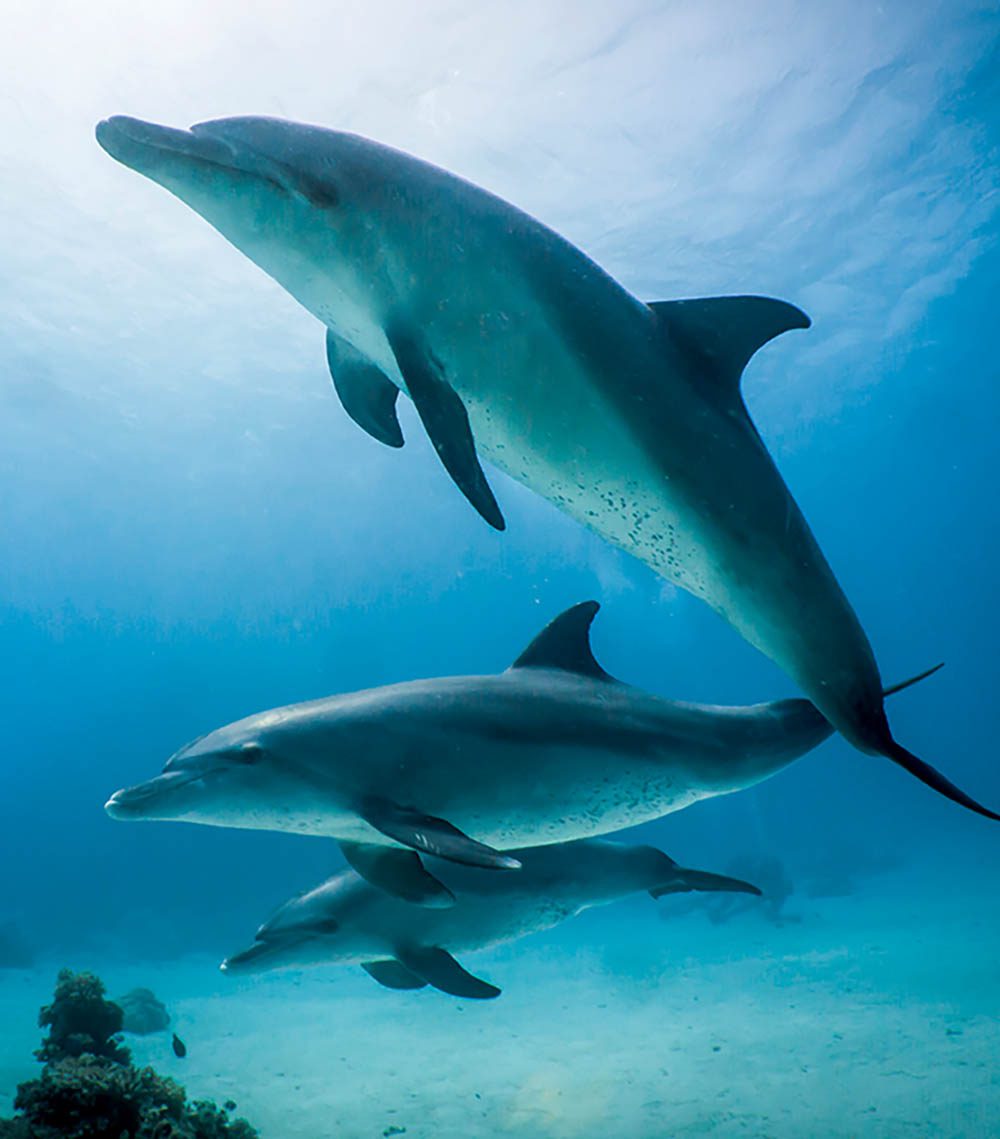 Three dolphins at Dolphin House.
Appeared in DIVER December 2019
Last week I opened my social-media feed to find a post that left me incredibly conflicted. Smiling back at me from my gently glowing phone screen was a picture of some very close friends of mine, contented, happy and tanned as they enjoyed their annual family holiday.
For their two young sons, the post clearly showed an experience that will stay with them forever, the wonder written all over their faces. So why was I conflicted to see my friends so happy?
Perched between the boys' brightly coloured buoyancy aids was a bottlenose dolphin. As an incredibly intelligent species, it tore at my heart to see the poor creature being paraded for the pleasure of the streams of tourists with their cameras.
Kept in relatively cramped conditions and unable to exhibit many of their natural behaviours, these dolphins live their lives on a roundabout of performances crafted for adoring crowds.
As a keen diver and marine biologist, I was only too mindful of the inadequacies of this environment for these spectacular animals and was determined to do something to remedy my friends' innocent unawareness.
I'm sure my experience and feelings will ring bells with many reading this – but it particularly piqued my attention because of a recent experience of my own.
Last April my husband Rich and I travelled to the Red Sea to spend a week on the most recent addition to Blue O Two's fleet, Blue Adventurer.
Despite having years of resort diving under our weightbelts this was our first venture into liveaboard diving. With plenty of route options, Blue O Two made it easy from start to finish.
We ended up choosing the Strait of Tiran and North itinerary, a relatively relaxed route that takes in some of the most famous wrecks in the Red Sea alongside the reefs of Tiran and Ras Mohammed.
We quickly settled into the order of the day – eat, sleep, dive, repeat. Despite nearly choking on my perfectly chilled evening beer when they announced the time of the first morning dives, we were suited and booted with the best of them on the dive-deck early the following day.
Still a little bleary-eyed, one by one we plopped into the water; one of the perks of travelling outside of high season (June-September) is that the boats are a little less crowded, and with only 11 of us gearing up, entries and exits were a well-drilled, casual affair.
If you thought the Red Sea was all hype, you thought wrong. Prescribed check-out dives elsewhere can sometimes be a bit of a dull, routine affair. Not so here: a set of far-off clicks and whistles a few minutes into the dive indicated that this would be no routine check-out.
Sure enough, a few fin-kicks later the excited gesturing of our guide led us all to train our eyes into the blue. Dolphin!
Alone, and scarred from an altercation with a boat, he didn't hang around for long, but it was certainly a taste of what was to come.
Progressing through the week led us to sites saturated in diving lore. Jackfish Alley was sadly devoid of jackfish, though the light penetrating through shimmering schools of glassfish more than made up for that.
I must admit that the famous Jackson and Gordon reefs rather passed me by. For the first time I'd managed to get my hands on a "proper" camera set-up, and as soon as we dropped off the stern we found an incredibly engaging subject: a little clownfish that seemed unperturbed by our presence. That fish was the start, middle and end of the dive!
We moved on through the best of what the northern Red Sea has to offer. While out of season and slightly too far north for any serious pelagic action, the soft corals at Shark and Yolanda enchanted us, while the cargo of toilets lost in the wreck of the Yolanda added some light entertainment to the dive.
And, though a little busy with divers, the wrecks of the Thistlegorm and Carnatic were bucket-list dives for us, and gave way to a couple of perfect dives on the wreck of the Giannis D.
The first of these was a night dive, and after an exciting but routine jaunt on the surrounding reef we were lucky enough to witness a fascinating feat of nature.
From the dark, giant trevally after giant trevally zoomed past us, repeatedly scattering a school of baitfish that had gathered in the deck-lights of the boat.
By the time we had completed our safety stop, there was nothing left but a cloud of shimmering scales slowly dropping to the reef below.
As the end of the week neared, the lead guide Ahmed revealed a treat in store for us. Sitting us down in the lounge, they began to play us a clip from Blue Planet II. It took until he started explaining for the penny to drop – we were going to dive the site where they had filmed the now-renowned dolphin clip.
A shiver of excitement rippled through the group as the boat's engines started up, and divers scattered to their cabins to start religiously preparing camera-kit in readiness for the big event.
Arriving at Sha'ab El Erg, also known as Dolphin House, we were met with strong winds and a choppy sea. Half-resigned to missing this chance of a lifetime, we settled into the briefing. It was borderline. Definitely borderline. But if we were up for it; we could dive. Phew!
Our first dive at Sha'ab El Erg was rather uneventful. As we descended over a huge heart symbol, left in stones on the seabed by divers who had gone before, the sea was filled with the sound of far-off dolphins. Alas, today was not to be our day, and despite the incessant mocking of the pod we didn't see any of Dolphin House's most famous occupants.
This was probably for the best. An unforecast strong current was beginning to rip through the channel, and it was all Rich and I could do to make it back to the boat anchored upcurrent, hopping from coral head to coral head for shelter.
Some of our fellow-divers were not so lucky. One perk of being a slow diver is that we had a much shorter return swim!
The following morning we were all offered the option: stay and hope, or move on. The decision was unanimous – we were staying.
Leaving the camera on board the previous day had been the right decision, but I was adamant that I wasn't going to get caught without it when the dolphins did show up. Conditions outside were far more favourable, with both wind and current abating. Cameras in hand, we descended and settled in for the wait.
Finally, after a good half-hour, out of the blue a set of shadowy shapes emerged. A whole pod cruised through our group, including juveniles shielded by their mothers. I was completely torn between taking pictures and just sitting back, wide-eyed, as the dolphins investigated us. For that's certainly what they were doing – I have no doubt of that.
A conscientious, safe diver (I hope!) at the worst of times, it took a tap on my shoulder from Rich to break the moment. We reluctantly gave the turn signal and headed back to the boat.
But the dolphins gave us one last surprise as we left the group behind. As soon as we passed the heart-shape in the sand, a pair came back to circle us one last time, close enough to touch.
It was a moment that will stay with me for a very long time – so visceral that I couldn't even bring the viewfinder to my mask to break the spell.
And that is the beauty of spending time with marine animals in this way. Everything is completely on their terms – they are well aware of the presence of divers in their midst, and actively choose to spend time with us. Which is by far a more wondrous moment than any captive encounter could ever be.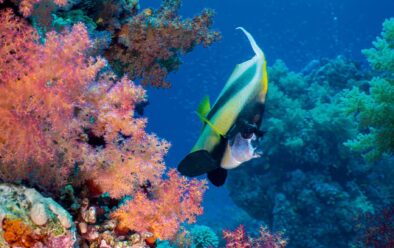 So did I publicly lambast my friends for their naive holiday snap? I must admit, my finger did hover over the comment button for more than a few seconds, weighing the value of our friendship against the chance to stop any of her well-meaning friends repeating her mistake.
But I couldn't bring myself to do it. Instead, I plumped for taking the opportunity to share the story behind the photos from our Red Sea trip at a dinner party, making no reference to the fact that I had seen their pictures on social media.
To watch the realisation grow on their faces that this was possible was a reward worth waiting for – and one that might, I hope, inspire them to follow us down into the underwater world.
As divers we're uniquely placed to educate others through our photographs and stories, and add to the sterling work of the many ocean advocates who have gone before us.
Educating our friends and family is a rare chance that we must take – alongside the fact that you will quickly find yourself the most interesting person at the dinner table. Or so we might choose to think!
FACTFILE
GETTING THERE> Charlie flew with TUI from Gatwick to Hurghada, with a standard baggage allowance of 23kg. An Egyptian entry visa costs £25.
DIVING & ACCOMMODATION> Blue Adventurer is a 32m traditional Egyptian-style boat with 12 cabins over three decks giving a capacity of 22, blueotwo.com
WHEN TO GO> Temperatures are warmest in the summer, but diving is excellent all year round.
MONEY> Cards or cash in sterling, euros, Egyptian pounds or US dollars are all accepted.
PRICES> A complete package including flights, accommodation and diving starts at around £1199, though last-minute deals can be found from £899. Nitrox costs extra.
VISITOR Information> egypt.travel