A smorgasbord of reefs, walls and wrecks, all smothered in colourful coral growth, was what MICHELE WESTMORELAND found on her first trip to the northern Red Sea
Where Africa and Asia meet, the Red Sea has been luring European divers to its waters for years. The golden desert contrasts with bright turquoise waters that contain some of the most famous dive-sites on Earth.
The view under water is just as striking, with coral reefs that are healthy and teeming with fish. I'm an American who has been diving for 30 years but this was the first time I had dipped my toes into the waters of Egtpt. I have no idea why it took me so long.
Arriving at the site
We travelled from the marina in Hurghada onboard the Red Sea Aggressor II, led by one of Egypt's most knowledgeable divemasters, Adel M El Beialy. The initial check-out dive took place at Sha'ab el Erg. I was focusing on my cameras on this dive because the visibility was low and I wanted to be sure that my housing would not leak.
I should have paid more attention, however, because playful dolphins are frequently seen at this site. Although I could hear the squeaks and calls, I missed most of the action!
It wasn't long before I had become fascinated by the history of the many wrecks resting on the sandy seabed. Everything from small pleasure boats to large warships could be found there, with many stories to reveal among them, but it would clearly be impossible to explore them all on a single trip. That wouldn't stop me from trying.
Diving the wrecks
Later on the day of the check-out dive, we began investigating some of the rusty metal hulls that can tell the tale of a major shipping lane, including all the perils that open water and shallow reefs can cause to vessels large and the small.
In the Sha'ab Mahmoud area, we checked out a tiny dive-boat wreck. It was a promising start, but the Dunraven is what really got me energised about Red Sea shipwrecks.
The Dunraven was a merchant ship that had been travelling from England to India loaded with cotton and timber. Both a sailing vessel and steamship, she hit a reef in 1876 as the result of poor navigation, caught fire and sank.
The wreck was discovered only in 1977 by a geologist, and became the subject of a BBC documentary. Dunraven rests inverted along a reef wall, with its bow in 15m and the stern at around 30m.
The propeller was covered with red encrusting sponges and dripping with soft coral, making the perfect frame for photographing divers. Swimming into the Dunraven midships led me to another wonderful discovery – the silt-covered interior, which had not appeared particularly intriguing until a huge school of coppery-coloured glassy sweepers emerged from a protected space.
Fish continued to pop out as I explored the rest of the wreck, adding beautiful splashes of colour against the stark metal.
Taste of the reefs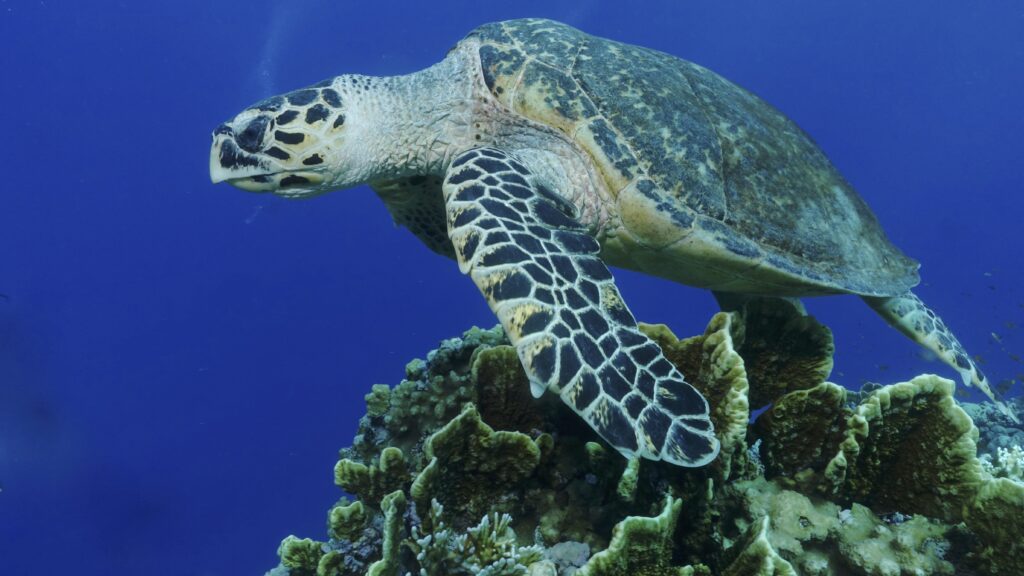 I'm glad I peered out into the blue because the school of bannerfish I saw cruising the reef edge was enormous. Then, turning back to the reef, something else caught my eye.
With the wind conditions perfect for a crossing, the Red Sea Aggressor II took us for a taste of the reefs, heading to the Straits of Tiran east of Sharm el Sheikh. Tiran Island is a prime site for viewing fish-feeding activities, while Jackson Reef seemed to be the gourmet spot for turtles, angelfish and moray eels.
Cabbage coral clusters, dressed in a glorious yellow-green, stood out from the rest of the reef while providing a home to schools of brilliant orange anthias hiding from predators.
Among the predators that was leaving them alone that day are sharks. Divers try to schedule their trips to co-ordinate with the times particular shark species are around. Cooler water temperatures in winter bring the possibility of oceanic whitetips or even threshers, while whale sharks are more likely to be present when there is plenty of plankton to feed on at hotter times of year.
Exploring Ras Mohammed
Our next reef destination was in Ras Mohammed National Park. It is easy to understand why this area attracts so many liveaboards, because it is a sanctuary for schools of jack and bannerfish that stand out against the backdrop of colourful reef walls.
I was happy to follow the guidelines set by the park rangers who keep an eye on divers, and to pay the park fees for just this kind of environmentally sound preservation strategy. Especially as pristine, healthy reefs become a rarer sight around the world, it's good to see a pro-active approach to their safety being taken.
The Red Sea's signature wrecks become well-known to regular visiting divers, but I doubt whether there are many who have as full an understanding of each compartment, each companionway, each nook and cranny as our divemaster Adel. We had the good fortune of making three dives with him on the Thistlegorm, by far the most famous of Red Sea wreck of all.
Thistlegorm was sunk in 1941 by German bombers while on her way to supply Allied forces in WW2. Discovered by Jacques Cousteau in the early 1950s, years went by before this 126m shipwreck reclaimed its history and celebrity. Our three dives provided barely a glimpse of all that the Thistlegorm's story has to divulge.
For my first visit, I stayed on the exterior in depths ranging from 15m at the bow to 30m at the stern. The dive gave me a clear picture of the ship's layout, and ideas for locations at which I wanted to infiltrate the interior on subsequent dives.
The next dives were spent exploring the storage holds that contain trucks, Bren gun carriers, motorcycles, Lee Enfield rifles, aircraft parts and ammunition. What the entire dive-group could not see, because of time constraints, we heard about from Adel in a thoughtfully prepared presentation in the comfort of the lounge.
Reef of seven deaths
The wrecks of the ships Giannis D, Carnatic and Chrisoula K/Marcus are located in the middle of a shipping lane that remains quite active today. Abu Nuhas, the reef and shallow island that caused these vessels to sink, is also known as "the reef of seven deaths".
When you see the area, it seems hardly surprising that it has been such a perilous place for vessels to venture, even those using the latest navigation systems. However, diving there gives you not only a sense of history and exploration but also the opportunity to experience a plethora of marine life.
Scorpionfish, lionfish and crocodilefish add to the mysterious nature of the wrecks, and curious dolphins have been known to go eye to eye with humans there.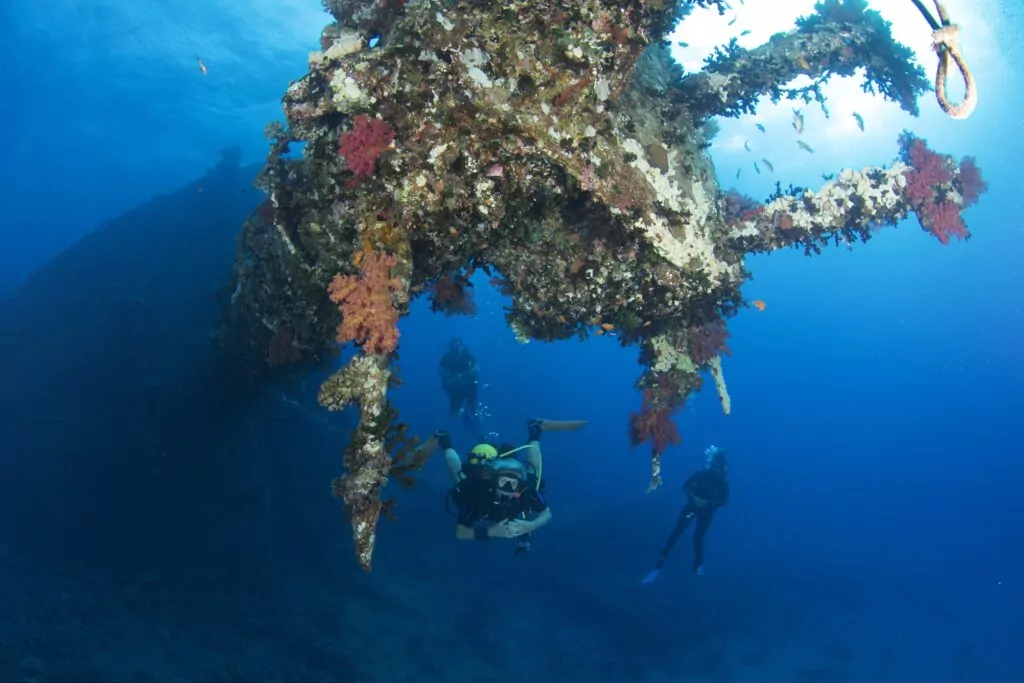 Surprisingly, my favourite wreck of the trip was also one of the smallest. The Barge is located in the Gubal Islands and is quite well protected from stormy seas. It's difficult to understand why this vessel sank in such a calm location, but go down it did, some time in 1967.
It rests in shallow water, so there is plenty of time to go on a marine-life treasure hunt. From the smallest nudibranchs to the biggest moray eels I have ever seen, this is a site to enjoy over and over again, by day or night.
RED SEA AGGRESSOR II

RSA II is a stand-out in terms of comfort and service. It supports 22 passengers in a selection of deluxe and master staterooms, and for those who require real luxury the Master Suite is for them. RSA II is 45m long with a 9m beam, with a saloon for dining and a lounge area that gives easy access to the dive-deck. On the upper deck is another saloon that accommodates guests who want some quiet reading time and perhaps a cocktail. On the flying bridge, the hot tub is always ready to go once the major crossings are complete, for those who want to relax and enjoy the desert sky.
QUEEN OF THE NILE

Some guests, including me, stayed on in Egypt not for diving but to learn more about the ancient history of the River Nile. The Aggressor River Cruises vessel Nile Queen is a charming 52m sailing vessel called a dahabiya, and is the most beautiful of yachts not only in terms of decor but of crew.
Captain Haggag, dressed in his traditional gallebaya and with bright eyes and a constant smile, was as welcoming as the Queen herself. From Luxor to Aswan, we got to see not only amazing historic sites but to get a taste of life on the Nile for the various Egyptian communities. Fields of grain lay beside orchards of mangoes, pomegranates and pears, cattle and goats were tethered to graze and it was common to see donkeys used for transport.
Our guide Emile was one of the most knowledgeable and passionate people I have met, and the information he presented was not only educational but inspirational. The Nile Queen trip was one of my most rewarding.
Photographs by Michele Westmorland
Also on Divernet: Kicking Back In El Gouna, Egypt To Extend Red Sea Reef Protection, Red Sea Through A New Lens, The Red Sea Explorer