RICHARD ASPINALL has certainly had more arduous, more challenging diving assignments, but for the many people looking for a gentle re-entry to scuba diving in laid-back Red Sea surroundings, this could well be the way to go
A little to the north of the Egyptian town of Hurghada and a short taxi-ride from the airport sits one of the largest tourist and housing developments on the Red Sea coast. 
Also read: Diving on and between Red Sea wrecks
El Gouna is quite an achievement. Over the past 30 years or so vast excavations have been dug into the barren desert to create new waterfronts, two new harbours and a maze of wide canal-like lagoons that now surround several new islands.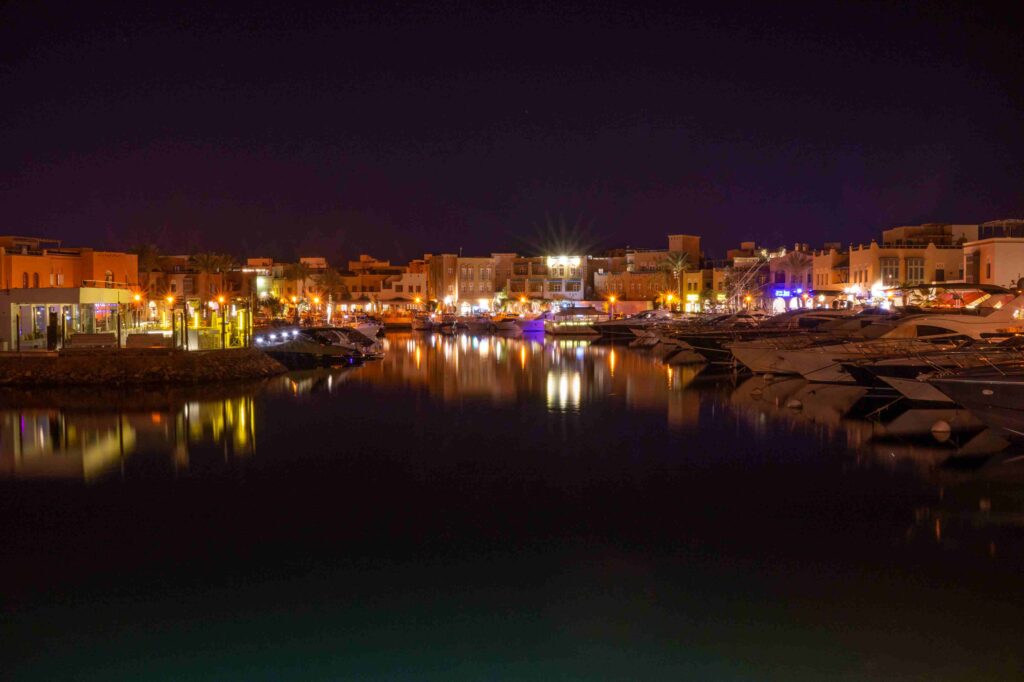 Hotels, two schools, apartments, shops and around a hundred cafés, bars and restaurants provide just about everything you need, whether you're on holiday for a relaxing week or living there full- or part-time. Naturally, and as you'd expect, I was there for the diving. What would a luxury land-based location offer?
I arrived, somewhat weary from many hours of travelling, and was relieved to find that my hotel Cook's Club, a modest 4* operation, had everything I needed, including its own lagoon-side beach, bar and excellent wi-fi.
In fact, the whole place had free wi-fi, so keeping up with work was easy and enjoyable under the palm trees with a cappuccino or beer. Being budget-friendly, Cook's Club had attracted a younger clientele, no doubt there for the water sports and desert experiences, more of which later.
The first thing to do was to try and get a sense of the place, so I took a boat-tour around the lagoon system. Naturally this involved a lot of green-eyed gawping at some very expensive yachts moored in the marinas.
The scale of the place was impressive, I had imagined I'd be walking everywhere, but not so. I could walk from my hotel to "Downtown", where many of the cafés and restaurants are located and close to Abu Tig Marina.
Many of the larger hotels such as the Steigenberger and Sheraton, the kite-surfing centres and the golf-courses were a short trip away by taxi or, more usually, one of the many tuc tucs (increasingly electric) that tear around the place. These will take you anywhere for a few euros. In my case to a cracking Indian restaurant called Tandoor, at the Ali Pasha hotel, for a subtle but flavoursome tikka masala.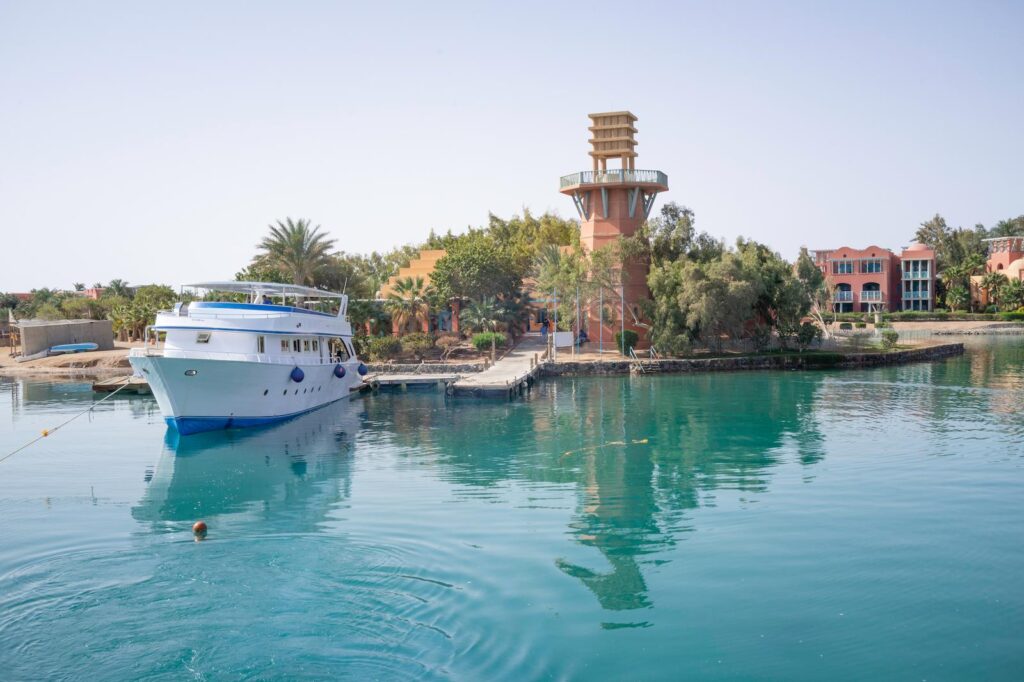 Next morning, camera prepped, I got myself to the Scuba World dive-centre based at the Sheraton hotel. It was busy with snorkellers, students and a few holiday-divers like me.
If you've never been on a shore-based trip before, Scuba World operates what I've always assumed is a standard practice. You get your kit, everything is numbered, and it's yours for the week. You're given a box, a spot to dry everything and a locker, all with your number on. It's simple, quick and effective.
Mother of the Moon
My first dive would be to Umm Gamar, the "Mother of the Moon" if seen from above because the island's reef system is crescent-shaped. We loaded up from the jetty and set out on a calm sea, south of Tawila Island.
My previous overseas dive had been only a few weeks before, so I felt immediately at ease with the familiar corals and fish of the Red Sea around me. Some guests on the boat would be snorkelling only, and some were off and away completing courses.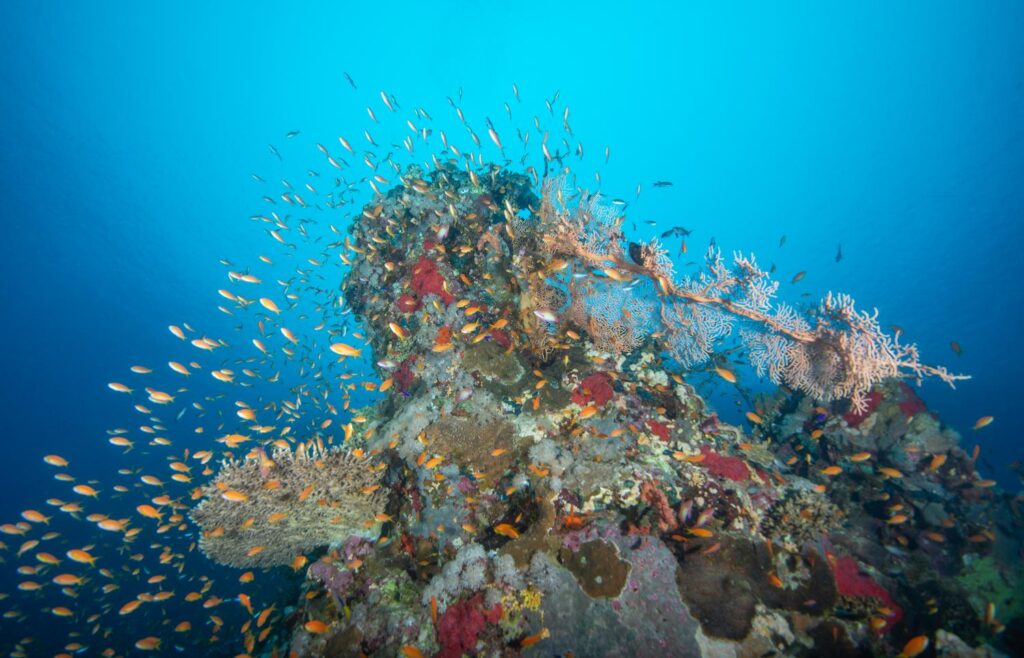 Starting shallow, we immediately reached a beautiful pinnacle full of anthias. The coral was excellent and in fine condition. Ours was the only boat, so we had the entire reef system to ourselves.
Following Iman, our guide, we bothered a few soldierfish at the entrance to a cave before pootling along with the current. Forty-five minutes later we were at the surface and I still had 100 bar in my tank. I had pre-booked a 15-litre cylinder and a nitrox fill, which it would turn out I wouldn't need, but it was good to know that the centre could provide it if needed.
My buddy was over the moon. He was completing his Advanced Open Water Diver course and it was hard not to be infected by his enthusiasm for what he had experienced.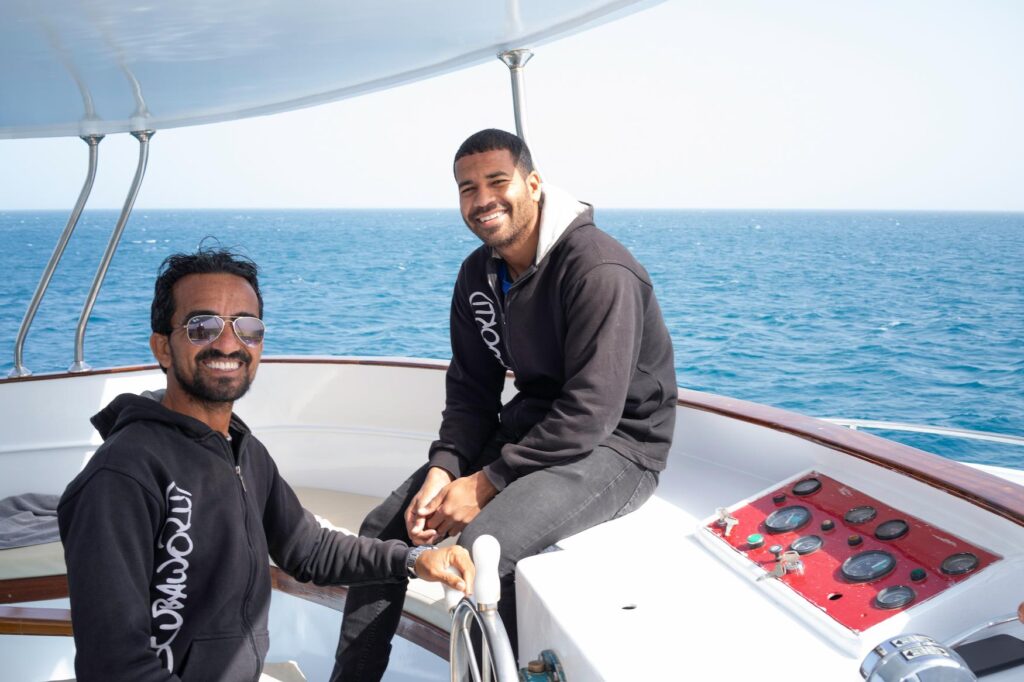 The next dive took us to the other side of the reef, a large flat expanse of sand with isolated yet perfect fragile stands of delicate staghorn and tabulate corals. I snapped away at a few clownfish and a well-camouflaged stonefish that rather than swimming lumbered around, unhappy at having been spotted.
Two relaxed dives a day would be the norm, and my buddies for the next few days would be relative novices or holiday-makers enjoying a few "cheeky" dives while a non-diving partner remained on land.
It would be the quality of the corals that I found most impressive. Ours turned out to be regularly the only boats moored on a reef, so there was no indication of the wear and tear on the coral that can be found at heavily dived sites.
Perhaps the best site of the lot was El Shabaha. Little more than 10m deep, it was surrounded by white sand and those comical gobies that have an "odd couple" relationship with industrious shrimps that are always digging out their burrows.
The coral was superb: staghorn, plates, tables and spires, all pristine and filled with light. The whole reef took 45 minutes to circle, but it was a marvel. Fish-life was superb, with clouds of sweepers, cardinals and glassfish. Mindful perhaps of the large number of chubby lionfish, the baitfish were always moving, eager to avoid becoming an easy meal.
Favourites such as blue-spotted rays were common. A few nudibranchs were out and about, including a Spanish dancer. I felt I was getting the full suite of Red Sea animals!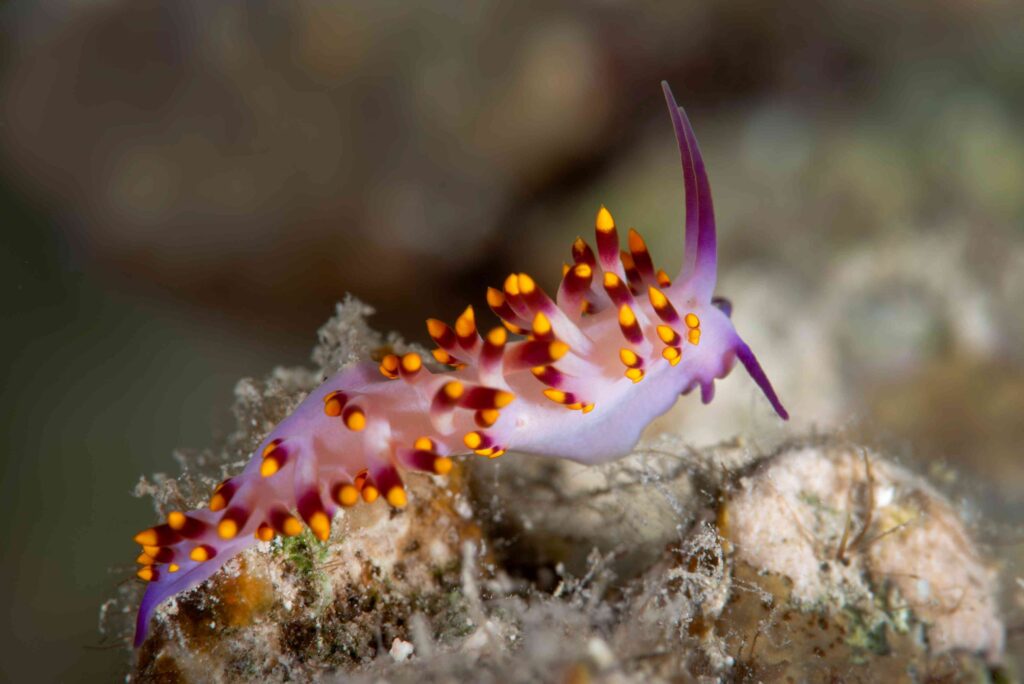 In the corals themselves, yellow clown gobies, tiny red-eye gobies and several harems of flasher wrasse caught my eye, along with the local Red Sea cleaner wrasse, with their vivid blue and black stripes. I would definitely be fitting a macro lens for the next dive, I thought, as I spotted a pair of harlequin filefish picking away at coral polyps. I had never managed a shot of these charming little Red Sea endemics, so that was my challenge for the next day.
That night, instead of eating at my hotel, I ventured downtown where just about every food culture is on offer, from sushi to burgers and fish to crépes After a wander around the shops and the purchase of some after-sun cream, I found myself in Zomba, an Egyptian restaurant that served excellent fool, falafel, sambusa and an array of fried cheeses.
I ate too much, of course, and waddled back to the hotel for more camera maintenance and macro-lens fitting.
Final dives
My final dives would be to Abu Galawa, a little further south. I had enjoyed the coral and the sunlight aquascapes immensely, but now I wanted a good critter hunt, so with macro lens fitted and dive-guide forewarned we headed out into the rich coral gardens. Yellow clown gobies were everywhere, and I managed a few shots of these bright but shy fish.
Happily, some filefish put in an appearance, and I got the shot I was after. I have managed to shoot their close cousins in the South Pacific before, but after 20 years of Red Sea diving this was the first time I had managed to shoot these wonderful animals. I was quite pleased with myself!
I couldn't resist a few anemone shots as well – they're always a reliable subject, and for once a cleaner shrimp stayed still!
Diving over, I reflected on the trip and what it offered. Who would enjoy a trip like this? Well, almost anyone I'd imagine. I would recommend it, especially to anyone new to diving and unsure if they would enjoy a dedicated dive-trip on a liveaboard – this would provide the perfect experience.
You could gain confidence on easy shallow reefs and, of course, enjoy the luxurious hotels and excellent restaurants and perhaps time with family as well as indulging yourself. The place offers the best of both worlds, along with a very easy taste of Egypt.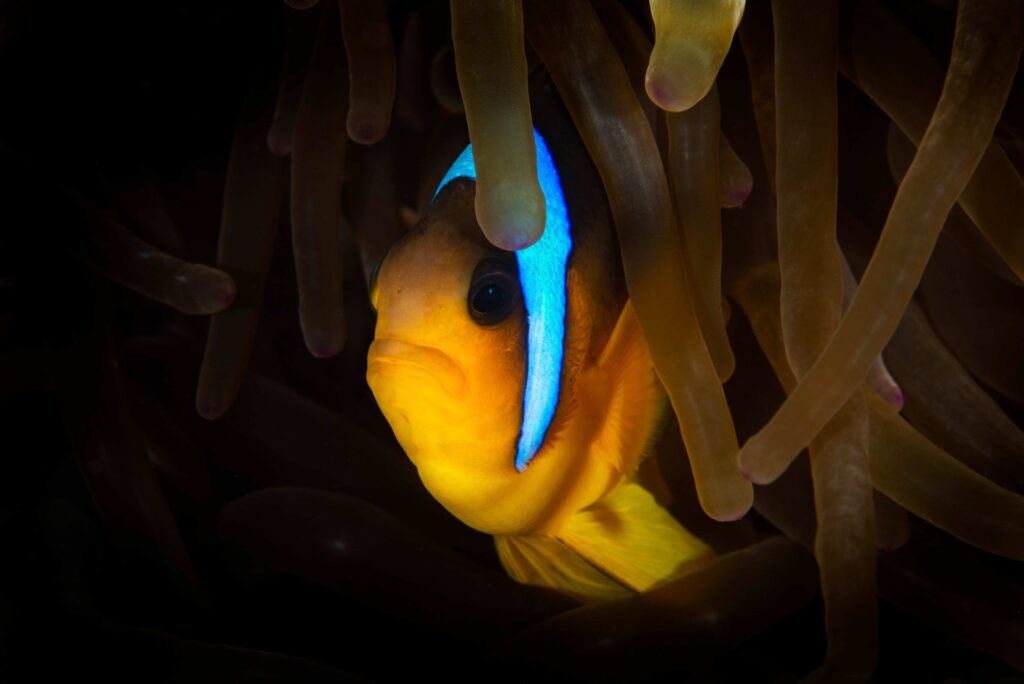 I had thoroughly enjoyed being among, and diving with, folk who were still building their experiences or almost entirely new to diving. Their enthusiasm and wonder for the life around them was infectious.
On my last day, with time to spend doing more touristy things, I signed up for a desert trek with El Gouna Mountain Goats to enjoy some amazing desert scenery. In this case it meant a dry riverbed complete with a fossilised coral reef from aeons back in time. It was fairly easy going, but I wouldn't want to do it in high summer!
Wadi Bileh, once a river that carved its way through a fossilised seabed into the bedrock, is now a stark, but beautiful bit of scenery.
At the end of the hike we climbed onto the plateau to watch the sun go down and drink gabana, that devilishly strong Bedouin coffee mixed with ginger and sometimes cardamom. Two small cups kept me awake well into the night for some exceptional stargazing.
It is easy to see the attraction of El Gouna. For divers it offers a very luxurious and welcoming halfway-house between dedicated dive trip and relaxed holiday with a café lifestyle and great food in the evening.
So if you want a taste of the Red Sea, to complete your training or gain more confidence, this is an ideal location. Even seasoned divers will welcome the slower pace of the diving, as well as being able to join their families for everything else the town has to offer.
VISITING EL GOUNA
Getting there: Richard Aspinall flew from Manchester to Hurghada with TUI. There are also flights from Gatwick. Direct return flights (from Manchester in May) cost from £400.
Accommodation: Cook's Club El Gouna Hotel. Prices vary through the season, but a standard room starts at £225pp, half-board per week.
Diving: Scuba World Divers offers a range of courses and provides nitrox. Two daily dives cost 69 euros (£60.57), plus 5 euros per guided dive or 25 euros for a private guide.
Trekking: A trip with El Gouna Mountain Goats costs £40.
Package deal: Thomas Cook is offering a seven-night package including flights and B&B accommodation at Cook's Club El Gouna Hotel from 1 May for £782pp (two sharing): book here.
Divers visiting EL GOUNA can choose from 18 hotels
to suit different requirements by visiting ORASCOM
More by Richard Aspinall on Divernet: Nudi Collector, Grassed Up, Glassy Eyed And Laughing