Another world diving record has been set by Canadian photographer Steve Haining and his team, with a breath-hold model photo-shoot completed in cold lake waters – but this time at a depth of 30m.
The team had become known for setting an "accidental Guinness World Record" for deepest underwater model photo-shoot in 2021, although that story was widely circulated only this summer. Now they have improved on that dive with another session almost five times deeper – and in even colder conditions in Lake Huron.
And this time Mareesha Klups, who had been dive-safety co-ordinator and air-donor to the breath-hold model on the previous shoot, had to shed her drysuit and do the posing in a flimsy gown in 7°C water –enduring severe muscle spasms as a result.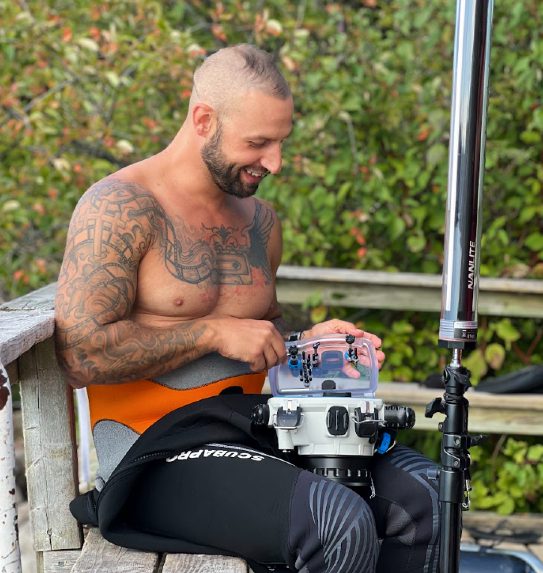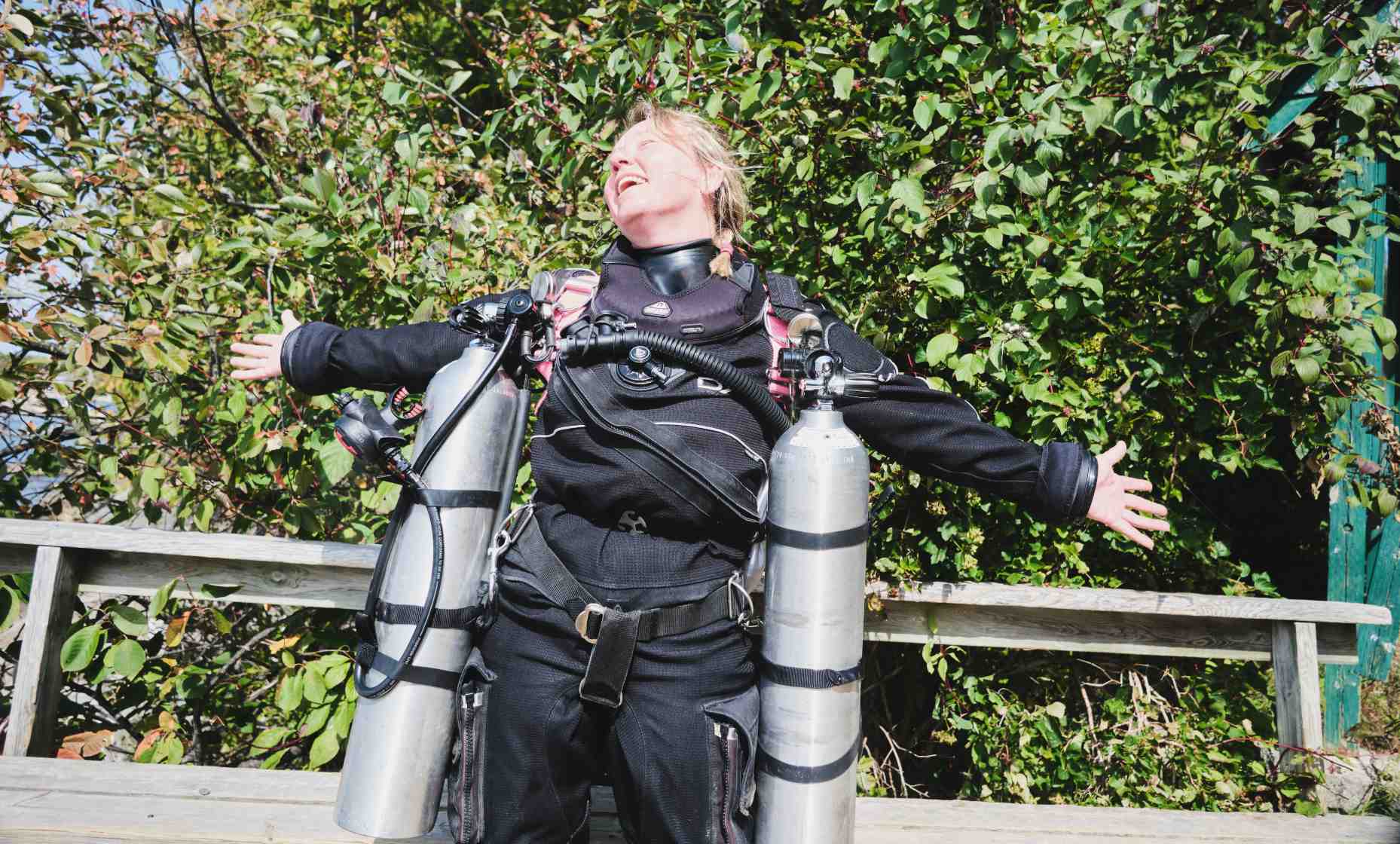 As part of the self-imposed challenge, Haining was also testing the limits of photographic equipment unproven at the depth. Guinness World Records (GWR) has now verified his team's achievement.
At 34, Haining has been recognised as a leading topside photographer, cinematographer and film director. He started out a decade ago shooting rock musicians, athletes and other celebrities before shifting increasingly into advertising work and fine-art landscape photography.
He had conducted underwater breath-hold model shoots before 2021, but usually in indoor pools or, in Caribbean open-water sessions, with his subjects in scuba gear. "I love the challenge of taking away visibility and the ability to speak to your subject and messing with gravity – it made me rethink how I'd been taking pictures for most of my working life," he says.
The 2021 underwater shoot, which took place in Lake Huron at a depth of 6.4m, had originated during the Covid pandemic with a joke about it being easier for Haining's team to work, like scuba divers, using personal air supplies. That way they might hope to meet Canadian rules about commercial photographic and film work.
No one had expected the joke to result in a Guinness world record. "Depth was never the original intention of the first record," says Haining. "It was more a location I always wanted to explore and photograph – and it happened to be at that depth."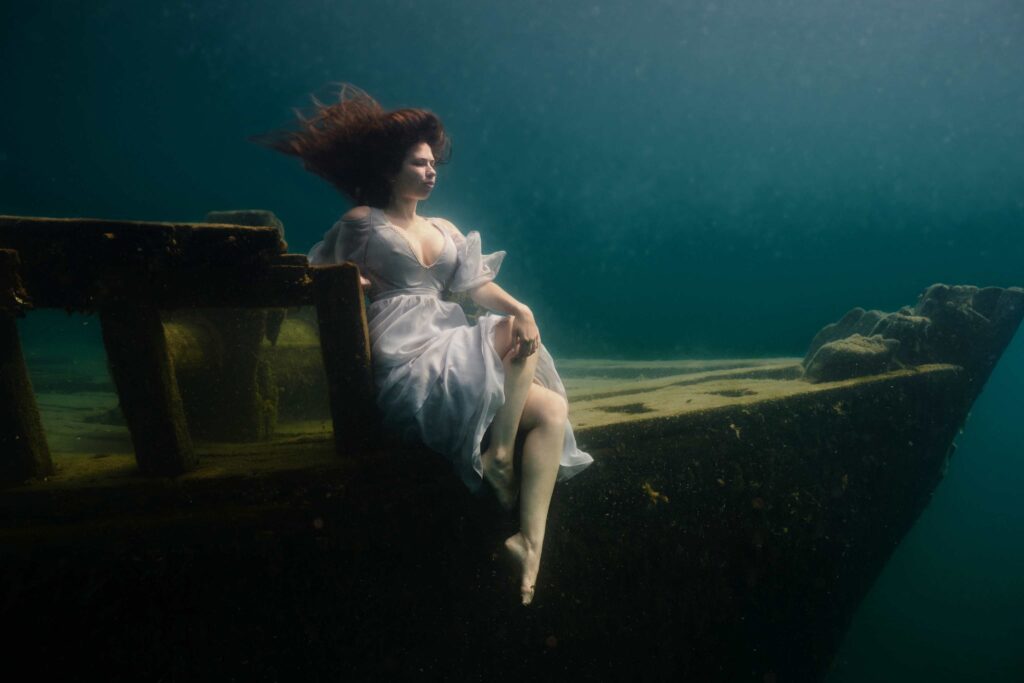 The equipment
As the subsequent idea of reshooting at a more challenging coldwater depth took shape as a project for Haining, old and new equipment sponsors were keen to pitch in.
"Fujifilm Canada was my original friend and supporter since the GFX 50s medium format came out and it sent me one to test in Iceland, which was the only time in my life I've ever changed brands," Haining told Divernet. "I fell in love with that system and I still have it in my camera bag.
"I met Fujifilm USA about a year ago. Oddly enough, it actually had this particular project in a grant application I was in the final rounds for, but I didn't win the grant because it didn't think it was achievable – which is funny, because it ended up falling in love with the idea again, and supporting it. It's been super-cool at helping me with the resources I need when I'm doing all kinds of projects."
The photographer wanted to stick with his 10m-rated AquaTech Elite housings, which he had already used at depths beyond 20m. The manufacturer had been surprised by that and was even more surprised – and sceptical – when he said that he now planned to take one to 30m.
Happy to help, however, it supplied AquaTech Edge Pro housings for the project. For extra support, Haining added a pistol grip to the one he used for the shoot.
Lighting would also present challenges at 30m. Haining wanted to use video lights and, coincidentally, had been contacted by Chinese manufacturer Nanlite, expressing interest in his projects because of his shooting style.
As with AquaTech's housings, Nanlite's tubes were rated only for 10m and had been used to about 18m, so it too was keen to let Haining take the strain in exploring deeper possibilities.
"At what point can you go: I need some gear, I might destroy it, and a company goes: What you're doing is worth the risk?" asks Haining. "But the lights worked well under water. We've used them at night too, for shoots unrelated to this one. They fill the area nicely, and because you can change the colour of the lights you can bring back certain colours well at depth."
Had there been a fall-back plan, should equipment failure threaten the success of the shoot? "Plan B was that, if the lighting failed, the camera could still shoot a higher ISO and get a clear shot. Plan C was that I actually had an older camera in a deepwater housing ready so, if everything failed, lights and camera, I still had a system to get the shots," explains Haining.
The Niagara II
The session would be conducted on the bow of the wreck of the Niagara II, a 55m steel cargo ship built in 1930 and later converted into a sand-dredger. It was sunk upright for divers in 1999 in the clear waters of Ontario's Fathom Five National Marine Park, where Lake Huron meets Georgian Bay at Tobermory.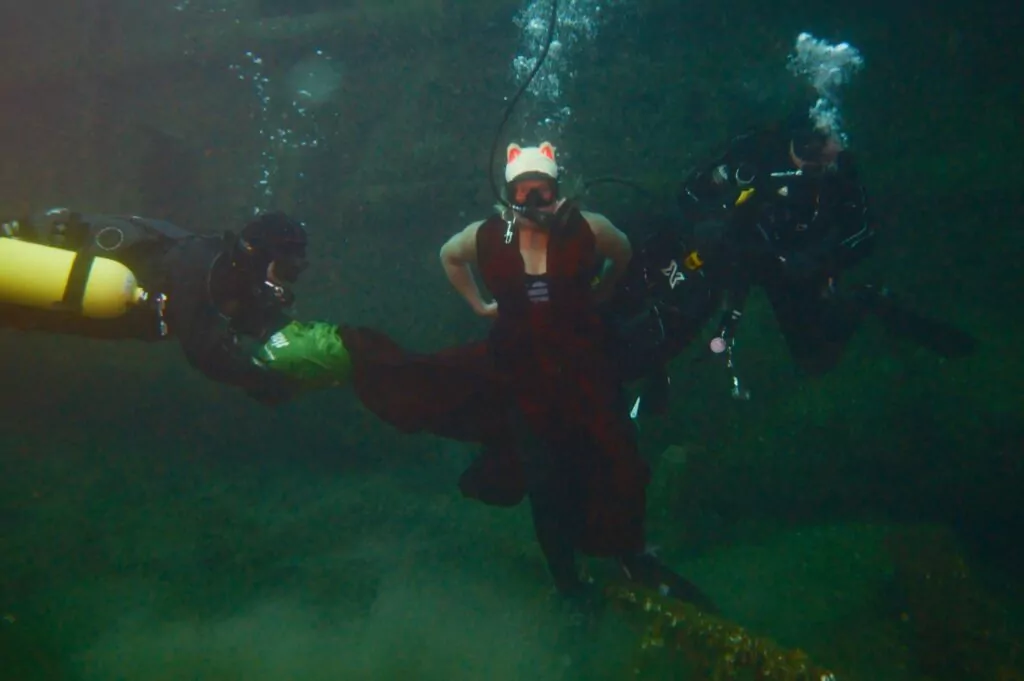 To count as a photo-shoot for Guinness World Records purposes, a bottom time of at least 15 minutes with a full production set-up was required, so a 20-minute bottom time was set as a baseline.
Lake Huron would be at its warmest in late September, before which time Haining set about extending his own scuba qualifications, including getting his Advanced Open Water Diver and nitrox certification and various specialities.
Because dive instructor Klups felt insecure about her modelling abilities, her old friend Ciara Antoski, the original model from the 2021 session, rejoined the team to coach her. During the build-up, the team also recreated that shoot with Antoski on the shallower WL Wetmore wreck, allowing Klups to study how she worked in front of the camera.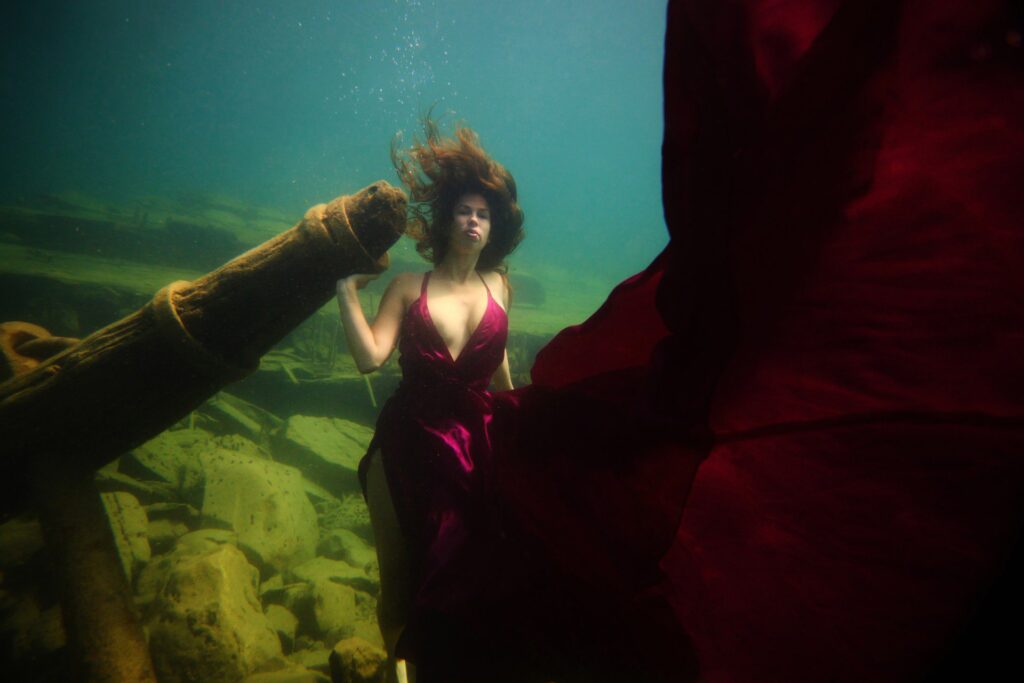 The team based themselves at the long-established Diver's Den centre in Tobermory, and held practice runs to test the equipment and make sure everyone was relaxed in their roles, including safety supervision, managing the lights and multiple cameras, the model's costume and air supply, and communications.
The original intention was for everyone to use nitrox 32 on the day, but in the lead-up dives Haining, Klups and two of the five master trainers on the project had all been using air.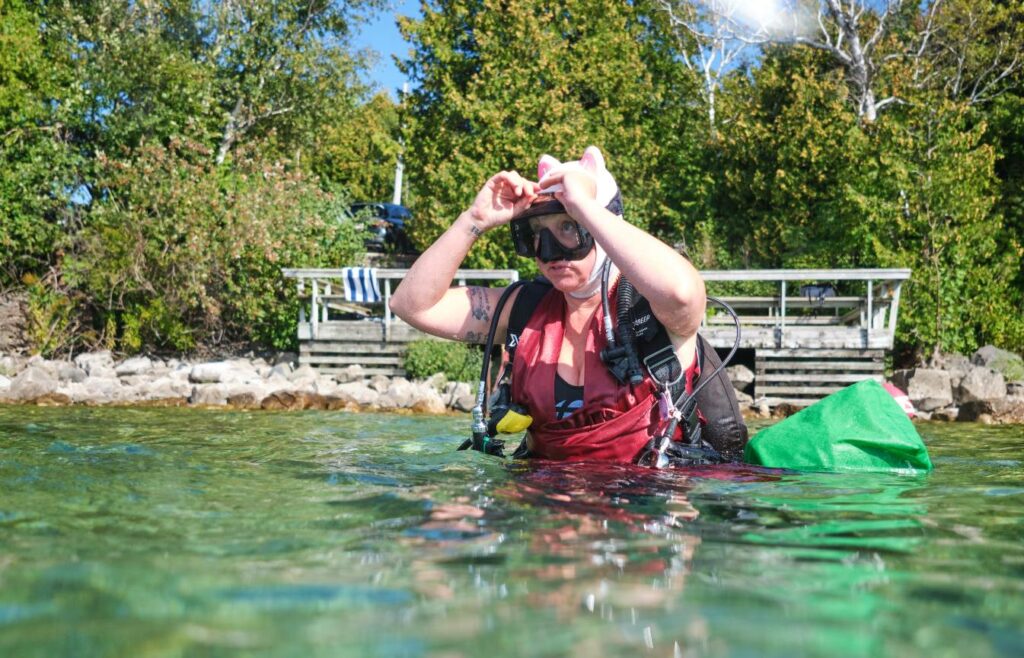 "On the day of the dive we had a ton of air tanks full and ready to go, and didn't see it being near vital enough to also pick up nitrox tanks, based on the NDL time and the length of the shoot versus everything we were planning that day," says Haining.
"Initially, a couple of divers went straight to the bottom early. We staged the lighting in the place we had planned, then came partially up above the wreck. A few minutes later, the rest of the dive-team began their descent and we all went to the bottom to do the planned shoot."
The thermocline
By now, the team's main concern was the thermocline over the wreck, which pushed the temperature down suddenly from around 17° to 7°C – good for visibility, but potentially hazardous for the exposed Klups.
She succeeded for a long time in maintaining the impression that the water was sufficiently warm as she posed for Haining's photographs – but then, as the shoot continued, the sustained cold started causing her problems.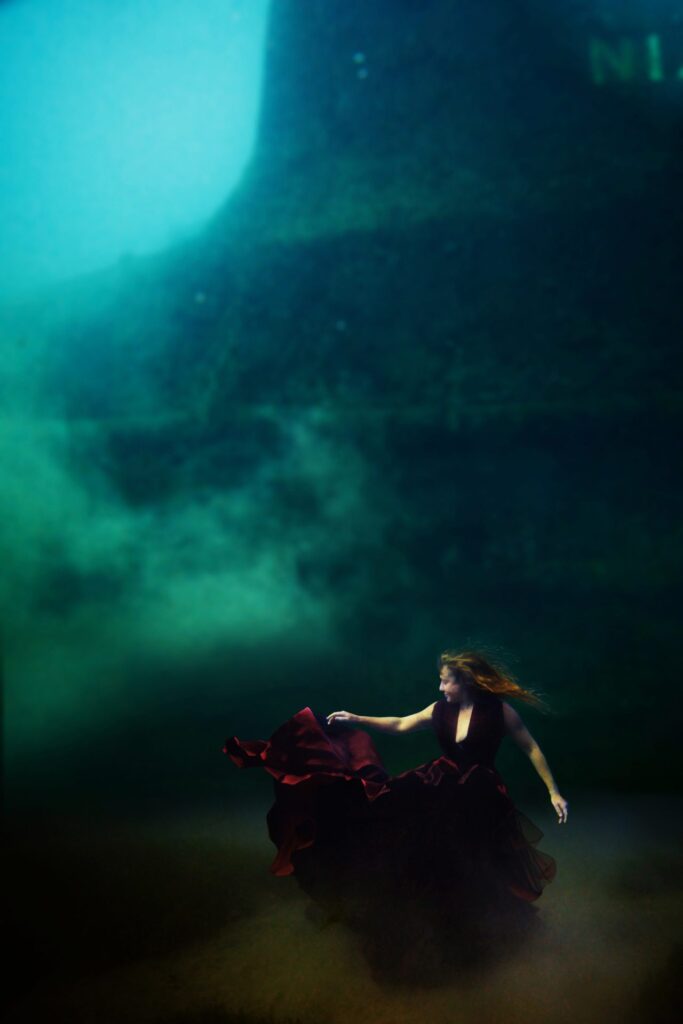 "I just found that my diaphragm started spasming, which made it nearly impossible to do a proper breathe-up," she says. "Then, when I didn't have the regulator in my mouth, my diaphragm was spasming and I was worried that I was going to start breathing water into my nose."
Muscle spasms are a feature of coldwater shock, which can also boost heart-rate and blood pressure, and cause drowning through involuntary intake of water.
As Klup's safety diver Mario Medaravic passed her the second stage again, she found herself unable to regain control. "So I thought maybe if we go up above the thermocline the spasming will stop, and we'll get one more shot down below," she says.
Ascending while wearing the flowing gown had never been part of the plan, however, and it impeded her progress to the extent that Medaravic had to call the dive at that point.
But by then enough time had elapsed – and Haining had the shots he needed. Medaravic, who works with Klups in his Toronto dive-centre, is cited by Guinness World Records alongside Haining and Klups as one of the three official record-holders.
The entire dive, including clean-up, equipment removal and safety stop, lasted just over half an hour, while the photoshoot itself was the requisite 16 minutes long.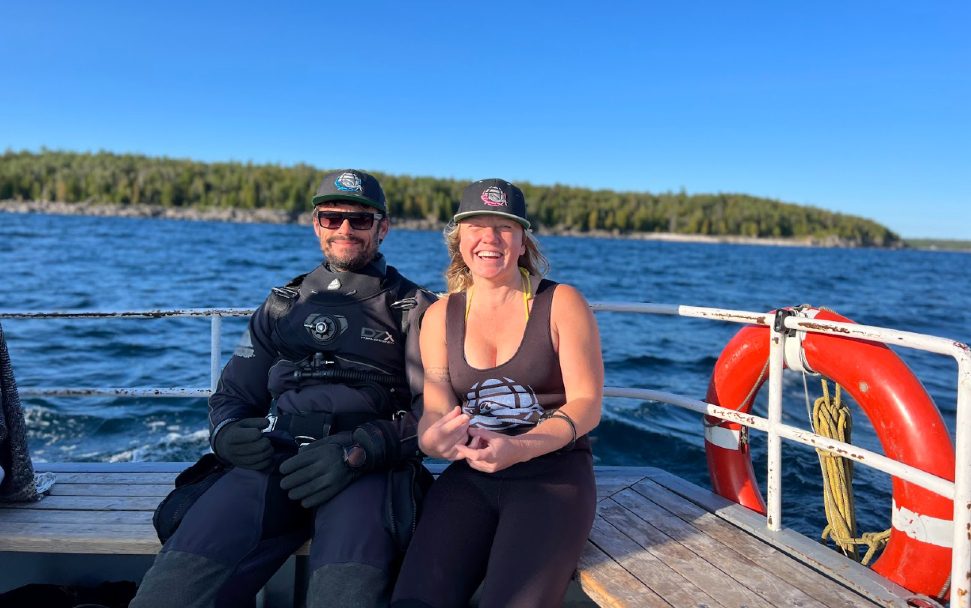 Job done
Afterwards, the equipment sponsors expressed delight that their equipment had worked without any problems at 30m and for an extended period, describing the photographic results as "absolutely breathtaking".
"This shoot was certainly a 'let's see how cold and deep we can push ourselves if we really want to', and it was incredibly fun to make a plan and bring it to life like this," Haining told Divernet. 
"But, honestly, most of the fun places to shoot portraits in the water and so many of the fun places to explore are not much deeper than 100ft, so unless I get an email from someone about an incredible place to shoot at 120ft or more in much warmer conditions, I don't think I need to go any deeper!"
Also on Divernet: Pushing photo-shoot limits for new world record, Freedivers seal longest underwater kiss, Mermaid at the Museum, Green hair? You should totally do this!', Mermaids highlight 10 NZ dive locations