A recently released YouTube video sheds new light on the practicalities of swimming casualties out of flooded caves, as UK divers Rick Stanton and Jon Volanthen talk through lessons learnt during the challenging 2018 Tham Luang cave rescue in Thailand.
Aspects covered in the 13-minute video would not necessarily have been apparent from the many screen dramatisations and documentaries based on the rescue of the Wild Boars junior football team – which is why Cave Diving Group members and film-makers Rob Franklin and Connor Roe felt they should be more widely known.
"It seems to have become accepted that diving people out of a cave is a routine and relatively straightforward thing to do," says Volanthen at the start of Sump Rescue, going on to emphasise the extent to which the strategy is a last resort where no dry exit route can be found – and waiting is not an option.
KM SuperMask
UK dive rescue-teams favour fitting casualties with the Kirby Morgan M-48 SuperMask for its simplicity and robustness, says Stanton, but principally because its separate pod allows any type of second stage regulator to be attached.
"In the Thailand cave rescue we chose to use the positive-pressure mask for two principal reasons – to keep water outside the mask and also to help the unconscious boys to breathe," he explains. "The disadvantage is that if you dislodge it severely there will be a massive outward leak of air and, of course, you're depleting your breathing gas."
An unexpected benefit of the full-face masks had been their tendency to lift the heads of the sedated boys, so extending their airways, says Stanton.
Volanthen explains the importance of diving casualties out face-down and facing forwards, keeping any water in the mask away from the face and potentially clearable. This is especially important in transitions between sumps and dry areas, he says.
With a conscious casualty the rescuers would use two sidemount cylinders with a back-mounted switch-block and have the ability to supply off-board gas if necessary. "That gives us an almost unlimited supply of breathing gas for the casualty through the sump," says Volanthen.
The switch-block monitors interstage pressure and incorporates an alarm system to warn rescuers should the casualty be unable to breathe. In an out-of-air emergency, the Kirby Morgan pod can be removed if necessary and another second stage donated.
Conscious effort
Buoyancy of the casualty is another concern, especially where depth changes are required, and Volanthen discusses the use of floats or drysuit inflation to raise the feet, and the need for adjustments to prevent the casualty bumping onto rocks below or landing face-down in mud.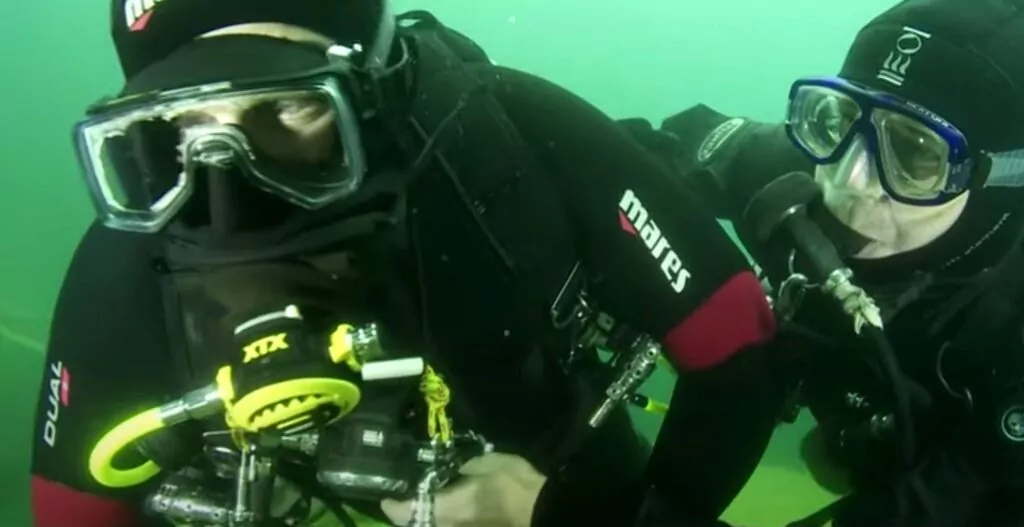 "In Tham Luang we strapped the cylinder the boys were breathing from to their chest and that acted like a keel, both to hold them in a face-down orientation to make sure they couldn't rotate but also, if they had to be left on the floor for any reason, they would 'sit' on the cylinder rather than sit on their facemask and potentially dislodge it."
The need for streamlining the "passenger" is emphasised in the video, with no place for fins or stretchers if their use can be avoided. All the advice is illustrated by sequences shot at Somerset sites Vobster Quay and Wookey Hole.
Sump Rescue has been released by the British Cave Rescue Council (BCRC), which maintains 16 teams of volunteer rescuers around the UK. Watch it on YouTube.
Also on Divernet: Q&A: With Cave Diving Legend Rick Stanton, Thai Footballer's Death Shocks Rescue Divers, Truffe Or Dare, Torbet 360: Virtual Cave-Diving, Exploring The Hidden Underwater World Of Belgium's Denée Mine