archive – Diving NewsDredger suspected of wreck destruction detained
A Chinese-registered hopper-dredger that disappeared following the destruction of a popular WW2 wreck-dive site in Usukan, Borneo, in late January is reported to have been detained by the Malaysian Maritime Enforcement Agency (MMEA).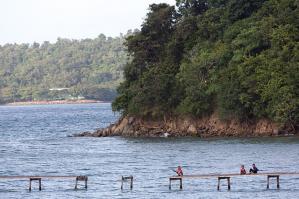 The Chuan Hong 68 had illegally anchored in Malaysian waters after escaping from detention by the Indonesian Navy for alleged pillaging of another shipwreck, according to a report in the New Straits Times. At least seven of its crew of 20 were also reported to have been detained.
As reported on Divernet on 13 February, the Usukan Bay wrecks consisted of three Japanese cargo vessels, the Kokusei Maru, Higane Maru and Hiyori Maru.
Torpedoed in 1944 by the submarine USS Hammerhead with 138 fatalities, the 5300-ton vessels lay close to each other off Kota Belud and were known by divers as the Rice Bowl Wreck, Upside Down Wreck and Usukan Wreck.
Chuan Hong 68 was reported to have been commissioned by local company Ugeens Berjaya Enterprise on behalf of the archaeological unit of Universiti Malaysia Sabah (UMS) to carry out salvage work "for research purposes" on the wrecks.
Local divers and fishing interests had opposed the move but had not expected the rapid and wholesale destruction of the well-colonised site.
By the time the Sabah Tourism, Culture & Environment Ministry had ordered UMS to desist, what was left was described as a "ghostly seabed with chunks of metal scattered".
The 122m Chinese vessel had by then departed, and allegedly later went on to remove valuable items from the 64m-deep wreck of the Swedish supertanker Seven Skies, which sank near Indonesia's Anambas Islands in 1969.
According to the Jakarta Post an Indonesian Navy boat had caught the Chuan Hong 68 and its crew in the act but, following a 6-hour period of detention, the vessel had managed to slip away, before being recaptured by the Malaysian authorities.
The Chinese government has claimed that the ship had been chartered by a Malaysian company for "engineering" operations.
Divernet – The Biggest Online Resource for Scuba Divers