archive – Diving News
Mendi bell changes hands on Swanage Pier
A senior diver's conscience appears to have been pricked, after the ship's bell from controversial WW1 troop transport ss Mendi was left on Swanage Pier for a journalist to collect.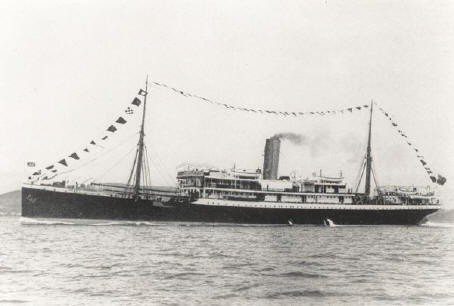 The Mendi sank off the Isle of Wight on 21 February, 1917, with the deaths of more than 600 men from the South African Native Labour Corps. They were being shipped to Europe to support the Allied war effort.
BBC reporter Steve Humphrey said that he was contacted anonymously following recent coverage of the Mendi centenary, and told that the bell would be left in a plastic bag on Swanage Pier early the next day.
A note left with the bell read: "If I handed it in myself it might not go to the rightful place. This needs to be sorted out before I pass away as it could get lost."
The Mendi's sinking was one of Britain's worst maritime disasters. It occurred after the vessel was accidentally rammed in fog by the Darro, a Royal Mail packet-boat that failed to go to the aid of survivors. The story is still commemorated as a symbol of racial injustice in South Africa.
The wreck was rediscovered by Isle of Wight wreck-diver Martin Woodward in 1974 but it would be some 35 years before it was designated a protected war grave, following English Heritage surveys.
During much of that time artefacts were removed by divers in what is described as "a common and largely uncontroversial practice" in a recent book about the Mendi called "We Die Like Brothers" (reviewed on Divernet here).
Co-author and maritime archaeologist John Gribble told the BBC that the bell had never been reported as found, and was probably genuine.
"Given the extent to which the site was stripped of non-ferrous metals in the past I'd be very surprised if the bell was still on the wreck," he said. "It's the right sort of size for a bell of that period."
The Receiver of Wreck told the BBC that the bell would probably be given to a museum pending a decision on its future.
Divernet – The Biggest Online Resource for Scuba Divers