archive – ArchaeologyMessages from the past
Franck Goddio is arguably the world's most successful underwater archaeologist – and his skills are tested to the limit in excavating ancient Egyptian sites on which the new Sunken Cities exhibition at London's British Museum is based. STEVE WEINMAN meets the man who made it happen, with underwater photography by CHRISTOPH GERIGK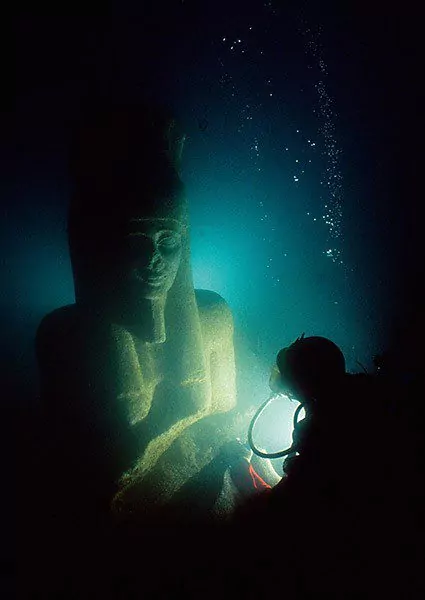 FRANCK GODDIO IS TELLING ME about his very first archaeological dive, and it's some story. Famed French archaeologist/treasure-hunter Jacques Dumas had been working to locate and identify the wreck of Napoleon Bonaparte's ship Orient, and when he met the 37-year-old Goddio in Paris and learnt that he was studying underwater archaeology, he invited him to come and see for himself what went on under water.
The excavation site was in Aboukir Bay, off Egypt's Mediterranean coast; the year 1984. "At that time I was going around the world studying everything that was being done in the field, but I had not yet worked as an underwater archaeologist," explains Goddio.
Visibility was a murky 1-1.5m on that first dive. "Jacques was going here and there but I wasn't moving about much, just looking at everything, so of course I was saving air. Eventually he brought me to what was the rudder, which they were just starting to uncover at the time."
Dumas took off, but Goddio stayed put beside the rudder-post. "I had a lot of air – I don't consume too much. I started doing this" – he makes gentle silt-wafting gestures with his hands – "and then I saw an inscription in the bronze.
"So I cleaned and cleaned and I read 'Le Dauphin Royal No 6', which made me extremely worried because I thought, oh my God, Jacques thinks it's the Orient!"
THE ORIENT, a 120-gun ship of the line, had fallen victim to Admiral Nelson's Royal Navy during the Battle of the Nile in 1798. "When I came up, Jacques asked me how was the dive, and I said: 'Fantastic, but Jacques, are you sure you are on the Orient?'
"He said: 'Yes, what are you saying?'
"So I tell him about the inscription – and he tells me that Orient was called the Dauphin Royal in Louis XVI's time, but during the Revolution this was changed, and Bonaparte gave it the name Orient.
"That inscription was absolute proof that the ship was the Orient!
"And it was after that mission, when I was discussing it with an Egyptian archaeologist, that I was informed also that there was a missing city in that area."
He didn't realise it then but he would go on to find that sunken city in Aboukir Bay called Thonis-Heracleion, and its excavation would, along with that of Alexandria's ancient eastern harbour, become Franck Goddio's defining occupation.
Since 1996, working with Egypt's Supreme Council of Antiquities, he and his team have surveyed an area much the same size as Paris beneath these sediment-laden waters of the Nile Delta. And now you can see the fruits of their labours in London, as the British Museum opens its first exhibition of underwater treasures, entitled Sunken Cities: Egypt's Lost Worlds.
Goddio is now in his late 60s, although he would pass as 10 years younger, a fine advertisement for sustained intensive diving in the most challenging conditions.
While he's away from Egypt and shuttling between Paris and London to install the exhibits, I have seized on the rare opportunity of an interview with the world-famous archaeologist – but Franck still proves hard to pin down.
Dates shift, but eventually I'm able to anticipate a leisurely chat with the man of the moment. Then the phone rings, and I'm told that he has to catch an earlier train than expected out of London. Could I come in sooner than arranged?
Unfortunately I'm still on my own train, so it's after a sweaty dash through Bloomsbury that I'm ushered into a cavernous back room at the British Museum.
In the end I get fewer than 20 minutes before the PR woman intervenes to ensure that Goddio makes his connection.
The amiable pioneer of modern maritime archaeology blames the fact that it's later than he thought on the fact that he is not wearing his diving watch. It's frustrating for me, because his is a diving career constructed on an epic scale.
FRANCK GODDIO WAS BORN in Casablanca, Morocco in 1947 but brought to live in Paris by the age of five. He says the sea was in his blood – his grandfather was a seafarer famed for his sailing exploits in the Pacific – but he didn't explore under water for fun until 1975, when freediving quickly developed into scuba. He says he had no particular interest in wrecks at that time, however.
A mathematics and statistics graduate, he had become an economics and financial adviser, working in the Far East for the UN and French Foreign Ministry, and for Saudi Arabia and other governments. "After 10 years I took a sabbatical, thinking I must do something interesting. I had always been fond of archaeology, I loved the sea and I was a sailor, so I thought: why don't I study what is being done in underwater archaeology around the world?"
It was not just a whim, but a shrewd calculation. While archaeology on land was an overcrowded field, he reckoned its underwater equivalent offered a huge gap in the market. "In the early '80s there were very few teams of underwater archaeologists like those of Dumas or Stenuit. There was also a huge gap in that there was no privately funded institute that could lead long-term projects."
He would solve that by founding one in 1987 – the non-profit European Institute of Underwater Archaeology (IEASM).
There was no looking back after his Orient initiation. "In March 1985 I did my first mission on my own in the Philippines. Jacques Dumas wanted to join my team, but unfortunately he died a month before it started."
He worked in the Philippines until 1994, excavating British East Indiaman the Griffin and then the Spanish galleons San Jose and, among his proudest achievements, the San Diego. "In 52m of very clear water, I remember the moment I first saw a big heap of jars and bronzes, and it was magnificent. But there is not a single mission that doesn't inspire very strong emotions."
He was back there in 1997 to work on another British East India Company vessel, the Royal Captain, though this wreck was sunk in 350m and required lengthy manned submarine dives.
Over the years Goddio has also excavated seven 11th-16th-century junks with their valuable cargoes of porcelain, and the 18th-century French slave ship Adelaide, lost off Cuba, his last non-Egyptian venture.
He also returned to the Orient site in 1998, finding hundreds of artefacts including gold and silver coins, skeletons, and gunpowder all over the seabed.
GODDIO BECAME KNOWN for his systematic and collaborative approach to underwater archaeology, and his mathematical background may have had a bearing on his style.
His work off Egypt's Mediterranean coast began in 1996 with the submerged royal quarters of Alexandria's eastern harbour and the excavation of eastern Canopus and Antirhodos, and it was in 2000 that he located Thonis-Heracleion, which he refers to as "the City".
Continuous financial support from the Hilti Foundation from the outset of his Egyptian research projects must have taken a certain amount of pressure off.
So 20 years on, is the end in sight in Egypt? Not a chance: "We have centuries of work there, we have barely touched it – it's the start of the job!" he declares.
He sometimes yearns for the clear waters he used to enjoy in the Philippines, because the difficulties of working off northern Egypt are legion.
"It's mainly the visibility, the swells and waves sometimes. I wish we were deeper but we're between 2 and 8m deep in the City and in Alexandria it's 6.5 to 10m.
"Visibility is very bad because of the sediment in the water, and pollution levels can be terrible. Sometimes you just have to work with your eyes closed, because the swirling sediment can make you dizzy.
"You have to be careful with the site itself, of course, and very often we find it's better just to take our fins off while we're working."
His core team has been together a long time, some for as long as 27 years. They work using twin-sets, full-face masks (usually without comms) and wetsuits with gloves, says Goddio.
"I don't use a weightbelt, I use a harness, because it's better when you're staying a long time in the water. We work two-and-a-half hours in the morning and the same in the afternoon, and it's tiring in that visibility."
He no longer dives daily, he says, although he remains resolutely hands-on. "My main job nowadays is to dive very often when the others are not diving, to see the results of their work, to say stop the work there, go in a new direction, open a new site or whatever."
I ASK GODDIO IF HE CAN pick out his most exciting underwater moment. "So many, but of course it was the discovery of the City. My chief diver Jean-Claude Roubaud, an excellent diver, told me that he had found this big black stone. I asked if he had seen any inscription and he said: 'No, but putting my hand below it I could feel that there were inscriptions.'
"So we went back together with an airbag and we brought the stone up. There was almost no concretion because it had been face-down in the clay, so it was protected. We had all these inscriptions, very strong and beautiful hieroglyphics, like a message from the past.
"This was one of the best moments, and afterwards it turned out that the stone was one of the most important pieces found, solving a 2000-year-old mystery etc etc. A diver's dream!"
In 2009, Goddio received the Légion d´Honneur, France's highest honour, in recognition of his achievements since the 1980s. And it's about sharing as much as diving – the Frenchman is a master at turning the results of scrabbling about in the silt with your eyes closed into glossy media to inspire the public.
His talented photographer Christoph Gerigk and film cameraman Roland Savoye, who must also struggle with the conditions but seem to overcome them admirably, must take their share of the credit for this.
Previous Egypt's Sunken Treasures exhibitions have been held in Berlin, Paris, Bonn, Madrid, Turin and Yokohama, but the current London show is the first in the UK and the first for some years, and brings in recent discoveries.
As the curators emphasise, because of their millennia of undersea storage the vast number of objects retrieved, including pristine monumental statues, metalware and gold jewellery, have been "astonishingly well-preserved".
Dating from the first millennium BC, the artefacts on show reveal how ancient Greece and Egypt interacted at that time – the Greeks settled in the country and later ruled it for 300 years, gradually adopting Egyptian beliefs and rituals to legitimise their reign.
"Do you enjoy the process of curating an exhibition?" I just have time to ask Goddio as he hurries to change into his travelling clothes.
The archaeologist nods emphatically: "Yes – you have seen the objects under water, tried to guess what they are; later you have cleaned them, treated them, preserved them, studied them, published them, and then there they are in the exhibition, under the best lighting.
"You know the story, you have a book, you have a nice catalogue, it is fantastic. It's the best moment of the dive!"
The BP exhibition Sunken Cities: Egypt's Lost Worlds runs from 19 May to 27 November at Sainsbury Exhibitions Gallery at the British Museum, London. Opening times 10am-5.30pm (8.30pm on Fridays), closed Sundays. Tickets £16.50, under-16s go free.
A book of the same title, edited by exhibition curators Franck Goddio and Aurélia Masson-Berghoff, is out in hardback (£40) and paperback (£25).
Appeared in DIVER June 2016