SEASLUG DIVER
Nudi Collector
RICHARD ASPINALL is a nudibranch-fancier, and he doesn't care who knows it. Satisfying his craving for new species is matched only by his need to capture their images to best effect…
Appeared in DIVER October 2019
For what is essentially a small bag of gloop, the nudibranch commands a great deal of attention among divers and underwater photographers. Indeed, some people become so obsessed with them that they go to great lengths to record and photograph rarities. There are even nudibranch festivals in hotspots around the world, from the famous Anilao in the Philippines to the nudibranch-rich (but less than tropical) Scotland.
I'm not sure why these creatures have captured our imagination so much. I have a touch of obsession with them myself, but can't quite put my finger on what makes them so compelling.
In recent years I have mentioned to dive-guides that the usual suspects of lionfish and moray eels don't interest me at all, while nudis certainly do. In fact I seem to have mentally sorted dive-guides into two categories.
There are those who swim ahead of the group, occasionally asking if we've reached 100 bar or making the "moray" hand signal while pointing under a rock, all making for very relaxed diving.
The other sort of guide is fascinated by tiny marine-life, and will scour the reef looking for the small and the odd to point out to you. Both schools of guiding have their merits, but when I have a macro lens mounted on my camera and a guide with a liking for nudibranchs, then a dive can be critter-heaven.
I think it all started on a night-dive, around 2005. I was on that famed wreck the Barge at Gubal island in the northern Red Sea. This is ostensibly a deeply disappointing collection of broken spars and iron plates, and many people who have dived it by day will think twice about doing so once the sun goes down.
Trust me, however, it's worth it. This is where I found my first nudibranch (along with all the hundreds of fish, two whopping morays, lionfish, squid and all the rest of it…)
I was amazed by this 5cm animal, purposefully making its way along a rusty piece of metal. It was stunningly coloured; striped black, yellow and white with bright orange appendages that waved in the gentle current.
I knew enough of the natural world to know that the colours were a warning to potential predators that it was not to be eaten or molested. Perhaps that's why it was pootling along so happily?
It turned out to be a pyjama slug, a common nudibranch from the Red Sea to Tanzania, and it sat amid photos of the most wondrous animals in my copy of the Red Sea Reef Guide. They were creatures of every colour, with polka dots, fringes of electric blue, projections that looked like flames and some, rather disgustingly, resembling piles of mobile vomit. I was amazed that such diversity existed.
I set about trying to get a photo of a pyjama slug, and pushed my compact camera, as well as my buddy's patience, to its limits. My initial attempts were OK, but it wasn't until I had a decent SLR and a proper macro lens that I could begin to try to achieve the results I was after, capturing the fine details of the animal.
I'm not saying that my shots are as good as those the pros take, but as long as I'm learning and showing measurable improvement, I'm happy.
Here's a little of what I've learned about diving with and shooting nudis. Being slow-moving critters, they can spend a lot of time heading in one direction, which is often away from you, into a dense stand of coral or a crevice – not helpful.
The best nudi images are when the animal is facing you and you can get its rhinophores in focus. I've heard these organs called "feelers" and even "bunny ears", and no doubt they contribute to a nudibranch's cuteness (not in the vomit-like ones, obviously).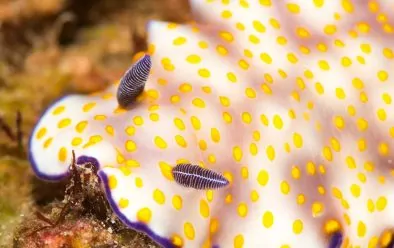 Look closely and rhinophores are feather-like or whorled. They are used for sensing chemicals in the water, and if you can capture the very fine detail of these structures, you're onto a winner.
What's in a name?
The first thing people learn about nudibranchs is the origin of their name. "Nudi" means naked and "branch" means gill – it's a mixed derivation, from Latin and Greek. The clustered feathery appendages on the slug's back are its gills.
As the megapixel count of cameras gets ever higher and they are able to capture increasing levels of detail, our technique is sometimes revealed as lacking.
In the old days a little blurring from camera or subject movement might not be resolvable, but today's cameras can be quite unforgiving.
As ever in diving, good buoyancy is necessary to limit your movement. Selecting a fast shutter-speed will reduce any movement caused by currents "blowing" the animal about.
Getting the head-on shot of a nudi is impossible sometimes, and prodding them or waving your finger in the water ahead of them in the vain hope of turning them round is not acceptable. Sometimes you must wait or move on, hoping for another subject.
In some cases, you can shoot from above to get the entire animal in the frame, and if you're at right angles to the nudi's body you stand a better chance of getting both ends in focus.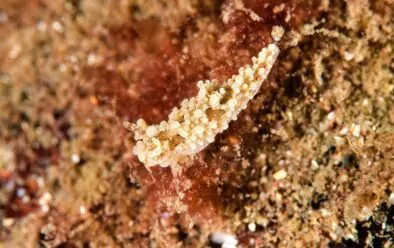 These aren't always the most artistic of images, but are useful for identification purposes, and may help enormously if your photos end up being of value to a conservation organisation trying to assess a site's biodiversity. Learning to take good ID shots is a skill in its own right.
One of the largest and most splendid nudibranchs is the Spanish dancer, a breathtakingly extravagant animal in rich crimson. It is found across the tropics and always makes a night dive something to remember, but at 20-30cm long it can present a problem to folks with macro lenses fitted to their cameras.
You have to pull back, so might end up with too much water between you and the subject, resulting in the dreaded backscatter. This is where a compact camera can reign supreme, allowing a diver to shoot the entire animal as well as to zoom in close to capture fine detail.
In this species, the feathery gills common to most nudibranchs are particularly attractive. It gets its name for its undulating motion when free-swimming, resembling a flamenco dancer's skirts. Don't try to make them swim, because they can lose their mucous trail and become disoriented.
Using a macro lens (or macro setting on a compact) to get close-up detail in their six gills (hence the scientific name of hexabranchus) might reveal a pair of tiny shrimp living in the feathery structures, though I have yet to spot them.
Nudibranchs are found all over the world. I've photographed them in warm tropical seas as well as off Scotland's east coast, and for such delicate-looking animals they certainly seem to be survivors.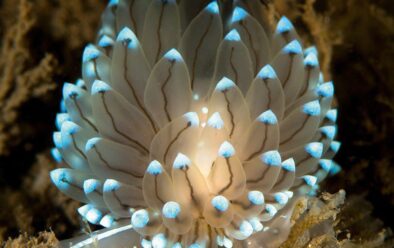 There are some 3000 known species living at a range of depths, but most commonly they are found in warm shallow seas. There are doubtless many more still to discover in uncharted deeps.
Shooting nudibranchs in UK waters adds extra complications but can be worth it. The first time I spotted one in the UK was on a cold deep dive off the north-eastern coast. We were exploring the broken remains of a wreck – not massively interesting or scenic but with just enough sharp metal to add some interest – when my torchlight fell onto what looked like a block of crystal.
Up close I saw that it was a nudi, a few inches long and transparent, covered in projections each tipped with an almost-luminescent pale blue. Here was something beautiful and delicate amid the rust and silty decay. It was Janolus cristatus, aka Crystal Tips. I fell for it immediately.
I think this sighting prompted me to try to take more care on UK wrecks, where robust equipment and heavy fins are the norm.
Knowing that such wonders might be crawling across any piece of wreckage should remind us to be aware of our surroundings. How many delicate critters have been sent off into the current by careless fin-kicks?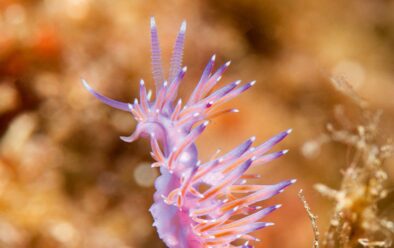 Another common UK nudibranch is the appropriately named violet nudi. It looks like an explosion of purple, and with its fine projections (or cerrata) presents a challenge to shoot, as it has an awful lot of body parts to be blown this way and that in the current.
It doesn't help that you might be fighting that current as well.
Again, take care to select subjects where you can limit your own movement as well as not damage anything, and select a fast shutter-speed and, if possible, a narrow aperture to increase depth of field.
To expose the shot correctly will require a greater output from your strobes to compensate for these settings, which both reduce the amount of light entering your lens.
You might try a technique that takes some practice to achieve but is well worth the result. Normally strobes are positioned just to the rear of the port and angled slightly outwards. Angle the strobes instead towards the lens, so that their output is at right angles to it.
The furthermost edge of the cones of illumination they provide will now be far closer to you, allowing you to illuminate the subject but not the background.
I'd recommend getting the hang of it in a pool with some suitable pretend nudibranchs.
Why the bold colours?
It is common in nature that bold colours act as a warning to predators. Many species of nudibranch can eat foodstuffs rich in toxins with no ill-effects and store those toxins in their own bodies. Some are even able to eat animals such as hydrozoans, which have stinging cells to protect them, and instead of being deterred or injured, can pass the cells into their own tissues for their protection.
To further darken a background, you can select a narrow aperture and/ or a fast shutter-speed. You might choose to selectively darken areas in editing software afterwards if necessary, but don't overdo it, and read the rules if you're entering a photo competition, as some don't allow image-manipulation.
There's an argument that manipulation is merely cancelling out the results of you adding artificial light in the first place, but that's a debate for another time.
Another option could be the addition of snoots to your strobes. These tube-like affairs, fitted to the business end, concentrate a strobe's light into a more defined area. In effect you can put the light only on the nudi, like a spotlight.
By varying the angles, and even having asymmetric light outputs, you can create quite atmospheric effects.
You might also want to consider additional close-up lenses to boost your camera's magnifying power and, if you're like me, some additional corrective lenses in your mask might be necessary.
Some nudis are so small that I have trouble seeing them and have to point the camera, shoot away, and only later try to work out what I was shooting.
Thank goodness for high-capacity memory cards!
So if you're ever unlucky enough to be working as a dive-guide and a ginger bloke turns up going on about how his eyes aren't what they once were, and how his wetsuit has shrunk over the winter, then asks: "Have you seen any nudibranchs?" I do apologise.
It's just that, as with many things in diving, once you scratch the surface there's so much more to learn.