archive – Diving News
'Pirate' divers suspected of looting WW1 liner
Illegal salvors are being accused of ransacking the WW1 U-boat victim the Hesperian off Ireland's south coast in recent weeks.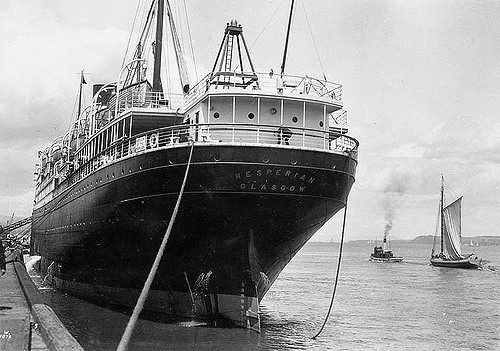 The armed British transatlantic liner had been carrying more than 800 passengers including wounded Canadian troops, along with valuables such as gold, silver and jewellery, to Montreal on 6 September, 1915.
She was 85 miles out from the Fastnet Rock when a torpedo from the German submarine U-20 struck her engine-room.
The 11,000-ton vessel stayed afloat for two days, but eventually sank in a storm while under tow.
All but 32 of the passengers and 300 crew survived. The fatalities were mostly kitchen staff tipped out of a lifeboat.
Blood-stained hammocks used by the soldiers on board Hesperian are reported to have started surfacing in recent weeks, while fishermen have been finding brass taps and water pipes in their nets, suggesting recent disturbance of the wreck-site.
Marine biologist Kevin Flannery of Dingle Oceanworld Aquarium told the Times that an unidentifiable vessel had been seen near the wreck-site.
"There is obviously interference with the wreck because all that stuff would have been washed away in the last 100 years, never mind one bad storm," said Flannery. "These are pirate treasure-hunters with no respect for the dead."
He said he thought they had been using explosives, and described their actions as "grave-robbing".
The sinking of the Hesperian sparked a diplomatic row at the time, because it violated the German promise to spare civilian lives made a few months earlier after the same U-boat, commanded by Kapitanleutnant Walther Schwieger, had sunk the liner Lusitania.
A double victim of U-20 was Frances Stephens, who had died in the Lusitania attack and whose coffin was being sent back to Montreal on the Hesperian to be buried alongside her husband, a prominent politician.
Although the wreck lies outside Ireland's 12-mile limit, it is expected to be included in upcoming legislation for protection of the country's archaeological heritage.
Divernet – The Biggest Online Resource for Scuba Divers