CAVE DIVER
'Prepare to be Amazed!'
As one of the world's foremost cave-divers MARTYN FARR has had more than his share of great underwater experiences, but only now has he come to dive 'the most beautiful caves in the world'
The cave passage narrows beyond the Cascade Room and the diver has to start carefully avoiding the formations.
It's been 37 years, but we're back in the Bahamas. The last visit was in 1982 when, after a notable expedition on Andros Island, we achieved a world-record penetration of a submarine cave.
Since then almost everything has changed; the world has moved on. Our state-of-the-art (British) approach seen in the 1983 film now seems farcical.
At that point there were no dive-computers. We wore horse-collar ABLJs for buoyancy control, regulators failed regularly, our trim was non-existent, and lines were 4-6mm diameter polypropylene. Significantly, my lighting for underwater photography was courtesy of single-use flash-bulbs.
My memories of our diving in 1981 and 1982 remain vivid, and certainly exploring in warm clear water was wonderful compared to the cold grim environments that we experienced back in the UK.
But despite the tremendous advances in diving as a whole, it was something different that was drawing me back.
Leading US cave-diver Brian Kakuk had first set his mark on the Bahamian blue holes in the 1990s, but since then he has gone on to reveal the most spectacular caves imaginable, on Abaco Island. We knew that there were lavishly decorated caves on Grand Bahama back in 1982, but the sights that Brian and others have revealed on Abaco are outstanding.
I had seen the magnificent images. Talking to people who had visited, it was clear that for elemental beauty, the caves of Abaco were the holy grail.
Now it's February 2019, and Helen and I arrive in Marsh Harbour, Abaco's principal town. The weather is great, and we think we're pretty much prepared. We have brought 5mm wetsuits, new Apeks regs, modern flotation devices and every other hi-tec accoutrement we think we'll need for two weeks of underwater activity.
Brian picks us up from the airport and takes us to his superbly equipped base "Bahamas Underground", a short distance away.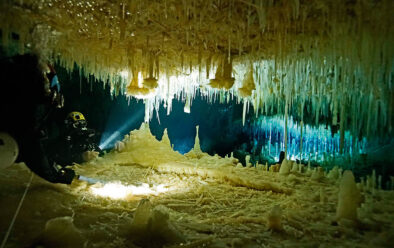 We learn that our host has recently secured government protection for a large tract of land that includes a number of caves. This South Abaco Blue Holes Conservation Area extends to many hundreds of acres of Caribbean pine forest and four principal sites – Dan's Cave, Ralph's Cave, Nancy's Cave and Sawmill Sink.
We learn that all cave-diving in the conservation area is now regulated and has to be supervised directly by an approved guide, of which there are currently three. Because of some exciting archaeological discoveries made at Sawmill Sink, any underwater activity there requires a special permit.
Abaco, like Grand Bahama and Andros, is low-lying (its highest point is less than 20m above sea level) and covered in some unpleasant jungle undergrowth. Serious exploration did not get underway until the 1990s, largely because of the lure of dramatic discoveries elsewhere.
In 2018 Steve Bogaerts, one of the leading divers operating down in Quintana Roo, Mexico, returned to the Abaco caves, where he had been one of the earliest pioneers. As a highly adept long-distance explorer, he linked Dan's Cave to Ralph's, but given the intimidating nature of the terrain a through trip was to elude him.
Some 14-15 miles of passage has now been charted across the four caves, and clearly far more remains to be explored.
We are briefed thoroughly. We have seen the images, and utmost care needs to be taken on every dive. I have seen some amazing places, but nothing prepares us psychologically for the sights to be revealed in the following days.
Relatively few people have visited Abaco, so the caves are pristine. Brian and the other guides are passionate about conservation and maximum party size is three, of which our host is one.
This fragile environment is no place for speed. As Brian stresses, we need to modify the techniques we have learned in our training and implement in our normal dive environment.
Appeared in DIVER June 2019
Here one needs to be exceptionally spatially aware. Position in the water and fin-strokes adopted are crucial. Because of the profusion of formations, especially hanging from the ceiling, sidemount diving is required at most sites, and it is essential to be able to weave slowly and gracefully in and out, up and down between the intricate web of stalactites, stalagmites, columns and other features.
Keeping one's fins high and employing wide-sweeping frog-kicks, as per the normal Floridian/technical approach, is not desirable. Fortunately the principal cave, Dan's, has some massive tunnels at the outset, good places to hone one's skill before moving into progressively more committing tunnels.
The depth in much of the complex is 24m, so decompression is an issue on every dive. We dive on around 32% nitrox, with pure O2 on decompression. Longer penetrations take divers to depths approaching 50m.
On the first dive and on just about every dive thereafter Brian is heard to say: "Prepare to be amazed!" And, invariably, he's right.
The first couple of dives take us to the Cascade Room in Dan's, a distance of no more than 300m. Water clarity is not just gin-clear; it's air-clear. Brian tells us that he has seen divers 100m away.
This room is just vast. It's well over 100m long, more than 50m wide and in places 15m-plus high. There are calcite formations everywhere; the ceiling is one continuous jagged array of stal.
Next day we light the place up for imaging. We set out about 12 lights and the scene is ethereal – quite magical. Definitely wow, wow, wow! I have never seen anything like this and, amazingly, the camera and video capture it all fairly well.
What an incredible start – it's worth the trip for this one experience alone.
But it's only the start. The next day we penetrate further, down to 35m depth and a couple of hundred metres further.
Our target is Crystal Palace, another large chamber but one festooned with a forest of slender, elegant stalactite columns, each more than 4m long.
With our spectacular set of lights and Brian's slick knowledgeable deployment, the scene is even more magnificent than the day before. I had seen an image before heading into the cave, but seeing it illuminated with powerful lights was the highlight of my cave-diving, utterly breath-taking.
Given the distance and depth the clock was ticking rapidly – definitely not enough time to absorb the majesty of the place. Again, I feel spoilt. The trip would have been worth it to see just this!
And so it goes on. Days later we are introduced to Ralph's Cave. The evening before, Brian says: "Ralph's cave is dangerous."  Eyebrows are raised quizzically. Then a cheeky grin appears: "Your jaw is in danger of dropping and you losing your regulator when you see the sights in there."
My God, this cave takes delicacy, purity and spectacular diving to yet another level! Here we are introduced to the Glass Factory, a place where some of the stal formations are as translucent as the name suggests.
Lights set behind formations makes them glow in exquisite colour. Some of the formations are tinted a beautiful pink or reddish colour, a situation induced by a rich deposit of red Saharan dust that blew across the Atlantic Ocean tens of thousands of years ago.
As rainwater then percolated down through the minute fissures in the rock, the dust found its way underground and in turn became embedded within the crystalline structures slowly developing.
In some places there are delicate "crystal pools" of the sort we find only in "active" cave systems today. It's important to reflect that these caves were flooded by the rising level of the oceans some 10-13,000 years ago. Ongoing research indicates that they have been dry in four separate climatological periods – in other words, during the past four Ice Ages.
Some formations have been dated to 350,000 years.
During our stay we meet another cave-diving pioneer, Nancy Albury, who is today a leading palaeontologist conducting and co-ordinating research into the fossil remains being uncovered, notably in Sawmill Sink.
Nancy is particularly excited about recent findings that have revealed a new species of tortoise considered to be the "missing link" between North and South American tortoises. Fossilised remains of extinct crocodiles have also been found, and the scientific community has intensified its interest in all areas.
Our visits to Ralph's Cave produce some wonderful images, including those of glowing stals and "pools" with fabulous displays of fascinating crystals; all sights and formations that were frozen in time when water invaded and submerged everything in benign crystal water.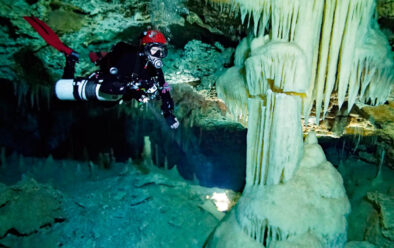 I don't think I've seen formations in such a pure state in any other dry cave in the world. We also see a bat skeleton covered in what above ground might be regarded as a veneer of ice – except that this bat has lain in the darkness for more than 10,000 years.
We have 10 days of diving on Abaco, and not once do we enter the sea. Yes, there are offshore blue holes such as those on Andros, but the wonders of the inland caves are world-class. I feel exceptionally privileged to have ticked off one of my bucket-list destinations. The memories are so profound and so magical that I can say it with every conviction: these are the finest caves in the world.
A huge note of thanks to Brian Kakuk's Bahamas Underground for exemplary guiding and photographic assistance throughout our stay. For more on these caves visit bahamascaves.com
Martyn Farr runs cave-diving courses: farrworld.co.uk