THE SUN IS STILL BELOW the horizon in Guam as I snorkel above a barren reef. There are no manta rays anywhere. "Manta Mom" Julie Hartup checks her watch and signals another 20 minutes for the big event.
I'm doubtful, but keep looking for signs. Suddenly a squadron of mantas zips by. That's a good start.
I notice more and more tiny surgeonfish swimming around the reef. When they become clouds, I can feel that something amazing is about to happen.
And after almost exactly 20 minutes the fish rise to the surface releasing massive clouds of eggs – and in come the mantas.
Julie was 17 when she first tried diving on a family holiday in Hawaii. She felt totally at ease, and her divemaster said she should become an instructor. She had laughed, and said: "What's the point? I live in Utah."
Her life could not have started further from the ocean. Brought up in a conservative Mormon community, she had pushed plenty of boundaries for equal opportunities for females, such as demanding that her girls' church group be allowed a waterski-ing event, as was regularly organised for the boys. Diving seemed out of reach.
She had followed custom, marrying at 19 and having three children. "I was thinking there must be something else out there," she says and, at the age of 25, convinced her husband that she should do her open-water training in a hot spring. The experience left him uneasy, and Julie hooked.
Within a year she had collected almost every dive-card possible, and was soon teaching others to dive in Homestead Crater and surrounding lakes. She worked so hard that people started calling her "Crater Girl".
Within two years of Julie's OWD qualification her husband, wary of her new-found independence, made her choose between diving and divorce. "I did not hesitate one second," she says.
So at 28, a single mother of three, she enrolled in Brigham Young University to study zoology. "I was a complete alien, and I knew nothing. Email? I didn't know what email was."
Her independence and marital state clashed with the fundamental beliefs of the Church of the Latter-Day Saints, and she gradually pulled away from the religion of her community.
THE UNIVERSITY PROVIDED Julie with many opportunities to develop a career as a marine biologist. Being older and having advanced diving skills, she became dive-safety officer and research diver for a marine-biology co-operation programme with Hopkins Marine Station in Monterey, California.
Julie started joining and later hosting summer camps at Monterey Bay Aquarium, making herself irreplaceable by bringing back from the ocean samples needed for lab work.
She was setting herself up nicely for a permanent move to Monterey as research associate when she met her future husband, Jason Hartup. They planned to break away from Utah so that he could pursue his dental education, Julie agreed on condition that next time it would be her turn to decide on a location.
For the next four years in Florida she found herself back in the role of mother. Then newly graduated dentist Jason found a post on Guam, a place neither of them had visited or could have placed on a map.
The island, an "unincorporated territory" of the USA in the Western Pacific, lay closer to Philippines and Indonesia than to Hawaii, and to Julie it was paradise.
Surrounded by azure blue ocean, Guam is part of the Mariana chain of tiny islands that sit atop the underwater ridge famous for including the deepest-known spot in the world – the Mariana Trench.
Surrounded by all this water, Julie searched for the right mission – and found it with graduate studies in the marine biology department of the University of Guam.
At 40 and a mother of four, she found herself again in the role of an alien who had never heard of Microsoft Word or Powerpoint, and struggled with what were basics skills to fellow-students half her age.
A FREQUENT VISITOR to Yap, with its well-known manta population, she chose the rays as a topic for her masters thesis. But her professor had a tougher target for her – Guam's manta population.
Surfers, swimmers and scientists were aware of irregular visits of the rays to Guam's reefs. They might be seen cruising in large groups, or months might pass with no sightings. The dive industry had given up on the rays altogether.
Julie freedived and scuba-dived a lot, but without success. She quizzed scientists, fishermen and swimmers, but to no avail.
Then she made two unusual discoveries on YouTube. Shaky videos taken by paddle-boarders using GoPros showed mantas in a feeding frenzy on cloudy water at the surface of Guam's otherwise very clear waters. Julie hypothesised that these were the eggs of a mass of reef-fish spawning.
The professor for fish aggregations had no record of mass spawnings in Guam, and did not support her thesis.
Julie then connected the moon phases with the date and time of the two videos, and projected when to expect the next spawn and the next manta frenzy.
Swimming out, she didn't dare to expect success – yet there they were, amassed on the reef, thousands of surgeonfish and 14 mantas!
That was in 2012. Today Julie has perfected the geography, time and tide governing the spawning to such a degree that she can predict exactly when the mantas will come in. In the community and among her fellow-students, "Crater Girl" has become "Manta Mom".
IT'S 4.30AM WHEN Julie picks me up in her truck. She cheerfully explains that we will have to swim for 30 minutes at this godforsaken hour to reach the site.
She ploughs out through the black ocean, leaving me in her wake. When we get to the outer reef my calves are burning, and I'm wondering what these efforts will deliver. Then a squadron of five manta rays zip beneath me, all heading in one direction.
Above a surgeonfish gathering, several rays lazily cruise by every so often, as if to check whether the fish are ready to serve breakfast yet. Small groups of fish break off for small spawns, but that doesn't bring in the mantas.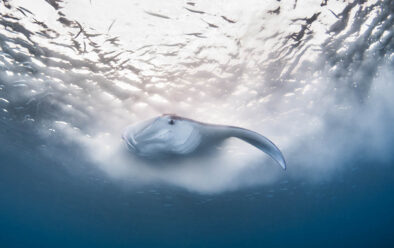 Suddenly there is serious activity at the surface. Like fireworks, the fish are spawning in a huge mess that lasts less than five minutes. I have to duck-dive below the forming cloud, because I can see only milky whiteness at the surface.
And the manta rays arrive in full force, mouths ajar, scooping into the white clouds. At times these clouds are so thick that only the mantas' wingtips are visible as they cruise through them at full speed. Julie counts 11 of the rays that day, about a fifth of Guam's manta population.
But the show isn't over. When the clouds thin out, the manta rays stop feeding but remain in the area. "It's like a social dinner," Julie explains. "After the feast, the socialising begins."
The mantas are cruising all around and at times even circling us. Julie believes that individuals have personalities and a real need for socialising and play time.
Recognising their belly patterns instantly, she can tell whether "they are relaxed, happy or annoyed". Even to me, it looks as if they are just having fun.
A female named Sweet Samantha is the largest of them all. Julie says she is one of the most social mantas, and named her after a friend's daughter just before she died of leukemia.
Sweet Sam is being tailed by four or five interested males in an elegant manta "mating train". They will follow and try to touch her tail with their cephalic lobes.
Sometimes Sweet Samantha will cruise at leisure on her back, or start another manta tornado, where all six mantas circle in one spot. She cruises past me several times as if attempting to brush her flirty entourage off onto me.
It strikes me how relaxed the mantas are around us. I've had many manta interactions, but usually feel they are indifferent to our presence.
These rays seem to approach us in a curious, friendly manner, perhaps because they rarely see humans.
At some point the flirty group circles me for several turns, almost as if inviting me to join the dance.
It is one of these moments of pure awe at the beauty of nature, watching their elegant features majestically cutting through the blue water, with sun rays dancing on their backs.
After two hours we snorkel back to shore, where Julie announces that during sunset another group of fish will spawn. Again, she shows me how accurate her prediction is.
OVER THE COMING DAYS she predicts how much spawning and how many rays there will be – and is always spot on. She has not only photo-ID'd every manta in Guam, but proven that mantas can accurately predict the time and date of a feeding opportunity.
This assiduous woman doesn't stop there. After working with the Manta Trust in the Maldives and becoming its project leader in Micronesia she took things a step further and set up her own NGO, the Micronesian Conservation Coalition (MCC).
This organisation has grown quickly to study and ID mantas not only in Guam but also in the Northern Marianas, Yap and its outer islands, Ulithi, Pohnpei and the Marshall Islands.
MCC programmes focus on assisting students and locals to collect data, and inspiring young Micronesians to engage in science and conservation and so help to preserve the ocean and its animals.
Julie also launched school and family programmes such as her SeaLife Summer Camps, where the focus is on encouraging female students to get involved with marine life. Today scores of students and divemasters help in her quest of collecting data on mantas all over the Mariana Islands. To them she is Manta Mom.
We head over to Yap for a couple of days. Everyone excitedly greets her with either "Manta Mom" or her honorary local name, "Sawbulyal".
The locals hug her in Micronesian power embraces, and the Westerners all know her too. Sawbulyal has helped to document the entire Yap population, which numbers some 50 individuals, as in Guam. "Julie has been indispensable for learning more about our manta rays", says Bill Acker, owner of Manta Ray Bay Divers and a resident of the island for more than 40 years.
Julie's studies and conclusions on manta behaviour all over Micronesia clearly exceeded the requirements for a master thesis. Now, at 47, she is working on several research papers and is preparing her PhD.
She has big plans for figuring out how reef mantas develop in endemic societies by studying their DNA. She would also love to study their movements using audio-tagging.
Both approaches require funding and that's hard to come by, because mantas are not "food fish" and there is less support for such a "luxury animal".
But Julie is in no rush. She enjoys working with students across the Marianas and collecting more data on her babies. She has only one deadline:
"I want to complete my PhD before I hit menopause," jokes the Manta Mom.