BIG ANIMAL DIVER
Tiger tiger
If you enjoy the company of sharks, Tiger Beach in the Bahamas is the place to be in winter and spring, says BRANDI MUELLER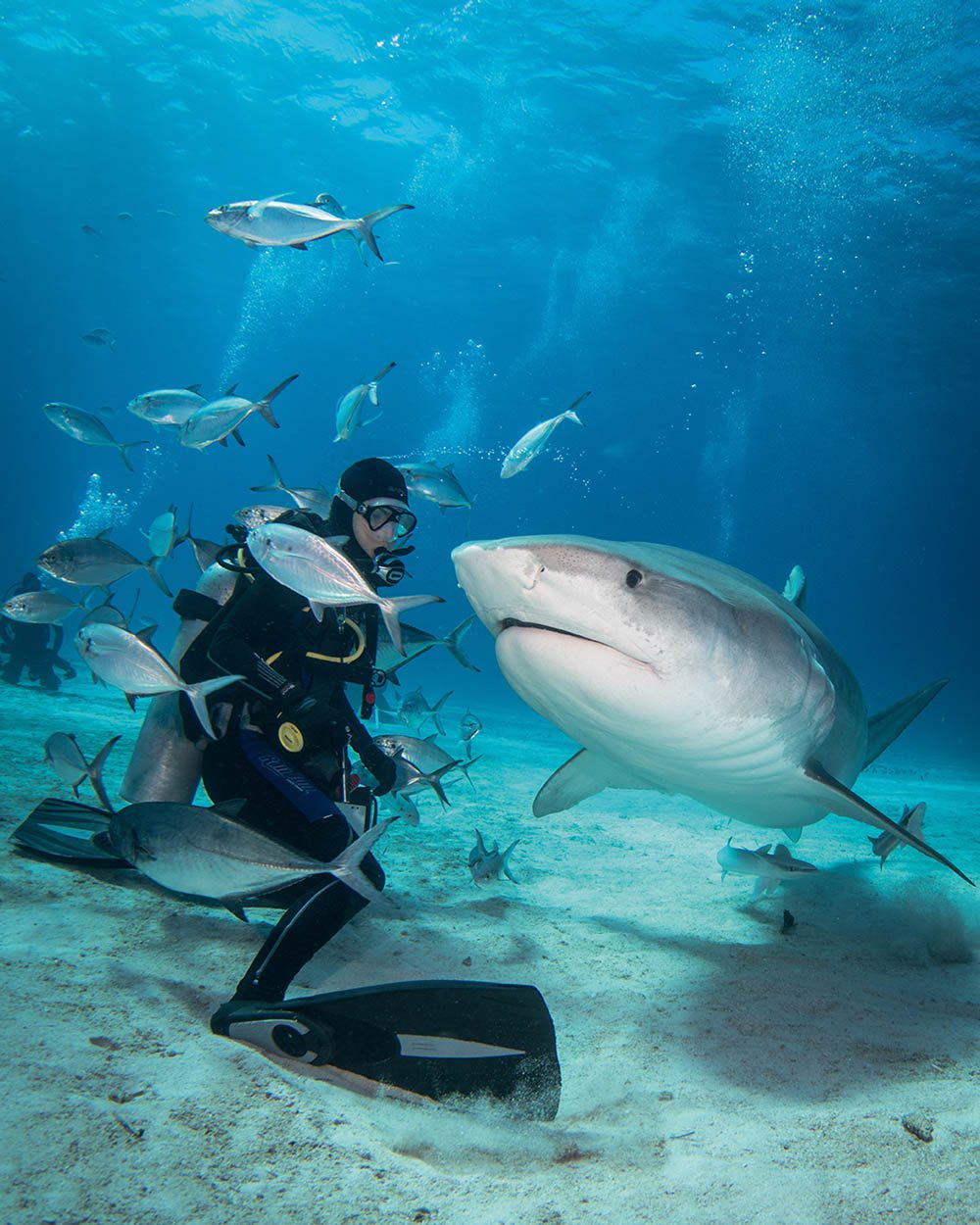 Shark-whisperer Logan feeds the tigers.
Appeared in DIVER July 2019
TIGER SHARKS. People fear them, controversy surrounds them and underwater photographers and adrenaline junkies, like me, seek them out. While their habitat worldwide is huge, stretching across much of the tropical and temperate zones of the Pacific, Atlantic and Indian Oceans, there are few places where tiger sharks are habitually seen.
If you want the best chance of seeing them in shallow, warm water with great visibility, Tiger Beach is the place to go.
A shallow sandbank off the Bahamas, Tiger Beach has become one of the top destinations to see tiger sharks, with sightings almost guaranteed, especially from October through June.
Several day-boat and liveaboard operations visit the area, bringing divers face to face with this apex predator.
Liveaboards are my preferred method of getting the most out of a dive trip (and the food is usually fantastic), so I set out with Master Liveaboards for a week of tiger-shark diving.
It took about 12 hours to get to Tiger Beach from Freeport, Bahamas. We stayed in the same general area all week, leaving the schedule wide open for shark-diving.
There were two types of dives: feedings, where a shark-handler would give fish to the sharks; and "open pool" sessions, where no active feeding occurred but there was bait hanging on the surface from the boat to attract sharks.
These tigers are known to be docile, but you could still feel the anticipation. We were willingly going to jump into the ocean near a bucket of fish-guts and wait for the sharks to come. I couldn't wait.
Arriving mid-morning, we were briefed on the sharks and rules. Tiger sharks, named for their dark, shadow-like stripes, can grow up to 5m long and weigh more than 600kg. Fun fact: their stripes fade with age, so basically they go grey when they get old. We were likely to see only females, and from the previous week's reports, several were pregnant.
The sharks of Tiger Beach are becoming so well-known that many have been given names. Our dive-crew spoke lovingly of Princess, and Emma, and how to identify them and others.
Finally, it was time to enter the water. With the safety diver positioning us, we formed our semi-circle around the feeder, with the area in front of her open for the sharks.
It didn't take long. About the time I got situated in my spot (we were deliberately overweighted to keep us anchored to the bottom) one was swimming right into the open space between us.
The tiger glided towards the feeder like a model on the red carpet laid out in front of us. Cameras flashing, she went straight to the feeder and was handed a fish.
SEEING THE TIGERS HERE was so different to what I had expected. I had seen brief glimpses of tiger sharks in other places, including a few slightly nerve-racking dives in Hawaii where their behaviour was questionable, and remarkably different to what I saw at Tiger Beach.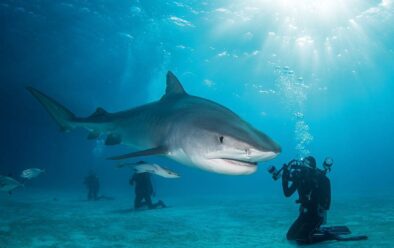 These tigers were like puppy dogs – well, 500kg puppies that moved like trucks. Their massive bodies moved slowly in a straight line towards the woman with the fish-bucket in front of her. She looked like little more than a wisp of black neoprene compared to them.
Her bait attracted not only the sharks, but also a cloud of fish that seemed so dense I didn't know how she could even see the tank-like animal approaching her. When she moved the fish moved, creating a swirl of life always surrounding her.
After getting its treat, the shark passed behind us, circling back to the start of the runway and coming in for another. Then another shark joined in.
The blunt nose of the tiger shark, viewed head-on, is massive. It's this big, rectangular frame coming straight at you, but slowly, calmly.
Some of the divers were "armed" with a white pole that they kept in front of them so that it could help direct a shark away if they felt it was too close.
Those of us with big cameras could do the same. We were told to maintain eye contact with the sharks at all times.
It was nothing short of amazing. These humongous animals almost seemed to line up for their fish snacks, getting one and then waiting their turn for another.
The open-pool dives were blocks of time in which we could jump into the water for as long as we wanted, and included some of my favourite dives.
Without having to be positioned around the feeder, I had more freedom to find better photographic angles and lighting situations.
While the tigers would cruise by occasionally, the other shark species tended to be the stars of these dives.
I was entranced by the smug-looking lemon sharks that seemed to sneak up behind me, always low to the sand.
There were also grey reef sharks and the occasional nurse shark (which were known to suck the fish out of the bait-crates hanging at the surface).
ON ONE DIVE, I was kneeling in the sand looking off into the distance and at the edge of my view could see a small shadow emerging and heading straight towards me.
It continued to move head-on towards me, and the box-like shape of the head implied a giant size, even though I had yet to see the entire mass.
Camera flashing, I took shots as the tiger got closer and closer. Only at the moment when I was just about to get out of the way did she veer just to the right of me, flicking me with her pectoral fin.
My entire vision was obstructed by stripes for what seemed like days before her tail, as tall as I was while kneeling, passed by.
Inside I was screaming in delight (but I remained silent, other than for my bubbles). All I could think was: "Do it again, do it again, come closer this time!"
I always feel it's like that with big animals under water. Once you get a glimpse, you just want more.
I plead with them in my thoughts: "Please swim by again, let me get one more shot, just one more pass and then I'll go back to the surface."
It was October and the water temperature was around 25°C. At Tiger Beach the range is 22-30°C, warmer in the summer months. Although the water was relatively warm, I was happy to have my 5mm wetsuit because we spent most of the time sitting in one place, not creating body heat by swimming around, and it grew a little chilly.
WE ALSO HAD A DRESS CODE. No bright colours were allowed. Sharks are inquisitive, particularly about colours such as yellow, or flowing hair, so we were informed pre-trip to dress in all-black and cover up as much as possible, including wearing hoods.
I wear full-foot fins, and even the small strip of skin between my fins and wetsuit needed to be covered up with black socks (I had the Lycra variety, but a few others wore normal socks).
I can't write about Tiger Beach and photographing sharks without at least mentioning the controversy about feeding or baiting for sharks (or any animal).
There is no denying that the practice is unnatural, and in some way changes the natural behaviour of sharks.
I have experienced several shark-dives around the world in which baiting or feeding was involved and, at every single one, the sharks show up before the bait or the divers even get in the water. Just the sound of the boats approaching alerts them to what's about to happen.
Is it right or wrong? We all have to make our own decisions. To justify myself, I will argue that I take photos and share stories in hopes of sparking interest and conservation in sharks and the ocean. Showing that sharks are not man-eaters can help to change negative perceptions. Never once did I feel threatened by these sharks – in fact, the whole mood of all of our time under water felt far more peaceful than on most dives.
These magnificent animals didn't care about those of us sitting in the sand taking photos (they did care about the diver with the fish-bucket, but they didn't want to attack or eat her, only the fish).
But I also see the hypocrisy in my own decisions. I don't want to participate in anything that is detrimental to the ocean, and while it might not be detrimental, it is not something that would happen naturally in the wild.
I ENCOURAGE ALL DIVERS to research the diving experiences in which they are planning to participate.
Unfortunately, I have seen shark-feeding dives that I would never join again because they didn't put the sharks' safety ahead of tourism dollars.
Be informed, and decide for yourself what you agree and disagree with.
If you see a dive operator doing harmful things to sharks or any other ocean creature, tell it, and others. As dive consumers, we have the power to support those operators who respect the ocean.
The tiger sharks of Tiger Beach are not sustaining themselves on a few fish from divers. They are clearly going in for these easy snacks, but they are not being fed enough to support their diets.
Being able to spend even a moment next to a tiger shark, and seeing her glide effortlessly next to me as sun-rays shine down on her stripes, is an incredible experience. And I would do this trip (and other trips like it) again in a heartbeat.
FACTFILE
GETTING THERE> Fly to Atlanta or Miami and on to Freeport, Grand Bahama. An alternative is to fly to Florida to board a liveaboard from there.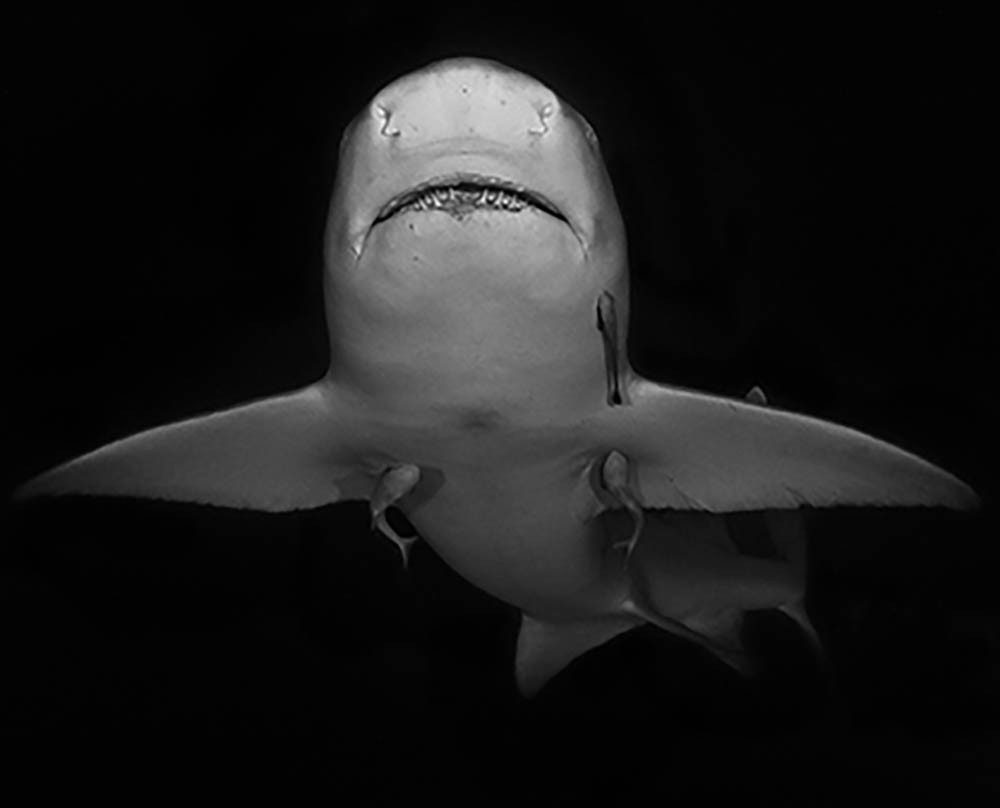 DIVING & ACCOMMODATION> The 35m steel Bahamas Master can accommodate 16 divers in eight cabins, masterliveaboards.com
WHEN TO GO> The best time is the slightly cooler, drier period from October through to June.
MONEY> The Bahamian dollar (BSD) is pegged to the US dollar.
PRICES> A seven-night Tiger Beach Experience trip costs from £2229pp in a standard twin cabin. Nitrox, marine park and port fees cost extra. Return flights from £620.
VISITOR Information> bahamas.co.uk