Book Review
Big in the Indian Ocean
Underwater Eden – The Marine Life of Seychelles, by Christophe Mason Parker & Joe Daniels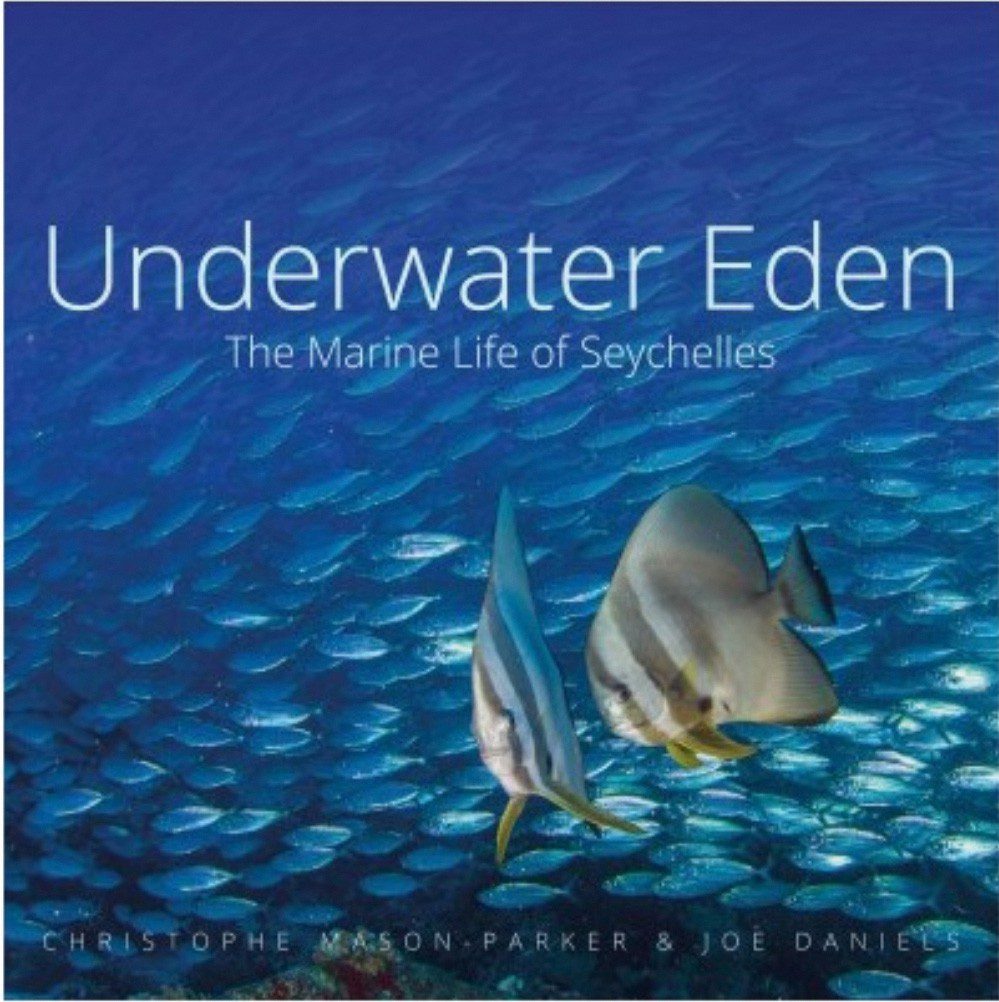 Appeared in DIVER April 2019
THERE'S A LOT OF marine life in the 115-island Indian Ocean retreat of Seychelles, and this is a lot of book. It's hefty, as is the price.
Christophe Mason Parker lives in Seychelles and has written about it
in divEr in the past, is a devout conservationist and also co-wrote a guide to popular dive-sites and marine life, with the same publisher, some four years ago.
My only real criticism of that guide was that the pictures looked gloomy when the colours of the reefs should have been singing out. As it happens, my initial impression of this new heavyweight tome was again that the photos veered towards the dark side, but on leafing through I decided that this was unfair – while they do tend towards the dramatic and the muted, there is plenty of colour and light too.
What I wouldn't have guessed is that most of these pictures were taken on a single breath while freediving, which is not the easiest way to take underwater pictures.
The environments on display range from coral and granite reefs to mangroves and seagrass, and their conservation is at the heart of this book. The two authors met through their work with volunteer organisation Global Vision International but were moved to start on the project by a threat to dredge Baie Ternay Marine National Park in the north-west of Mahe island, where they worked. The dredging was to enable a luxury resort to be built at Cap Ternay.
The hotel project never went ahead, but their book project did – recording an underwater environment under threat of destruction provided the impetus the divers needed. And being able to dive around other Seychelles islands, including richly favoured private retreats such as Frégate and Alphonse, was clearly a boon.
This is primarily a picture-book – there are chapters on eco-systems, turtles (Mason Parker's special interest), fish, invertebrates and conservation, but the wordage is not extensive and amounts to solid reference material that won't spring too many surprises for anyone.
Of most interest is the frank appraisal of the environmental threats facing Seychelles (even though they will be probably be familiar to you) and the positive steps being taken to combat those threats, such as coral-propagation projects.
I don't honestly think the 145 pictures are spectacular enough to have you leafing through this book again and again, but if you want a Seychelles souvenir this will make a (very) solid if predictable one.
John Beaufoy Publishing
ISBN: 9781909612976
Hardback, 224pp, 31x31cm, £45